Bye Weeks: Cleveland, Kansas City, New England, N.Y. Jets

Grab a Helmet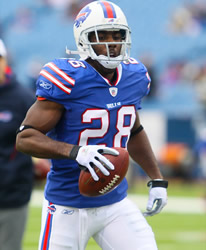 Spiller is getting healthy and will get healthy against a suspect PIT-D.
C.J. Spiller @ PIT: Starting your running backs against Pittsburgh is something I could hardly have authorized in years past, except maybe in an emergency. Since the 2002 season, the Curtain has finished outside the top 10 in rushing yards allowed just once (2003) and has finished in the top 3 an astonishing NINE times (first overall in 2002, 2004, and 2010). This year, however, they're ranked just 28th and gave up almost 200 bills in the 55-31 loss to New England last Sunday. Oh, and those 55 points? Yup, it's the most Pittsburgh has allowed in 80 years of professional football. Spiller still scares the daylights out of me, but he finally looked healthy against the Chiefs last week (155 total yards) and…well, these clearly aren't your father's Steelers. The breakout we've been waiting (too long) for could happen Sunday, folks, and against the unlikeliest of opponents.

Andre Ellington v. HOU: The Clemson Tigers have gained a richly deserved reputation for failing to live up to preseason expectations, but if Ellington picks up where he left off in Week 8, they're going to be known for something entirely different: pumping out stud NFL running backs. Spiller's successor at the South Carolina institution was an instant hit two weeks ago, rushing for 154 yards and an NCAA-esque 10.3 yards/carry in his first career start, a 27-13 victory over Atlanta. The highlight was an 80-yard house call wherein the rook patiently waited for a hole to develop and then darted for daylight. He probably won't receive more than 15-20 touches in a game (his coach practically guaranteed it), but he's an instinctive, cat-quick back who may ultimately produce better than his measurables would suggest. The list of backs capable of breaking off an 80-yard run, don't forget, is pretty brief.

Chris Johnson v. JAX: And this guy's at the top of it. Regular readers know I don't usually have positive things to say about Tennessee's feast-or-famine bell cow, but there's no denying he's one of the game's most explosive performers who, under the right set of circumstances, can absolutely bring home the fantasy bacon. The "right set of circumstances" usually translates to "favorable matchup" in Johnson's case and the Titans have a whole bunch of them lined up to close out the season, starting last week with St. Louis. Unsurprisingly, Johnson took full advantage, rushing for 150 yards and two scores in the win over the Rams. Week 10 brings another eminently exploitable defense, Jacksonville's, and its league-worst run-stopping unit. The Jags are giving up almost five yards per carry and over 160 yards per game on the ground, figures that should have Johnson licking his chops this Sunday. Start him.


Grab a Gatorade

Trent Richardson v. STL: If you watched Chris Johnson carve up the Rams last weekend, you're probably thinking this a great spot for Richardson to break out of his season-long slump. You wouldn't be wrong about the spot (the Rams definitely stink) but we might ALL be wrong about the slumper. Like most, I buried the Browns earlier this season for trading away their franchise rock toter just a year and change into his professional career. Turns out they may have known what the rest of us are only now realizing: Richardson isn't that good. He's extremely powerful, yes, and can absorb an inordinate amount of punishment, but so can Mike Tolbert. Richardson seems to lack that one quality all great backs have: an ability to elude tacklers. Making 'em miss is the name of the game and he simply doesn't do it often enough. Keep adjusting those expectations southward.

DeAngelo Williams, Mike Tolbert and Jonathan Stewart @ SF: Tolbert's actually come on strong lately (over 12 points/game this past month), sapping the value of DeAngelo Williams, who carried sneaky start potential through most of the first half of the season. Just when we were about to get excited about this other South Carolina product, though (Coastal Carolina U.), Jonathan Stewart returned in Week 9 (GO DUCKS!), diluting the Panthers' backfield mixture even more. I'm not saying you couldn't use one of these guys in a pinch, but now that we're through the heavy bye weeks, it's hard to see why you'd need to unless you've suffered heavy losses at the position. Should that be the case, here's how I'd rank the three Carolina backs in order: 1) Tolbert, 2) Stewart, 3) Williams. Yes, I'm basing that ranking almost exclusively on how likely it is they'd score six-pointers. Steer clear of this trio unless you're desperate.

DeMarco Murray @ NO: Way back in the preseason, FF Today's staff writers were asked who they thought would be more valuable in 2013, DeMarco Murray or Stevan Ridley. I chose Ridley for precisely the reason he's currently ahead of Murray in the rankings: He's way more durable. At some point, a guy simply is what he is and Murray is basically Darren McFadden, an extremely gifted runner/receiver who will likely never play more than 80% of a season. The young Cowboy was back in action last week after recovering from his latest boo-boo, but you probably didn't notice. He only logged the leather four times (for an impressive 31 yards) and caught six passes (for a less-than-impressive 19). That's it? Against the same Minnesota team that gave up almost 200 yards on the ground to Green Bay the week prior? I've lost interest in Murray and think you should too.

Wide Receivers