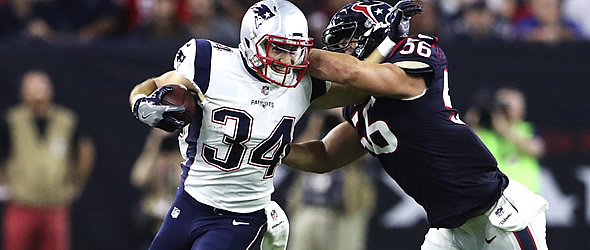 RBs Still Rule: The most important roster moves of 2017 typically involved the running back position.




Last Week's Question: What was your most significant roster move of the season?



Most fantasy championships are settled in Week 16, which just happens to be when the Rams' Jared Goff threw for more than 300 yards (and 4 TDs) against the Titans. Goff was probably available on waivers in your league well into the season. You didn't need to reach for him in drafts or work out a crazy 3-team trade for him. You only needed to claim him at your convenience for a cost of nothing (or next to nothing) to finish the season with a top 10 QB—one who outperformed both Matt Ryan and Derek Carr.

And yet none of the readers who responded to last week's question focused on Goff (or any other quarterback) as the key to their 2017 fantasy season. Although there was a little talk about wide receivers (and even some mention of kickers and defenses), running backs stole the spotlight in terms of what FFToday readers considered to be their most important roster moves.

Of all the responses I received, the only one that didn't mention a running back at all came from Joe:
I picked up Marvin Jones when someone dropped him before his bye week. His targets were rising and Tate was projected to be out for a short bit. [Jones] has paid off in spades. . . . Justin Tucker [was] another bye week grab. Lesson for me is to keep your powder dry for bye weeks when others are scrambling.
Joe's point about bye weeks is worth noting. Like Joe, I was able to snag a number of solid players from waivers on their bye weeks—most notably Derrick Henry. I'm also like Joe in thinking that my single most important waiver wire acquisition in 2017 was a receiver. In my case, however, it was Marquise Goodwin, who helped my Zeke-less playoff team go two rounds further than it should have.

But do you notice how I couldn't talk about a receiver (Goodwin) without alluding to a running back (Zeke)? That just goes to show that I tend to see my teams the way readers see theirs. Consider what Ryan V. wrote about his team:
The thing that made my season (first place), was picking up Kamara and Zuerlein the week of October 2nd. I recognized early enough in their breakouts that they would carry teams this year. Also, drafting backup RB's Burkhead and Latavius Murray and sticking with them until they saw their opportunities was key.
Although the first line makes it sound as if kickers deserve to be mentioned alongside runners, Ryan doesn't attach enough significance to Zuerlein to mention his injury. Instead, he talks about other RBs (Burkhead and Murray). This is typical of the retrospectives I received.
A different Ryan (Ryan P.) had one of the hottest QB-TE combos in the league, but traded away that combo for the running back who is likely the MVP of most fantasy championship runs this season: "Wentz, Ertz, and Doug Martin for Gurley and Delanie."
Or consider what Bruce had to say:
Overall, I'd say having 3 great rookie RBs on my team—Kamara, Hunt, McCaffrey—has been my team's biggest strength. My biggest weakness was never knowing whether/when to utilize Fitzgerald.
Again and again and again I heard from people whose comments focused almost exclusively on RBs at the beginning and touched fitfully on other skill positions as they progressed, as in the case of Barry:
I drafted Zeke 2nd round [between] Gordon (1st) and Hyde (3rd). Not knowing when or if Zeke would be suspended, I basically drafted 3 RB1s in the first 3 rounds. Followed up with 2 WR 2s and Delanie Walker in 6th. Picked up Rodgers, Olsen and K Drake all 4 weeks ago for stretch run. In the finals and Zeke is back. Feeling good.
I hope Barry did well in his finals. Maybe he'll post an update in the comment section below.
Robert was one of many readers who mentioned the fallout of the Ajayi trade, which happened the same week that Kelvin Benjamin went to Buffalo and Jimmy Garopolo went to San Francisco. In hindsight, it's plain that the Garopolo trade was the most impactful, but the problem with quarterbacks—even really productive quarterbacks—is that there isn't enough scarcity to make them as precious as RBs. Consequently, I heard from zero readers about Garopolo, but got an earful about Kenyan Drake from multiple sources (including Robert):
Picking up Drake after Ajayi got traded has been pretty big and drafting Hunt and Keenan Allen in the third and sixth respectively are up there too but I think what really clinched a spot in the championship game for me was trading Wentz and Mike Evans for Freeman and Jags D. I also had Wilson so Wentz was expendable and after losing Dalvin Cook and watching Hunt slump I had a serious need for a quality RB.
Like Robert, a reader named Noah mentioned multiple transactions instead of focusing on just one. In fact, Noah's highly active style of roster management sounds like it would have been a lot of fun (or a lot of work—depending upon one's perspective) even if it hadn't paid off as it did:
I had a few this year. I picked up the Jax Def week 2 because I had Carolina and they had NE and NO coming up. Saw they had an easy schedule. I traded Goff and Jeffrey for Gordon. Traded Gordon for Jordy. M. Bryant for Cooks. Cooks and Tyrod for Hopkins after the bye week. I also had Watson after the Pats game from the wire. Traded Morris, Mack, and Jordy for K. Allen during Allen's bye week to the Zeke owner. After Watson went down I traded Cupp and Doctson for Smith and P. Richardson. Also picked up Drake from the wire, drafted Bell with my first pick, Thielen in the late rounds, and Gronk in the second round. All these were significant because I went 12-1 only losing Week 1. Led the league in scoring by about 30 points per game. Finished the season on a 14-game win streak culminating in a .76 win after sweating out adjustments till Friday for my first Ship. It was my best year by far and the best season I've ever seen (humble brag). Can't wait for next year!
Congrats to Noah and to everyone else who snagged a championship in 2017 (even if they didn't work quite as hard as Noah did to pull it off). I can't think of any better words that the ones he used to wrap up his commentary: "Can't wait for next year!"

And with any luck, our own Matthew Schiff feels the same way and will be back with more of his survivor pool insights in 2018. Enjoy his concluding thoughts on the 2017 season below. That's a wrap for the 2017 season from Q&A. Thanks to everyone who contributed commentary to this column this season, and have a happy, healthy, and prosperous 2018.


Survivor Pool Picks - Week 17 (Courtesy of Matthew Schiff)

#3: Indianapolis over Houston (10-6, BUF, TB, CLE, NE, NYG, ATL, PHI, MN, SEA, PIT, KC, NO, BAL, TENN, CIN, JAX, LAC)

Jacoby Brissett gets a chance to lead the Colts against a Texans team that has pretty much fallen apart since Deshaun Watson's injury. The Colt defense will take advantage of Watson's current replacement, T.J. Yates, whose struggle to make effective use of his various weapons will probably continue. Will Fuller (who erupted into fantasy relevance with Watson on the field) returned to action last week . . . but only had one reception. And unfortunately for the promising second-year player, that trend should not change this week. With most of the playoff-bound teams already used up, your LMS season may come down to a cellar dweller battle between two divisional foes. But this time, forget the "trap." Be bold and snag the pool with this pick.

#2: Detroit over Green Bay (12-4, NE, SEA, PIT, ATL, PHI, HOU, TN, CIN, JAC, LAR, KC, WASH, OAK, LAC, MN, BAL)

Gone is the hope of the Packer faithful for a magical finish to the regular season. While the sun hasn't set on Aaron Rodgers, the future is a little less bright for this storied franchise when he is injured. The Lions are arguably in a worse situation because they didn't make the playoffs either—even though their quarterback is healthy. But whereas the Packers are simply running out the clock on the season at this point, the Lions' Jim Caldwell is probably playing for his job, so he will be motivated to snag a win at home for the Lions faithful. He should be able to pull that off against a Packers team that has scored an average of 18 points with Rodgers out of the lineup. Even if a win for the Lions won't be enough for Caldwell, it should do the trick for you in your survival pool.

#1: Minnesota versus Chicago (13-3 ATL, OAK, NE, SEA, PIT, DEN, DAL, PHI, HOU*, DET, JAC, CIN, LAC, GB, NO, KC)

Mitchell Trubisky will have a tough day as his on-the-job training continues against an intimidating Minnesota defense. While he and the other Bears will be playing with an eye on the 2018 season, the Vikings will be thinking about the possibility of enjoying home-field advantage through the playoffs in anticipation of a Super Bowl that will take place in Minneapolis whether the Vikings make it that far or not. Although divisional contests are difficult to predict with confidence, the antiquated offense of the Bears gives them no real competitive chance—especially against a talented team that has something to play for. If the Vikings are still available to you, pounce on them. Otherwise, take the best defense you can find against a weak QB where weather is not a factor. As cold and snowy as it has been up north, if it wasn't for the fixed roof on this stadium, this game would make the Buffalo game in the snow earlier this season look like a scoring deluge.

---
Mike Davis has been writing about fantasy football since 1999--and playing video games even longer than that. His latest novel (concerning a gamer who gets trapped inside Nethack after eating too many shrooms) can be found here.