Last Week's Question: What do you appreciate most about your commissioner?

In last week's column, I erroneously suggested that leagues freeze rosters primarily to prevent a passive form of collusion that can occur via the waiver wire. Although this is true for some leagues, other leagues freeze rosters primarily to ensure that the players that carried their owners to the playoffs are the ones who carry them to a championship.

A reader named Andy (whose comments were featured in last week's column) explained that he belongs to such a league and that their policy is to expand the bench (from 6 players to 8) just before freezing rosters in Week 14. This policy allows owners to carry a couple of extra players through the playoffs (even though those players must be acquired before the playoffs get underway). Although I have played in leagues that freeze rosters, I've never had a roster expand just before the freeze kicked in, so I wanted to bring to that intriguing idea to the attention of other readers. (Thanks for the additional info, Andy.)

As for the topic of last week's column (the subject of commissioner appreciation), the responses were all over the map.

Since it's the end of the season, I'll save the most positive comments for early next season (when they will reach a larger audience). But I do want to feature a couple of the more neutral/aggrieved comments this week.

The neutral position was best exemplified by this note from Len:
The commissioner in my league (which is me) doesn't deserve much credit, really. The rules were all in place before I joined; the website takes care of itself; the treasurer (whoever comes in last) has to collect [the fees and distribute the winnings]. My job this season boiled down to 1) putting one owner's account on auto-draft when he was late for the draft & 2) double-checking the playoff brackets. Our league is a lot of fun even though I haven't gone above and beyond as commish, so I don't really buy the argument that what people get out of a league has anything to do with how much work the commissioner puts into it.
Len makes an excellent point. Fantasy football is fun, and it doesn't need to be labor-intensive (thanks in large part to those websites that do essentially take care of themselves). Len's league sounds comfortable and established, so it might be that the owners enjoy conducting their own smack talk rather than relying on the commissioner to do it for them (as often happens in weekly newsletters).

My apologies if I gave readers the impression that the best way for leagues to be more fun is for commissioners to wear themselves out. I simply wanted to recognize that effort for the value that it provides. Little did I expect to hear from multiple commissioners who felt that their efforts went under-appreciated. The most compelling variation on this theme came from Mike:
In 1997 my buddy started a league of 10 guys and within 2 weeks I became Commish due to the inability of anybody else to score players and give results. This was before the internet scoring. I faxed or hand-delivered results weekly and typed a weekly review called "Fun Fax." We also had a . . . travelling trophy I supplied. . . . For 16 years I hand scored and gave reports. [When] I retired from my job and started travelling to Fla for winter, I wanted one rule change before starting year 17. . . . They didn't want rule changes-EVER. After I and one other guy quit - they made multiple rule changes including entry fee being lowered & prize money totally redistributed. Ultimately, the 2 of us who quit wanted a "serious league" with the luck factor minimized. The rest wanted more luck / less skill required and monies reduced. One of the members decided to have a meeting behind my back to possibly overthrow me. . . . There seemed unappreciation for what I did over 16 yrs. . . . The 2 of us who ended up quitting had dominated the league to some extent and the guys seem happy we are gone. I am still friends with all these guys and still play in other leagues, but not as commish.
I've abridged Mike's story in the interest of space, but readers who want to review the missing details can read his account in full in the comments beneath last week's column. Although I heard from other commissioners who felt that their dedication was inadequately appreciated, I wanted to highlight Mike's commentary because it suggests that sometimes it's easier to be a dominant player in a league when one ISN'T the commissioner of the league.

Mike says he and one other owner were the dominant competitors in his league; he also says that the rule changes he advocated were meant to privilege skill over luck. It's no surprise that someone who is better at fantasy football than his leaguemates would want to privilege skill over luck; nor is it surprising that the owners who would have to get lucky to beat such an owner would want to privilege luck over skill. I don't know exactly what happened in Mike's league, but it seems possible that some resentment towards his success as an owner ended up translating itself into an unfair assessment of his performance as commissioner.

If you have a take on what happened to Mike (or anything similar that may have happened in your league), you can share it with readers in the comment section below (or with me via email). In any case, my thanks go out to everyone who responded to last week's column.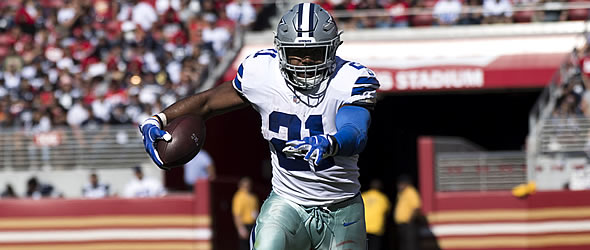 Fantasy owners were faced with a number of key decisions this season. Which move was key for you?
This Week's Question: What was your most significant roster move this season?

I While the 2017 season is still reasonably fresh in your mind, take a moment to reflect on the single most important personnel decision you made this year.

Was it a draft choice? A trade? A decision to blow your waiver wire priority on the wrong player? The right player?

You can answer the question in a few words (e.g. "Taking Ezekiel Elliott in the second round"), but to benefit from the answer, explain what lesson you learned from the decision (e.g. "Taking Zeke in the second was a mistake because _____" or "Taking Zeke in the second saved my season because _____").

Please share your best answer by posting it in the comment section below or emailing it to me.
Survivor Pool Picks - Week 16 (Courtesy of Matthew Schiff)

Trap Game: Chicago vs. Cleveland

This week, two of the teams that we love to pick against are playing each other. According to Vegas, the Bears should win this by almost a touchdown. But Cleveland is built to shut down a rushing team, and Mitchell Trubisky doesn't scare me yet, especially with a band of misfits for receivers. Meanwhile, the Bears can be "stretched," and while DeShone Kizer is another rookie that has a bright future, he hasn't been accurate. Add in the fact that Josh Gordon seems to have forged an instant connection with the new signal caller, and you can see why I recommend avoiding this contest if one of the games below is available to you.

#3: Chargers over Jets (9-6, BUF, TB, CLE, NE, NYG, ATL, PHI, MN, SEA, PIT, KC, NO, BAL, TENN, CIN, JAX)

The Chargers' loss to the Chiefs in Week 15 means they no longer control their own post-season destiny, but they still have a good shot of making the playoffs after their 0-4 start. Melvin Gordon will get the bulk of the work at running back this week with Austin Ekeler limited by a broken hand. Meanwhile, Jets fans wonder why they can't see more of Christian Hackenberg and less of Bryce Petty in relief of the injured Josh McCown. Petty threw for under 200 yards (and just 1 TD) last week, so Todd Bowles' attachment to him only makes it easier to pick against the Jets, who stuck a fork in themselves and announced, "We're done" when they waived Jeremy Kerley.

#2: Ravens over Colts (11-4, NE, SEA, PIT, ATL, PHI, HOU, TN, CIN, JAC, LAR, KC, WASH, OAK, LAC, MN)

For the second week in a row, the Baltimore Ravens get to beat up on one of the redheaded stepchildren of the NFL. The Colts, in spite of Jacoby Brissett's surprisingly adequate QB play, find themselves with the second-worst offense and third-worst defense in the league. The only good news for the Colts is that they don't turn the ball over much (with a +4 in that category on the season), but Baltimore is number one in defensive interceptions (22—with 3 returned for TDs). Since Indy will probably playing from behind, it's reasonable to anticipate a pick or two by Baltimore, which could realistically win this one on defensive scores alone. Take the Ravens if you still have them available.

#1: Chiefs over Dolphins (12-3 ATL, OAK, NE, SEA, PIT, DEN, DAL, PHI, HOU*, DET, JAC, CIN, LAC, GB, NO)

The Chiefs and Dolphins are fighting for their playoff lives, but Kansas City is the team that seems to have a legitimate shot at longevity in the postseason (as long as the playcallers remember what an asset they have in the form of Kareem Hunt). The Chiefs can win this in two ways. The first way is that they can be good enough, which is certainly possible if they continue to rely on the balanced attack of their four-headed offensive monster (Hunt, Alex Smith, Tyreek Hill, and Travis Kelce). But anyone who has seen Jay Cutler self-destruct will appreciate that the Chiefs could win this even if they play badly—because Cutler might throw more TD passes to Marcus Peters than to any of his own receivers. Make no mistake, Cutler will try and make something happen for his Dolphins, but we are probably seeing his last snaps in the NFL. Take the Chiefs at Arrowhead. It's going to be loud.


---
Mike Davis has been writing about fantasy football since 1999--and playing video games even longer than that. His latest novel (concerning a gamer who gets trapped inside Nethack after eating too many shrooms) can be found here.