Last Week's Question: Should roster-freezing leagues allow the reactivation of players from IR?

My column for Week 14 featured a question from Rudy, who found himself caught between a rock (a league policy of rosters being frozen throughout the playoffs) and a hard place (a separate policy that requires owners to activate players from IR when those players are reactivated by their NFL teams).

If Aaron Rodgers returns to action in Week 16, then Rudy is compelled by the second rule to reactivate him (which is reasonable, since active players in the NFL do not belong on IR in fantasy). But if Rudy reactivates Rodgers in Week 16, then he'll need to drop another player from his roster to make room for the QB (which sounds like a lot of activity for a "frozen" roster).

Although I don't know why Rudy's league has a frozen roster rule, most such rules come into being to prevent a sneaky form of collusion that can occur between teams that have been eliminated from the playoffs and teams that are still in the hunt. Let's say that I'm out of contention with Keenan Allen on my roster and that my closest friend in the league is one game away from the championship—but in need of help at receiver. In a typical redraft league, if I attempted to trade Allen to my friend, everyone in the league would call B.S. So instead, I might wait for an open add/drop period and drop Allen at 3 a.m., when my friend just happens to be the only other person awake and monitoring the league website.

Frozen rosters prevent such nonsense from happening, but they can also create a lot of unexpected headaches. Since most serious fantasy teams only have room for 1 kicker, a frozen roster policy can mean going into a championship game with an empty roster slot because your kicker happened to sustain a concussion the week prior. Jeffrey's league has developed a solution for just such a contingency: "My league also freezes rosters during the playoffs. Due to this, we have switched to team kickers." If you're going to have frozen rosters, owning the generic kicker for the Chargers (instead of Nick Novak specifically) prevents owners from being arbitrarily screwed by injury.

Jeffrey went on to explain how he would handle Rudy's problem:
[S]ince [Rudy's] league has an IR roster spot, there is an option. This team would have to drop a player and just put Aaron Rodgers on the active roster before the freeze. Basically, they are losing a roster spot, but it could pay off in the championship game. This is how I would set it up if I was the commish of this league.
Andy largely echoed Jeffrey's rationale, but his emphasis on "intra-team moves" shines a spotlight on what is most important from my perspective:
Our league locks rosters for add/drop. You can still make intra-team moves from bench to starter. Your league should have you keep Rodgers on IR except for one of two scenarios: 1) someone else on the roster goes on IR, thus a 1-for-1 swap with no add/drop, or 2) you move Rodgers NOW to your bench before rosters freeze. Scenario 2 is more likely, and it keeps the spirit of the 'frozen roster' rule in place. We have someone in our league carrying Rodgers on their bench (not IR), but it keeps him from adding someone who is useful today.
Andy makes a series of good points here. For the sake of simplicity, let's say that Rudy has Carson Wentz as his other QB. By moving the IR tag from Rodgers to Wentz, he would maintain the same number of active players on his roster without utilizing the add/drop feature of the league. Such an outcome requires having just the right injured player on your roster ahead of time, so it isn't a universally workable solution, but it might work in some cases.

The distinction that Andy makes between frozen rosters and frozen starting lineups is also astute, though even less likely to crop up in ordinary circumstances. It's not unusual for leagues to lock rosters for the playoffs, but I've never been in a league that required owners to keep the exact same players on the bench from one week to the next of the post-season.

In any case, the matter is even less complicated for me than it is for Jeffrey and Andy, both of whom contend that Rodgers should be reactivated in fantasy before the Packers reactivate him in reality. My take on the question is that owners should always be permitted as much latitude as possible without compromising fairness. And since the fairness component of roster-freezing has to do with preventing collusion-via-waivers, I don't see why the owner of Aaron Rodgers needs to do anything about the IR tag on Rodgers until the Packers change it. Rudy presumably put Rodgers on IR shortly after his injury and long before the playoffs began. At the time, his purpose was to create a roster spot that he filled with somebody else (let's say he grabbed Blake Bortles in desperation). As far as I'm concerned, he can keep Bortles on his roster until Rodgers is reactivated—meaning that if Rodgers isn't reactivated, he can keep Bortles until the end of the fantasy playoffs.

But is it fair for Rudy to be able to "unfreeze" his roster and dump Bortles once Rodgers is back in action? I think so—because the fallout of all these contingencies only affects one team: Rudy's. Collusion requires multiple participants. But the only one who can use Rodgers is Rudy (who already has him), and if Rudy drops Bortles to reactivate Rodgers, that's okay too—since no one else can add Bortles to their roster.

In other words, if the point of roster-freezing is to prevent collusion, then someone would need to explain to me how the reactivation of Rodgers could lead to collusion for me to consider the "frozen roster" rule more important than the "reactivation from IR" rule in Rudy's league.

Readers who disagree with my conclusion (or who want to take issue with the arguments of Jeffrey and Andy) are welcome to respond to this column via email or in the comment section below. They might also want to tackle Jason's question on the same subject: "How do leagues that utilize playoff roster freezes address suspensions such as Gronkowski?"

I can't speak for all leagues, but the roster-freezing leagues to which I have belonged wouldn't have responded to the Gronk suspension in any particular way because his suspension took place in Week 14 (which is traditionally the first week of the fantasy playoffs). Even if your league allows you to put suspended players on IR, there wouldn't have been any point in doing so with Gronk in roster-freezing leagues because his owners wouldn't have been able to modify their rosters via waivers or add/drop even if they had Gronk's slot open for another player.

I hope this discussion has been helpful, and I'm grateful to everyone who participated (whether I had space to include their comments or not).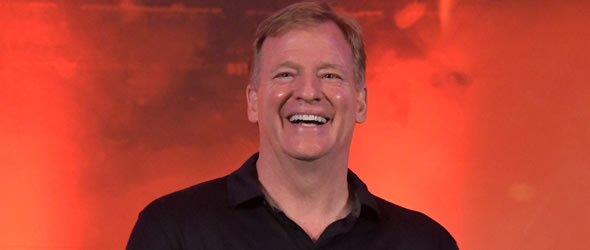 Take a minute and give your fantasy football commissioner some love this week. He likely deserves it.
This Week's Question: What do you appreciate most about your commissioner?

I hereby propose that Week 16 of the NFL season be recognized as Fantasy Commissioner Appreciation Week. And with any luck, I'll be able to feature some testimonials about the contributions of commissioners to human happiness in my column for next week.

This idea stems from a conversation that I've had with a reader named Sam in the comments section of my column from Week 14. Sam clearly understands the role that commissioners play in keeping owners motivated, and his approach goes well beyond handing out a weekly prize for high score and slapping together a Toilet Bowl Tourney:
I have been writing articles for my league for most of its existence. I publish "Game Summaries," "Power Rankings" and "Matchups" every week and these are all custom articles that I spend about 8 hours (total) per week on. In the preseason I do a "Draft Review / Season Preview" article as well. These are things that I have found keep teams engaged. Our league is 20 teams (2 conferences of 10 that meet in the Super Bowl) and we have very little turnover because of the type of engagement that is created through personalization. You can't eliminate apathy, but you can create an environment that engages more proactively and maximizes interest. It really can be as simple as you get what you give.
I've been in numerous leagues run by commissioners like Sam. They're always a blast, but I sometimes forget to express my thanks to the commissioners who put in the extra effort that make such leagues as enjoyable as they are.

I hope to correct that oversight next week by featuring the comments of owners who appreciate the behind-the-scenes work that goes into effective commissioning. If your commissioner goes above and beyond her/his ordinary duties, please either comment below or send me an email about it. If you are a commissioner who does something unusual to enhance the experience of your league, don't be too ashamed to sing your own praises. My primary objective here is to recognize the work that commissioners do—even if commissioners are the only ones who appreciate it.

Survivor Pool Picks - Week 15 (Courtesy of Matthew Schiff)

Trap Game: Baltimore vs. Cleveland

The 0-13 Browns could easily finish 2017 with a perfect 0-16 record. It's always tempting to pick against the Browns—especially when you haven't already used Cleveland's opponent in your survival pool. Baltimore has been so uneven this year that the Ravens are probably still available to most survivalists. But this is an intra-divisional matchup with the Browns playing at home, so don't say I didn't warn you when Joe Flacco and Terrell Suggs get upstaged by Josh Gordon and Corey Coleman. Will the Browns have enough to win? I don't know, but 0-13 teams rarely end up 0-16 . . . probably because home games against divisional opponents can always bring out the best in the very worst teams.

#3: Jacksonville over Houston (8-6, BUF, TB, CLE, NE, NYG, ATL, PHI, MN, SEA, PIT, KC, NO, BAL, TENN, CIN)

In Week 1, the Jaguars went into Houston and absolutely SHOCKED the Texans and the rest of the NFL. This week, Houston is missing both DeShaun Watson and Tom Savage and will be turning to former UNC standout T.J. Yates. Yates finds himself back under center as a starter for this first time since November 15, 2015, when he led the Texans over the NY Jets. But the Jags' defense is one of the best in the league. Combine that with a steady-as-you-go offense that is built around rookie-of-the-year candidate Leonard Fournette, and that is the formula for a repeat of Jacksonville's Week 1 triumph. If you've been waiting for a week to use the Jags, in spite of the divisional rivalry, feel free to take the home favorite in this one.

#2: Minnesota over Cincinnati (10-4, NE, SEA, PIT, ATL, PHI, HOU, TN, CIN, JAC, LAR, KC, WASH, OAK, LAC)

At the beginning of the season, the Cincinnati Bengals were expected to make a push for the 6th playoff spot in the AFC. Now they can finish 8-8 at best. To do that, they will have to play a lot better than they did in their 33-7 loss to the Bears in which they generated less than 250 yards of total offense. The Vikings, in spite of their loss to Carolina last week, have the inside track to win the NFC North, and possibly play at home all the way through the playoffs. But premature talk of that possibility may have led to the team's unfocused performance against the Panthers. Don't be surprised if Case Keenum isn't put on a short leash going forward with Teddy Bridgewater healthy and sitting on the bench. No matter which one is under center, it should be a home win for the Purple People Eaters.

#1: New Orleans over NY Jets (11-3 ATL, OAK, NE, SEA, PIT, DEN, DAL, PHI, HOU*, DET, JAC, CIN, LAC, GB)

Look at what we have left as a survival pool pick! Yes, the Saints are at home against a NY Jets team that was blanked on the road by the Denver Broncos last week. Thanks to their own loss in Atlanta last week, the Saints essentially must win this game to avoid a showdown in Week 17 that would determine whether they make the playoffs. At 10-6, there is a potential for a 3-way tie with the Saints looking in from the outside with Seattle, the Rams, Philadelphia, Minnesota and Atlanta all but locked in. To avoid that scenario, Drew Brees and company must "get it done" in Week 15. Make no mistake, the Jets will try and give them a fight, but trying will only get a team so far if it can only muster 100 yards of total offense (as the Jets did in Week 14). I wouldn't have given the Jets a chance with Josh McCown under center. With Bryce Petty filling in for him, they're even more difficult to take seriously.


---
Mike Davis has been writing about fantasy football since 1999--and playing video games even longer than that. His latest novel (concerning a gamer who gets trapped inside Nethack after eating too many shrooms) can be found here.