Everyone knows to start Peyton Manning every week, regardless of the match-up. But not all decisions are as easy at that one. So to help you decide who you should start and who you should bench I have identified the players at the QB, RB and WR positions that should excel this week and should be started, as well as the players who will struggle this week and should be benched. Don't forget the Thursday night game—get those lineups in on time. And no need to worry about your star player being off; the bye weeks are over and everybody plays!

Let's start with the QB position. You shouldn't have to be told, but just in case... always, always start the following players: Peyton Manning, Tom Brady, Drew Brees, Aaron Rodgers, Eli Manning, Philip Rivers, and Kyle Orton. Now on to the question marks...


Quarterbacks
Start 'Em:
Quarterbacks Who Will Outperform Relative To Their Draft Position And Recent Hype

David Garrard @ TEN
The red hot (until last week against the Giants) Jacksonville QB takes on the Titans and their 27th ranked pass defense. Tennessee gives up 250 yards and 1 TD per game, and allow QBs to complete 65% of their passes, so it makes sense that opposing QBs throw more times a game against the Titans (40) than they do against any other team in the league. The only concern should be the Titans' pass rush, which has the 2nd most sacks in the league. For Jacksonville, Garrard had been on fire, throwing for 596 yards and 4 TDs in his previous two games. But last week, the Giants shut him down except for a scrambling TD run. He was held to 162 yards with an INT, three fumbles (1 lost) and four sacks. Against the Titans however, Garrard and he should be a solid play.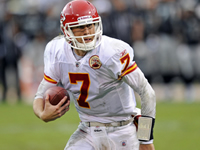 Is Cassel up for a repeat perfromance against Denver?

Matt Cassel vs. DEN
Matt Cassel averages just 210 yards a game, which is 26th in the league, but he has 22 TDs, which is tied for 6th (23 is the most by several QBs). He's only thrown four INTs and he has a 99.7 QB rating. Over the last three weeks he's thrown for 895 yards, 10 TDs and 0 INTs. His last meeting against Denver a few weeks ago resulted in him throwing for 469 yards and 4 TDs. Now while I don't expect him to come close to those numbers, I do expect him to have a big day against a Broncos defense allowing 230 yards and 2 TDs per game, as well as a 102.1 QB rating and five big plays per game – the most in the league.

Mark Sanchez @ NE
Sanchez is 22nd in the league in passing yards per game with 225. He has a respectable 2-to-1 TD (16) to INT (8) ratio, but only completes 55% of his passes – one of the lowest percentages in the league. But he does have 9 pass plays over 40 yards, which is the 3rd most in the league, and he's facing the league's worst pass defense this week in New England. The Patriots allow 289 yards and 2 TDs per game and the 5th most 20+ yard pass plays. It's a huge division rivalry game with teams that hate each other so there's a number of ways this game could go, but the matchup certainly suggests a big day for Sanchez is probable.

Josh Freeman vs. ATL
Freeman is near the bottom of the league in yards per game with just 206, but he has an impressive 3-to-1 TD (15) to INT (5) ratio and in his last two games before facing the Ravens, he had 2 TDs in each game with no INTs. This week he's back to a soft pass defense with the 27th ranked Falcons. Atlanta gives up 253 yards and 2 TDs per game and Freeman and the Buccaneers might give Atlanta a run for their money at home this week. The Falcons run defense is 6th in the league so any damage Tampa Bay can muster up will be done through the air.


Bench 'Em:
Quarterbacks Who Will Under Perform Relative To Their Draft Position And Recent Hype

Drew Stanton vs. CHI
With franchise QB Matthew Stafford still out (what else is new), and now backup Shaun Hill likely done for the season with a broken index finger on his throwing hand, it looks like third stringer Drew Stanton will get the nod this week against the Bears and their 17th ranked pass defense. In three games (none started) Stanton has thrown for 233 yards, 1 TD and 1 INT, has been sacked twice and fumbled three times. This could be an ugly one for Stanton against a Bears team giving up 220 yards a game and just 8 TDs all year – only the Saints have given up fewer (7). Chicago is 2nd in INTs (16), #1 in QB rating allowed (69.3), have allowed the 6th fewest big plays and allow a league low 6.2 yards per completion. Shaun Hill might have been moving the Lions well on offense but don't expect the same from Stanton.

Carson Palmer vs. NO
Carson Palmer is 11th in passing yards with 251 yards a game and has 19 TDs (just four behind the league leaders), so why is he getting so much slack this year? Well, his team stinks, he has 15 INTs (3rd most in the league), just a 78.5 QB rating (only two full time starting QBs have a lower rating) and is completing just 59.5% of his passes (only 4 other regular QBs are doing worse). He has 5 TDs in his last three games, but 6 INTs during the same span, and last week against the Jets he had 135 yards, 1 TD, 2 INTs and 3 sacks. This week he faces the 3rd ranked pass defense of the New Orleans Saints. The Saints allow just 198 yards a game and have allowed a league low 7 TDs, plus they've allowed the 2nd fewest big plays in the league. New Orleans doesn't get sacks or INTs but they should be able to keep Palmer in check, making him a bad play this weekend.

Donovan McNabb @ NYG
The cardiovascular endurance-challenged McNabb goes into the New Meadowlands to face a Giants team ranked #1 in pass defense. Besides being over their losing streak, the Giants hold offenses to just 186 yards and 1 TD per game. They are 5th in sacks, 3rd in passer completion (56%), and give up the fewest pass plays of 20+ yards in the league. McNabb is 8th in yards per game with 259 but has just 11 TDs and 13 INTs, plus he's been sacked more than anyone in the league not named Jay Cutler. He's 2nd in the league in 40+ yard pass plays so he might get a deep one downfield to help his stats but this does not look good for McNabb who in his last three games has thrown 5 INTs, been sacked 9 times and fumbled 3 times.

Troy Smith @ GB
Troy Smith is 27th in the league with 207 yards a game. He has 4 TDs (3 passing, 1 rushing), and 2 INTs and he's been sacked 12 times and has 3 fumbles in his four starts. Against a horrible Cardinals pass defense last week he managed just 129 yards, 1 TD, with an INT and a fumble, while completing just 48% of his passes – but he won. While I expect Alex Smith to resurface soon, this week will be Troy against the Packers. Green Bay has the 10th best pass defense in the league, allowing just 208 yards and 1 TD per game (10 total TDs allowed is the 3rd fewest in the league). Their QB rating allowed of 70 is second only to Chicago's 69.3, they are 5th in sacks and 4th in INTs and should have little trouble controlling Smith and the 49ers.

Running Backs