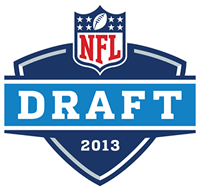 6.03 – Lions: WR Corey Fuller
Nothing wrong with taking a flyer on this speedy, athletic receiver. Fuller is raw and won't threaten Nate Burleson this season, but could be the deep threat the Lions wanted Titus Young to be. Fuller is worth a third-round rookie pick in dynasty leagues.
6.04 – Raiders: TE Nick Kasa
Not much should be expected from the converted DE early on, but given the lack of talent at TE in Oakland, Kasa will likely play early due to his run-blocking ability. He does a fine job of getting down the field, which could help him land on the dynasty radar at some point down the road.
6.09 – Bills: K Dustin Hopkins
With Rian Lindell turning 36, his time in the NFL is likely coming to an end. Hopkins was one of the country's top kickers in high school and became the NCAA FBS all-time kick scorer with 459 points. Hopkins will almost certainly be the kicker Week 1, but Buffalo's offense might hold him back a bit in 2013.
6.14 – Panthers: RB Kenjon Barner
I understand the need to stock up at RB, but Carolina seems to always have a RB surplus while being short at so many other positions. Either way, they get their young speed back to complement the long-term duo of Jonathan Stewart and DeAngelo Williams. Barner makes for an interesting chess piece on an offense that has used as much zone-read as it has with Cam Newton. No redraft value here, but he could work himself into the dynasty conversation once Williams moves on.
6.19 Cardinals: RB Andre Ellington
New HC Bruce Arians obviously did not like what he saw at RB when he arrived. A late second-round RB pick puts Ryan Williams on notice and suggests the team will have no problem moving on from Rashard Mendenhall after this year if he doesn't perform well on his one-year deal. I think Ellington is a bit more exciting for fantasy purposes than Taylor, but both backs are among the best blockers at the position. Like Taylor, Ellington has a decent shot at dynasty league value in 2014, but a committee (w/o Mendy) is possible.
6.22 – Bengals: RB Rex Burkhead
It's hard not to love Burkhead, who reminds me a lot of Jacob Hester. Burkhead probably isn't going to push BJGE out of a job in 2013, but he has enough red-zone chops to allow Cincinnati to move on from the Law Firm at the end of the 2014 season and work in tandem with Gio Bernard.
6.29 Bengals: WR Cobi Hamilton
On a field that featured future pros Jarius Wright and Greg Childs (pre-injury), Hamilton stood out the most to me in the games I watched of his in 2011. As I've said before with Arkansas, I'm willing to write off a good part of 2012 for all Razorbacks in what was just a chaotic situation. Hamilton struck me as a second- or third-round prospect before 2012, so he should stick with Cincy. He'll compete with Marvin Jones and Mohamed Sanu for outside duties. Unless injuries hit the WR corps like they did last season, Hamilton probably is off the redraft radar. However, I like his 2011 tape enough to believe he could be the WR2 in Cincy down the road.
7.24 Colts: RB Kerwynn Williams
Most people are going to write him off due to his size (5-8, 195), but Williams enters Indy as a very good bet to steal a few touches from Vick Ballard. Williams found his way into playing time in 2011 despite the fact that he was sharing time with Robert Turbin and Michael Smith (TB). Williams isn't a threat to Ballard's rushing workload in all likelihood, but he is a solid complement that has a great shot to be the third-down back for the next few years. I personally like him more than Donald Brown and wouldn't be surprised if he ends up being Ballard's best handcuff.
7.30 Bears: WR Marquess Wilson
College fans with good memories might recall Wilson was the player unafraid to tell the world what he thought of coach Mike Leach. At 6-3 and 195 pounds, Wilson has more than enough length to play in the league, but he needs a bit more bulk. Wilson has drawn comparisons to Jonathan Baldwin, but ironically plays a bit like future teammate Alshon Jeffery in the sense that he uses his size (rather than speed) to beat defenses on jump balls. In reality, he shouldn't push Jeffery anytime soon, but a WR3 in new HC Marc Trestman's offense could easily have redraft fantasy value (and Wilson will have a shot to do that).