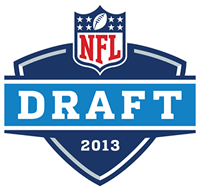 3.01 – Chiefs: TE Travis Kelce
Tony Moeaki is a very good talent, but his durability is almost always in question. Kelce is as good as all-around TE as there is in this draft. He is a nasty blocker, which ensures he will see the field right away. Off-field concerns dragged down his stock a bit, but Kelce is almost the Robert Woods of the TE position among the rookies in that he has a smooth path to playing time and should be consistently productive, even if he's not an elite talent. There is low-end TE2 redraft upside here and second-round value in dynasty rookie drafts.
3.11 – Buccaneers: QB Mike Glennon
The Bucs do it right here by sending a message with a first-round arm talent with third-round consistency to "challenge" Josh Freeman. Glennon needs time to add muscle to even think about challenging Freeman, but is enough of an investment to make sure Freeman puts together a full season that is more like his first half of 2012 rather than his second half. Glennon has no redraft value, but any unexpected hiccup by Freeman means Glennon could have the keys to a pretty high-powered offense. In short, dynasty owners could do a lot worse than invest in Glennon for a year or two to see if Freeman fails or not.
3.12 – Cowboys: WR Terrance Williams
The Cowboys stay in-state and find another weapon on offense (while continuing to ignore the defense). Williams steps in to fill the void of the departed Kevin Ogletree and is a much more dangerous receiver that could potentially replace Miles Austin at some point down the line. His redraft fantasy value will likely be similar to that of Ogletree's (an occasional big game followed by long bouts of 1-2 catch games), but his dynasty value is such that he could be worth a late second-rounder for an owner willing to wait for 2-3 years while Austin begins his decline.
3.14 – Chargers: WR Keenan Allen
Allen's knee injury and subsequent slow 40-time did him no favors, but speed was never his game to begin with. The Cal product has been compared favorably to Anquan Boldin and rightfully so. Don't expect Allen to catch passes at Boldin's history-making pace, but he is a precise route runner and steady performer that can obviously create yards after the catch. He'll start out behind three receivers on the depth chart (meaning his redraft stock is very low), but I'd be surprised if he isn't starting and a fantasy WR4 at worst in 2014.
3.16 – Bills: WR Marquise Goodwin
Underutilized at Texas despite world-class speed, Goodwin immediately steps into the fray as a player who could be Buffalo's WR3. This pick is likely an indictment of what the new staff thinks of TJ Graham, who was drafted by the previous regime as the speed WR. He'll need some time to develop, but Graham is definitely on notice. Yet another player that will have minimal redraft value in 2013, but there is a potential for a poor man's Mike Wallace here if he is able to pick up the system and his coaching quickly.
3.17 – Steelers: WR Markus Wheaton
The Steelers have hit on most of their recent WR picks and they do their best to replace Mike Wallace by grabbing a receiver that has a lot of the same qualities as Wallace and Antonio Brown. Wheaton was a big-time producer at Oregon State and certainly more developed than the player that went right before him (Marquise Goodwin). Given Emmanuel Sanders' durability issues and Jerricho Cotchery's age, Wheaton stands a great chance of being productive sooner than later. Sanders will likely be drafted higher in redrafts (and rightfully so), but Wheaton could bypass him by season's end and should be a clear starter by 2014 if/when Sanders leaves as a free agent. He's likely a WR5 in redraft, but worthy of a late first or early second round in dynasty rookie drafts.
3.23 – Redskins: TE Jordan Reed
For those fantasy owners that like to chances on rookie TEs, this is your draft. Reed profiles similarly to Dustin Keller (will get compared to Aaron Hernandez partly because they both came from Florida). Reed is likely to be used exclusively out of the slot as he is a liability as a blocker. HC Mike Shanahan has a long history of using his TEs, but will need to be used creatively because his snaps will be limited due to his poor blocking. His redraft value is minimal, but slightly higher in dynasty. Still, he's got a chance at some dynasty value if Shanny is willing to think outside the box.
3.30 – Rams: WR Stedman Bailey
There's going to be a day in the near future where fans will forget how bad the Rams' WRs were two years ago. Bailey was more productive than his college (and now pro) teammate Tavon Austin and was Geno Smith's preferred red-zone option. Bailey is a technically sound receiver that will stick in the league because he will be where he is supposed to be on every play and has reliable hands. He doesn't have the upside of any Rams receiver that will be ahead of him on the depth chart (Austin, Chris Givens, Brian Quick), so his fantasy potential is negligible. He'll go undrafted in redraft leagues and is probably a late-second/early-third dynasty rookie draft option at the moment.
3.34 – Chiefs: RB Knile Davis
Davis was actually one of my favorite backs in 2010 (although I saw only two games), but Davis has injuries and a coaching change conspired to make him a shell of himself in 2011 and 2012. Davis showed athleticism at the Combine to give his stock a boost, but he will likely be relegated to a 2012 Peyton Hillis-like role (at best) this season. He should go undrafted in redraft and it will take an owner willing to turn a blind eye on his long injury history and fumblitits to accept the risk he carries as a dynasty option. His talent warrants a selection in the third round of dynasty rookie drafts, but don't expect any kind of durability.