Note: Salary amounts are DraftKings pricing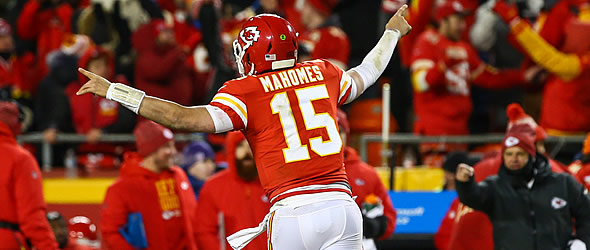 Quarterbacks
H2H/Cash - Patrick Mahomes vs. Oakland - $7,400
Mahomes has not been the same dominant performer he was last season. After starting 2019 with three consecutive 30-point games, the reigning MVP has just one big game since Week 3, as the dislocated knee injury suffered against the Broncos has limited his mobility and hampered his production. With other cash game mainstays like Lamar Jackson taking on a tough 49er defense and three games already in the book on Thanksgiving, I am going to pay a premium at quarterback in cash and nab Mahomes at home against a Raiders team that gives up a ton of big plays.
Other options to consider - Aaron Rodgers @ N.Y. Giants & Carson Wentz @ Miami
GPP - Ryan Fitzpatrick vs. Philadelphia- $5,400
My favorite cheap GPP play at quarterback this week is Ryan Fitzmagic at home against the Eagles in what could be a sneaky, high scoring game. It is quite challenging to run on the Eagles, and the Dolphins don't have much to speak of with regards to a running game, so I anticipate Fitzpatrick will sling the ball around a ton on Sunday against an Eagles team that has given up 17 passing touchdowns on the year. The Eagles have been far better against the pass over the last two weeks at home, but I think they will give up a few touchdowns to Fitzpatrick and DeVante Parker this week.
Other options to consider - Sam Darnold @ Cincinnati & Nick Foles vs. Tampa Bay
Fade - Baker Mayfield @ Pittsburgh - $6,200
Baker has been red hot as of late with an average of 25 fantasy points in his last two games, including 27 points last week against Miami. I plan on using Mayfield in future matchups, just not this one against a Steelers team that will have revenge on the mind for the embarrassing loss they suffered in Cleveland back in Week 11.
Running Backs
H2H/Cash - Le'Veon Bell @ Cincinnati - $7,200
Bell has been one of the most disappointing early round picks over the past two seasons. First with the full-season holdout in 2018, and now with an underwhelming first season with the Jets in which he has just three games of over 20 fantasy points. Bell has been frustrating, but I anticipate he will get a large volume share this week in a road matchup against a Bengals team that gives up the sixth-most points to opposing running backs.
Other options to consider - Saquon Barkley vs. Green Bay & Jonathan Williams vs. Tennessee
GPP - Ronald Jones @ Jacksonville - $5,100
Jones has a score in three of his last four games, including a 23-point performance against Arizona back in Week 10. There is always a concern that game flow could limit his volume, but the Titans proved last week that the Jags defense is a far cry from what it was in previous seasons. I don't expect a monster game like Derrick Henry posted last week, but Jones could be an excellent low-cost option this week in GPP.
Other options to consider - Miles Sanders @ Miami and Jalen Richard @ Kansas City
Fade - Mark Ingram vs. San Francisco - $6,000
The Ravens face their most difficult matchup of the season with the 10-1 49ers coming to town. While I think Baltimore will come out on top in this game, I don't think Ingram will produce enough fantasy points to justify his 6k salary. San Francisco has allowed just three total touchdowns to running backs this season, and their run defense is one of the best in the NFL.
Wide Receivers
H2H/Cash – D.J. Chark vs. Tampa Bay- $6,600
When playing against teams who struggle to stop the pass like the Jets and Titans, Chark received a massive target share and delivered monster fantasy performances. No other team gives up more points to wide receivers than the Buccaneers, leading me to believe that Chark will once again get at least 10 targets in what could be a high scoring game. I also love Tyreek Hill against the Raiders, but if you do not want to pay an 8k salary, Chark is a great mid-priced option.
Other options to consider - Tyreek Hill vs. Oakland & Tyler Boyd vs. NY Jets
GPP - Davante Adams @ NY Giants - $7,000
In keeping with the theme of former fantasy studs who have been disappointing this season, I am firing up Adams in both GPP and cash this week against the Giants secondary that has given up seven games of over 100 yards and a score this season and a whopping 15 receiving touchdowns to wide receivers. I anticipate this will be a get-right game for the Packers passing game similar to what they did to Oakland back in Week 7.
Other options to consider – A.J. Brown vs. Indianapolis & Mecole Hardman vs. Oakland
Fade - Keenan Allen @ Denver - $6,500
Allen continues to be the favorite receiving threat for Philip Rivers and gives his owners an average of 11 targets over the past two games. While I do like Allen as a talent and his salary is attractive, I anticipate Chris Harris will be covering him most of the day, and this game could be a low-scoring field goal game.
Tight End
H2H/Cash - Darren Waller @ Kansas City - $5,500
Waller has been relatively quiet over the past few weeks and has not scored a touchdown since Week 8 against Houston. I anticipate the Chiefs will jump out to a big early lead and will force Derek Carr and the Raiders offense to throw the ball more than they would like. Now that Hunter Renfrow is out with a rib injury, look for Waller to once again get a massive target share against the Chiefs.
Other options to consider - Travis Kelce vs. Oakland
GPP - Dallas Goedert @ Miami - $4,100

Goedert has an average of six targets over the past three weeks, and Zach Ertz has a hamstring injury that could flare up in the Miami heat. I like Goedert even if Ertz plays, and if Ertz is out, Goedert could be in line for a top-5 week with a massive ceiling.
Other options to consider - Ryan Griffin @ Cincinnati
Fade - Mark Andrews vs. San Francisco - $5,700
The Niners give up the fewest points to opposing tight ends, and this game could be a low-scoring slugfest between two of the league's top defenses. The way to beat the Niners is with speed deep, not on passes in the middle of the field to tight ends.
Defense & Special Teams
High Priced Option Worthy of the Cost: Panthers ($3,800) @ Redskins
Well Priced with Upside: Packers ($3,600) @ Giants