Injuries continue to mount, the virus continues to sideline players and the bye week schedule make roster depth and being active on the waiver wire more important than ever. Sure, it may be a grind to check the injury/Covid-19 list every day up to, and including, Sunday morning, but this year it's the necessary commitment required to winning your fantasy championship.

Byes: Cincinnati, Cleveland, Los Angeles Rams, Philadelphia

Truths

"All truths are easy to understand once they are discovered, the point is to discover them." Galileo Galilei
1) It is impossible to slot Antonio Brown's fantasy value before he gets on the field.
True. There are just too many variables to know what Brown will be ahead of seeing how Tom Brady will use him. He joins a team with two very talented wide receivers in Mike Evans and injured Chris Godwin (finger). In truth, however, if it's the 2013-18 version of AB, he's better than both of them. But that was two years ago and he's played one game since then. (Of course, that one game was a 4-56-1 effort after signing with the Patriots in Week 2 of 2019 against Miami). But is he that guy? I simply don't know and while I picked up Brown in two leagues I won't start him, sight unseen, because Brady already has established two great red zone targets this season in Evans and Rob Gronkowski. Targets (averaged 171 per season from 2013-18) and touchdowns were a huge part of Brown's elite fantasy value in Pittsburgh (11.2 TDs) and he won't get that level of opportunity in Tampa Bay. If you force to make the call before Week 9, I put his value as top-24, but not top-12. Somewhere in the Robert Woods, Robby Anderson and Will Fuller range.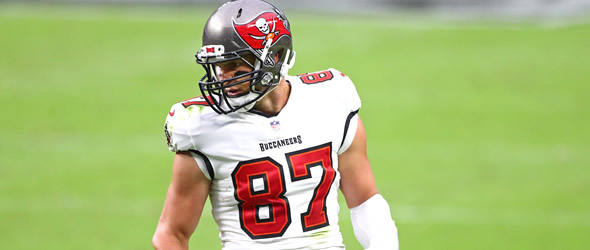 2) Gronk is back!
Even if the preseason plan was to ease Gronkowski into the season and have him ready for the postseason, the injury to tight end O.J. Howard in Week 4 has changed Gronk's usage rate. He averaged 3.5 targets with Howard in the lineup and he's averaged 6.5 targets in the four games since the injury. He's averaged 22 receiving yards before and 58.3 yards after. Gronkowski has scored in three consecutive games. The arrival of Antonio Brown may hurt his target level, but his buddy Brady has shown you over and over, when he needs a touchdown, he knows where to go and who to target. Gronkowski ranks third at the position (16.7 FPts/G) since Week 6.
3) There should be some concern for Packers' RB Aaron Jones owners.
Not just Covid-19 concerns, though that should obviously be there, since Packers' backup running back A.J. Dillon just tested positive and fellow back Jamaal Williams will also miss the Week 9 game against Minnesota due to high-risk close contact. Of more concern is why Jones, supposedly a game-time decision in Week 7 due to a calf issue, is still unlikely to go in Week 9's Thursday contest after a limited Monday practice. Jones is once again a top-five fantasy back averaging 25 FPts/G in 2020, but when will he return?
4) Tennessee wideout A.J. Brown is vastly underrated.
Perhaps he gets overlooked because his quarterback doesn't get the respect he deserves and it leaks to the receiver. But Tannehill is playing great football this season (ranked 10th at 25 FPts/G) and one of the big reasons he's been so good is the play of Brown and teammate Corey Davis. Brown ranks seventh in average points at the wideout position for the season and fourth since Week 3 behind only Davante Adams, D.K. Metcalf and teammate Davis. He's ahead of Adam Thielen and Julio Jones, but you would be hard-pressed to find any fantasy owners who would choose him before that pair of receivers.
5) Multiple big trades weren't made this season because of issues other than player performance.
True. Plenty of teams need help and the help was out there (Green Bay and Houston's Will Fuller would have been a great fit), but two primary reasons caused teams to shy away from making big trades. First, even if you traded for a player at the deadline (Nov. 3), he probably couldn't help your team for two weeks. Covid-19 rules would keep him out of Week 9 and he wouldn't get much practice work before the Week 10 game. Secondly, the 2021 cap is expected to take a big hit, so adding high-priced talent for a high-draft choice is difficult to justify when you are already likely to have to cut players due to the lower future salary cap.

Lies

"False words are not only evil in themselves, but they infect the soul with evil." – Plato
1) T.Y. Hilton's days as a factor in the fantasy world aren't done.
False. There was a fleeting moment in Week 5 when we saw Philip Rivers target him 10 times, but that was a game-situation issue as the Colts fell far behind the Browns (27-10 in the third quarter). He's no longer explosive and even if he was, Rivers doesn't have the arm to reach him. If you could trade Hilton for anything of value go ahead and pull the trigger, otherwise, he's got to take a seat on your bench.
2) Drew Brees still has arm strength.
Do not be fooled by his 280 yards last week or his 287 yards and 325 yards the previous two games. Brees has no arm strength at all. It's why Emmanuel Sanders has been a bust. It's why a deep threat like Tre'Quan Smith has been stifled. Once they are more than 15 yards downfield, Brees can't hit them and won't even try. They are just doing wind sprints. Brees' numbers have been saved by the elite receiving talent of Alvin Kamara (55-556-3). I don't even think the return of Michael Thomas (hamstring, ankle) will help. He'll be restricted to flanker screens and quick slants. If anything happens to Kamara, fade Brees.
3) Injured Dak Prescott regrets not signing the huge preseason contract offer from Jerry Jones.
Are you kidding? Have you seen the two replacements the Dallas Cowboys have tried? Andy Dalton didn't last a game and Ben DiNucci was a disaster. Behind the same offensive line and with the same talented trio of receivers that Prescott produced top-10 numbers and three consecutive 450-yard passing games, Dalton managed 17.7 fantasy points in his one full game and DiNucci posted 11.2 points in an embarrassing offensive display in Philadelphia. GM/owner Jones should be regretting the Brinks' trucks full of cash he gave Ezekiel Elliott and Amari Cooper, because Prescott is the guy who runs the Cowboys offense and now he's going to need two trucks for his franchise quarterback despite a reduced salary cap 2021 season.
4) Those fantasy owners still seeking a replacement for Prescott should turn to new 49ers starter Nick Mullens.
False. Mullens averaged 20.5 FPts/G in eight games during the 2018 season, which is solid enough, but a closer look shows tight end George Kittle was a huge part of Mullens' passing success. In those eight games, Kittle accounted for 28.9% of his completions, 34.8% of his passing yards and 23.1% of his touchdown passes. Kittle is expected to miss two months with a foot injury. Additionally, Deebo Samuel is currently on IR, leaving Jordan Reed and Ross Dwelley at tight end and rookie Brandon Aiyuk and Kendrick Bourne at wideout. Not exactly an All-Pro receiving corps.
5) Marvin Hall is the receiver to have as a temporarily replacement for Kenny Golladay (already declared out for Week 9).
Unlikely. Sure, Hall saw seven targets and hauled in four for a team-leading 113 yards against Indianapolis last Sunday, but when it comes time to make the big touchdown-scoring play, Matthew Stafford will look to veteran Marvin Jones before Hall, Quintez Cephus or Danny Amendola. In fact, I expect Jones and tight end T.J. Hockenson to vie for most targets with Amendola third and Hall fourth. Start Jones and Hockenson against a weak and vulnerable Vikings pass defense (ranked 31st to opposing fantasy wideouts).