Congratulations to the NFL for reaching the halfway point of the fantasy season (13 regular season weeks and three playoff weeks). I had my doubts. For my midway fantasy MVPs by position: Russell Wilson, Alvin Kamara, DeAndre Hopkins, Travis Kelce and Rodrigo Blankenship.

Byes: Arizona, Houston, Jacksonville, Washington

Truths

"Love truth and pardon error." - Voltaire
1) Dak Prescott is still owned in 24% of all fantasy leagues.
True. Do fantasy owners believe he will be cured anytime soon? That he will be touched by the hand of God and miraculously make a comeback from a broken ankle in Week 9? This isnít the movie Heaven Can Wait where a ďnot-deadĒ Warren Beatty jumps into the body of Los Angeles Rams quarterback Tom Jarrett and wins a Super Bowl. Stop giving your opponents an advantage and allow yourself a full roster from which to choose. Itís important in these Covid-19 times to have as deep a roster as possible and wasting a spot with no value is foolish. Of course, Saquon Barkley is rostered in 27% of all leagues too and heís been out since Week 2. What are people thinking?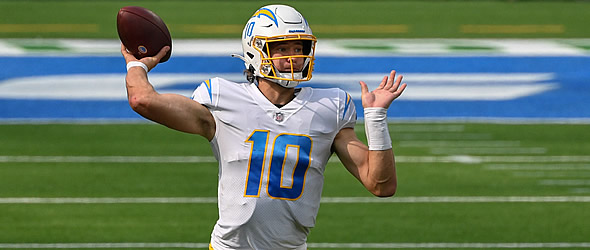 2) Over the past three weeks, Justin Herbert and Ryan Tannehill have both produced top-5 fantasy averages while Lamar Jackson and Patrick Mahomes have been ďordinary.Ē
Fact. Herbertís 36.0 fantasy-points-per-game over two starts ranks No.1, while Tannehill ranks No.5 at 28.6 FPts/G. At the same time, Jackson and Mahomes have been mediocre. For both superstar quarterbacks the issue is simply not throwing the ball enough. Jackson is averaging just 32 attempts and 183 passing yards in his last few games while the normally prolific Mahomes is averaging 30.6 passes and 255 yards. Iím concerned both teams are learning they can win in other ways than depending on their quarterback to carry them Ö in particular, their running backs and defense. I wouldnít expect a big game from Mahomes in Week 8 either. Facing a horrible New York Jets team and favored by a gigantic 19 points, they should be able to name their final score and sit Mahomes for most of the fourth quarter.
3) For Chase Claypool owners, reality steps in.
True. For the first time since Claypoolís coming out party against the Eagles (7-110-3 and one rushing touchdown), Pittsburgh had its full complement of receivers and Claypool ended up with one target and zero rushing attempts. Against the formerly unbeaten Tennessee Titans, a finally healthy Diontae Johnson (15 targets) and a suddenly revived JuJu Smith-Schuster (14) along with tight end Eric Ebron (8) dominated the day, while James Washington and Claypool were left with scraps. In reality, Claypool has seen more than four targets just one time in six games. Claypool can still have a big game every now and then because Ben Roethlisberger will take what the defense gives him, but heís not ready to carry your receiving corps Ö just yet. Perhaps next season, if the Steelers donít sign impending free agent Smith-Schuster, Claypool will shine on a daily basis.
4) You can no longer plug-and-play D.J. Chark.
He was a fantasy darling early last season when he averaged almost 18 FPts/G over the first half of the season and 14.9 FPts/G for all of 2019, but in 2020 heís become a disappointment. He was a relatively high draft choice, but has just one game over 13 fantasy points. As quarterback Gardner Minshew has fallen, so has the value of Chark. In the last three weeks heís still getting the opportunities (25 targets is tied for 11th over that span), but has produced just 11 receptions, 87 yards and no touchdowns.
5) If you are in need of a tight end then Eric Ebron could be your guy.
Has Zach Ertz been disappointing you? Obviously, the answer is yes. Noah Fantís 3-38-0 and single digit production for the last month? Greg Olsenís disappearing act in Seattle have you down? Then how about a guy who is available in 54% of all leagues that has the fifth-most targets over the past three weeks? Itís Ebron. Heís yet to turn that into fantasy points because he hasnít gotten into the end zone much, but if opportunity equals value then his 18 targets should indicate heís ready to help you out. He had a huge 2018 (66-750-13), so we know heís capable of doing great things, but perhaps itís just taking a little time in his first year with Pittsburgh and Roethlisberger. He actually leads the Steelers in red zone targets with seven (21.9% share).

Lies

"Truth is beautiful, without doubt, but so are lies." - Ralph Waldo Emerson
1) D'Andre Swift has taken over the Detroit Lions' three-way RBBC.
False. While Swiftís performance over the past two games has certainly been fantasy-worthy (21.1 FPts/G), all that has accomplished is to phase out Kerryon Johnson and make it a two-man share instead of three-way situation. Since the Week 5 bye, Swift has seen 30 touches, Adrian Peterson 28 and Johnson just six. Still, for those fantasy owners who stubbornly held onto Swift through the dark early days when he saw just 12 rushing attempts in the first four games, the future is bright. He can run and his catching ability should eventually make him scoreboard proof. Now if someone can just convince the 35-year-old ďAPĒ to retire.
2) Nelson Agholor has become fantasy-worthy again.
Donít be fooled, itís a mirage. Sure, Agholor has scored in three consecutive games and his 16.9 FPts/G over the past three weeks looks great, but the facts are heís caught just 15 balls all season on 20 targets. Heís no better than Las Vegasí No.3 target behind Darren Waller and Henry Ruggs. Even Hunter Renfrow has more targets and more catches.
3) Itís always good to start your quarterback against the Miami Dolphins therefore Jared Goff should be a great option this Sunday despite the short work week.
False. The Dolphins pass defense was non-existent in 2019 when it ranked 31st in QB fantasy points allowed and they were 26th in 2018, but this is 2020 and behind the defensive-oriented head coach Brian Flores and DC Josh Boyer, they rank 10th in the league yielding just 21.7 FPts/G and have allowed just seven touchdown passes which is tied for second-best with Indianapolis (behind Chicago). If you are still looking for your Dak Prescott replacement, besides the obvious choice (Jimmy Garoppolo vs. No.32 Seattle), perhaps try playing Derek Carr (29% rostered) against the Cleveland Browns (ranked 29th) this week. The Browns just allowed 406 yards and three touchdown passes to rookie Joe Burrow. Four quarterbacks has surpassed 29 points against Cleveland and twice they have given up 40-plus points.
4) Its Tua Time!
We are in the ďTua Tagovailoa EraĒ in Miami, but itís not yet ďTua timeĒ for fantasy owners. Former Prescott owners who are still looking for a replacement, might be tempted to claim Tua (29% rostered), but I am searching elsewhere for Week 8 and I already have Tagovailoa on my roster. The Rams rank sixth against opposing quarterbacks and facing Aaron Donald and Jalen Ramsey in your first start isnít likely to be fun. Overall, the mobile Tagovailoa should be a viable option after a great career at Alabama (69.3% completions, 87 touchdown passes, 11 INTs, nine rushing touchdowns). He has plenty of receiving talent in Miami with DeVante Parker, Mike Gesicki and Preston Williams - just donít play him this weekend.
5) Dallas quarterback Ben DiNucci could be your Dak replacement.
I would say no. Iíve gone over the Cowboys preseason No.3 quarterback and if Andy Dalton (concussion) canít go, it would be DiNucci facing the Philadelphia Eagles this Sunday night and that probably wonít be a good fantasy result. Let me give you the short version. As a freshman at Pittsburgh, DiNucci couldnít beat out the ďgreatĒ Nathan Peterman (career NFL QB Rating 32.5, 3 TDs, 12 INTs). As a sophomore he started, but was eventually beaten out by a freshman - Kenny Pickett, who wasnít drafted and has never played in the NFL. He then transferred to James Madison. The good news is the Eagles only have three INTs all season, but the bad news they rank third in sacks (24 and tied with the Rams).