Technically, this is the beginning of the "Bye Weeks" portion of the schedule which is set to run through Week 13. This is 2020, however, a year full of surprises, so plan for the unexpected. This could just be the year that depth wins out over a better starting lineup.

Bye Teams: Detroit, Green Bay

Truths

"Power tempts even the best of men to take liberties with the truth." – Joseph Sobran
1) There were four unexpected byes in Week 4.
True. Pittsburgh and Tennessee were forced to sit out the week due to the Covid-19 virus. However, apparently the Falcon's Calvin Ridley and Texan Brandin Cooks thought they were also on a bye week. On a night when Atlanta threw the ball 39 times and Julio Jones sat out the entire second half, Ridley's zero catches on five targets might have been the most disappointing of the weekend. Meanwhile, Cooks, who newly unemployed former Houston GM/coach Bill O'Brien thought could replace DeAndre Hopkins, ran 39 pass routes, was targeted three times and caught none of them against a Minnesota Vikings defense that has allowed the fourth-most fantasy points to opposing wideouts. While Ridley's excuse might be a talented Jaire Alexander covering him most of the night, I see no reasonable explanation for Cooks' failure.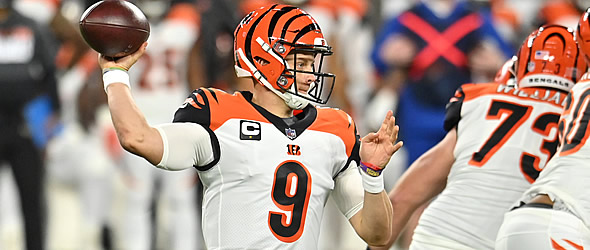 2) Joe Burrow is on pace to break Andrew Luck's rookie passing yardage record.
Fact. Burrow has produced 1,121 yards in four games which translates to 4,484 yards over 16 games while Luck's 2012 record is 4,374 yards. What do both players have in common? Quality receivers? Luck had Reggie Wayne and T.Y. Hilton and Burrow has … no one of that quality. A.J. Green is a shadow of the elite receiver he once was. Tyler Boyd is solid and the jury is still out on fellow rookie Tee Higgins. If Burrow keeps this pace up he will have had a better season than Luck. Except Luck went 11-5 and made the playoffs. Burrow is competing in the tough AFC North division and isn't likely to match Luck's winning ways this season. Burrows will be severely tested the next two games facing Baltimore and Indianapolis so beware of overvaluing his future production.
3) No Ravens running back has seen more than 10 carries in a game.
This is RBBC at its worst. Through a quarter of the season, no Ravens back has more than 12 touches in a game or more than 77 combined yards from scrimmage. In fact, of the 12 player games to date between Mark Ingram, Gus Edwards and J.K. Dobbins, 75% have seen less than 45 totals yards. Three of the next five games are against teams ranked in the top-10 for fewest fantasy points allowed to opposing RBs (Indianapolis, Pittsburgh and New England). Stay away from this backfield. Even quarterback Lamar Jackson is down 6.9 FPts/G from last season.
4) Bill O'Brien the general manager got Bill O'Brien the coach fired.
Sadly true. The GM thought Brandin Cooks and Kenny Stills were an adequate replacement for an elite wideout like Hopkins. Traded Jadeveon Clowney for a pittance. Then traded away the Texans' future to get OT Laremy Tunsil. O'Brien the coach had five winning seasons in six years heading into 2020, made the playoff two straight seasons and won a playoff game last year. O'Brien is a decent football coach, but as a GM let his personal feelings (he and Nuk apparently didn't see eye to eye) get in the way of long-term team goals and strategy. Let this be a lesson to fantasy owners to not let short-term issues change your season-long goals. If you are in need of players due to byes, injury or Covid-19 don't trade away your team's future to fix one week. One loss won't kill you. At least not until the playoff run.
5) The Green Bay Packers have finally found a receiver opposite Davante Adams.
True. It's tight end Robert Tonyan. "Baby Kittle" exploded for fantasy owners Monday night when he was the only reliable option outside of the Packers' running backs to consistently catch the ball. The undefeated Packers came into this game missing both Adams and Allen Lazard (out 4-8 weeks due to core muscle surgery) so Aaron Rodgers went to "Plan B." Throwing to Aaron Jones and Jamaal Williams out of the backfield and tight end Tonyan. All played well, but Tonyan, who many fantasy owners had picked up in case Adams was a late scratch, came through with a breakout 6-98-3 line that produced a spectacular 33.8 fantasy points. Even when Adams returns after the bye, Tonyan should be the No.2 option for the next month or more, ahead of Marquez Valdes-Scantling, who once again caught a low percentage of targets (4-of-8). MVS has caught only 48% of his targets in 2020 after hauling in 46.4% in 2019. Tonyan has caught 13-of-14 targets this season (92.9%). Tonyan is owned in 31% of all leagues. Beware, however, under Rodgers, the leading tight end for the Packers has averaged just 41-440-3 since 2015.

Lies

"One of the most striking differences between a cat and a lie is that the cat only has nine lives." - Mark Twain
1) The San Francisco 49ers are 0-2 in games that George Kittle has played this season.
True, but irrelevant. This is a statistic that lies. Horribly. Could anyone have done more for his team than Kittle in the Eagles upset win on Sunday night? He was targeted 15 times, caught all 15 for 183 yards and a score. He was unstoppable. In fact, he's so good that fantasy owners have to lower expectations for 49ers wideouts Deebo Samuel and Brandon Aiyuk when Kittle plays.
2) Lamar Jackson is the best running quarterback in the NFL.
Last year, yes, but not in 2020. And it's not because he's running less, he's not. It's because Kyler Murray is more productive. Jackson has produced 235 yards and one touchdown through four games and 39 carries, while Murray has amassed 265 yards and four scores on just 32 carries to date. Murray has scored from 1, 14, 21 and 22 yards out. He averaged 5.8 ypc in 2019, but that number has jumped to a league-leading 8.3 ypc in 2020. It's also well above the 6.9 ypc mark that Jackson led the league with last season. The Cardinals and Murray have a very soft schedule in front of them with the Jets, Cowboys, Seahawks and Dolphins next up - all extremely generous to opposing quarterbacks.
3) The Cleveland Browns are the highest scoring team in the AFC.
True, but also giving false hope to Browns fans. Yes, after four games the Browns lead the conference with 126 points, but they just finished playing Cincinnati, Washington and Dallas. My Neshaminy High School football team could run through this Cowboys rush defense. You can laugh/yell at me (your choice) if the Browns still lead the conference after Week 6. They are about to get two weeks of a true test of their offensive ability playing Indianapolis and Pittsburgh. Yes, I know they lost Nick Chubb, but in Kareem Hunt they have the best "backup" running back in football. They have a healthy offense and a nice passer in Jarvis Landry (158.3 QB rating). Sorry, but not a believer in quarterback Baker Mayfield, who is better at making cute commercials than hitting open receivers. Better he should study the playbook and how to read defenses than his lines. Given their running game, Mayfield should be completing more than 62.6% of his passes. His 6.3 yards-per-attempt ranks 29th.
4) Clyde Edwards-Helaire is an elite fantasy running back.
He is not. I said it last week, the preseason hype had overtaken reality in regards to CEH, and I continue to spout this wisdom. He was not worthy of a No.1 pick and if you can still get No.1 value for him on the trade market, do it. Over the last three weeks, after his amazing opening game (25-138-1) Edwards-Helaire has done little. He's ranked 24th over the three-game span from Week 2-4. Only his pass-catching ability has saved him from dropping even lower as he's run the ball 46 times since Week 2 for just 166 yards (3.6 ypc) despite favorable game situations. And television announcers don't you dare tarnish the great history of NBA legend Clyde "the Glide" Drexler by using the name for Edwards-Helaire. He hasn't earned it.
5) There is a right option for starting a Rams running back.
This is an RBBC that defies a solution. Darrell Henderson exploded in Week 3 (20-114-1), but returned to earth last Sunday against the Giants (8-22-0) while Malcolm Brown saw 14 touches in Week 4, including five receptions. Tuesday, Rams coach Sean McVay said he expects rookie Cam Akers to return to action. Akers has the best potential to be a three-down back, but I'd expect a "hot hand" approach through the end of the season. The only good news is that McVay has used the running game a lot more this season as quarterback Jared Goff is on pace to throw the ball just 488 times versus 626 in 2019. If one of the backs can establish himself, he could become a solid fantasy option. However, I don't recommend rostering all three backs and leaving yourself shorthanded elsewhere.