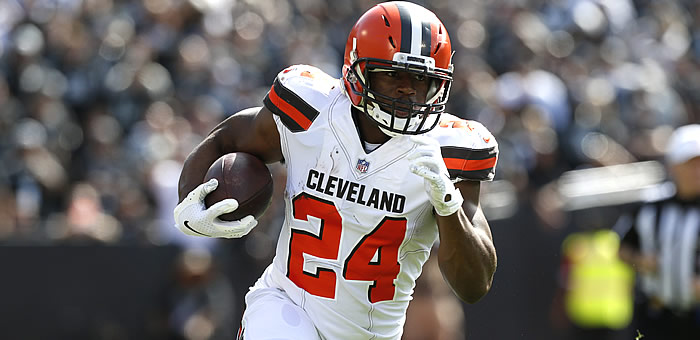 Not every back gets to run behind the league's best offensive line (last season that was the Los Angeles Rams). So not every back has wide open holes to run through time after time. The resulting issue means it would help fantasy owners (and likely head coaches too) to know which running backs are able to "make their own holes" when necessary. And who will still be able to run the ball effectively when injuries inevitably take out starters on their offensive line.

Below is a ranking of running backs based on their "yards after contact" per rushing attempt (minimum 120 attempts).

In this study, if a running back rumbles through a huge hole and goes 90 yards for the score, untouched, his yards after contact total is obviously unaffected. But if that same back runs over an unblocked linebacker and sprints to the end zone, his yac/att will reflect the additional effort necessary to succeed.

This number more accurately portrays which running backs can be counted on, whether their line is on the top of their game or struggling to produce holes. The great running back can make something out of nothing. He might still be able to be productive even if the backup tackle or guard is blocking in front of him.

Please note I added three likely "fantasy-worthy" running backs who did not qualify in 2018 and entered their full-season 2017 totals (Le'Veon Bell, Devonta Freeman and Jerick McKinnon).
The Good
Nick Chubb, Cleveland – The 2018 rookie ranked No. 1 overall amassing 829 yards after contact on just 192 rushing attempts (4.318 yac/att). His margin over No.2 Derrick Henry was more than three-quarters of a yard, which equaled the margin from Henry and No.12 Royce Freeman. And he did it behind a middle-of-the-road OL as the Browns ranked just 18th of 32 teams based on Football Outsiders' Adjusted Line Yards ranking. He'd be a great early choice for fantasy owners, but for one sticking point … No.4 on the list is his new teammate Kareem Hunt (3.166). Come game nine when Hunt returns from suspension, it's hard to imagine Chubb continuing to see the workhorse carries he'll see in the first half of the season.
Derrick Henry, Tennessee – Henry ranks No.2 on the list (3.553 yac/att) and should be given great respect after noting his running back mate, Dion Lewis, ranked No.32 behind the same offensive line. Consistent with the elite "toughness factor," the 6-foot-3 247 lbs. Henry produced 149.6 (786 rushing yards and 11 touchdowns) of his 187.8 fantasy points after Week 9 as defenses wore down … and he didn't. Sounds like a fantasy playoff star in the makings.
Saquon Barkley, New York Giants – Barkley's rookie production (3.199 yac/att) looks even better when you consider how downright ugly the Giants' offensive line was in 2018. Not only was he productive in the passing game (91-721-4) as an outlet for Eli Manning, but he broke the second-most tackles in the league (56) on the way to 835 yards-after-contact and 11 touchdowns. If New York's attempts to improve their OL these past two seasons has finally succeeded, there is no telling how good Barkley will be in 2019.
Melvin Gordon, Los Angeles Chargers – Barring Gordon pulling a "Le'Veon Bell" and sitting out the season, he's in a great situation with the Chargers. He plays behind a top-five OL, in an offense with diverse weapons and a quarterback in Philip Rivers who knows how to use them. His only issue (besides not having a larger bank account) is that management might think they can still win with Austin Ekeler and Justin Jackson as their tandem and wait out/trade Gordon. That would be a mistake in my opinion, but mine only seems to count in fantasy circles, not in Chargers' management meetings.
Chris Carson, Seattle – Carson broke the most tackles of any running back last season (58) en route to a surprising 1,151 rushing yards and nine touchdowns behind an improving, though still not top-10, Seahawks offensive line. Last season's three-man "RBBC" is down to two with Mike Davis' trade to Chicago and Carson (2.960) should grab the majority of the workload over Rashaad Penny (2.55). Like Henry, Carson was at his best down the stretch, posting 654 rushing yards and seven touchdowns in seven games after their bye (Week 10).
The Bad
LeSean McCoy, Buffalo – With little threat from the passing game, McCoy didn't win the hearts of fantasy owners and Bills' fans with his production. Of course, given the 30th-best OL, a dearth of receivers and a rookie quarterback to scare defensive coordinators, it wasn't a big surprise. McCoy posted the worst rushing yardage total (514) and rushing touchdown total (3) of his 10-year career. His game was always speed and elusiveness, breaking tackles is not his forte. Now slowing down at age 31 with 2,346 carries behind him, he can't be trusted to be a viable starter for fantasy owners.

Leonard Fournette, Jacksonville – Fournette is a solidly built guy (6-foot, 228 lbs.), so his lack of production after contact (282 yards) is a bit of a surprise (2.122). Even in 2017 when he ran for over 1,000 yards, he wasn't much better (2.343). The threat of a passing game with Nick Foles instead of Blake Bortles should help, but if Fournette can't produce after the first hit then running behind the weak Jacksonville run-blocking unit will likely make for another disappointing season.

Jamaal Williams, Green Bay – Running behind the same top-10 Packers OL as Aaron Jones, Williams couldn't produce anything close to Jones' results (2.198 vs. 2.722). I believe management will finally figure out what the numbers say, that Jones is the better running back.

David Johnson, Arizona – An unimaginative offensive scheme and a rookie quarterback conspired against Johnson last season. He'll still have a rookie quarterback under center in 2019, but this one should enhance Johnson's talents. Having seen how Lamar Jackson's running helped the 2018 Ravens' running back corps (3.51 ypc behind Joe Flacco and 5.41 under Jackson), I think Kyler Murray does the same for Johnson. However, don't go overboard, as the 2016 version of Johnson (331.8 fantasy points) was greatly enhanced by extreme volume (373 touches) and that level is unlikely to be repeated. His yards-after-contact in 2016 was just 2.293.

Phillip Lindsay, Denver – The rookie was the star of the offense in 2018, but he didn't produce those numbers by running over people (2.292 yac/att) he went around them. Fortunately, the Broncos' OL opened up plenty of holes (ranked 6th). Interestingly, behind the same line, Freeman ranked 12th overall (2.777 yac/att), 18 spots ahead of Lindsay. Perhaps that's why we keep hearing whispers of an RBBC situation despite Lindsay's eye-opening 2018 results (192-1037-9). Be careful of overvaluing Lindsay.


* - Offensive Line rank based on Football Outsiders "Adjusted Line Yards" for 2018.
- Yards after contact and broken tackles courtesy of Sports Info Solutions