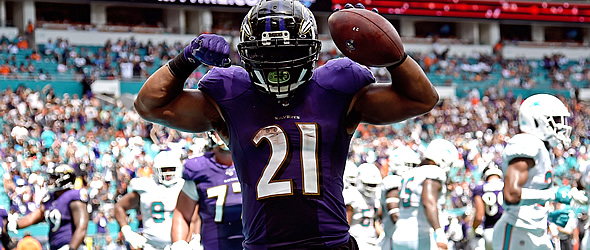 One "mid-round" running back I am warming up to as the offseason winds down is Mark Ingram. The Ravens ran the ball 596 times last season. Yes, I expect that number to drop, but what are the odds the quarterback position will account for 197 carries again? Not high. As I alluded a couple of paragraphs earlier, I believe Baltimore does not want a repeat of Lamar Jackson running an average of 11.7 times as it did last season, but rather find eight or nine prime spots per game to do so. Over the course of a season, that adds up to about 45-50 additional rushing attempts for non-quarterbacks. So, if we assume 150 carries for the quarterbacks (still a very high number) and 550 carries for the team overall, that leaves somewhere around 390 to 400 for the backs. Interestingly, 94 of Gus Edwards' 133 carries last season came in games where the final margin was 15 or more points (Ingram had 99 such attempts). In other words, Ingram was featured more than his 202 carries over 15 games suggest he was.

There are the obvious age (turns 31 in December) and regression (one TD every 15.2 touches in 2019) concerns, but I would counter with this: Ingram is a straight-ahead runner in the mold of Frank Gore - he has a game that ages well, in other words - and his workload has been managed well throughout his career. There is also little question he will continue to be the goal-line back. Rookie J.K. Dobbins will undoubtedly play earlier in games and see more work than Edwards did last year, but let's not act as though he is going to make Ingram an afterthought. (The Saints didn't do that with Ingram even when they had Alvin Kamara.) In what should a dynamic offense once again with plenty of volume, Ingram brings plenty of RB2 upside to the table for owners who would rather avoid the questions that plague other backs in or around his tier, such as Le'Veon Bell, Gurley and David Johnson. Ingram may not be able to amass 1,200-plus total yards and 15 touchdowns again, but 1,000-plus yards and 10-12 scores are certainly within his range of outcomes.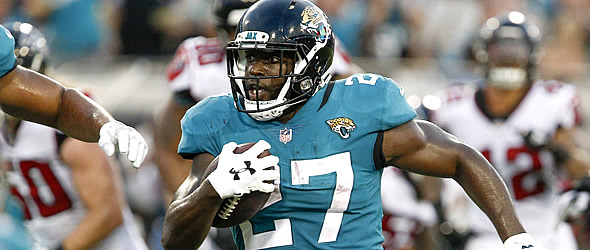 For the first time in Big Board history, I have the distinct pleasure of trying to put a value on a player (Leonard Fournette) that doesn't have an employer at press time. There's not a lot of analysis to provide until that changes, but we can be assured he'll find a home shortly and probably be able to serve as a reasonable flex option. While his role will almost certainly not be as voluminous as it was in Jacksonville, it's hard to argue that his situation won't be better as a result of a move. Among the teams I expect to express interest in him: the Bears, Lions, Texans, Chiefs, Chargers, Dolphins, Patriots, Jets, Buccaneers and the Washington Football Team. Of that group, I would make the Texans, Chargers, Patriots, Jets and Washington the favorites to land him. Even though Joshua Kelley and Damien Harris have reportedly enjoyed strong camps, I believe the Chargers and Patriots offer the best opportunity for his fantasy owners to salvage some kind of value. As for what remains in Jacksonville, I could easily see an early-down committee with Ryquell Armstead and Devin Ozigbo sabotaging regularly sabotaging each other what little run-game volume they will have and keeping the other from being a low-end flex. However, Chris Thompson should emerge as a strong flex option in PPR formats for as long as his body will allow it since the Jags figure to be in negative game scripts A LOT in 2020.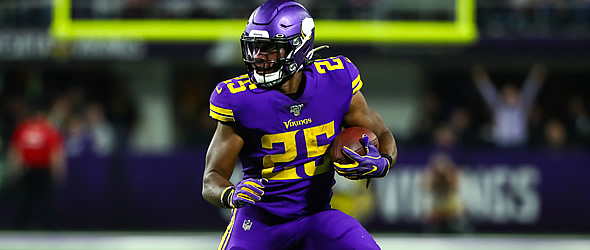 There are at least multiple schools of thought when it comes to handcuffing running backs. Here are three: 1) draft handcuffs attached to schemes/offenses that have consistently provided running back production, 2) target handcuffs who are reasonably certain to assume a featured role if the starter goes down and 3) don't be afraid to put a higher value on high-end handcuffs than low-end starters. For example, the odds are not great Jordan Howard will power fantasy owners to league titles, even though he should provide some degree of stability. However, players such as Alexander Mattison, Latavius Murray and Chase Edmonds - even Darrel Williams if he ends up being the clear backup to Clyde Edwards-Helaire as has been reported recently - could very well do so if injuries and/or illness becomes an issue. It's often a matter of roster construction and balancing the amount of stability and risk that it possesses, but fantasy owners too often make the safe play when there is a ton of potential upside to be had by going the opposite direction. Especially as it relates to Mattison's fantasy owners who don't have Dalvin Cook on the roster, the worst-case scenario to stashing Mattison is having a potentially valuable trade chip later in the season. Mattison will be of significant interest to Cook's fantasy owner regardless, and he'll command a hefty return if Cook gets hurt again. Under almost no circumstance will Howard do the same.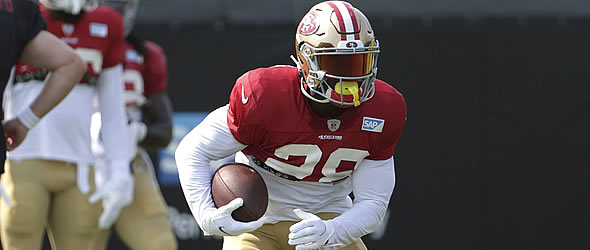 The idea that a running back can miss two full seasons due to injury and make an impact upon his return isn't quite unprecedented, but it is highly unusual. Nevertheless, I find myself starting to believe in the possibility that Jerick McKinnon can be the most valuable running back in the San Francisco backfield. His most obvious advantage of the mismatch potential he provides is in the passing game; it's the primary reason HC Kyle Shanahan & Co. pursued him as hard as they did in free agency in 2018. We know from Shanahan's time in Atlanta (136 running back targets in 2015 and 117 in 2016) as well as his first year with the 49ers (166 in 2017) that he has no problem making the running back a big part of the passing game. Granted, none of those teams had the defensive personnel San Francisco had last year and carries over into 2020, but there are enough question marks and injury concerns with the receivers and tight ends on this roster that the 49ers may need McKinnon to assume a bigger role than initially anticipated. Don't forget Shanahan once reportedly envisioned McKinnon as his new version of Devonta Freeman; it reasonable to believe the ex-Viking's time away has changed his coach's opinion all that much. I'll stop short of predicting McKinnon will take the starting job from Raheem Mostert this season, but I would not be a bit surprised if it happens. Fantasy owners can do much worse than speculating on a running back in a Shanahan offense with good hands.

---
Doug Orth has written for FF Today since 2006 and been featured in USA TODAY's Fantasy Football Preview magazine since 2010. He is also a high-stakes player who often appears as a guest analyst on a number of national sports radio shows, such as Sirius XM's "Fantasy Drive." Doug is also a member of the Fantasy Sports Writers Association.