"Every new beginning comes from some other beginning's end…"

- From the song "Closing Time" by alternative rock band Semisonic in 1998 by way of Roman philosopher Seneca the Younger

One lyric that has stood out in my mind since I first heard it 16 years ago is the one referenced above, a song about one man's anticipation about fatherhood. The unlikely back story to the song is that it was written because Semisonic was tired of playing the same closing song to each one of their performances, compelling lead singer Dan Wilson to reference his time spent frequenting bars in Minneapolis, where someone would use some variation of the phrase, "Closing time…you don't have to go home, but you can't stay here!" Apparently, all of us could write a top 40 song if we just learned how to blend what we hear from some bartender or bouncer with some insight from an ancient Roman philosopher from about 2,000 years ago, but I digress…

Sports and music tend to overlap more often than we often realize. The reason I like to reference the aforementioned lyric from time to time is because it not only speaks about change in real life, but also what happens during the NFL offseason each year. Expiring contracts, releases and trades bring to an end what was once a promising beginning. For a lucky few, they pack up their bags to end the previous beginning and seek out another one, hoping to prolong their career.

So far, I have provided my thoughts about the incoming rookie class (11-20) and (1-10). This week, I'm going to turn my attention to the veterans that have found new homes. (The players will be separated initially by position, and then ordered by likely "impact" in 2013):

QB Josh McCown
2013 Team: Chicago
2014 Team: Tampa Bay

Fantasy Analysis: To say McCown cashed in on being a backup to injury-prone QB Jay Cutler in Bears HC Marc Trestman's offensive system would be an understatement. Prior to 2013, the 34-year-old journeyman had thrown a total of 251 passes over his previous five seasons and was expendable to the point where Chicago released him at final cuts in 2012 and only brought him back as Cutler and Jason Campbell insurance later in the year. However, it is impossible to ignore what McCown did in relief of Cutler last year, posting a 13:1 touchdown-to-interception ratio across eight games (including five starts). How much of it was Trestman? How much of it was Brandon Marshall, Alshon Jeffery and Martellus Bennett making him look good? How much of it was impeccable timing (as in facing four of the bottom 10 pass defenses against opposing fantasy quarterbacks)? In Tampa, McCown will have another noted quarterback-friendly play-caller in Jeff Tedford (at least he was in college) and throw to another set of oversized receivers in Vincent Jackson and Mike Evans – both 6-5 – as well as 6-6 rookie TE Austin Seferian-Jenkins. Although a Kurt Warner-like late-career resurgence cannot be completely dismissed given the talent of his new supporting cast, a run-heavy offensive scheme and HC Lovie Smith's conservative nature suggests that McCown's ceiling is somewhere in the mid-QB2 range.

QB Ryan Fitzpatrick
2013 Team: Tennessee
2014 Team: Houston

Fantasy Analysis: Given how Matt Schaub and Case Keenum essentially sunk the Texans' season in 2013, there was little question Houston was going to have a different Week 1 quarterback this year. Relatively few would have imagined the well-traveled Fitzpatrick, who has made a history of starting off fast before fading as the season progresses. The Harvard alum has always had an average-at-best arm, so the brutal winters in Cincinnati (2008) and Buffalo (2009-12) have been blamed for the majority of his second-half fades. That is why it is a bit fascinating to see what "FitzMagic" can do in Houston, which will play all eight of its home games in decent or perfect weather (the newly-renamed NRG Stadium has a retractable roof) while AFC South rivals Indianapolis (dome) and Jacksonville (decent weather in late December) should present him with a fair opportunity to be more productive later in the year than he ever has been. Fitzpatrick also will have the benefit of throwing to the best receiver he has ever played with in Andre Johnson and perhaps the best No. 2 wideout he's ever had at his disposal in second-year player DeAndre Hopkins. Given his supporting cast, no one should be surprised if the ex-Bill emerges as a decent QB2 option at some point early in the season. The question, of course, will be whether or not he can sustain it. He could just as easily be replaced by rookie Tom Savage by midseason, which makes him a player best left on the board until the final rounds.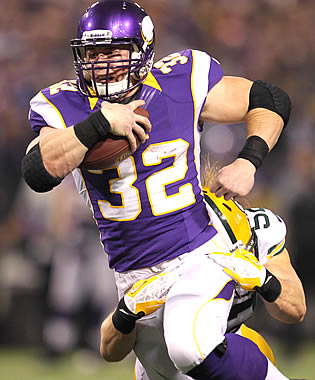 Toby Gerhart has volume upside in Jacksonville.
RB Toby Gerhart
2013 Team: Minnesota
2014 Team: Jacksonville
Fantasy Analysis: Perhaps the poster boy of the NFL's move toward paying talented former reserve runners with little wear-and-tear while shunning older proven backs this offseason, the 27-year-old Gerhart finally got his chance to escape Adrian Peterson's rather large shadow. The fit with the Jaguars is an interesting one as well since HC Gus Bradley saw firsthand what a powerful running back can do for an offense in Seattle with Marshawn Lynch while GM Dave Caldwell was part of the Atlanta Falcons' front office in 2008 when they plucked Michael Turner from San Diego. While Gerhart doesn't usually seem to play at the speed at which he was timed at the 2010 NFL Combine (4.5-40), he is arguably every bit as powerful as either Lynch or Turner and was good enough in the passing game to steal a significant number of snaps from Peterson on third downs (and other obvious passing situations) throughout his time in Minnesota. Gerhart doesn't get near the credit he deserves as a runner – he averaged 3.8 yards per carry after contact (on 36 carries) last season, which should speak to the power he possesses. Regardless of whether Chad Henne or rookie Blake Bortles is quarterbacking this team for the majority of 2013, it is a good bet Jacksonville will be running the ball a lot for as long as it can. Volume means a lot to running backs in fantasy and Gerhart should have that. Throw in the likelihood that he'll also see the majority of snaps on passing downs as well and there is a fairly good chance that Gerhart finishes among the top 15 backs in fantasy this season.
RB Ben Tate
2013 Team: Houston
2014 Team: Cleveland
Fantasy Analysis: In a move that should have surprised no one in mid-March, the Browns addressed their sorry running back situation by signing the best one on the free-agent market. Better yet, Tate landed in the same zone-blocking scheme that new OC Kyle Shanahan and former Texans HC Gary Kubiak ran in Houston, meaning the only thing he should have to focus on in camp is getting his timing down with his linemen. Now the bad news: Tate has yet to play a full season, WR Josh Gordon is likely facing a year-long suspension and Cleveland added FCS superstar Terrance West as well as talented undrafted free agent Isaiah Crowell to the mix during and after the draft. The eternal optimist would suggest that Gordon's looming suspension could actually be a good thing for Tate because he should see even more carries than he might have with the NFL's leading receiver from a season ago, but that argument could easily get shot down by Tate's lack of durability. Cleveland reportedly loves West already and Crowell is a former five-star player that is more talented than either Tate or West. Like Gerhart with Jacksonville, Tate is atop the depth chart and the Browns will be running as much as possible in order to protect Brian Hoyer or ease in Johnny Manziel. If he can make it through a 16-game schedule for the first time in his career, Tate could easily finish among the top 10 fantasy backs. Just understand there is plenty of risk involved with him as well and that he could be nothing more than a middling RB3 if West or Crowell begin to excel by the end of the season.
RB Rashad Jennings
2013 Team: Oakland
2014 Team: NY Giants
Fantasy Analysis: Jennings has long been "the other back", but finally parlayed a strong finish with the Raiders into what appears to be at least a lead-back role with New York. The 29-year-old is hardly flashy or overly explosive, but is in many ways the epitome of a Tom Coughlin back in that he is reliable, doesn't fumble and can pick up the blitz. The reason that matters to the Giants' head coach more than it does to many other coaches around the league (at least this year) is because David Wilson essentially gave them none of those things in 2013. In part because Wilson is still very much something of a question mark entering this season after neck surgery, Jennings could also be in for a heavy workload. Wilson is expecting to be cleared in time for training camp and rookie Andre Williams could find his way into a three-way committee if he proves to be the best short-yardage/goal-line back of the bunch in the preseason. Still, Jennings is the odds-on favorite to pace the team in touches, especially since the Giants figure to take it a bit easy on Wilson. Peyton Hillis is essentially a poor man's version of Jennings and Williams contributes nothing as a receiver out of the backfield, so expect the Liberty grad to barely surpass the career-high 199 touches he accumulated last season and end up as a decent RB3/flex option in fantasy.
RB Chris Johnson
2013 Team: Tennessee
2014 Team: NY Jets
Fantasy Analysis: Although he topped 1,000 yards rushing for the sixth time in as many seasons, the big run that was once a staple of Johnson's game was absent in 2013. The artist formerly known as CJ2K salvaged his fantasy value somewhat by recording 279 carries, 42 catches and 10 total touchdowns, but broke only one run of more than 24 yards (30) and averaged a career-low 3.9 YPC. The 28-year-old (will turn 29 in September) still has most of his trademark speed, but has shown an increased unwillingness to run in between the tackles since his memorable 2,006-yard season in 2009. Fortunately for the Jets, they have someone already on the roster that can take care of that role in the injury-prone Chris Ivory, so perhaps Johnson will have more opportunities to do what he wants to in New York than he did in his final few years with the Titans. The East Carolina alum is also durable (one missed game in his career, as a rookie in 2008), so there is a solid chance that he enjoys at least one more chance as the featured back if/when Ivory gets hurt again. His role to begin the season should be as a 12-15 carry back (at most) who gets the majority of third-down snaps on a team that wants to get back to "ground-and-pound", so Johnson could flirt with high-end flex/RB3 value if he secures that job.
RB Knowshon Moreno
2013 Team: Denver
2014 Team: Miami
Fantasy Analysis: The latest in a relatively long line of running backs that Peyton Manning made look very good, Moreno found the free-agent market relatively cool to his services and could only land a one-year deal with the Dolphins. The Broncos didn't try overly hard to retain his services with Montee Ball's emergence during the second half of the season, so the No. 12 overall pick in 2009 was forced to leave the comfort of six-man boxes and one of the best passing games in the league in Denver to go to a situation in Miami where it appears he'll be the lead back in a run-heavy offense…or so it seems. Moreno didn't exactly endear himself to the coaching staff, reportedly putting on a bit of unnecessary weight in the offseason. Whether the Dolphins hold that against him or Lamar Miller uses the opportunity to move ahead of him on the depth chart remains to be seen, but Moreno is a strong candidate to get overdrafted in fantasy drafts this summer as it stands now. While his presence figures to be a plus for the Dolphins in areas they need the help (primarily picking up the blitz and catching the ball out of the backfield), Miami doesn't have the kind of offensive line – despite making a number of upgrades – that will make up for the checks that seemingly only Manning can make at the line of scrimmage. Miller is a superior talent and better outside runner, so a split backfield is likely. As a result, Moreno should rank no higher than a low-end RB3/flex option.
RB Maurice Jones-Drew
2013 Team: Jacksonville
2014 Team: Oakland
Fantasy Analysis: Whereas Gerhart was the poster boy for relatively little-used backs getting paid this offseason, Jones-Drew may have been the best example of teams looking to avoid getting stuck with an aging (and possibly declining) back with a lot of carries on his resume. With no team willing to commit to his initial price tag, MJD lost out on what few teams were willing to offer him a 10-15 touch-per-game role in their offense until the Raiders came through with a three-year deal to push/complement Darren McFadden. The question isn't going to be whether or not Jones-Drew will play (or even be featured at some point) given McFadden's injury history, but whether the Jaguars' second all-time leading rusher can actually overtake his counterpart before he suffers yet another hamstring injury. Oakland should have a better offensive line in 2014 than it did in 2013, but whether that is actually an upgrade over the front five that Jones-Drew ran behind in Jacksonville last season is another story. For now, the safe assumption should be that McFadden and Jones-Drew will work in tandem – perhaps with the former getting more of the perimeter runs while the latter works inside – until one of the two gets hurt. The uncertainty of the pecking order and the below-average talent of the offensive line make both players middling RB3 options at best.
RB Darren Sproles
2013 Team: New Orleans
2014 Team: Philadelphia
Fantasy Analysis: Sproles proved to be the exception to the league moving against older running backs, reportedly drawing so much interest once word got around he was going to be released that the Saints changed their mind. He was traded days later for a fifth-round pick and signed to a two-year contract extension through 2016 with Philadelphia shortly thereafter. While it is hard to envision another team being able to make a player like Sproles as relevant in fantasy as he was with the Saints, the one team that could potentially pull it off is a team like the Eagles. Philadelphia HC Chip Kelly made household names out of undersized backs like Kenjon Barner and De'Anthony Thomas that were able to get on the edge with some degree of success while he was at Oregon, so one has to think he might be interested in making sure he has someone else capable of executing that part of the offense besides LeSean McCoy. It should be clear that Sproles isn't going to steal a significant part of McCoy's workload, but it should come as no surprise if he sees between 100-120 touches and takes most of the touches left behind by a pair of former Eagles – essentially absorbing Bryce Brown's 75 rushes in 2013 and about half of DeSean Jackson's 82 receptions. That workload isn't going to allow him to reclaim his former status as a fantasy RB2 in PPR or rock-solid flex option in standard leagues, but Philadelphia was one of the few landing spots in which Sproles still maintains some semblance of fantasy value as low-end flex RB3 in PPR and a RB4 in standard formats.
RB Dexter McCluster
2013 Team: Kansas City
2014 Team: Tennessee
Fantasy Analysis: Few players have delivered less on the preseason buzz McCluster has generated in his four seasons in the league. Year after year, the initial wonder of what to do with the 5-8, 170-pound offensive weapon gave way to the reality that he may not be explosive enough to play the slot or big enough to be a passing-down back. New Titans HC Ken Whisenhunt sees the 26-year-old former Chief as a running back, which is the position he played when he enjoyed his finest season in 2011 with 114 carries and 46 receptions. Those totals may have been reachable for McCluster in 2014 had Tennessee not drafted Washington RB Bishop Sankey, who may end up stealing the Danny Woodhead role that Whisenhunt may have had in mind for McCluster when he signed in March. As such, McCluster's fantasy ceiling in 2014 might come as the more valuable back in a committee with Shonn Greene or Jackie Battle if Sankey were to get hurt. If the rookie stays healthy, then the Mississippi alum will need to hope he can establish himself as the younger version of Woodhead. McCluster warrants a late-round pick as a running back capable of catching at least 40-50 passes, but don't count on him for any sort of weekly consistency.
RB Donald Brown
2013 Team: Indianapolis
2014 Team: San Diego
Fantasy Analysis: The signing of Brown was a bit bizarre on the surface for the Chargers, but the contract breakdown and a realization that Ryan Mathews and Danny Woodhead are on the last year of their contracts made the three-year, $10.5 million (the same parameters agreed to by Gerhart with the Jaguars) deal a little more understandable on both sides. Brown's role in 2014 figures to entail a bit more work than the man he'll replace (Ronnie Brown) in the Chargers' three-headed committee, but where his true value will lie in redraft leagues will be as the oft-injured Mathews' handcuff. When Mathews and Woodhead are both healthy, Donald Brown doesn't appear all that likely to see more than 5-7 touches per game. But as a more explosive runner than Ronnie Brown who can break a big run and contribute as a receiver, Donald Brown offers San Diego a bit of Mathews and Woodhead – meaning he could actually be fairly relevant in fantasy if either one of the top two Chargers' backs gets hurt or falls off a bit. That slot on the San Diego depth chart makes Donald Brown more valuable as a handcuff to Mathews and Woodhead than he will be to any other owner. But he'll enjoy some redraft value either way because the odds one of the two getting injured are high enough that Donald Brown warrants a late-round selection in most leagues.
WR Golden Tate
2013 Team: Seattle
2014 Team: Detroit
Fantasy Analysis: Only the second most notable Tate to find a new NFL home this offseason, Golden may end up being the more valuable one in fantasy by the end of the year and should put a stop to the revolving door at receiver opposite Calvin Johnson. While it could be argued that Tate is taking a bit of a step down in quarterback (Russell Wilson to Matthew Stafford), the fact of the matter is that he will see enough volume in Detroit that his floor over the next 4-5 years should be the 64-898-5 line he posted in 2013 with run-heavy Seattle. At the very least, it should put an end to the run of receivers like Nate Burleson, Kris Durham and Titus Young that have all crashed (insert your favorite Burleson pizza joke here) and burned as the Lions' secondary threats. Tate is a significant upgrade and should give Detroit a run-after-catch element at the receiver position it hasn't had (besides Johnson, of course) in some time. Back in April, the ex-Seahawk compared his new role to the one Lance Moore played with New Orleans, which is where new OC Joe Lombardi spent the last seven years of his coaching career. While Tate may be spot-on about his role, he's a more explosive receiver than Moore and has already proven capable of being a team's top receiver. There's a good chance Tate is going to be a bit undervalued in yearly leagues, because he is potentially a top 20-25 receiver that might end up getting drafted as a low-end WR3.
WR Emmanuel Sanders
2013 Team: Pittsburgh
2014 Team: Denver
Fantasy Analysis: It's rare when a quality receiver can go from an under-the-radar 67-catch season as the second-best option on his former team to his new team where he may struggle to be anything more than the fourth option on some plays and actually see his numbers improve. However, that is the Peyton Manning effect at work. Sanders, as many may remember, was signed to an offer sheet by the New England Patriots during the 2013 offseason as a restricted free agent, so the fact Denver pursued him like it did as an unrestricted free agent should have come as no surprise. Furthermore, it was also reported that Sanders' agent (Steve Weinberg) broke a number of unwritten rules in getting the contract for his client done with the Broncos, one of which was essentially agreeing to terms with the division-rival Kansas City Chiefs and then shopping that offer around to other teams. Be that as it may, Sanders could actually be a bit of an upgrade over the departed Eric Decker on the field in the sense that he is probably a better deep threat, although it may be difficult for him to match the numbers of the new Jets' top receiver accumulated in Denver. Still, playing with Manning and alongside the triumvirate of Demaryius Thomas, Julius Thomas and Wes Welker pretty much assures Sanders should be primed for a career year. He's likely to be viewed as a high-end WR3 and certainly has WR2 upside.
WR Eric Decker
2013 Team: Denver
2014 Team: NY Jets
Fantasy Analysis: Based on his recent production, Decker was already a No. 1 receiver. However, numbers don't always tell the whole story and it became clear during the Broncos' postseason run that Denver viewed him more as a replaceable complementary piece that benefited greatly from Manning more than anything else. There's no question now that he will be the clear top option in the passing game in New York, although he'll have to do so while taking a huge step back at quarterback (Manning to either Geno Smith or Michael Vick), supporting cast and against better defensive backs (he'll likely play most of his snaps versus New England's Darrelle Revis, Miami's Brent Grimes and Buffalo's Stephon Gilmore in the AFC East). Decker has a knack for finding the end zone and has overcome difficult circumstances before (he scored eight times with Tim Tebow as his quarterback for the majority of games during the 2011 season), but he has virtually no shot at realizing the kind of high-end WR2 production that made him so attractive in fantasy over the last two seasons. The 27-year-old five-year veteran will likely get drafted as a WR3 and probably live up to that investment, but be prepared for a few four-catch, 50-yard kind of games that occurred way too often last season in a historically good offense.
WR DeSean Jackson
2013 Team: Philadelphia
2014 Team: Washington
Fantasy Analysis: In probably the most surprising move of the offseason, Jackson was released by the Eagles for "football reasons" after pretty much setting or matching career highs across the board in his first season under Kelly. The Redskins, who signed Andre Roberts in free agency to boost their sorry receiving corps from last season, returned the ex-Arizona Cardinal to his familiar third receiver role when Jackson became available. Although Washington is probably going to play with more tempo than it did under former HC Mike Shanahan, Jackson is highly unlikely to come anywhere close to last year's prolific numbers as the clear second option behind Pierre Garcon. In fact, it is entirely possible that Jackson struggles to out-produce TE Jordan Reed (assuming he can stay healthy) and does more for the Redskins' offense as a decoy, getting safeties to back up and respect another receiver besides Garcon. Jackson has always been a big play waiting to happen and a change of scenery isn't going to change that (or the fact he will be a fantasy WR3), but with Garcon, Roberts and Reed to keep involved, his fantasy ceiling will probably be somewhere in the low 60-catch, 6-8-touchdown range.
WR Steve Smith
2013 Team: Carolina
2014 Team: Baltimore
Fantasy Analysis: Sports Illustrated reported a story in early June that Smith was considering retirement after one more season with the Panthers, but his subsequent release from Carolina and eventual signing with the Ravens provided him just the jolt he needed to believe he can and will play out all three years of his new deal before calling it a career. Energized or not, it doesn't seem all that likely that the 35-year-old will be able to come anywhere close to mustering the kind of production he enjoyed throughout most of run in Carolina as the Ravens' third option in the passing game behind WR Torrey Smith and TE Dennis Pitta. Also working against the 13-year veteran is that he'll likely fulfill the "Kevin Walter role" in the offense under new OC Gary Kubiak, who plans on emphasizing the running game more than some of Baltimore's recent coordinators. It would also be foolish to discount the possibility of Smith's knee (which he cited as one of the reasons he was coming to terms with retirement) acting up on him during the season, although he's also not going to carry the same price tag as he did in fantasy drafts last year either. Smith may not be the explosive dynamo he was in his younger days, but he should be able to fulfill the chain-mover role the Ravens missed last season after they traded Anquan Boldin. Owners should be happy if the Panthers' all-time leading receiver finds low-end WR3 value this season because his age and role suggest he will probably be no more than a middle-of-the-road WR4.
WR Kenny Britt
2013 Team: Tennessee
2014 Team: St. Louis
Fantasy Analysis: Talent and opportunity are often the hallmarks of a player about ready to break out and Britt has them both. There will be plenty of folks that will thumb their nose at Britt because he is a player that has seemingly burned every fantasy owner at least once – be it due to injury, a lack of focus or off-field behavior. Thus, he's not for everybody; let's face it, most 25-year-old talents like Britt do not usually need to settle for a one-year contract at this point of their careers. The difference – besides his change of address – this season is that he has fallen so out of favor with fantasy owners that he is currently the 65th receiver coming off the board (according to Fantasy Football Calculator). There is still reason to believe in Britt and it's not just because he is back on a team with HC Jeff Fisher again. Tavon Austin was reportedly slow to learn the playbook last season, Chris Givens disappointed in a big way and may have been a bit exposed as a deep receiver only, Austin Pettis may be on the roster bubble, Brian Quick still has yet to work his way up the depth chart and Stedman Bailey will serve a four-game suspension to open the season. In short, while the Rams have plenty of young receiver talent, the depth chart is very much unsettled. Britt is really the first true freakish talent QB Sam Bradford has enjoyed at receiver since he was drafted by St. Louis in 2010, perhaps giving the injury-prone pair the kick-start each of their careers need. Britt still has WR3 upside and, given he can now be drafted in the final rounds, his price is low enough to assume the risk he carries.
WR James Jones
2013 Team: Green Bay
2014 Team: Oakland
Fantasy Analysis: Jones predictably did not repeat his career season of 2012 last year (falling from a league-leading 14 touchdowns to three), but he did enough over the last two seasons to convince the Raiders he was ready to be their lead receiver in 2014. The decision to sign a three-year deal with Oakland was interesting given the fact the 30-year-old will likely be at the end of his contract when the team is ready to be competitive again. It was perhaps even more interesting from the team's perspective since receiver is one of the few positions the Raiders actually boast some quality depth. As a result, it may not be wise to pencil in Jones for his first 1,000-yard season simply because the team also has Denarius Moore (who could easily be traded or cut before the season), Rod Streater and Andre Holmes as players who are near his equal. The Raiders also have a few youngsters like Juron Criner, who is reportedly impressing teammates and coaches this offseason, waiting in the wings as well. In short, it should come as no surprise if Jones ends up as the leader of a receiver-by-committee approach in an offense that may begin the season with Matt Schaub under center and end it with rookie Derek Carr. Although Oakland should be somewhat better this year if only half of their free-agent acquisitions manage to turn back the clock a little bit, it is unlikely that an every-week fantasy starter is coming out of the "Black Hole" quite yet. Jones should be a solid bet to match his 2013 production in his first year as a Raider but not do much more than that, making him a respectable fantasy reserve.
WR Hakeem Nicks
2013 Team: NY Giants
2014 Team: Indianapolis
Fantasy Analysis: Perhaps just as stunning as DeSean Jackson's release this spring was the fact Nicks actually produced three 100-yard games last season. Of course, he was probably on the bench in many leagues in two of those three weeks simply because he was so unproductive the rest of the year and did not score a single touchdown. Has his myriad of foot injuries caught up to him? Did he really "save himself" during a contract year? Well, Nicks is going to get another chance to prove himself worthy of a long-term deal with the Colts, who hope he can be the viable threat at wideout – along with T.Y. Hilton and an aging Reggie Wayne coming off an ACL injury – that Darrius Heyward-Bey could not become in 2013. It's hard to understand how it even got to this point, though, since Nicks was such a dominant playmaker – especially in the red zone – from 2009-11. He'll have his best shot to approach that level with a quarterback like Andrew Luck throwing him the ball, but back-to-back mediocre seasons suggest that Nicks will only be a slight improvement over Heyward-Bey. Given his past production and the quality of his new quarterback, Nicks should be considered as a high-upside WR4, although it needs to be noted that he has done very little recently to suggest he should be considered "high-upside".
This concludes the should-be-drafted portion of our segment. Below is a list of players that could find themselves fantasy-relevant at some point should things go their way (sorted by position and then alphabetical order):
QB Michael Vick
2013 Team: Philadelphia
2014 Team: NY Jets
Fantasy Analysis: It seems like it was more than a year ago when Vick handily beat out Nick Foles for the starting job in Philadelphia, doesn't it? Jets HC Rex Ryan is suggesting Vick and second-year QB Geno Smith are competing for the starting job, Vick says he is not and OC Marty Mornhinweg is on the record of saying that "it is not a true 50/50 like it was last year with Smith and Mark Sanchez". From now probably until the time he retires, Vick will probably have fantasy QB2 potential because he often produces when he plays, but he rarely stays healthy long enough for fantasy owners to count on him. A decent case could be made for drafting the ex-Falcon and Eagle even if he doesn't win the starting job, although one would imagine that if Smith legitimately beats him out during camp, the Jets will be very reluctant to pull him out at the first hint of adversity along the way.
QB Matt Schaub
2013 Team: Houston
2014 Team: Oakland
Fantasy Analysis: Given how poorly Schaub played last season, it seems hard to believe the Raiders felt the need to trade for him and even harder to believe that he'll hold the starting job all season long with second-round QB Derek Carr waiting in the wings. As we discussed with James Jones earlier, Schaub will have a deep receiving corps at his disposal, but his offensive line and job security figure to work against him being a 16-game starter in 2014. The ex-Texan should be considered nothing more than a desperate bye-week option going forward.
QB Shaun Hill
2013 Team: Detroit
2014 Team: St. Louis
Fantasy Analysis: The acquisition of an older and proven veteran to be a backup quarterback may not seem like a big deal to most. In St. Louis, however, it is a sign the team believes it is ready to compete. Hill is, in many ways, the perfect backup quarterback for the Rams in that he can move the offense when he is called upon, yet won't challenge Sam Bradford's spot atop the depth chart. Hill was productive during Matthew Stafford's early years – when the former No. 1 overall pick was perpetually injured, or so it seemed – and should be able to do the same in St. Louis just as long as he is not overexposed. The Rams have a stronger rushing attack now than the Lions ever did in his time in the Motor City and possess a group of young talented receivers, one or two which should be expected to break through this season. With that said, none of this will matter unless Bradford gets injured again, which makes Hill a player best left on waivers.
RB LeGarrette Blount
2013 Team: New England
2014 Team: Pittsburgh
Fantasy Analysis: Thanks to his size (6-0, 250 pounds), Blount often gets labeled as a power back. However, that has often not been the case for him and the Steelers have probably watched enough film of him to understand he should not be stealing short-yardage or goal-line touches from starter Le'Veon Bell. He also offers next to nothing in the passing game, making him a true "breather back" for Bell. As Blount proved down the stretch for the Patriots, he can be an effective – and sometimes very good – runner so long as he isn't asked to be the lead back each week. He should make for a decent handcuff for Bell, but obviously lacks the second-year back's ability to be a complete player.
RB Bryce Brown
2013 Team: Philadelphia
2014 Team: Buffalo
Fantasy Analysis: Brown should have been a good fit with the Eagles given his propensity to try to bounce most of his runs to the outside, but Chip Kelly soured on him and so he'll likely spend the next few years of his career in upstate New York instead. Then again, waiting behind C.J. Spiller and Fred Jackson for a year while the Bills decide what they want to do with a pair of backs in the final year of their contracts isn't such a bad alternative if there is a regular gig awaiting him in 2015. There's no guarantee that will happen, of course, but there also is no reason to believe he won't find his way into some playing time this year either. (He's a fairly good balance of the two backs ahead of him, considering he is every bit as big as Jackson and has plenty of explosiveness like Spiller.) However, Buffalo probably decided to make an investment with an eye on 2015 when it traded for Brown in an effort to transition seamlessly after it (likely) decides to let the 33-year-old Jackson walk after this season, so don't count on a great deal of production from him this season.
RB Andre Brown
2013 Team: NY Giants
2014 Team: Houston
Fantasy Analysis: Many expected Brown to stay in New York after he managed to stay healthy long enough over the second half of the season to give the Giants some semblance of a running game. New York obviously chose to go in a different direction and allowed the oft-injured back to go to the Texans, who needed a player capable of supporting Arian Foster following the loss of Ben Tate. New HC Bill O'Brien took any mystery surrounding Brown's new role in Houston by stating he was "a first- and second-down running back" while suggesting that Foster would be the every-down back. In the event of a long-term injury, it appears O'Brien would turn to Brown as the starter and rely on either Dennis Johnson or Jonathan Grimes in the Kevin Faulk/Danny Woodhead pass-catching role, meaning Brown is a going to be a weak handcuff at best and a player that may have more value to Foster's owner than anyone else.
WR Mike Williams
2013 Team: Tampa Bay
2014 Team: Buffalo
Fantasy Analysis: Williams posted three straight 60-catch seasons to begin his career before bottoming out in 2013 with 22 receptions following a season-ending hamstring injury. A few notable off-the-field incidents followed and led to his release from Tampa Bay, which traded him to the most unlikeliest of places. (Buffalo HC Doug Marrone was in his first season as the coach at Syracuse in 2009 when Williams famously quit the team, proving once again how small the world can be in the NFL.) Williams' second chance under his former college coach won't come under ideal fantasy circumstances, though, as he will be the third-best receiver on the roster and QB E.J. Manuel will need to make significant strides in his second season as the starter. The passing game figures to be built around rookie Sammy Watkins while last year's second-round pick Robert Woods will take most of Steve Johnson's snaps in the slot. Williams may be able to make his mark in the red zone at some point, but it doesn't seem all that likely that he will be all that relevant in fantasy in 2014.
WR Steve Johnson
2013 Team: Buffalo
2014 Team: San Francisco
Fantasy Analysis: Johnson enjoyed quite a three-year run with the Bills from 2010-12 before failing to live up to his previous fantasy WR2 standards in 2013. The six-year veteran admitted to the Buffalo News in late April that he did not work out last offseason, which may partially explain why he was limited to 12 games and dealt with back, groin and hamstring injuries. The trade-up for and selection of Sammy Watkins in the first round of the draft pretty much signaled the end for Johnson, who was traded to the Niners for a 2015 fourth-round pick – a move that likely means he will go from the top receiving option one year to the third or fourth option the next (behind Michael Crabtree, Anquan Boldin and Vernon Davis). Given Johnson's past success against physical CBs such as Darrelle Revis and Richard Sherman, the Niners likely made the move with an eye on closing the gap on the Seattle Seahawks and protecting themselves in case Crabtree does not re-sign with the team when his contract expires after the season. However, he faces long odds of being productive enough on a run-heavy San Francisco team – barring an injury to either Crabtree or Boldin – to be worth a draft pick in fantasy in 2014.
WR Jerricho Cotchery
2013 Team: Pittsburgh
2014 Team: Carolina
Fantasy Analysis: Every year, it seems that at least one otherwise ordinary receiver defies logic and posts a ridiculous touchdown-per-catch rate. It was hard to find a better example in 2013 than Cotchery, who scored 10 touchdowns on 46 catches after scoring 20 times on 391 receptions over his first nine NFL seasons. Some of that success can be attributed to Ben Roethlisberger, some of it can be credited to Cotchery's sure hands and still more of it can be pinned on the fact that the former Jet was the biggest receiver (6-1, 200) on a team that featured a fair number of smurfs. The Panthers would be thrilled with similar production in 2014 from the soon-to-be 32-year-old (will turn 32 on June 16), who will be asked to be the reliable veteran presence rookie Kelvin Benjamin needs as he gets acclimated to the league. Carolina has arguably the worst receiver situation in the NFL heading into the season, meaning Cotchery should be able to hold on to a starting job and be featured out of the slot in three-receiver packages for the entire season, but it seems hard to believe that any Panthers' wideout will be overly consistent this season. With Benjamin likely to be the preferred red-zone target in 2014, Cotchery may be nothing more a low-upside WR5 for fantasy purposes.
WRs Nate Burleson/Miles Austin/Andrew Hawkins/Earl Bennett
2013 Team: Detroit/Dallas/Cincinnati/Chicago
2014 Team: Cleveland
Fantasy Analysis: Obviously, the Browns didn't know (although they could have probably anticipated it at some point) Josh Gordon would get himself in trouble with the league again so soon. The fact they chose not to address the position in the draft, however, is another story and a pretty clear sign they are willing to go about as far as their running game and defense can take them in 2014. Burleson started out fast before the infamous pizza-crash accident, returned with a bang in Week 12 and pretty much fizzled out after that. Like Hawkins and Bennett, he is probably best suited for a third-receiver role. Austin is probably the most physical player of the bunch, but has chronic hamstring issues and will be asked to lead this receiving corps for as long as Gordon is away – something he hasn't proven he is capable of in recent years. Hawkins has the most ability, although asking a 5-7, 175-pound player to carry Gordon's torch is probably too much. Bennett is a pedestrian third receiver at best in the NFL. Wrapping it all up, Austin should expect to start and be the de facto top receiver in the Browns' passing game if Gordon misses the season, but Hawkins is probably the only receiver of the four worth considering for fantasy purposes since he offers more after the catch than any of the others – an ability Cleveland desperately needs in its passing game.
TE Owen Daniels
2013 Team: Houston
2014 Team: Baltimore
Fantasy Analysis: If there was a tight end in the league that appeared to be a "product of the system" more than any other player over the last eight years, most people would probably name Daniels. As the top player at his position in Kubiak's tight end-friendly offense, the 31-year-old consistently produced low-end fantasy TE1 numbers when he was healthy enough to do so. With Kubiak likely to use TE Dennis Pitta in Daniels' old role as the Ravens' new play-caller, Daniels may inherit the Garrett Graham role instead, although it seems likely Kubiak will lean on him more heavily than he ever did Graham. Either way, it would appear to be a longshot for Daniels to come anywhere close to the value he once enjoyed in Houston as he'll be fighting Torrey Smith, Steve Smith, Pitta and Ray Rice among others in what figures to be a run-heavy attack. Baltimore HC Jim Harbaugh stated that he has "big plans" for Daniels just days after signing him in early April, although the logjam of receiving talent suggests that he'll struggle to maintain weekly consistency in fantasy, making him more of a low-end TE2.

Suggestions, comments, about the article or fantasy football in general? E-mail me or follow me on Twitter.

---
Doug Orth has written for FF Today since 2006 and has been featured in USA Today's Fantasy Football Preview magazine since 2010. He has hosted USA Today's hour-long, pre-kickoff fantasy football internet chat every Sunday over the past two seasons and appears as a guest analyst before and during the season on Sirius XM's "Fantasy Drive" as well as 106.7 The Fan (WJFK – Washington, D.C). Doug is also a member of the Fantasy Sports Writers Association.