Due to recent injuries in the Jaguars receiving corps, some slight adjustments to this article were made.

The 2014 draft class is arguably the most talent-rich pool of players to enter the league in the last 10-20 years, so it goes without saying that infusion of quality and quantity should play a key role in how owners approach this season. Then again, the 2013 draft class wasn't expected to be all that great at the skill positions and still produced the likes of Eddie Lacy, Giovani Bernard, Zac Stacy, Le'Veon Bell, Cordarrelle Patterson and Keenan Allen.

Fantasy football is a game full of unknowns; rookies typically represent the greatest of all unknowns and probably spark the most preseason debate in fantasy as a result. Therefore, it makes sense to begin our three-month journey with the new crop of aspiring superstars in hopes that we can find the next Lacy or Allen at a discount before they become the foundation of our fantasy teams next season.

Running backs tend to succeed in their rookie season much more often than quarterbacks, wide receivers and tight ends; they also play a position where it is becoming more and more difficult to find true impact players. Making this draft class a bit more challenging to rank from a macro point of view is the fact that as many as seven rookie receivers could make a strong case to be considered every-week starters in three-receiver leagues. Conversely, only one running back landed in what could be called a great situation, so the instant impact of this class figures to be receiver-heavy as a result.

While the position distribution of immediate-impact players changes from year to year, one thing that remains relatively constant is the way we evaluate the likelihood of who will succeed right away. The following questions give us a good starting point:

Is he in a position to succeed? For a running back, does he have a good line to run behind and a play-caller that likes to makes the position a focal point of his offense? What is the likelihood of a consistent workload? For a quarterback, does he have a good pass-blocking line and 2-3 quality options in the passing game? For a receiver or tight end, does he have a good quarterback throwing him the ball? Does he operate opposite a star receiver or is he being counted on to carry the passing game?


What are his most obvious obstacles? This question goes hand-in-hand with the first one, but the successful fantasy owner cares just as much about how/why a player will likely fail as he/she does about how/why a player will thrive. For example, can we expect Marqise Lee's high drop percentage from his final college season to carry over into his rookie year? Does it help or hurt Austin Seferian-Jenkins' potential for fantasy production that he will have Vincent Jackson and Mike Evans operating outside the hashes? Can Carlos Hyde and Tre Mason be expected to carve out a niche in their respective offenses when those teams have running backs entrenched at their position?


Is he an offensive building block, complementary piece or role player?


How is the "fit" with his new team and does his style mesh with what the team is trying to accomplish or is the offense going to cater to his talents? Former Baltimore Ravens coach Brian Billick is fond of saying that need is a terrible evaluator of talent. Did the Cleveland Browns "need" Johnny Manziel's talent at the quarterback position or the buzz the organization knew his arrival would create? Is new OC Kyle Shanahan the right man to get the most out of his unique talents? Was Terrance West the right choice for the Browns in their new zone-blocking scheme and did they really need him with Ben Tate already on the roster?


Certainly, there are always going to be more questions than answers at this point of the year. But to establish a baseline for a rookie, I think this gives us a pretty good start. Over the next two days, I will evaluate the likely top rookies from this class – covering the back half of my top 20 in this piece and the top half in the next one – and attempt to detail their situations in an effort to answer whether or not they are worthy of your consideration in fantasy. At the very least, I hope to provide each of you with my early assessments on each player before I really buckle down on player evaluations in July and August using Preseason Matchup Analysis.

Note: The rankings below are for the 2014 season only and are ranked in order of likelihood of fantasy impact. (For example, quarterbacks like Teddy Bridgewater and Manziel may accrue more fantasy points given the nature of their position, but the chances of them impacting a fantasy team are slimmer than say, a potential fantasy WR3 in a three-WR league, because the receiver may end becoming an every-week fantasy starter.)

Players who just missed the cut (in no particular order):

Isaiah Crowell, RB Cleveland – Of all the backs I studied in this class, the former five-star Georgia recruit was the most impressive rusher. With a 4.57-second time in the 40, above-average lower-body explosion (38-inch vertical) and a solid build (5-11 and 224 pounds), he brings a lot of impressive measurables to the table. Crowell's Bulldog career came to an end quicker than it started when he was arrested for three weapons charges in June 2012, including two felonies (the charges were later dropped) – an incident that led to his dismissal from the team. The off-field history ultimately led to him going undrafted, but he and his agent found a potentially nice landing spot with the Browns. Unfortunately, it may be too much to ask for an undrafted free agent to overcome a high-profile free-agent acquisition (Tate) and a back Cleveland traded up to get in the draft (West) in one offseason. Still, it is not unthinkable that Tate has trouble staying healthy and West struggles with the jump from FCS to the NFL in his first season, leaving the door open for a player that was named the 2011 SEC Freshman of the Year to establish himself as the main back in Shanahan's zone-blocking scheme before season's end.

Tre Mason, RB St. Louis (Draft Profile) – As far as their ability to contribute to the passing game as a rookie, Mason may as well be Williams' smaller and quicker little brother. The engine that made the prolific Auburn offense run in 2013 rushed for a school-record 1,816 yards and 23 touchdowns on 317 carries, but somehow managed only 19 career receptions and often appears lost in blitz pickup. On the plus side, he has a very nice blend of quickness and power for a 207-pound back. Still, it appears to be a long shot that Mason will make significant noise as a rookie since Zac Stacy is secure as a starter and 217-pound Benny Cunningham averaged 5.6 YPC on 47 carries last season. Certainly, injuries to Stacy and Cunningham could easily open up opportunities for Mason to earn a split of the backfield work, but it is more likely that Mason will spend most of 2013 returning kicks and contributing to coverage units on special teams.


And now, the bottom half of my top 20 impact rookies for 2014: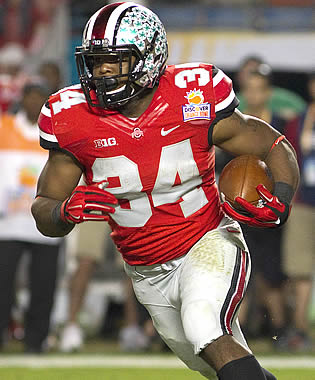 Carlos Hyde is good fit in SF but needs an opportunity.
20. Carlos Hyde, RB San Francisco (Draft Profile)
2014 Projected Role: Role player, perhaps as a short-yardage and goal-line specialist; depth behind a declining Frank Gore, with the ability to step in as the lead back should Gore get injured or completely fall off the cliff.
Why he will live up to this ranking and perhaps exceed it: Hyde was considered by many to be the best running back in the draft and it isn't hard to see why when reviewing his games from the 2013 season. In San Francisco, he enters a crowded backfield with as many questions as faces; Gore is nearing the end of a distinguished career, Marcus Lattimore is still recovering from his college knee injuries (perhaps much more mentally at this point than physically) and Kendall Hunter is being considered only as a change-of-pace option. The Niners will likely be a smashmouth-running team for as long as HC Jim Harbaugh is in charge and possess one of the better run-blocking offensive lines in the league, which means that Hyde could easily keep the starting job to himself if he is ever able to convince Harbaugh and OC Greg Roman that now is the time to move on from Gore.
Why he won't: Hyde never played a full season while at Ohio State and maxed out at 208 carries in his final season with the Buckeyes, which suggests he is facing long odds if he hopes to become a true feature back in the NFL. Gore may not have much left, but trust goes a long way with coaches and the nine-year veteran certainly gives them that. Lattimore has more natural talent than Hyde, meaning if the former is able to get right physically and mentally, the rookie may never be more than a complementary back – and not just for this season. Hunter is the most explosive back of the bunch, so even if injuries strike Gore and Lattimore, Hyde may be nothing more than an early-down back.
2014 Fantasy Assessment: It is hard to blame San Francisco for taking Hyde, who had a strong case for being considered the top back in the draft. But in regards to his redraft stock, he faces a long road to fantasy relevancy for all the reasons mentioned above. The Niners probably aren't going to back off all that much on Gore because they know they can trust him. Lattimore is a more well-rounded power back than Hyde that has should already be well-versed in the system (even though he has yet to play). While it is possible that Hyde overtakes an aging Gore and less-than-100% Lattimore at some point during the season, it is probably 10 times more likely that Hyde will have to be content with the role formerly held by Anthony Dixon – now with the Buffalo Bills – in 2014. Hyde will and should get drafted in just about every redraft league, but the depth chart is stacked against him to emerge as even a flex option in 2014.
Fearless early-June prediction (zero starts): 62 rushes for 290 yards and three TDs; six receptions for 40 yards

19. Andre Williams, RB NY Giants
2014 Projected Role: Role player, perhaps starting out as the third-string running back/goal-line specialist behind aging Rashad Jennings and injury-prone David Wilson.
Why he will live up to this ranking and perhaps exceed it: The Giants reportedly had a second-round grade on the nation's leading rusher due to his ability to run with power and, as GM Jerry Reese told ESPN New York, "he comes through the line of scrimmage and 22 eyes are looking at him and he still rushes for 2,000 yards." The grade is notable because Williams contributes virtually nothing as a receiver out of the backfield, which suggests New York will pull out all the stops in order to be able to run the ball effectively this season. Perhaps most telling was HC Tom Coughlin's recent interview with ESPN's Chris Mortensen in which Mortensen said his takeaway from Coughlin was, "Who says we have to throw it to him?", in much the same kind of way the Atlanta Falcons generally ignored Michael Turner in the passing game. Likely starter Jennings just turned 29 and has never carried the ball more than 163 times in a season (2013), while last year's preseason darling Wilson is far from guaranteed to play this season, much less take significant snaps.
Why he won't: It's hard to imagine a back in this day and age with enough ability to run for 2,000 yards at the major-college level, but cannot catch the ball with any degree of consistency. Such is the case with Williams, who became the 16th player in FBS history to top the 2,000-yard mark (2,177) but recorded just 10 receptions in four college seasons. Despite impressive measurables at the NFL Combine for a 230-pound back (4.56-40, 10' 9" broad jump), Williams is purely a downhill runner with little lateral agility and a player that may be maxed out as an end-of-game/short-yardage/goal-line specialist.
2014 Fantasy Assessment: Williams oddly finds himself in a situation similar to Hyde in that he has virtually no chance to begin the season as a starter, but is only one step away from having a major role because the player listed in front of him (Lattimore in front of Hyde in San Francisco, Wilson in front of Williams in New York) is overcoming a significant injury and may not be able to contribute this season. The major difference for Williams, however, is that he could easily snag Andre Brown's old role as the goal-line back before Week 1 if the Giants continue to opt for the two-back system that has served them well over the years. It may not be much to go on for his fantasy owners at the start of the season, but the deck isn't stacked quite as much against Williams in 2014 as it is Hyde. The Boston College alum makes for a low-end fantasy RB4/high-end RB5 option that should be available at the end of drafts.
Fearless early-June prediction (zero starts): 77 rushes for 315 yards and five TDs; two receptions for 15 yards

18. Davante Adams, WR Green Bay
2014 Projected Role: Role player, likely fourth receiver.
Why he will live up to this ranking and perhaps exceed it: It all starts with QB Aaron Rodgers, who is as good as they come and can get just about any receiver involved in the offense without hesitation. The fourth-receiver spot in Green Bay has long been a source of sneaky fantasy production and there is no reason to think that won't continue with the Fresno State product since he excels after the catch. The departure of WR James Jones to Oakland in free agency as well as the likelihood that TE Jermichael Finley will not return creates a void in the Green Bay offense for a big target who can dominate in the red zone and Adams – despite being 6-1 – can do that with an incredible 39 ½-inch vertical jump. Adams is also more of a playmaker outside of 20s than Jones, so the ceiling for the former's production in 2014 and beyond should be higher than it ever was for Jones.
Why he won't: The rich get richer, which is a kind way of saying that Adams has a lot of competition in front of him. Jordy Nelson and Randall Cobb are entrenched as the two starting receivers and HC Mike McCarthy loves third receiver Jarrett Boykin, making an in-season promotion for Adams an unlikely possibility. And although the Packers will embrace the passing game for as long as Rodgers is one of the top 2-3 quarterbacks in the league, the emergence of Eddie Lacy in 2013 means the running game will get a bigger piece of the offensive pie than fantasy owners have grown accustomed to over the years. While a better running game tends to open it up for the passing attack, Green Bay may be less inclined to run as many four-receiver sets as it has in previous seasons.
2014 Fantasy Assessment: Year after year, it seems as though the player that starts out the season as the Packers' fourth receiver finds his way into fantasy relevancy. Last year, it was Boykin and, in previous seasons, it was Jones and Nelson. Rodgers is one of the few quarterbacks in the league that can keep as many as four receivers regularly involved in the offense, so while it may appear as if he might be buried on the depth chart as a rookie, he should enjoy solid production right away – particularly for a fourth receiver. Nelson (2012) and Cobb (2013) have both missed significant time over the last two seasons, so the possibility exists that Adams finds himself moving into Boykin's third-receiver role at some point, but the more likely scenario is one where Adams begins to close the gap on a healthy Boykin by the end of the 2014 season. Adams makes for a worthwhile selection at the end of fantasy drafts.
Fearless early-June prediction (zero starts): 36 receptions for 435 yards and four TDs
2014 Projected Role: Role player, likely slot receiver.
Why he will live up to this ranking and perhaps exceed it: Few college receivers earn comparisons to Hines Ward, but Landry is probably one that deserves it. Landry is one of the tougher competitors to come out of the draft at his position in recent memory and gives the Dolphins something that Mike Wallace and Brian Hartline probably never will – a hard-nosed and reliable wideout that can thrive over the middle of the field. Miami doesn't exactly possess a wealth of solid competition for him at the moment either, with 2013 slot WR Brandon Gibson coming off a torn patellar tendon and ex-Tennessee Titan Damian Williams as the only other player with any kind of NFL resume. The Dolphins also hired former Philadelphia Eagles QB coach Bill Lazor to be the new offensive coordinator. In addition to mirroring HC Chip Kelly's offense in Philadelphia, the new offense is reportedly very similar to the one Landry played in under OC Cam Cameron in his final season at LSU. Landry has one more notable feather in his hat: the Dolphins worked him at all three receiver positions during rookie minicamp. While some teams will do that just to make sure they know what they have in a new player, it could also be a hint that Landry is a quick study and the coaches want him to play immediately.
Why he won't: Despite outproducing Odell Beckham Jr. and leading LSU in receiving last season, Landry is more of a chain-mover than explosive playmaker. In other words, he isn't going to create much offense for himself even though he will be one of his quarterback's favorite receivers from the get-go. Furthermore, Gibson is reportedly well ahead of schedule in his recovery and taking part in OTAs – significant because the veteran appeared to be building solid chemistry with QB Ryan Tannehill prior to his season-ending torn patellar tendon injury. Landry is also incredibly physical in just about every aspect of his game (including special teams) and fearless over the middle, which is a good thing when evaluating a prospect but less of a positive when considering how his 5-11, 205-pound frame may hold up in the NFL.
2014 Fantasy Assessment: Wallace and Hartline are entrenched as the starters in Miami and both players fit the bill for what Lazor wants to do in the passing game: go down the field. There's always going to be a place for a player like Landry, though, because he is a plus as an outside blocker on run plays and so reliable as a receiver. Gibson is Landry's only real true roadblock to significant snaps and he may not be that much of an obstacle to overcome – despite the positive reports about his recovery – since torn patellar tendons are one of the few injuries football players haven't had a great deal of success bouncing back from (Ryan Williams, Cadillac Williams, Greg Childs, Austin Collie – just to name a few recent players at the skilled positions to suffer the injury). Landry should be considered the odds-on favorite for slot duties, making him a player worth considering at the end of deeper drafts.
Fearless early-June prediction (two starts): 38 receptions for 445 yards and four TDs
16. Marqise Lee, WR Jacksonville (Draft Profile)
2014 Projected Role: Role player, likely slot receiver if he can beat out Ace Sanders.
Why he will live up to this ranking and perhaps exceed it: Looking back, Lee was almost a lock to disappoint in 2013 after winning the Biletnikoff Award as a sophomore. USC lost its quarterback (Matt Barkley), experienced midseason coaching turnover and Lee seemed to be battling one injury or another all season long last year. Lee is a gifted run-after-catch receiver and already understands how to set up his routes, which should endear him to his coaches immediately and suggests he should be able to get open in the NFL right away. Perhaps just as importantly from a team perspective, Lee is an aggressive blocker for a player of his size (6-0, 192), meaning he shouldn't be restricted to three-receiver packages since his presence on running plays may actually be more of a plus than a minus.
Why he won't: Lee's biggest drawback at the moment is his startling-high drop percentage from 2013 (12.3 percent, easily the highest of any high-profile receiver in the draft). The second-biggest knock against him is his size, which may keep him limited to slot duties until he can fill out a bit more. The size issue might be less of a worry if he was a bit faster, but his 4.52 time in the 40 at the combine didn't exactly erase those concerns. Of course, there is also the issue of the situation he finds himself in now, which is either as the second or third (and perhaps even fourth) option for QB Chad Henne in an offense that wants to build around a solid running game. Of course, that also assumes he can beat out Sanders and fellow second-round rookie Allen Robinson, which is far from guaranteed to happen.
2014 Fantasy Assessment: Lee enters a situation in Jacksonville in which there is a crying need at his position, but he will have his work cut out for him to shoot past TE Marcedes Lewis and hold off Robinson for a starting job opposite Cecil Shorts. Yahoo Sports recently reported that Lee is running as a starter at "Z" (flanker) while Robinson is slotted behind Shorts at "X" (split end), so the former Trojan may have caught a break in that regard. Let's not forget that Henne – despite what the coaching staff is saying right now – could be replaced by rookie QB Blake Bortles at some point this season. While Henne is hardly an elite option at the position, inserting Bortles midway through the season may actually hurt the passing game more than it would help this season. Even if he nails down the starting job, Lee has a lot more working against him than for him in 2014, making him little more than an end-of-draft consideration.
Fearless early-June prediction (three starts): 41 receptions for 525 yards and three TDs
15. Teddy Bridgewater, QB Minnesota (Draft Profile)
2014 Projected Role: Complementary piece as the offense continues to revolve around Adrian Peterson; possible Week 1 starter if he can overtake Matt Cassel during the preseason.
Why he will live up to this ranking and perhaps exceed it: In terms of his decision-making ability, fundamentals and a host of other important quarterback attributes, Bridgewater is a pretty complete prospect. While he doesn't profile as the typical big-armed quarterback that new OC Norv Turner typically likes running his offense, this draft's most pro-ready signal-caller makes up for it because he is an obvious film junkie and has the ability to pick apart defenses in the short and intermediate areas. Even more promising, Bridgewater is as good of a prospect as I've seen lately in "pressure-drop situations" (understanding when he is under pressure but not letting the fear of getting hit affect his play). Bridgewater's transition to the NFL will be made even easier thanks to a solid supporting cast, which features explosive second-year WR Cordarrelle Patterson, veteran WR Greg Jennings and TE Kyle Rudolph.
Why he won't: Bridgewater essentially fell from being the draft's consensus top quarterback to the end of the first round for two reasons: his slight frame and a less-than-stellar pro day. For the time being, let's assume the pro day was more of a function of his choice not to wear the same pair of gloves that he has worn throughout his entire college career. The Louisville product measured in at 6-2 and 214 pounds at the combine – roughly 20 pounds heavier than he looks – which is to suggest he isn't built to take a great deal of punishment in the NFL yet. Moreover, Bridgewater has acceptable – but not great – arm strength, which may lead to him struggling late in the season as the Vikings play outdoor home games for the next two seasons. Last but not least, Minnesota thought enough of Cassel to bring him back – a move that likely happened after Turner gave his stamp of approval. Cassel has a bigger arm of the two players, so it may take a rough preseason or start to the regular season for the Vikings to turn to the rookie.
2014 Fantasy Assessment: While he isn't the prototypical Turner quarterback in that he won't consistently stretch the field with a big-time arm, Bridgewater should quickly make a handful of teams regret letting him drop to the last pick of the first round. The Miami native immediately steps into a great situation in that Turner almost always supplies his quarterback with a solid running game – which he will have with Peterson – and will have players like Rudolph to pick apart defenses in the short passing game as well as Patterson in the intermediate passing game. Bridgewater will probably start out behind Cassel../../stats/players/2541/Matt_Cassel, but like most of the other first-round quarterbacks in this draft, it would be shocking if he doesn't see significant snaps at some point this season. When that happens, he should be a rock-solid fantasy QB2.
Fearless early-June prediction (12 starts): 240-of-386 for 2,815 yards, 15 TDs and 10 INTs; 40 rushes for 125 yards and one rushing TD
14. Austin Seferian-Jenkins, TE Tampa Bay (Draft Profile)
2014 Projected Role: Starting tight end; likely third option in passing game behind Vincent Jackson and Mike Evans.
Why he will live up to this ranking and perhaps exceed it: Sometimes, being the player that a new coaching staff handpicked to be the long-term starter is overrated. In the case of Seferian-Jenkins, however, it is not. The second-round selection out of Washington will be counted on to start immediately since the Bucs don't exactly have a wealth of talent at the position (Brandon Myers, undersized Tim Wright and blocking TE Luke Stocker). Beyond the lack of legit competition he will face for the starting spot, Seferian-Jenkins should have no problem becoming a red-zone monster in Tampa Bay. The 2013 Mackey Award winner possesses great hands, offers prototypical size (6-5, 262) and will be no more than the third-highest priority for the defense behind Jackson and Evans. Considering he ran receiver routes on occasion in college and will probably be one-on-one with a safety or a linebacker on just about every pass play, it is entirely possible he could have a rookie season on par with the one Rob Gronkowski enjoyed with the New England Patriots in 2010 – assuming he builds a rapport quickly with whichever quarterback is named the starter (Josh McCown or Mike Glennon).
Why he won't: While we can draw certain conclusions about offensive coordinators when they have called plays at the college or pro level, first-time NFL OC Jeff Tedford rarely found a way to get the tight end position involved in any of his offenses over 11 seasons at the University of California (Tom Swoboda had 42 catches in Tedford's first season as the head coach – the only tight end with over 30 receptions during his tenure). Obviously, it could be argued that Tedford never recruited a tight end nearly as talented as Seferian-Jenkins, but the second point to be made against the rookie is that both new HC Lovie Smith and Tedford have stated they want a run-based offense. The last thing working against the former college basketball player is the fact that while he will be the third-highest priority for the defense on passing plays, he may be no better than third or fourth in the quarterback's progression since both Doug Martin and third-round rookie RB Charles Sims are also both excellent receivers.
2014 Fantasy Assessment: Seferian-Jenkins will be one of the hardest rookies to peg in terms of his redraft value. Working against him is the long history of rookie tight ends not faring particularly well in fantasy and his place in the pecking order of what figures to be a run-centric offense. Working in his favor, however, is that on an offense that will present a number of mismatch issues, he will routinely present the most obvious one – especially in the red zone. As a result, Seferian-Jenkins is a good bet to score 5-6 times in the red zone simply because he is such an inviting target. It just seems unlikely that Tampa Bay will find a way to put four of its skill-position players over 40 receptions – which is roughly what it would take for Seferian-Jenkins to become somewhat fantasy-relevant in 2014 – when it didn't come close to getting three past that benchmark a season ago. So while he has fantasy TE1 upside, he should probably be treated as a high-upside TE2 this season.
Fearless early-June prediction (15 starts): 36 receptions for 418 yards and five TDs
13. Devonta Freeman, RB Atlanta
2014 Projected Role: Complementary piece; likely replacing Jacquizz Rodgers as the main third-down back and Steven Jackson's top backup.
Why he will live up to this ranking and perhaps exceed it: Although he may not be the second coming of Giovani Bernard, Freeman provides the Falcons with a bit more juice and electricity than they have enjoyed recently. Jackson will be 31 by the time the season starts and has a history of soft-tissue injuries while Rodgers has yet to top 4.0 YPC in his career and is entering the final year of his contract, meaning the deck isn't exactly stacked against Freeman producing early. The fourth-round selection was a timeshare back throughout his three seasons with Florida State and is a bit undersized (5-8, 206) to ever become a feature-back, but has proven to be tough and incredibly durable. HC Mike Smith told ESPN that Freeman essentially has the look of a change-of-pace back, "but that's not the case…he's probably more effective running the ball between the tackles".
Why he won't: Jackson's decline in 2013 was slightly exaggerated because he tore his hamstring in Week 2 and was limited by an atrocious offensive line when he was healthy. The former Ram is also the only big back likely to be on the roster come Week 1, so even though Atlanta's base offense should include three receivers following the retirement of Tony Gonzalez, Jackson should theoretically fare well against six men in the box with an improved offensive line. While Freeman is compactly built and more than capable of becoming the lead back of a committee, he isn't the breakaway threat most teams like their scatback to be. He also needs to get a bit stronger in his lower body in order to hold up better in pass protection and power through tackles more often, but has also probably come pretty close to maxing out his frame. And although he did not miss a game in college, he dealt with a nagging back injury throughout his career at Florida State.
2014 Fantasy Assessment: A healthy blend of talent and opportunity is often the recipe to early fantasy success and Freeman has enough of both to become a viable flex option at some point this season. His 47 career college receptions admittedly do not suggest he is a plus in the passing game, but the skills are there and his ability to contribute in that area will be his ticket to playing time until Jackson succumbs to another injury. If/when that situation arises, expect Freeman to do more with the 15 or so touches per game than Rodgers did in 2013. The former Seminole's ceiling is limited a bit because is unlikely to ever become a featured back – this year or in the future – but he is one of about two or three running backs in this draft who landed in a near-ideal situation that marries their strengths with the team's needs. He should be considered a solid handcuff for Jackson and a possible RB4 option in 12-team leagues.
Fearless early-June prediction (three starts): 88 rushes for 382 yards and three TDs; 37 receptions for 335 yards and two TDs
12. Johnny Manziel, QB Cleveland (Draft Profile)
2014 Projected Role: Eventual starter and building block, although he may need some time to beat out Brian Hoyer.
Why he will live up to this ranking and perhaps exceed it: There were only a handful of teams with offensive coordinators creative enough to get the most out of Manziel and the 2012 Heisman Trophy winner landed with one of them. Although Shanahan shouldn't be expected the exact same zone-read system that helped Robert Griffin III thrive in Washington in his rookie season, it would be shocking if the Browns didn't employ a lot of the same concepts in order to hide some of Manziel's current limitations as a pocket passer. Shanahan – much like his father – will make sure Cleveland establishes a consistent running game to take the pressure off his new hot-shot quarterback as well as give him every opportunity to get him outside of the tackle box. By using him on bootlegs and waggles, Shanahan should be able to increase Manziel's chances of hitting the big play – be it as a passer or as a runner.
Why he won't: First and foremost, the potential season-long suspension of WR Josh Gordon should scare the living daylights out of any Browns fan wanting Manziel to start right away. TE Jordan Cameron proved more than capable of carrying the offense at times last year, but it would be a tall order to ask him to do so again when Miles Austin, Andrew Hawkins, Earl Bennett and Nate Burleson will be the receivers trying to make defenses pay for showing him too much respect. There's also the small issue of his Manziel's size (6-0, 207), which makes him a poor bet to consistently survive a 16-game NFL season. Let's also not forget that "Johnny Football" – despite his obvious athletic and improvisational talent – is a major project and will need to make major changes in order to stick, much less thrive, as a pro quarterback. Finally, it is not a given that Manziel supplants Hoyer by Week 1. Hoyer is a much more polished quarterback right now and a much quicker decision-maker. A defensive-minded first-year coach like Mike Pettine may decide he prefers Hoyer's ability to avoid negative plays more attractive than Manziel's flair for the dramatic.
2014 Fantasy Assessment: The presence of Shanahan cannot be overstated; he is one of maybe five play-callers I trust enough to make the necessary adjustments in order to give Manziel every chance to succeed. The reason why the Texas A&M product may be a valuable fantasy property early in his career is because he should be a consistent source of rushing yards. However, he also has more to overcome than RG3 did as a rookie; he will play in a tougher division (the AFC North) and likely be without his Pierre Garcon (Gordon). It seems rather obvious that both Manziel's running and passing statistics figure to take a major blow if Gordon isn't around to catch the deep ball – the one area where Manziel already excels as a passer. Primarily for that reason, it would make a lot of sense to wait for Gordon to return before exposing Manziel to a rough-and-tough division. However, common sense usually gets thrown out the window with first-round quarterbacks – no matter how ready they are. As a result, Manziel will probably be starting no later than midseason and could emerge as a reliable fantasy QB2 given the likelihood he will probably average about 170 passing yards and 40-50 rushing yards to go along with a touchdown when he plays.
Fearless early-June prediction (13 starts): 190-of-333 for 2,290 yards, 10 TDs and 15 INTs; 92 rushes for 508 yards and five rushing TDs

11. Jeremy Hill, RB Cincinnati (Draft Profile)
2014 Projected Role: Complementary piece; likely taking over BenJarvus Green-Ellis' role as the thunder to Giovani Bernard's lightning.
Why he will live up to this ranking and perhaps exceed it: Along with Carlos Hyde and Bishop Sankey, Hill was considered one of the three best runners available in May's draft. Combined with the Bengals' renewed emphasis on the running game under new OC Hue Jackson and the pedestrian talent of Green-Ellis, Hill should see significant work in short-yardage and goal-line situations and exceed the production of the "Law Firm" in 2013 (756 rushing yards and seven scores) if he grabs a firm hold of the No. 2 job behind Bernard. It is also within the realm of possibility that Hill fits Jackson's power-back profile so well that Bernard ends up playing significant snaps in the slot in order to reduce the number of times the second-year back has to run inside while also utilizing his ability as a receiver. Hill was also a rock-solid ball-carrier in college, committing one fumble (although he did not lose it) in 371 career touches. The LSU standout can also contribute as a receiver, so he has feature-back potential if Bernard was to suffer a multiple-week injury.
Why he won't: Hill profiles as a more well-rounded version of a young LeGarrette Blount, on and off the field. Like his NFL comp on the field, Hill is a between-the-tackles runner with better-than-expected athleticism for a big back that is well below average when he is forced to move east and west. The biggest concern with Cincinnati's newest second-rounder, however, is the fact that he was arrested twice in college. It should also be noted that while he set a Southeastern Conference record for averaging 6.9 YPC in 2013, Hill has always been used in a rotation and ran behind one of college football's best offensive lines. And while Green-Ellis may not be the equal of Hill as a runner, it is clear that Cincinnati values his dependability, so it seems unlikely that he will simply fade away while Hill takes all of his carries.
2014 Fantasy Assessment: Hill is not a realistic threat to Bernard's place atop the depth chart, even if he is a considerable talent upgrade over Green-Ellis. The biggest problem I have with Hill – outside of his off-field history – is that he didn't strike me as being all that special in the six games in which I studied him. The Bengals took an unnecessary risk by selecting Hill over Hyde simply because the latter is a cleaner prospect that can do virtually the same things as the former as well as run outside the tackles, although there is a bit of merit to the reason why they did so. (Cincinnati RB coach Kyle Caskey suggested Hyde benefited from "six-feet-wide holes" in Ohio State's spread attack while Hill ran out of more traditional formations and still thrived in the SEC.) Be that as it may, Hill's upside in the Bengals' offense is high enough that he should be drafted as fantasy RB4, especially if he is able to make Green-Ellis an afterthought before the start of the season.
Fearless early-June prediction (one start): 145 rushes for 590 yards and six TDs; 15 receptions for 110 yards
Suggestions, comments, about the article or fantasy football in general? E-mail me or follow me on Twitter.

---
Doug Orth has written for FF Today since 2006 and has been featured in USA Today's Fantasy Football Preview magazine since 2010. He has hosted USA Today's hour-long, pre-kickoff fantasy football internet chat every Sunday over the past two seasons and appears as a guest analyst before and during the season on Sirius XM's "Fantasy Drive" as well as 106.7 The Fan (WJFK – Washington, D.C). Doug is also a member of the Fantasy Sports Writers Association.