Rest assured someone at some point during each of your drafts will utter some variation of the words ďvalue pick.Ē But what exactly is a value pick? What is value? Value is a relative term that changes based on public perception. When I consider value, Iím looking for a positive return on my investment. Just because a player has an a fourth round ADP and is still sitting there in the sixth round does not make him good value. At the same time, taking a player a round or two above his ADP is not necessarily bad value. Again, everything is relative.
Last season, Nick Chubb had an 11th round ADP. This year, he has a second round ADP. Chubb gave owners one hell of a positive return on investment. On the flip side, Alex Collins had a third round ADP. This year, heís out of the league. Thatís the type of pick we all hope to avoid.
Letís take a look at which RBs I expect to outperform their ADPs and which I expect to fail.
Undervalued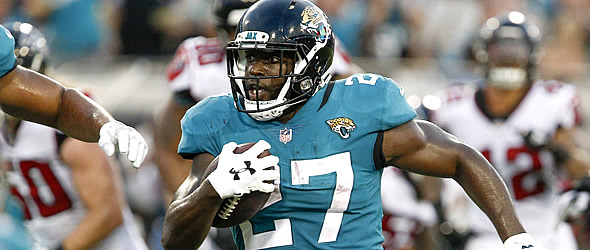 The case for Fournette being undervalued: Heís a former fourth overall pick with no threat to his touches in an offense that should improve from last year.
The case against Fournette being undervalued: He canít seem to stay on the field and Jaguars offense lacks talent.
Verdict: It is quite stunning how ready people are to dismiss Leonard Fournette. What is the difference between Dalvin Cook and Fournette that warrants Cook going early second round and Fournette falling to the middle of the third? Both were drafted in 2017. Both have absolutely no threat to touches. Both have had issues with health, except Cook has played 15 games over his first two seasons compared to 21 from Fournette. I donít mean to dismiss the health concerns with Fournette; they are real. However, as Herman Edwards once said, ďYou play to win the game. Hello.Ē
Do you know what wins fantasy leagues? Drafting a first round RB talent in the third round. I donít see any scenario where Fournette isnít an RB1 according to FPTs/G. The only concern regarding Fournette is his health. If he were going in the first round, it would be a different story.
His talent and opportunity have no questions, but his situation on the Jaguars certainly isnít anywhere near as good as Alvin Kamara and Ezekiel Elliott. Fournette totaled 1342 yards and 10 touchdowns in just 13 games as a rookie. He may have only averaged 3.9 ypc as a rookie and an even worse 3.3 ypc last season, but he was performing just as well from a fantasy perspective. Fournette had 624 total yards and six touchdowns in eight games last season and he left early in two of those games. His full season pace was only slightly off that of 2017. And, Fournette was doing that with the worst QB situation in the league. Nick Foles may not be Kyler Murray coming to save Arizona, but no team saw a bigger upgrade at quarterback than the Jaguars going from Blake Bortles to Foles.
Once you get past the truly elite backs, all of them have some concerns. The third and fourth round running backs typically have multiple ways in which they can fail. There is only one way Fournette fails and that is due to injury. I am not discounting the possibility that Fournette gets hurt, but how often can you draft a player in the third round with no risk of busting due to on field performance that also has first round upside?
The case for Murray being undervalued: The Saints finish top two in running back scoring every year and have consistently had two fantasy relevant backs.
The case against Murray being undervalued: The Saints offensive efficiency dips and are forced to increase their pass percentage.
Verdict: I really struggled to find any reason to be concerned about Latavius Murrayís value. Last season, Mark Ingram touched the ball 159 times for a total of 815 yards with seven touchdowns in just 12 games. He would have easily surpassed 1,000 yards and made a push for double-digit scores had he not been suspended for the first four games.
So can someone explain to me why Murray, who was brought in to replace Ingram, is being taken as a low RB3? Last year, Ingram had a 4.10 ADP despite his four game suspension. Murray, who is not suspended, is going three rounds after Ingram. I happen to believe Murray is a more explosive version of Ingram. Murray is the better player, especially at this point in their respective careers.
The Saints are one of the most reliable offenses in the league. They are going to finish high in offensive scoring. Alvin Kamara is not getting 300 touches so worst case, Murray puts up 800 yards and six touchdowns, which is still worth a seventh round pick. Best case, he matches Ingramís pace from last year and finishes as a solid RB2 with elite RB1 upside should anything happen to Kamara.
Weíve seen Tim Hightower be an RB1 in this offense. All Murray needs is volume. His floor is incredibly high and his ceiling is even higher. Make sure you get him in the seventh round.
Matt Breida, 49ers
ADP: 12.11, RB55
The case for Breida being undervalued: He was the 49ersí lead back in 2018 and is an injury away from having that job again.
The case against Breida being undervalued: The 49ers donít seem to be committed to Breida as a primary back.
Verdict: Tevin Coleman is the lead back in San Francisco. That much we know. But Coleman is not getting a 70% opportunity share and I would be surprised if it was more than 60%.
Matt Breida put up 1,075 yards on only 180 touches last season. As of now, he probably doesnít get there again, but we have reason for optimism. Most importantly, Breida is currently going as an RB5. Jerick McKinnon is still not fully recovered from his ACL tear and may never be healthy again. That would leave Breida as the 1B to Colemanís 1A entering the season.
Breida is already more valuable than a typical RB5. If Coleman struggles or gets hurt, Breida is right back in the role he was in last season as a low end RB2. That is well worth gambling on as your last running back in the 12th round.
*Note: I intentionally left Tony Pollard, Austin Ekeler, and Justin Jackson off this list because their undervalued status is directly tied to whether Ezekiel Elliott and Melvin Gordon play football this season. If Zeke or Gordon doesnít play, obviously Pollard, Ekeler, and Jackson will end up being steals at their current ADPs. The closer we get to the season without Elliott and Gordon getting new contracts, the more their backupsí ADPs will climb.
Overvalued
The case for Bell being overvalued: The move from Pittsburgh to New York marks a severe step down in overall offense and personnel.
The case against Bell being overvalued: Heís one of the most talented running backs of all time and is locked into 350+ touches.
Verdict: It would not surprise me at all if LeíVeon Bell finished as a mid-range RB1. Thatís exactly where he is being drafted Ė at his ceiling. It is difficult to envision a path to Bell finishing any higher. He would need to excel in the touchdown department, which would require the Jets offense taking a huge step forward.
The Jets had the worst run blocking offensive line in the league last season and while offensive line play isnít very sticky year to year and should improve, Bellís patient running style that meshed so well with the Steelers consistently top five run blocking unit is not going to work if the Jets linemen are getting steamrolled every play. Can Bell adapt and produce behind a subpar offensive line? I donít know and I certainly donít want to risk a first round pick to find out.
I am not concerned about Bellís usage in the passing game. He is going to be fed targets by checkdown Sam Darnold. The volume is not a concern. The simple fact is that Bell is being drafted at his ceiling. He hasnít played football in almost two years and is on a new team that lacks offensive punch. There are way too many unknowns for where Bell is being drafted.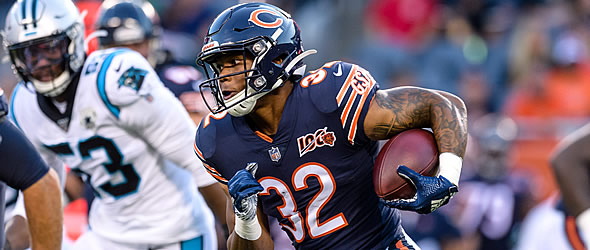 The case for Montgomery being overvalued: Heís a rookie that could be trapped in a three-man committee.
The case against Montgomery being overvalued: The touches vacated by Jordan Howard, should mostly go to Montgomery.
Verdict: I sat down to write this section two days after Montgomery made his preseason debut. Vividness bias is a real thing and the whole world saw Montgomeryís jump cut to the outside touchdown run in his preseason debut. That kind of play seeps into fantasy gamersí subconscious and plants its roots. This is known as the Ameer Abdullah Corollary, after Abdullah famously made one cut against the Jets in the preseason for 45 yards. That single run spiked his ADP multiple rounds and fooled people into thinking he was actually good at football. The same thing is happening to Montgomery. I fully expect him to creep into the third round. To be fair, Montgomery is much better at football than Abdullah, but there are a lot of reasons to fade Montgomery, particularly at his price.
Montgomeryís best skill is his receiving ability, but he canít hold a candle to Tarik Cohen in that area. That role is taken. Montgomery also excels at breaking tackles, but will that translate to the NFL? Breaking tackles against weak opponents in college is not the same as breaking free of NFL linebackers. Montgomery needs the ball in space, which is where he does his best work. However, he is slow and just canít accelerate, as evidenced by his 10th percentile burst score. Holes close up quickly in the NFL. If Montgomery canít work up a head of steam, heís not going to make people miss.
The Bears also signed Mike Davis as a free agent this off-season. Howard vacated 270 touches, but they are not all going to Montgomery. Cohenís usage should stay about the same, but a decent chunk of those touches are going to Davis.
The Bears also benefited from a lot of positive game script in 2018. I wonít try and predict game script, but suffice it to say they are unlikely to win 12 games again. More throwing wouldnít be the worst thing for Montgomery if Matt Nagy intends to use him in tandem with Cohen, but thatís wishful thinking.
There is certainly a path to Montgomery being a mid RB2. Weíve seen Howard do it and Montgomery, while not as good of a rusher, is a far, far better receiver. However, at the 3/4 turn, there are so many safer wide receivers with upside. You are better off with one of them and a running back with a similar floor/ceiling combination to Montgomery can be had in the later rounds.Tevin Coleman is going in the late fifth. Miles Sanders, who I also donít particularly like, is in the same situation as Montgomery, except heís on a better offense and heís not going until the seventh round. Montgomery may very well live up to his ADP, but he is undoubtedly overvalued relative to running backs in similar situations.
Kareem Hunt, Browns
ADP: 8.06, RB38
The case for Hunt being overvalued: He wonít play for the first nine weeks of the season.
The case against Hunt being overvalued: Once he returns in Week 10, Nick Chubb could be injured and Hunt would be a league winner.
Verdict: Really people? This is the most outrageous ADP of any player I can remember since back in 2016 when Arian Foster went as the RB22 in the fifth round switching to a new team coming off a torn Achilles for his age 30 season. It was so obvious Foster was done, yet fantasy owners were drafting him like he would actually play.
The difference between Foster and Hunt, from a fantasy perspective, is there is literally no question over whether Hunt will play. We know Hunt is suspended for the first eight games of the season. How has his ADP risen? There is no guarantee that when Hunt returns, he even has a role or what his role will be. We have no idea what the Brownsí plan for Hunt is. Nick Chubb will spend half the season as the feature back and I expect him to play very well.
So, unless Chubb gets hurt, Huntís ceiling is displacing Dontrell Hilliard as the satellite back. How can you burn a roster spot on nine weeks of guaranteed zeros for the slim chance that Hunt comes back and matters? Say Hunt returns in Week 10, youíre not starting him because you have no idea what heís going to do. The earliest you could realistically use Hunt is Week 11, at which point more than 75% of the fantasy regular season is over. It is complete lunacy to even draft Kareem Hunt in standard sized redraft leagues. To take him as a near RB3 in the eighth round is a fantasy crime. Unless your league is a keeper league or has deep rosters, Hunt should not even be on your draft board.