This is my fourth year reviewing the July PPR Mock. With every year of experience playing this game that we love, I learn more. I learn new things; new concepts; new ideas. I learn some things I didn't even know were there to learn. But one thing that's remained constant over the years is the value and purpose of mock drafts. I wrote the following two paragraphs back in 2015 as an intro, but I doubt anyone will remember that. So here they are again to get your mind focused on the information to come.

Editor's Note: You can view the full FFToday July PPR Mock resuts here.

I once had a friend ask me what the point of a mock draft is. Much of the excitement and enjoyment of a draft is eyeing that player you want and actually being able to draft and root for him all season. A mock is not real. You don't actually own any of those players. And it's not like your actual drafts will mimic your mock drafts. This attitude made me realize that many people do not understand the underlying purpose of mocks – to educate you.

This article is going to discuss one mock conducted in July, roughly six weeks before the heart of draft season. A lot is going to change between now and then. Player perception will change. Player value will change. ADPs will rise and fall. Players will get injured. Your actual draft will look much different than this mock that I am about to discuss. So what's the point of discussing it at all? When reviewing this particular mock and reading this article, remember to focus on the concepts; focus on the why, not the what, or the who. Let's get to it.
1. I noticed the continued return of RBs to prominence.

Like most years, there is a decided advantage in acquiring an elite RB early. Last year, there were more RBs (13) than WRs (11) taken in the first two rounds. This year, the RB count went up to 15 and WRs were down to 9. We are now three years removed from the great WR boom of 2015 and it is mostly forgotten. Even more telling than the 14-10 RB-WR ratio is the first round itself. We saw 9 RBs drafted in the first round, including seven of the first eight picks. While this presumably should create value at WR, the unfortunate reality is that it doesn't. That's because…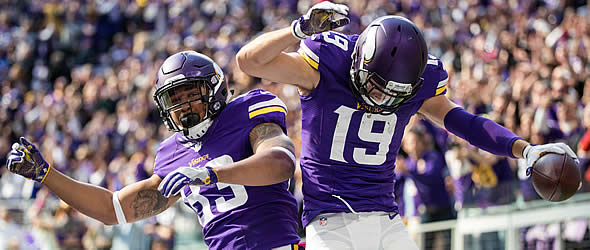 Blurred lines: There's a host of wide receivers in rounds 2 and 3 that have similar value.
2. The lines between the WR tiers are completely blurred.
Antonio Brown is still the undisputed best wide receiver in football, followed by DeAndre Hopkins and Odell Beckham Jr. in whichever order you prefer. After those three went in the first round, the next WR drafted was Julio Jones. Hawkeye took Julio at 2.02, presumably to secure a decisive edge at the position. With the separation between wide receivers continuing to shrink, I simply donít think thatís the case. Adam Thielen went 3.09 and I donít think there is much of a difference between the two. We have 11 WRs separated by 19 picks with very little distinction between them. It is a frustrating exercise, but one that rears its ugly head often throughout 2018 drafts. You will frequently find yourself in a situation where you have to select from a large group of players you value relatively equally, putting you in a situation where you are either reaching multiple rounds for a player or in a position where you want a bunch of players, but can only select one.

3. I noticed the third round RB cliff is as steep as I can ever remember.

For the purposes of this analysis, we will remove LeSean McCoy from the discussion for obvious reasons. I am still referring to the cliff as being in the third round even though it actually occurred in the second round here. I believe there are 15 RBs (excluding McCoy) that I would be confident starting every week. All 15 of them went in the first two rounds, the last of which was Jordan Howard at 2.11 (right after Joe Mixon and Jerick McKinnon). After Howard - Kenyan Drake went at 3.06, followed by Derrius Guice at 4.02, Alex Collins at 4.06, and Jay Ajayi at 4.08. Player opinions vary, but I think itís fair to say there is a precipitous drop off from Mixon/McKinnon/Howard to Guice/Collins/Ajayi. I would never write off a strategy because you can win with just about any approach, but this is not the year to go Zero RB. The edge you can acquire by grabbing two early WR just isnít there, while the RB disadvantage youíll experience is stark. The truth is I really wish I could pick more than three times in the first three rounds because the options are less than ideal beginning in Round 4.

4. I noticed that the fourth round WR cliff is steep as well.

There were some very curious picks in the draft that I will address later, but in the interest of fairness, Iíll remove most of my personal bias from analyzing the WR cliff. After Josh Gordon at 4.10, the WR talent takes a nosedive. Yes, I am including Alshon Jeffery after back-to-back finishes outside the top 20 in PPR leagues, coming off his worst season in terms of catch rate, receptions, and yards per game since his rookie year. Oh, and he also had offseason rotator cuff surgery. The draft quickly went from the likes of Brandin Cooks, Allen Robinson, and Gordon to JuJu Smith-Schuster, Jordy Nelson, Jarvis Landry, and Pierre Garcon. I just talked about it last section, but it bears mentioning again because it is so important this year. After the third/fourth rounds, you may find yourself struggling to differentiate between a player you should take in the fifth round and the players you want in the sixth and seventh rounds. Do not be afraid to take your guy.

5. I noticed the members of this mock waited on the tight end position.

Rob Gronkowski and Travis Kelce went back to back at 3.04 and 3.05, which seems to be a trend for the savvy owners that participate in this mock every year (last year, Gronk didnít go until 3.07). While Gronk is still the best TE in football, his inability to play 16 games combined with the continued devaluation of the position in fantasy has made selecting a TE in the first two rounds something seldom desired by fantasy owners. Ultimately, it is far more important to secure RBs and WRs early than any position with a single starter.

6. I noticed that rookie hysteria is back in full force.

There were 14 rookies selected in this mock with eight of them coming in the single digit rounds, all of which were RBs. Out of all the single digit round RBs selected not named Saquon Barkley, I would be surprised if more than one or two provided a positive return on investment. I understand the desire for the rookies given the veterans going around the same spots are largely uninspiring or have significant concerns, so a fantasy owner would rather chase the upside of an unknown. However, while I donít like where any of the rookie RBs were taken outside of Barkley, it is not like there were some incredible veterans passed over. I would certainly have taken Dion Lewis before Sony Michel or Royce Freeman, Rex Burkhead before Ronald Jones, and literally every other RB taken in this draft before Kerryon Johnson, but those veterans arenít exactly superstars.

7. I noticed that Frozenbeernuts might actually be me.

Seriously. I love every single one of his picks and looking back on the draft board, there is not a single thing I would have done differently. I have Tyreek Hill, Evan Engram, Tarik Cohen, Randall Cobb, and Marquise Goodwin ranked way above consensus. Jordan Howard is underrated. I think Carlos Hyde is being severely undervalued. I believe Jimmy Garoppolo is a legitimate top five quarterback. I think Doug Martin is the back to own in Oakland (if there is a back to own). I believe Jared Goff is a top eight quarterback. Jordan Matthews, Quincy Enunwa, and Keelan Cole are three of my favorite late round dart throws. Vance McDonald is top late round TE target. Frozenbeernuts literally drafted the exact team I would have drafted in his spot, down to every single pick.

8. I noticed that Hawkeye and Iceman were the only teams to exit the first three rounds without a running back.

I donít think it worked. Both teams are relying on rookies to pan out, especially Hawkeye after going back-to-back-to-back rookie RBs in rounds four through six. The problem lies in the WR edge. The trio of Odell Beckham, Julio Jones, and Stefon Diggs looks really nice. But take a team like Robb, who has T.Y. Hilton, Josh Gordon, Alshon Jeffery, and Devin Funchess at WR. Itís clearly worse than Hawkeyeís WR corps, but is it that much worse? I donít think so. Hawkeye is starting some combination of Derrius Guice, Royce Freeman, and Sony Michel at RB. Robb will be starting David Johnson and Joe Mixon. I think you will be hard pressed to find a draft where you like the WR-heavy team more than the RB-heavy team. Iím not saying to go RB-RB at all costs, but you should try and come out of the first two rounds with at least one running back.

9. I noticed the Patriots had the most players drafted (9), while the Cowboys, a team formerly littered with fantasy goodness, had the fewest players drafted (3).

There were more Jets drafted than Cowboys! Tom Brady is an all-time great and while we know for certain that he, Gronk, Hogan, and Gostkowski will have value, there really are no guarantees beyond that. Sony Michel is a rookie that could fumble his way to the bench. Rex Burkhead wasnít healthy last year and could end up too far behind Michel to have much value. James White is a pure pass catcher, which is something both Michel and Burkhead can do as well. It is highly unlikely that Julian Edelman and Jordan Matthews both have value. However, all of them have plausible upside, so I understand why they were all selected.
As for the Cowboys, Ezekiel Elliott is an elite option and both Allen Hurns and Dak Prescott should be drafted in all leagues, but thatís really it. Michael Gallup could emerge as having some fantasy value later in the season, but this team is mostly devoid of talent.

10. I noticed the draft position of four particular players...

Deshaun Watson - The Football Guru burnt his fifth round pick on a quarterback. Not just any QB, though. He spent it on a second-year QB with less than half a season on his resume and made him the second QB off the board. Are you really that confident that Watson is almost three rounds better than Drew Brees? Or five rounds better than Andrew Luck and Philip Rivers? Watson was not a good QB last season Ė he was just great in fantasy. I have a hard time using an early pick on any QB, let alone one due for some massive regression that wasnít real life good to begin with.

Jordy Nelson - Ray Lewisí Limo Driver took Nelson at 5.08, which was easily the worst pick in any mock draft Iíve seen this season. Nelson is done. He is 33 years old. His speed and agility have been completed sapped by his torn ACL. He had a big 2016 because of his incredible rapport with Aaron Rodgers, but, as we saw last year, thereís nothing left for him to do in the NFL. This will be his final season and he will go out with a whimper. He is nothing more than a late-round flier and to select him in the fifth round is asinine.

Cameron Meredith - The Football Guru may have blundered with the Watson pick, but he made up for it with Meredith in the 10th round. I like to use JuJu Smith-Schuster as a comparison. JuJu went in the fifth round but is he really five rounds better than Meredith? Both players are on very good offenses with two massive talents in front of them: LeíVeon Bell - Antonio Brown, Michael Thomas - Alvin Kamara. But after that, JuJu has to contend with Vance McDonald and James Washington for targets. Meredith just has to beat out 33 year old Ted Ginn Jr. Give me Meredith at his price all day.

Tyrell Williams - Remember how good he was when Keenan Allen was injured in 2016? I know Allen is healthy, but Ray Lewisí Limo Driver selected Williams in the 15th round. Thereís zero risk there and Williams is the number two option for the Chargers behind Allen. Without Hunter Henry, unless you think Melvin Gordon is going be the second option in the passing game, the door is open for Williams to have a bounce back season. At this price, all he has to do is be a WR4 to provide a tremendous return on investment. Williams has standalone WR3 upside and legitimate WR1 upside if Allen were to get hurt again. He is going way too late. The fact that Mike Williams went ahead of Tyrell Williams is absurd.

On a final note, remember that every mock is different. Take a look at the June mock compared to this one and youíll see how very different they are. You can and should try different strategies and approaches. See what works and what does not. See what you like and what youíd like to avoid. Even if you disagree with everything Iíve written, you can still learn from it. I hope reading this article helps you as much as writing it helped me.