The best part about dynasty leagues is simply that they never end. Whether it's in the heat of the season in October or the cold depressing days of February, there are always decisions to be made.

This time of year is especially exciting as you start rookie research, looking at free agency, and perhaps most importantly, making trade offers to improve your team. While everyone would love to acquire guys like Jonathan Taylor and Tyreek Hill, it is normally not realistic, nor affordable to do so in most leagues.

One of the best things you can do to improve your chances is target guys that are often overlooked or come at a bargain price. Hopefully these guys hit and you can either cash them in for a better value or simply plug them in your lineup and reap the rewards. Here are five players I am personally targeting in dynasty leagues over the next couple months.
In most dynasty leagues, even 2 QB and Superflex, Darnold has a fairly low value based on his poor production in his 3-year career, and the fact that his future is very much up in the air, with the Jets having pick No.2 in an upcoming NFL Draft that is Quarterback rich.

As a prospect, Darnold entered the NFL with loads of talent, possessing good size and mobility, an aggressive instinct, solid intangibles, and an arm good enough to make all the throws. As a whole, what we have seen from Darnold is some bad decision making, an overall lack of fantasy production and a lot of losses for the Jets.

This all has caused most owners to sour on Darnold as they move on to look for the next big thing. While I am not here to proclaim Darnold as the next Patrick Mahomes, I believe a 4th year career turnaround is very possible, much in the same way Josh Allen improved from his 2nd to 3rd seasons.

The main thing to consider with Darnold is that he will only be 24 years old when the 2021 season starts. While we would have liked to see a bit more production to this point, we must also remember Darnold was the youngest QB to EVER start in the NFL. While all players progress at different rates, Darnold could simply be one that needs to mature a bit before realizing his potential.

While I hate to make excuses for players, the fact of the matter is Darnold has not been dealt a great hand to start his career. He has had an absolute trash offensive line for most, if not all of his three years, as well as one of the league's worst receiving corps, and skill players in general. He also suffered a few freak injuries and missed multiple games with mononucleosis in his 2nd season. Add this to various key receivers missing time and some awful coaching (cough Adam Gase cough), and you start to see an early career path that was simply not setup for success.

While Darnold has not looked especially great, he has certainly shown flashes. In his rookie season he had the highest QBR in the NFL for the month of December and ended the season on fire. He also had some highlight plays including an insane 46-yard touchdown run versus the Broncos this past season.

While we do not know which team Darnold will play for this season, I am confident he will be the starter somewhere and his combination of upside, pedigree, age, and low cost makes him my favorite QB to target in all types of dynasty leagues this offseason. Chances are good that no matter where Darnold lands, his situation will be the best of his career in terms of coaching, line play, and skill players around him.

While others in your league are leaving Darnold for dead don't be afraid to give the kid one more shot to live up to the billing that most experts saw in him as a 20 year-old rookie three seasons ago.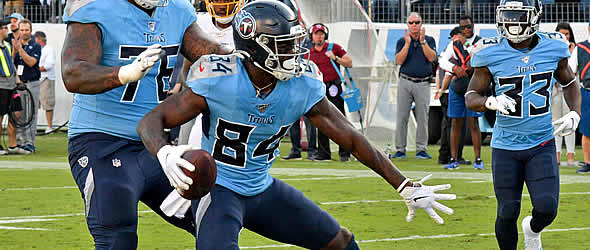 One of my main strategies is to look for veterans (3+ years in NFL) that have underproduced their expectations but have shown glimpses of promise. This year Corey Davis fits the bill as he will be going into his 5th NFL season and has been considered a bit of a bust compared to the high draft capital the Titans invested in him.

As a first round NFL draft pick Davis was expected to be the next big stud receiver, with the requisite size, breakout age, and college production to make fantasy owners drool. Instead, Davis has been rather pedestrian, as he has failed to record a 1,000-yard season, nor catch more than 5 touchdowns in a single season. The past two years Davis has lived in the shadow of teammate A.J. Brown, who has vaulted to everyone's top 5 dynasty wide receiver rankings.

This offseason Davis is a free agent and while it is possible he will re-sign with the Titans, many believe his talents will go elsewhere, as he chases more opportunity on another team.

While Davis has yet to truly breakout, he has certainly had moments and games that have shown glimpses of being a potential dominant receiver. As an Eagles fan I remember quite well Week 4 of 2019 when Davis almost single-handedly took us down, going 9/161/1 in a 26-23 victory for Tennessee. While games like that have been few and far between, Davis has very quietly improved to the point where he posted career highs in yards (984), touchdowns (5), yards per reception (15.1) and catch percentage (70.7%) this season, despite playing just 14 games and getting 20 less targets than he did in 2018. Davis was top 5 in the NFL in yards per route run in 2020, and top 10 in fantasy points per route run, despite being largely overshadowed by his teammate.

While Davis is just barely 26 and coming off a solid statistical season, he is nowhere to be seen in most people's top 40 dynasty receiver lists, making him a great trade target to get on the cheap, or as a throw in in a bigger deal.

For 2021 I expect Davis to have his best season yet, as he will either sign onto a team to potentially compete for their number one WR role, or return to the Titans where it is unlikely they re-sign both Davis and Jonnu Smith, meaning more targets should come Davis' way, especially with all the defensive attention on Brown. Go get Davis where you can and expect high end WR3 numbers at the absolute worst.
One of my favorite strategies for finding bargains in dynasty leagues is to look at 2nd year players who had forgettable rookie seasons. Edwards' season by all measures was forgettable, not only because he basically did nothing (11 catches in 12 games), but also because there were so many rookie wideouts who balled out (Justin Jefferson, CeeDee Lamb, Tee Higgins, etc.), it took even more focus off of what Edwards did (or did not) do.

As a prospect Edwards is actually a stand-out, at 6'3'' 215, with a 100th percentile breakout age and a 94th percentile college dominator score. He's great at going up and getting the ball, has great physicality, and runs decent routes for a man his size. He profiles as an alpha receiver who may not ever be elite but is certainly skilled enough to carve out a solid role as a yearly double digit touchdown scorer and 1,000 yard receiver.

In Las Vegas, Edwards does not have much in the way of competition other than Darren Waller at tight end. Henry Ruggs III obviously has the draft pedigree but also showed almost nothing his rookie season and seems miscast in the way the offense is using him.

After using 1st and 3rd round draft picks on wide receivers last year, the Raiders are unlikely to invest much draft capital at the position, and a below average cap situation means they are also unlikely to go after any of the top free agent names this offseason. This means Edwards will be forced into more action in a possible make or break year for his Raiders career. Could he bust? Absolutely, but he's a very good prospect on paper and likely to be force fed targets to see if he was worth the investment.

Acquiring Edwards should be very cheap, especially this time of year when owners are still drooling over the productive 2020 rookies and getting hyped for the talented 2021 class. Edwards is like a new crypto currency - he's cheap, has lots of potential and is not going to hurt much if he busts out so why not take a shot?
My strategy for acquiring tight ends is looking for players with high ceilings, even if they have shaky floors, or no floors at all. This position hosts a few studs at the top and then a whole lot of JAG's. As a result, you might as well shoot for the stars because even if you miss you can always pick up a middle of the road guy ultra-cheap.

Irv Smith is a perfect prospect to aim high for, and 2021 seems like the time that he is going to pay off big. Smith is a dynasty owners dream as a prospect, super young (20 during his rookie year) ultra-athletic, and very productive at a high level (Alabama) in college.

He was drafted by the Vikings, which made some dynasty owners shy away from him due to Minnesota being a run-oriented team, not to mention the presence of Kyle Rudolph, a solid fantasy producer in his own right. Add that to the fact that tight ends historically take a few years to develop and it makes sense that Smith has flown under the radar, posting back-to-back sub 40/400-yard seasons.

For 2021 and beyond I see big things for Smith, as the 1B receiver to Justin Jefferson, as Adam Thielen begins to age out and Rudolph (free agent) likely to be gone as soon as this year. With many defensive needs and not much salary cap room the Vikings could focusing on the defensive side of the ball in the draft and free agency, meaning Smith's piece of the receiving pie could take a considerable leap right away.

What I like most about Smith is his ability to get downfield, ranking 8th best among tight ends in yards per reception and 2nd in fantasy points per target in 2020. This means even if his volume isn't consistent week-to-week he can break off a big play at any time and set himself apart from the large group of players at the position that are only touchdown or bust.

Unless your team is set with one of the big 3-4, don't waste your time on the middle of the pack guys at the position, and instead invest a little capital on a player possibly ready to take the leap into the top tier.
The former first round pick, gets what is likely his last real shot at seizing a starting role this offseason, as the Seahawks are likely moving on from Chris Carson and don't have a ton of talent behind Penny. While they could go to the draft or to free agency, Penny is young enough, has the draft capital invested in him, and has shown flashes in limited production, that he will at least be one of the main backs in the mix for a major role in an offense that has produced quality fantasy RB's for nearly a decade now.

Penny came into the league in 2018 as an exciting prospect with ideal size (5'11'', 220), a 98th percentile college dominator score, and more than adequate athleticism. Perhaps even more exciting was the fact that Penny also profiled as an above average pass-catcher, meaning he had the profile to be a true bell-cow back.

Unfortunately his career has hit some speed bumps, including various injuries (ACL), and playing second fiddle to Chris Carson, who broke out during Penny's rookie campaign. While we would have loved to see Penny break out by now it seems that everything is leading to 2021 being the season for Penny, He's in the last year of his contract and Seattle needs to get something out of their first-round investment.

While it is likely the team brings in some more competition in the backfield, I strongly believe Penny will be pushed into a starting role, or major contributor so the current regime doesn't look as silly for selecting him so high in the draft.

Two Seattle storylines this offseason would seem favor Penny. First, the team doubling down on their commitment to the run. Second, Russell Wilson basically begging for the team to invest more in the offensive line. With a commitment to the run, an elite quarterback, and wideouts good enough to demand safety help, the Seattle running back who gets the most volume should be a major fantasy force.

Penny is an afterthought in many leagues and can be had for pennies on the dollar. While there is certainly no safe floor here, the investment you have to make is worth the lottery ticket.