There are many ways to build a championship winning fantasy football team. Trades are often difficult to execute, the waiver wire is often a crapshoot (if you can even get the player you wanted to begin with), and of course, the draft. The draft is the place where all teams are on an even playing field and everyone gets a fair chance to build a team the way they see fit.

With most drafts lasting between 15 and 20 rounds, every single pick is crucial to making your team successful. There are many things to consider, but one of the very most important is value. If you reach for a guy too early it can leave you scrambling later, hoping to get a bargain (which often never comes) to make up for your deficit.

The following 10 players are going too early in drafts and thus should be passed on at their current average draft position. I'll say it again, this is not a "do not draft list" but rather, a list of players that are too costly at their current ADP. For fun, here are the players I had on this list last season: Peyton Manning, Aaron Rodgers, Arian Foster, Alfred Morris, Reggie Bush, Darren Sproles, Wes Welker, Percy Harvin, Sammy Watkins, Vernon Davis. My quick scorecard says I went 7 out of 10, on these picks last year… not bad. Let's see how I do this time around…

Note: ADP based on 12 team, standard scoring leagues.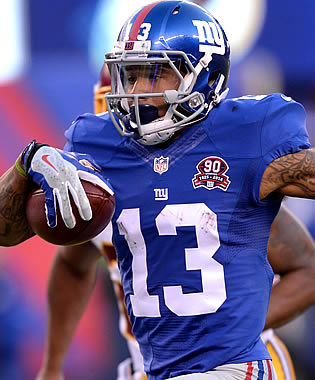 Can Odell Beckham Jr. avoid the sophmore slump?
1. WR Odell Beckham Jr.
(ADP 2.02)

Beckham burst onto the scene last year and obviously left a mark on the fantasy community. I've seen him go as high as No.1 overall in a handful of drafts this season. While Beckham is super-talented and will most likely have a solid season and a stellar career, there is reason to pause before taking him among the top 20 picks. First, history is littered with a number of rookie receivers that take the league by storm, only to struggle in their second season (and sometimes beyond). Mike Williams, Keenan Allen, and Eddie Royal, just to name a few, all had big rookie seasons, only to be average, or downright disappointing in the year after. Second, Beckham will not be sneaking up on anyone and with many weeks of game tape to study, defenses will start to find some dents in Beckham's armor. Third, Beckham is obviously gifted and athletic, but he is not a physical specimen at 5'11'' 198lbs and thus, touchdowns could become harder and harder to come by, limiting his scoring upside. Finally, with Victor Cruz (surprisingly) expected back in Week 1, Beckham will have some competition for targets, along with Rueben Randle and newly acquired Shane Vereen. Beckham is more of a low-end WR1, not a top 5 player at his position. If I had an early 2nd round pick, I'd feel much better using it on Calvin Johnson, Rob Gronkowski, or even Randall Cobb, who all have similar upside but higher floors than Beckham.
2. RB Melvin Gordon
(ADP 4.01)

Although running back is a position that players can come into the NFL right away and make a big impact, the fact remains that they are still rookies adjusting to a new game and are unproven commodities. Gordon is an exciting prospect with ideal size, patience, vision, and athleticism. Gordon projects as a workhorse-type back that could eventually handle 20-plus carries per game and be a very intriguing fantasy pick. The issue I see is what I call the "new toy" effect. Fantasy owners love the new guy, the promising rookie, the young player with "potential", the stud prospect. This is all well and good, and often that kind of love is justified, but sometimes it is a bit premature as I believe it is here. Gordon will lack consistency. It is going to take some time to adjust, feel comfortable, and win the coach's trust. As we saw in Gordon's first preseason game (6 carries, 11 yards, 0 targets) he is not going to turn into Barry Sanders overnight. Second, and most importantly, Gordon is not a polished pass blocker or receiver yet and these are skills that are vital to playing time in the NFL. A player that is good at these skills? Danny Woodhead. Woodhead is back to good health, a coach's favorite, and has a solid resume with the team (2013: 76 catches). As long as Woodhead stays healthy, He's a lock for 10+ touches a game and perhaps more when the Chargers are behind. This season, Gordon is ticketed for 10-15 touches per game instead of the 20-plus touch player he will likely become. I like Gordon this season but he is a lower-end RB2 and not a top 15 back, as some owners want him to be. I would easily prefer players like Carlos Hyde, Lamar Miller, Jimmy Graham, and Jordan Matthews over Gordon.
3. WR Emmanuel Sanders
(ADP 3.11)

I'm very surprised Sanders is being drafted as high as he is, as the situation in Denver clearly points to him having a big letdown after last year's big breakout (101-1404-9). First, the Broncos plan to run the ball more (for several reasons) and they look to have the personnel to do just that, with C.J. Anderson, Ronnie Hillman and Montee Ball. Second, Sanders himself admitted that the change in offensive philosophy will likely mean reduced stats for him this season, as he looks to play the slot role in 3 receiver sets (he played outside last year almost exclusively) and the team will also play more two-tight end sets with two capable receivers at the position. Third, second-year man Cody Latimer might not be as polished as Sanders but he is clearly a more talented prospect and will see more targets coming his way. Finally, Sanders' nine touchdowns last year came in spurts and as a non-traditional red-zone target (5'11, 180), might have been a bit fluky. I would expect 4-6 TDs this season with Sanders finishing much more like a low-end WR2 than an elite WR2, like he is currently being drafted as. Buying a player after a career year is rarely a smart decision. I would gladly take Jordan Matthews, Davante Adams, and even Andre Johnson before Sanders this season and each of those three are being selected in the same tier as Sanders on average.
4. RB Andre Ellington
(ADP 4.10)

I know Ellington finished (barely) as a top 20 running back last season. I realize he averaged just over 20.5 touches per game last season, a great number for a fantasy running back. With that being said, Ellington is a guy I'm avoiding completely unless he falls several rounds below his current ADP. This is partly because I don't think Ellington has above average talent at the position. He never topped 95 rushing yards in a single game last season despite averaging nearly 17 rushes per game. I also do not trust the way the Cardinals use Ellington, which reminds me similarly of the way the Bills misused C.J. Spiller for several years. I also do not trust Ellington to stay healthy. His multiple injuries last season and a hamstring issue already this summer don't inspire confidence. Finally, I believe that rookie David Johnson is a better talent and will take the lead job sooner. Recently signed Chris Johnson may eat into the Ellington workload as well. This all adds up to is Ellington having minimal value at his current draft position (RB23 off the board) and being a wasted pick. The upside is limited and the floor is low with Ellington. At his current spot I'd rather buy T.J. Yeldon, Travis Kelce, and even Isaiah Crowell.
5. QB Peyton Manning
(ADP 4.04)

I hate drafting a quarterback in the first five rounds of standard drafts this season. Worse, I hate drafting 39-year-old quarterbacks that have lost weapons and have a new offensive coordinator and will most likely pass less and hand off more. I get the infatuation with Peyton, he's an all-time great, still has above-average receivers, and is just two years removed from almost single-handedly winning many fantasy leagues with his ridiculous 5477-55 stat line. At this point though we have to face reality. His best days are behind him and his upside is shrinking slowly but surely. While I have no doubt Manning will finish among the top 10 at the position (barring injury), he is a mid-to-lower end QB1 than the third-best fantasy QB this year. Now, if he is the third QB taken in the 6th round of your draft, that is a different story. But, in the 4th round you are passing on too much talent at other positions that you simply cannot make up for later in the draft. Elite RB2's and WR2's and available in Round 4 and there is a significant drop-off in both positions after this important round. I'd much rather wait a full round for Russell Wilson or Ben Roethlisberger, or two-plus rounds later and take Matt Ryan or Tony Romo. For comparison sake, you could take Manning in the 4th and DeSean Jackson in the 6th or take Matt Ryan in the 6th and Andre Johnson in the 4th. I think the Ryan/Johnson combo wins every time, in pretty much any league format.
6. WR Keenan Allen
(ADP 5.01)

Keenan Allen's rookie year created fantasy buzz as he became a top 18 fantasy wideout his first year in the league. After falling all the way to the No.48 fantasy WR last season (despite six more targets), you would think Allen would be hovering around an 8th or 9th round ADP. Somehow though, Allen is being drafted again as a top 25 WR (20th currently) despite no real evidence he, or his situation has improved. As more of a possession-type receiver, Allen does not project as a big-play target due to his lack of separation and pure speed. This means the majority of his fantasy value comes from touchdowns, which can be fluky and high volume, which, unless you are in a PPR league, does you little good. With Antonio Gates, Ladarius Green, and Malcom Floyd all solid red-zone targets, Allen will need to get a little lucky to find the endzone more than a handful of times. Allen is a lower-end WR3 but certainly not a WR2 like he is being drafted. I'll take Brandon Marshall, Sammy Watkins, Allen Robinson, and Charles Johnson ahead of Allen, all of which can be had a full round later in standard scoring leagues.
7. TE Martellus Bennett
(ADP 6.11)

Bennett set career highs last season in just about every possible category, so why would he possibly ruin your draft this year? For starters, despite his career-high numbers, Bennett still only scored 6 touchdowns, did not break 1,000 yards, didn't break 6 fantasy points in half of his games. In other words, unless you were in a PPR league, where his 90 catches would seriously help you, Bennett's 9th place consistency didn't live up to his No.5 TE ranking. Sure, the position is shallow so he is very serviceable, but he is not going to win you fantasy games outright like Gronkowski or Graham will, so why use one of your first six or seven picks on him? With Alshon Jeffrey, Matt Forte, and the likely re-emergence of Eddie Royal, the Bears already have capable pass-catchers, meaning Bennett will rarely be the first or even second option for Cutler, and with a more conservative offensive coordinator (Marc Trestman to Adam Gase) in the mix, the Bears pass attempts in general may dip considerably. In the late 6th or early 7th round range I'd prefer the likes of Nelson Agholor, Isaiah Crowell, and Charles Johnson, who all carry risk but carry bigger upside, compared to Bennett's high floor/low ceiling. If I don't grab Gronkowski, Graham, or even Kelce, then I'm waiting until the later rounds for a tight end and targeting player like Zach Ertz, Jordan Cameron, and Jason Witten, who could all be as good as or better than Bennett without the higher investment cost.
8. RB Todd Gurley
(ADP 5.02)

Long term there is a lot to be excited about with Gurley. He has just about everything you could hope for in a franchise running back. The obstacle (knee, ACL) he has to overcome in his first year however, makes him little more than a wildcard player whose name and long-term potential are over-inflating his ADP this season. While it sounds like he is making a nice recovery, it's that time of year where everything is coming up roses, so take injury news with a grain of salt. Even if Gurley can be active by Week 1 he is surely to be limited, both by the coaching staff, and physically. Don't forget, he is a rookie trying to learn a new system/playbook while adjusting to the pros and rehab his injury. The kid has a lot on his plate and making any sort of big fantasy impact this season isn't likely.
The Rams have a capable young running back in Tre Mason as well, so there is no need to rush Gurley into action, and even if he gets near 100% at some point this season. Finally, the Rams schedule is brutal, facing stout run defenses including a Week 16 matchup at Seattle… that's not exactly the kind of fantasy championship matchup you can exploit. While Gurley may make some highlight reels this year, and perhaps turn in a handful of solid fantasy performances, he should not be your RB2/RB3, but that is the price you are going to have to pay to get him right now, as the 24th back off the board. In his ADP range I'd rather take a shot at T.J. Yeldon, Jonathan Stewart, or even LeGarrette Blount.
9. WR Victor Cruz
(ADP 6.12)

Cruz delighted fantasy owners with back-to-back top 15 fantasy finishes in 2011 and 2012 before falling back to No.28 among fantasy wide receivers in 2013. Cruz missed two games due to injury that season, then came the serious blow in 2014. The kneecap and patellar injury like the one Cruz suffered in Week 6 is nasty and difficult to return from. Despite the glowing reports from camp, his effectiveness this season remains a serious question… a question too serious for a WR3 being taken in the late 6th Round of fantasy drafts. Vincent Jackson, John Brown and Charles Johnson are all being drafted on average behind Cruz and none of them are coming off a serious knee injury. Be smart folks and avoid Cruz at his ADP.
10. RB Adrian Peterson
(ADP 1.02)

I saved this one for last because I get the feeling it might be a bit controversial. At the very top of the draft, you have the highest potential to ruin your draft. Look, we all know AP is one of the greatest backs in NFL history, and for a few seasons he could win your fantasy league on his own. After sitting out for most of last season he is presumably "fresh" and should be the centerpiece of an offense that could potentially be the best he has had around him in his career.
So what's the downside?
There are the usual red-flags, age (30) is a big one, especially for physical backs like he is, and career carries (2,054) which is high for a player expected to carry another big load. There is the potential for being a bit rusty after a year away, and the immeasurable effect that his suspension, controversy, and bad publicity had on his mental state. Peterson went from being an absolute fan favorite, even in opposing city's, to a villain almost overnight. While this may seem like a small thing for a superman-like athlete, we have to remember he is also a human being with emotions and playing a game that requires extreme focus.
Other than the physical and mental hurdles Peterson faces, the Vikings offensive situation is much different than when Peterson was dominating box scores. With Teddy Bridgewater emerging as a capable quarterback and a host of explosive receivers (Johnson/Wallace/Patterson), the Vikings may show more pass-run balance than in years past. Jerick McKinnon who showed very well last year (4.8ypc) may be used as a change of pace more than you think in an effort to keep Peterson fresh. Finally, the Vikings lost perhaps their very best run-blocker for the season when Phil Loadholt went down with a torn Achilles in the preseason, making their offensive line average at best.
When drafting at the top you want a player with as few question marks as possible along with huge upside potential. Peterson has the upside on his resume but all the red-flags he brings this season have me looking elsewhere. At the top of the draft I will be taking Eddie Lacy, Le'Veon Bell, Marshawn Lynch, and even Antonio Brown at a minimum before I even consider Peterson, and quite frankly I'd rather just pass on him altogether and let someone else deal with a player that I feel is more risk than reward.