A ton of information is used when evaluating a player and deciding when (or if) to draft him. Age, injury history, team situation, performance, raw talent and even off-field concerns are all taken into account before pulling the trigger or passing on a player in a given draft slot. While nearly every player today has a certain level of risk, there are a handful of guys every year who stand out as classic risk/reward players that often make you nervous to draft them but can potentially pay off for taking on a little more risk than normal. Here are some of the riskiest fantasy prospects in 2014.

Note: ADP based on 12-team, standard scoring leagues.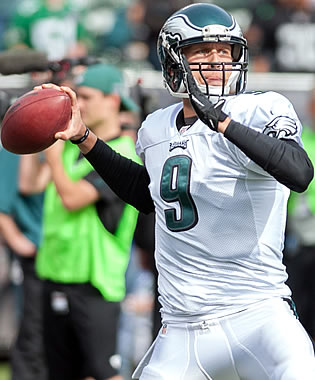 Foles' 27:2 TD-to-INT ratio in 2013 was freakishly good.
Nick Foles, PHI
ADP: 6.06
Risk: The risk associated with Nick Foles is much different than the other guys in this list, as it does not deal with injury, age, or poor performance, but rather the likelihood of repeating an excellent performance. Despite not playing in 4-plus games last year, Foles finished as a top-12 fantasy quarterback in most formats and threw just two regular season interceptions to go along with an impressive 27 touchdowns. While all this sounds amazing, there is significant risk this year. First, defenses have an entire year of video to study Foles (last year was his first year with significant playing time) and Chip Kelly's offense, which took most of the league by surprise in its first year. With defenses more prepared, the pace of the Philly offense may be slowed or thrown off rhythm, and Foles may struggle at times. Second, the weapons in Philadelphia have weakened. With DeSean Jackson gone to the Redskins, the offense will not feature a true burner who can keep the safeties deep and open things up underneath. Jackson also inflated Foles' stats a bit by taking short quick throws for long gains. While Jeremy Maclin returns from injury, it remains to be seen if he can stay healthy and/or grasp and fit in to the new (for him) offense. Finally, even if these first two concerns do not play out, the chances of Foles throwing just two interceptions all year is remote, and, in fact, it is hard to believe that Foles can lead the league in fantasy points for much of the year as he did the final few weeks of last season. As normally the sixth quarterback being taken in drafts thus far, there is simply little chance that he lives up to that investment as the signal-caller on an offense that emphasizes the run and can now be broken down by defensive coordinators.
Reward: From weeks 9 to 17 last year, Foles led all players in fantasy points scored. Let that fact soak in for a minute and then imagine what a full offseason as the uncontested starter in the same offense can do for a player going into his third year, where the game slows down normally for most players. Playing in a division with weak defenses and with one of the NFL's most creative coaches calling plays, the upside to Foles this year is, conceivably, the No. 1 quarterback in fantasy football. With talented rookie receiver Jordan Matthews in the fold, a healthy Maclin returning, and an improving receiving tight end in Ertz coming into his own, it is actually possible Foles improves on last year's numbers once this offense starts to click. With an ADP in the early to mid sixth round, Foles could be looked at as a steal a few months from now, while potentially matching or surpassing the other quarterbacks drafted two, three, even four rounds ahead of him. By that point in your draft, you should have a solid stable of backs, receivers, and maybe even a tight end, making it a perfect time for taking a quarterback, and Foles fits the bill as a high upside, yet relatively safe option.
Buy or Sell at his ADP: While I certainly do not think Foles will crumble this year to the point of not being starter-worthy, I am actually selling him in the range he is being taken in most drafts. For a lot of the reasons stated above, I think there is significant reason to believe the offense will not be as productive this year, with lots of tape for defenses to study, new faces in key positions and unreasonably high expectations. To me, there are still three or four quarterbacks generally being taken after Foles that will likely match or out-produce the Philly quarterback. In addition, the fifth to seventh rounds of the draft this year are a key area to me, as most teams have most of their starters and are now looking for those potential breakout stars that normally can carry a team unexpectedly. Some of these players that I believe are more intriguing picks than Foles in this range include Emmanuel Sanders, Jordan Reed, Kendall Wright and Torrey Smith, to name a few. When you can wait a few rounds to most likely find a comparable, or better quarterback (Jay Cutler for example, in my opinion), why not do it? Pass on Foles unless he falls significantly in this your draft.
Cam Newton, CAR
ADP: 7.10
Risk: Cam Newton has been a perennial top-eight fantasy quarterback and is in the prime of his career, so why is he a risky pick this year? For starters, he quite possibly has the worst receiving corps in the NFL. With stalwart Steve Smith gone, Newton will be staring downfield at a bunch of washed up veterans, cast-offs and rookies. The only reliable option Newton will have is tight end Greg Olsen, and he is not exactly a spring chicken anymore. With inexperienced and/or under-talented guys running routes, there may be many moments of panic for Newton, which of course can lead to bad throws, fumbles, poor decisions, drops and interceptions. If his receiving corps was not bad enough, his offensive line went from a top-five unit a few years ago to perhaps a bottom five group after several lineman retired or moved on, including left tackle Jordan Gross, who was among the better tackles in the league. Add all this to the fact that Newton had offseason ankle surgery and you have a recipe for disaster. Still being drafted as a top-10 quarterback, Newton has too many check marks against him to waste a draft pick on him in the first eight rounds.

Reward: As far as physical specimens go, the NFL is filled with them, but there very few, if any, quarterbacks in the history of the league that have a combination of size, strength, agility, speed and power like Newton does. Despite never having a top-notch group of guys to throw to, or a high flying offense in general, Newton has remained a top-eight fantasy quarterback each of his first three years in the league and has never missed a game in his career. In addition, Cam has improved his completion percentage, his quarterback rating and his passing touchdowns while lowering his interceptions thrown when comparing his rookie year to last season. Even with a bum ankle last year, Newton was able to score six rushing touchdowns and average over five yards per carry. On paper, his receivers might not look that exciting, but rookie Kelvin Benjamin (6'5'', 240) gives Newton his best red zone/jump ball threat to date, and Olsen remains one of the game's most reliable tight ends. Maybe Newton is not a top-three option at QB this year, but to get a guy with his potential in the back end of the seventh round as the 10th QB off the board? Can anyone say steal?
Buy or Sell at his ADP: Everything that has happened to the Panthers this offseason made me want to avoid Cam this year. I did not like the Benjamin pick, Smith leaves, and the offensive line, which was decent last year, has to get made-over. Everything screams DON'T TOUCH CAM.... BUT surprise, surprise, I am buying him from the early 7th round on this year. My logic is fairly simple, but I believe it to be true. Many other great fantasy quarterbacks, Peyton Manning and Drew Brees, for instance, are great because they get the ball into their playmakers' hands and the receivers do the rest of the hard work. Cam Newton is the playmaker for the Panthers. He is the offense, and thus, the source of most of the fantasy points scored on that unit. Sure, the receivers are pretty bad, and the line is a work in progress, but this is still an NFL offense and it will still score points and rack up yards, and Cam will be the driving force behind a big percentage of that action. With a repaired ankle and an underwhelming receiving group, Cam may actually run more than last year, when he finished seventh in fantasy points in most standard leagues. Look, I'm not saying Cam is a top-three guy this year, but as the ninth or 10th or even 11th QB off the board? That is extreme value, especially when you consider you normally have filled out your starters plus a couple potential breakout stars and/or quality depth by the time the seventh round rolls around. Collect RBs and WRs and maybe even a TE your first six rounds and take Cam next. You will not be disappointed.

Running Backs

Suggestions, comments? E-mail or find me on Twitter.