A ton of information is used when evaluating a player and deciding when (or if) to draft him. Age, injury history, team situation, performance, raw talent and even off-field concerns are all taken into account before pulling the trigger or passing on a player in a given draft slot. While nearly every player today has a certain level of risk, there are a handful of guys every year who stand out as classic risk/reward players that often make you nervous to draft them but can potentially pay off for taking on a little more risk than normal. Here are some of the riskiest fantasy prospects in 2014.

Note: ADP based on 12-team, standard scoring leagues.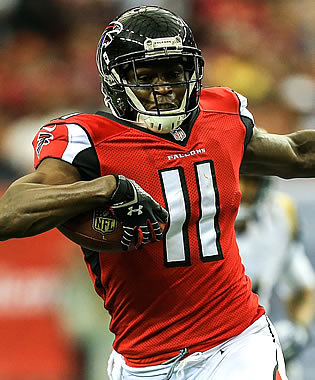 Julio Jones is capable of being fantasy's top receiver.
Julio Jones, ATL
ADP: 2.04
Risk: Julio Jones has missed almost 30 percent of his NFL games and has had two surgeries on the same foot in three years. Obviously, an NFL player's feet are important, but to a receiver who runs and plants and cuts and jumps, healthy feet can be the difference between being an elite player and sitting at home watching the game from the couch. While Jones has been extremely productive when on the field, you simply cannot win games when your so-called star players are sitting on your fantasy team's bench. A guy who has been this injury prone might be worth gambling on in the mid to later rounds, but Jones is being drafted like he didn't miss a game last year. In the early second round, there are simply much better choices that will almost certainly play every game and have near-elite upside.

Reward: From a physical talent standpoint, there may only be one other wide receiver that can match Jones' blend of size, speed and athleticism, and that is of course Calvin Johnson. At 6'3" 220 pounds, Jones is not only big but fast, long and strong. Before going down last year, Jones was on pace to be fantasy's No. 1 WR and now entering his fourth season, should be more than comfortable enough to maximize his talent. With a solid quarterback throwing him the ball (Matt Ryan), enough talent around him to keep defenses honest (Roddy White) and a pass-happy team with a below average defense, Jones and the Falcons could see their fair share of shootouts, to which Jones should be the main benefactor. Jones is one of a few receivers in the NFL who could legitimately challenge for the No. 1 fantasy WR overall spot and looks healthy enough so far to be trusted.
Buy or Sell at his ADP: While I do not see Jones' early second round ADP as necessarily a bargain, it is right about where a guy with his talent and background should go, so I am buying Jones this year. While the injury bug certainly scares me to some extent, Jones has had a good amount of time to recover from his foot surgery, and from all accounts, he has progressed about as well as possible thus far. With his talent, situation, and experience, I could certainly see Jones as this year's Josh Gordon, in terms of production, and therefore could actually outperform his ADP by about half a round or more. While there are certainly safer options at WR being taken a bit before (and after) Jones, he has more natural talent than probably any of them not named Calvin Johnson, and with Ryan likely throwing 35-plus times per game, Julio should be a lock for 10-plus targets a game and double-digit touchdowns on the year.
Rob Gronkowski, NE
ADP: 3.02
Risk: The risk here is pretty obvious, as Rob Gronkowski has had eight, yes eight career surgeries, and he is only 25 years old. While some of his injuries have not been as serious and may be considered freak incidents, tearing his MCL and ACL in Week 14 last year is his most serious to date and the cause for the most concern at this point. While early signs are pointing to a Week 1 return, it is far from certain that Gronk will be 100 percent at that point and gain full clearance to play a heavy set of snaps. Even if he does play right out of the gate, you not only have to worry about him being injury prone and potentially missing significant time, but also you begin to wonder if all these injuries are taking a toll on his production level. Even with all this injury risk, Gronk is still going in the middle of the third round in most drafts, meaning you would be passing on a solid running back or wide receiver at that point, so the value might be hard to justify. With quality tight ends going in the 6th, 7th, and even 8th rounds of most drafts, you better be sure Gronkowski will play the majority of the season in order to make picking him early a worthwhile investment.
Reward: Other than Jimmy Graham, there is no other tight end in the NFL today that has a better combination of skill and involvement in the offense than Gronk. Gronkowski has 42 touchdowns in 50 regular season games, and despite missing nine games last year, he still finished among the top 15 fantasy tight ends in standard scoring leagues. When he is on the field, Gronk can carry your team like few other players and can change the entire course of a matchup with just one or two catches. With few other reliable options on the Patriots offense (due to health, experience, and/or skill), we all know Tom Brady will look to Gronk early and often this year and double-digit TDs are almost a guarantee if Gronkowski can play in twelve or more games this season. With Jimmy Graham being taken as high as the mid-first round in many drafts, one could actually argue Gronk is a steal in the third round as a true contender to be this year's top fantasy tight end.
Buy or Sell at his ADP: I love Gronk and the passion he brings to the game, and I would love to see him get healthy and return to dominance. Unfortunately, fantasy football is not a game of hopes and wants but rather odds, value, skill and probability. As a third-round pick, I am selling Gronk for a few reasons. First, the injury bug obviously scares me, and if I am going to invest a third-round pick on someone, I want him to be as safe a pick as possible, and in that early of a round there is still tons of upside to invest in. Second, the third round this year is a gold mine for quality RB2s, and I would rather have two solid backs than one good one and a gimpy tight end coming off major surgery. Finally, unless you are playing in a 14-plus team league, I actually like the quality at TE this year from one to 10 or 11. While few other tight ends have Gronk's upside, guys like Kyle Rudolph in the ninth round and Zach Ertz in the 10th present ridiculously good value considering their upside and relative safety. If Gronk somehow slipped to the fifth round, I would be all over him, but as a third- to fourth- round investment the price is way too steep to take the plunge.
Percy Harvin, SEA
ADP: 5.02
Risk: Here are two quick stats that show just how much risk Percy Harvin has. One point; that is how many fantasy points Harvin scored last season in standard leagues. Three games; that is how many games Harvin has played in the last 25 opportunities. With concussion, hip and ankle injuries (to name a few) over the past three years, Harvin is one of the league's most injury prone players. Harvin must rely on burst, acceleration, and speed to get open and gain yardage, and while he has been very good at doing so when healthy, one has to wonder that at some point his injuries will take a toll on his abilities. In addition, he plays for a team who emphasizes the run, controlling the clock, and defense way more than airing it out or taking chances on big plays. Finally, Harvin will return kicks again this year, and not only does that possibly take away some of his time on offense, but it also leaves him open to some big hits, making the odds of sustaining another injury that much greater. There are simply better options with less risk in the late fourth round, where Harvin is being taken.
Reward: There are few, and maybe no other players as dangerous as Harvin in the open field, and that fact was hammered home in the Super Bowl last year as Harvin put on a show with a kickoff return touchdown and some nice open field runs. He is about as explosive as they come and thickly-built enough to muscle his way through arm tackles. With Golden Tate gone this year, Harvin should easily be the Seahawks No. 1 option in the passing game, and even if the Seahawks throw less than most NFL teams, someone still has to catch five or six balls a game from Russell Wilson, and that someone is likely to be Harvin. While there is some of that boom or bust potential each week, the "booms" will be big enough to win you some weeks with Harvin as your second receiver. Even if he only catches three to four balls a game, he is one of a handful of guys in the league who can turn just a few catches into triple-digit yards and once in a while a long touchdown, too. If by chance the coaching staff lets Wilson pass a few more times per game this year, which is possible now that he has some legit experience, Harvin might actually flirt with WR1 status much of the season, making his early fifth round ADP seem like robbery.
Buy or Sell at his ADP: Harvin is about as fun to watch as anyone in today's NFL, but there is just too much going against him for me to get that excited about, so I am selling him as a fourth- or fifth- round pick. The injury scare, especially with his history, his size, and his returning kicks, is almost enough alone to keep me away from Harvin, but I try to give younger guys like him some benefit of the doubt. The equally as troublesome issue is that we have never really seen Harvin as a high-volume guy on a consistent basis, and with his lack of size being a detriment in the red zone, I just feel like he will be way too inconsistent to use as a WR2. Sure, there will be weeks where, if healthy, Harvin will blow up and you might kick yourself for not taking him, but there will be even more weeks where three to four catches and 35 yards (0 TDs) will be the norm, making him more bench fodder than WR2. At his current ADP, I like Roddy White, DeSean Jackson, Torrey Smith and probably even Michael Floyd better than him, and they are all being picked after Harvin. There is simply better value, safer picks, and equal or better upside for wide receivers at this stage in the draft.

Quarterbacks

Suggestions, comments? E-mail or find me on Twitter.