A ton of information is used when evaluating a player and deciding when (or if) to draft him. Age, injury history, team situation, performance, raw talent and even off-field concerns are all taken into account before pulling the trigger or passing on a player in a given draft slot. While nearly every player today has a certain level of risk, there are a handful of guys every year who stand out as classic risk/reward players that often make you nervous to draft them but can potentially pay off for taking on a little more risk than normal. Here are some of the riskiest fantasy prospects in 2014.

Note: ADP based on 12-team, standard scoring leagues.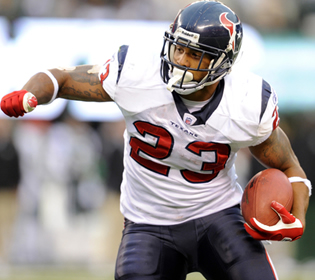 Aria Foster contemplated retirement last season.
Arian Foster, HOU
ADP: 2.03
Risk: The risk for Arian Foster is all about the likelihood of injury and breaking down. While he will only be 28 years old when the season starts, Foster has been ridden hard in his NFL career, averaging 372 touches per year from 2010 through 2012. After getting a ton of touches the first six games last year, Foster finally broke down and missed the rest of the season after getting back surgery. While Foster has already sat out a few training camp practices with an unspecified injury, the head coach is being vague about Foster's condition. Should he be healthy for the regular season opener, he is expected to be given another heavy workload early and often, meaning another breakdown is always a distinct possibility. The history of running backs returning to elite production after this kind of injury does not bode well for Foster, and even if he manages to play in most games, he could certainly be much less effective than he was pre-injury. With a weak quarterback under center, defenses will definitely be focused on Foster, and he will likely be exposed to a ton of big hits and the risk of being overworked. With an ADP in the early second round, there are safer guys available with just as much upside.
Reward: Foster was as good as it gets in fantasy for three straight years and was among the handful of guys who could be considered an every-down true workhorse back. With soft hands, powerful explosion, adequate speed and excellent vision, Foster remains one of most talented running backs in the NFL and one who does not bring any off-field baggage to worry about. New Texans Head Coach Bill O'Brien already has anointed Foster his three-down back, meaning a heavy workload, both on the ground and through the air, is sure to follow. With not much talent behind him on the depth chart, Foster should easily see 20-plus touches per game, making him one of few backs to get consistent touches every week. While the Texans do not have a franchise quarterback, they will certainly rely on the run game and short passes to Foster in order to keep their offense on the field. Foster should easily compete for the most touches in the NFL this year, meaning even average production from him should make him a top-five fantasy back. While his injury is a concern, he is still just 28 years old, takes good care of himself, and will be nearly 10 months removed from his injury when the season starts. As an early second round pick, Foster might actually be considered a bargain as a feature back in his prime who could challenge to be fantasy's top running back this year.
Buy or Sell at his ADP: I have been on the fence about this one ever since I decided to include Foster in this piece, but as an early second round pick (or higher), I am selling Foster. While I love the role Foster should have this year and still think his talent is among the best in the league, the facts remain that NFL backs just do not last long in this league, and the more wear and tear they have, the better chance they have of breaking down, getting hurt, or simply becoming ineffective. In the early to mid-second round, you have much safer guys with just as much upside. I'm looking at you, A.J. Green, Le'Veon Bell, and Brandon Marshall. If Foster slips past, say, the late second, then I would probably grab him depending on my first two picks. But even then, he would be someone I would hope to have a few good games with and then trade away for a potential second half star. To me, Foster presents bad value in the second round and therefore should be passed on.
Montee Ball, DEN
ADP: 1.11
Risk: In the first season of a dynasty league last year, I took Montee Ball in the late fourth round thinking there was no way he would not be a top-20 back right away in the Denver offense, especially since he had little competition. Fast forward to the first few weeks of the regular season and I was looking to sell him for pennies on the dollar to anyone that would listen. While Ball had a good amount of talent, he rarely even got on the field compared to starter Knowshon Moreno, who ended up finishing the season as a top-10 fantasy back. In an offense led by Peyton Manning, the running back is expected to do two main things: not fumble and protect Manning. Ball did neither of these two things and quickly made his way to the doghouse. While Ball did earn a bit more playing time as the season went on, he never took control of the starting job and, quite frankly, did not look all that impressive in limited action. Sure, the depth chart has opened up a lot with Moreno gone, but nothing is guaranteed to a guy like Ball, who has yet to prove he is anything but a decent NFL backup running back. Maybe if Ball was being drafted as a value pick in the third round he would be worth a gamble, but as a late first rounder? That is a big investment for a guy who has proven nothing to this point.
Reward: The fact that Moreno, who was more or less considered a bust at this time last year, could wind up a top-10 fantasy back should tell you all you need to know about the potential Ball has this season. With fresher legs, better size and great short-area burst, Ball has the tools to succeed in the league, and being the bell-cow of the NFL's best offense certainly does not hurt. While it is true that backs in the Denver offense have to be great at pass-protecting and audible-anticipating, Ball was just a rookie last year, and the amount of information he had to take in from Manning must have been overwhelming. With a full year under his belt and the confidence of the whole organization behind him, Ball has an extremely high ceiling and a floor that should justify his current ADP.
Buy or Sell at his ADP: I am a solid believer in Ball as a late first to early second round pick this year and therefore am buying. While I do not think his current ADP makes him a particularly excellent value, it is right about where a guy should go with unlimited potential yet still unproven. While anything can happen, the depth chart for the Broncos' backs is even weaker this year, and the Broncos clearly believe Ball will be the man this year or they would have re-signed Moreno (who was relatively cheap) or a different veteran to compete with Ball. With a passing game that should be among the best in the league, an improved (and healthier) offensive line and a better defense to boot, Ball should flirt with 20-plus touches per game and get almost all the goal-line work for a team destined to be at that spot on the field several times per game. To me, it would be a shock if Ball does not wind up a top-10 fantasy back this year in almost all formats.
Trent Richardson, IND
ADP: 5.05
Risk: Two years ago at this time, Trent Richardson was being talked about as a top-three running back, at least in terms of long-term potential. When the Colts acquired him from the Browns last year, most people's reaction was that this could be a perfect landing spot for him, with nostalgic thoughts of Peyton Manning and Edgerrin James from back in the day running through our heads. After just a couple weeks in a Colts uniform, however, things quickly changed, as Richardson looked lost, slow, and well, terrible. I watched several of his games as a Colt and was blown away by just how bad he looked, running into the backs of his lineman for 1-yard gains time after time. While Richardson looked a little better the last few games of the season, he was still far from looking the part of an NFL starter, much less an elite fantasy back. With an improved receiver corps, Ahmad Bradshaw back, and now on a shorter leash than ever, Richardson could easily wind up a bust if he does not get off to a great start early in the year, making a mid-fifth round investment in him a foolish decision.
Reward: Richardson is not some average run-of-the-mill back who was struggling to make it in the league; he is a bona-fide first-round pick who, coming out of college, looked every bit the part of a stud player with a long productive career ahead of him. He has good size, great hands for a bigger back, decent speed and good wiggle. He is still just 23 years old and is in the backfield behind a quarterback who demands defenses' respect. While last year's game tape looked awful, the circumstances must be taken into account. It is one thing to be traded in the offseason, but after the season starts, it is particularly tough for a player, especially a young one like Richardson, to adjust to such a drastic change. Not only does he have to learn a new playbook but also adjust to new teammates, new tempo, new coaches and new surroundings. For most people in general at his age, that is a tough scenario, but get millions of fans looking closely at you every week and the hardship becomes magnified. Richardson admitted he was overthinking a lot last year rather than just playing, and that certainly was evident on game tape, as he missed many big holes by trying to simply follow the designed play as it was on paper. Look, I'm not trying to defend the guy here; he should have been better, but for a guy as naturally talented as he is, with no real off-field concerns or work ethic issues, it really should get a lot better this year. For a fifth-round investment, you could pretty easily have yourself a borderline RB1 if the light bulb goes on early in the year. Even if he does not live up to his college hype, Richardson should put up solid RB2 numbers this year, thanks to volume and the offensive scheme, and that would be a bargain in the fifth round.
Buy or Sell at his ADP: I owned Richardson in a couple leagues last year, and after getting burned by him, I could easily sell him here because the sting he left in my heart. However, there are so few guys (especially running backs) with a combination of talent, youth, situation and upside as Richardson has that you can get after the fourth round. When I look at the backs taken in the fourth through seventh rounds, Richardson is really the only guy who has a clear-cut starting job, a talented supporting cast, and near-elite natural talent ability. At that fifth-round range, you are looking at Richardson as your second RB, and perhaps even third if the opportunity was there. As a second RB or flex, there are just so few other guys out there who present what Richardson can potentially offer you in that round. Look, the goal of fantasy football is not just to have fun, it is to win, and winning sometimes takes a bit of a leap of faith at some point in order for it to pay off big. You can play it safe and end up with a guy like Chris Johnson as your second or third RB. Johnson will probably play every game and get you a handful of steady fantasy points. Or you can be bold and grab Richardson in the same round. Richardson has some bust potential but also top-10 RB potential. To me, I am buying that all day long.

Wide Receivers

Suggestions, comments? E-mail or find me on Twitter.