In nearly every season since joining the league in 2011, Julio Jones has delivered at least one monster week that is a matchup-winning performance for fantasy owners.
His first NFL touchdown came as part of a two-TD, 131-yard game against the Colts Week 6 of the 2011 season. Four years later he posted his first 200-plus yard game against the Packers Week 13, with 259 yards and one touchdown on 11 catches, only to be outdone two years later with his first 300-yard game in a shootout against the Panthers as part of a 12-catch day.
Jonesí latest monster game came on Sunday against the Buccaneers with 12 catches for 253 yards and two touchdowns, for a whopping 53.8 fantasy points on DraftKings. With a single-game total that equaled nearly a quarter of the average points needed to win a GPP contest, it is safe to say that if you had Jones in a lineup, you walked away with money. And if you were like me, and did not play Julio, you were left out in the dark, wondering where you went wrong.
The following lineup review is from a losing ticket in a $10 multiplier on DraftKings.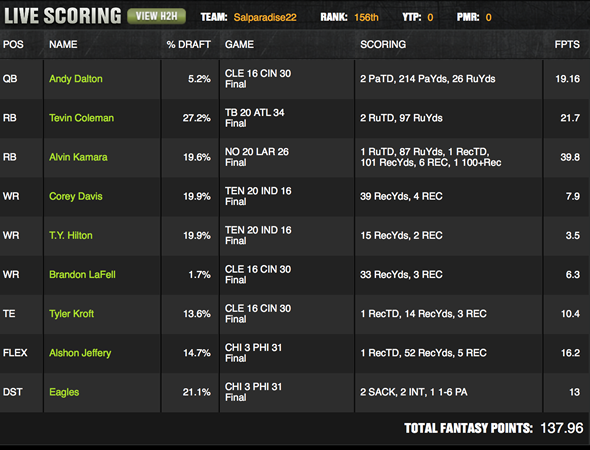 Quarterback: Andy Dalton
Fantasy Points: 19.16
Grade: C+
I chose to go with Dalton and a Bengals stack based on the fact that the Red Rifle finished as a top-12 QB in each of his last five games against the Browns. Initially, I planned on pairing him with A.J. Green but changed to a triple stack of tight end Tyler Croft and the less expensive WR Brandon LaFell. Dalton did throw two touchdown passes, and as I anticipated, one went to Kroft, and one went to a secondary wide receiver instead of Green. But instead of finding LaFell in the end zone, Dalton hooked up with Tyler Boyd on a skinny post for a TD.
Two touchdowns were nice for a head-to-head game, but I needed a big game to get me into the top 10 in this mini-tournament.

Running Backs: Alvin Kamara & Tevin Coleman
Combined Fantasy Points: 61.5
Grade: A
The best-combined performance by two running backs on any of my tickets this season was not enough to get me over not having Julio Jones. With Devonta Freeman out and the surging Falcons offense taking on the Bucs at home, Coleman seemed like the no-brainer sub-7k running back play of the week.
Kamara continues to be the most dynamic play-making running back in the league, with 39.8 fantasy points on just 11 touches. Even at a pricey salary of $7900, Kamara continues to deliver monster numbers with very limited touches.
Wide Receivers: Corey Davis, T.Y. Hilton, and Brandon LaFell
Combined Fantasy Points: 17.7
Grade: F
I anticipated that this would be the biggest game of the year for Marcus Mariota; a game in which he would finally get the passing game going against a sub-par defense like the Colts. With Rashard Matthews out with an injury, it seemed possible that this would be the breakout performance for highly touted rookie Corey Davis. Neither assumption proved to be true, and the Titans barely squeaked out a win in a game they should have dominated. The poor play of Mariota this season is one of the more surprising developments of 2017, as many felt he was primed to take that next step.
Although Hilton struggled against the Titans when the two teams played Week 6, I thought he would be able to come through with a big game against a team that allows the 7th-most points to opposing wide receivers. When you play Hilton in DFS you a flirting with wide extremes of production, and unfortunately for me, I got the inferior end of the spectrum.
In all honesty, I didnít have a shot cashing even with a good game from Hilton, but it is disappointing to waste 61 points from my running backs with a collection of three turd games at wide receiver.
Tight End: Tyler Kroft
Fantasy Points: 10.4
Grade: B
Kroft caught only three passes for 14 yards, but he salvaged his fantasy day with one goal line reception from Dalton. At just $3,900, I canít complain about getting double-digit points from my tight end, but it would have been nice to see him more involved in the game plan considering Clevelandís struggles against opposing tight ends.
Flex: Alshon Jeffery
Fantasy Points: 16.2
Grade: B+
With a touchdown in each of his last four games, including a two-touchdown performance against the Broncos Week 9, Jeffery has been a steady sub-7k wide receiver over the past month. The yardage is surprisingly low for a guy who entered 2017 with a career YPR average of 15, but you can't complain about the touchdown volume he is receiving from Carson Wentz.
D/ST: Philadelphia
Fantasy Points: 13
Grade: B
The Eagles held Mitchell Trubisky and the Bears to just one field goal while firing two sacks and two interceptions. The points allowed by this impressive defense were precisely what I anticipated, but the lack of a defensive score was a disappointment.