Young Targets




6/22/11



Over the past three offseasons we have examined the conventional wisdom that for many years warned fantasy football owners to stay away from rookie wide receivers in redraft leagues.



For a quick summary, what we found was that over the course of the last 14 years, at least one rookie WR has emerged each year who could be considered a legitimate starting option for your fantasy team—and more than one has proved himself worthy in many of those years. Before that span, however, impact rookie wideouts were few and far between. Those previous articles showcase some of the theories as to why a wide receiver's transition from college ball into the NFL may be becoming easier than it was in the past.

The 2009 season showed that the trend towards more impact rookie WRs was really starting to gain steam, as at least five rookie WRs likely found their way into fantasy starting lineups in leagues that required at least three starting WRs.


In 2010 there were only two rookies that reached what we considered the minimum threshold for WR production (700 receiving yards) that would warrant consideration for a starting slot, and one was Anthony Armstrong, a 27-year-old "rookie" that made his bones in the Arena League before achieving a spot on an NFL roster. However, Mike Williams achieved WR1 status as a rookie, and fellow rookie Dez Bryant was well on his way to surpassing the minimum threshold before breaking his ankle during his Week 12 contest. There were also a couple of other rookie WRs that achieved at least spot-starter status in deeper leagues (Jordan Shipley and David Gettis) and one that really made some waves once he got an opportunity for playing time later in the season (Jacoby Ford ).


---
¹

Jacoby Ford also rushed for 155 yards and 2 TDs.





The most important things to look for while attempting to find a successful candidate from the pool of rookie wideouts are fairly obvious. The first is opportunity. A young wide receiver that is going to sit behind a veteran will obviously not help your fantasy squad. A player's superior talent or an injury to an incumbent must get the rookie on the field in order for him to produce. The second criteria, draft position, while slightly less obvious, is still a pretty easy correlation to make. The data shows that all but a small percentage of relevant rookie wide receivers were drafted in Rounds 1 and 2 of the NFL draft. The draft position of a player generally reflects their talent level—while also helping to create an opportunity for that player.

Summarizing the past data and knowing that there could be as few as only one or two rookie wide receivers worth acquiring for your redraft squad, you should generally only look at wide receivers that were drafted within the first two rounds, and therefore will more than likely be given an opportunity to receive playing time as a rookie.

I always caution that I'm not advocating going out and drafting four rookie WRs; I'm just pointing out that you may have some other options in the later rounds when you are considering low-upside veterans like Donald Driver, Michael Jenkins, or Nate Washington for your fantasy squad. Why not take a little risk for what may be a big reward and grab one of the potential breakout rookies identified below?

: Jones is a big, solid wideout (6'3", 220 lbs.) who will be able to outmuscle defensive backs even at the NFL level. He's a natural hands catcher—although lack of concentration was an issue earlier in his college career—who turns into a running back when he gets the ball in his hands. Atlanta paid a boatload to move up to the No. 6 spot so they could take the former Alabama star. He'll immediately enter the starting lineup opposite Roddy While and should shine under single coverage from No. 2-type cornerbacks because of his circumstances. Matt Ryan is a very good young quarterback who will love having another weapon that can terrorize defensive backs downfield.

2011 projections: 64 receptions, 875 yards, 7 TDs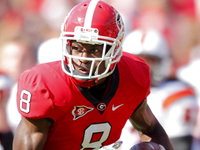 Green: Well-suited for the Bengals version of the west coast offense.

: Green has a tall, lean frame (6'4", 211 lbs.), and like a basketball player he possesses outstanding "ups" when going for the ball. Green's ball tracking and body control practically guarantee his success in the league, and he has the ability to dominate a game with his above-average speed. While he'll likely be paired with fellow rookie Andy Dalton, that's not as big of an obstacle as it would seem. Dalton is a smart and accurate quarterback who should make Green his first look a majority of the time, delivering the ball to him in stride and allowing the athletic wideout to shine. Because of his ability to create a target and his run after the catch abilities, Green is well suited for the West Coast type of offense the Bengals are preparing to run.



2011 projections:

58 receptions, 840 yards, 5 TDs

: While Little is a bit raw after converting from running back in 2009 and missing the 2010 season due to NCAA violations, he'll be the only show in town when discussing Browns' wide receivers. Little is another giant at the position, standing 6'3" and weighing 231 pounds, and he plays a lot like his former teammate Hakeem Nicks, in that he runs aggressively after the catch. Cleveland relied mainly on its tight ends and running backs in the passing game last season, but if young quarterback Colt McCoy wants to take the next step, he'll look Little's way early and often. Little could end up being the Mike Williams of this year's rookie class and outperform his higher drafted counterparts, potentially making him a huge steal in fantasy drafts. The upside is certainly there.



2011 projections:

61 receptions, 785 yards, 6 TDs

: Whether Santana Moss re-signs with Washington or not, Hankerson should find his way into the Redskins starting lineup right away, since Anthony Armstrong is better suited to play out of the slot. Hankerson is not a dynamic player and looks to be better suited for a No. 2 role, so Washington's re-signing of Moss or acquisition of another veteran would probably be a good thing for him. The former Hurricane is a solid route runner and is strong going up for the ball. He was very productive at Miami last season, and that will likely continue at the next level, although that may happen a little further down the road.



2011 projections:

44 receptions, 630 yards, 4 TDs

Here are a few sleepers to watch on the waiver wire, but they are probably not worth a draft pick unless your league is very deep:

: Baldwin is massive (6'5", 225 lbs.) and was a first-round pick by the Chiefs, but he'll compete with Dwayne Bowe, Tony Moeaki, Dexter McCluster, and Jamal Charles for targets in a run-first offense. His size and leaping ability make him an ideal redzone target, and he has enough downfield speed to be effective on deep balls as well. The pedigree and opportunity will be there, so keep an eye on him this preseason and in the early stages of the regular season.

: Cobb was a jack-of-all-trades at the college level, lining up at receiver, running back, and even quarterback for the Kentucky Wildcats. While he hasn't yet perfected his route running, he has outstanding hands and is an excellent open-field runner. He would be a great fit in the slot for the Packers, but HC Mike McCarthy may let aging veteran Donald Driver man the slot for what could be his last season with the Pack.

: Titus Young has lightening quickness and decent hands, and he could see some big weeks in what should be a very explosive Lions offense. He'll be behind Calvin Johnson, Brendan Pettigrew, Jahvid Best, and perhaps even Nate Burleson in the pecking order for targets, but he offers a different skill set that can compliment Calvin Johnson's game better than most of those guys. Young could be a decent bye-week fill-in if Detroit is facing a weak defense in a game that looks like it may be a shootout.