A Second Look at Rookie WRs

7/6/09



Last off-season we examined the conventional wisdom in the fantasy football community that advised owners to stay away from rookie wide receivers in redraft leagues. While it can be shown that generally that is sound advice, the data also showed that in more recent seasons, at least one rookie wide receiver was worthy of a starting spot on your fantasy squad. It seems that rookie wide receivers are now more equipped to transition from the college ranks to the NFL without the extended learning curve that was the norm in the past. They're more accustomed to learning complex playbooks and developing precise route running skills as more and more passing based offenses develop in the college ranks.

Of course one still needs to be cautious when drafting a rookie wide receiver for your fantasy team in seasonal leagues. Drafting four rookie wideouts is an easy way to finish last in your league. However taking a chance on a rookie WR in later rounds instead of grabbing a veteran on the downside of his career can pay big dividends. In each of the last 11 seasons at least one wide receiver has emerged that was capable of starting for your fantasy team and in most of those seasons more than one has emerged. Below is a chart showing all rookie wide receivers from the past 11 years that amassed at least 700 receiving yards ranked by fantasy productivity (Chris Henry and Braylon Edwards are included on the list as the biggest impact rookies in 2005 but finished below 700 yards). While 700 yards could be considered an arbitrary total, it should fairly accurately reflect the minimum yardage one would expect from a fantasy football starter at the wide receiver position. The fantasy point totals below are based on six point touchdowns, one point per ten yards, and one point per reception.

Rookie WRs: 700 Yds +
Player
Year
Rec
Rec Yds
Rec TDs
FPts
Randy Moss
1998
69
1313
17
302.3
Anquan Boldin
2003
101
1377
8
286.7
Michael Clayton
2004
80
1193
7
241.3
Marques Colston
2006
70
1038
8
221.8
Eddie Royal
2008
91
980
5
219.0
Kevin Johnson
1999
66
986
8
212.6
Dwayne Bowe
2007
70
995
5
199.5
Lee Evans
2004
48
843
9
186.3
Larry Fitzgerald
2004
58
780
8
184.0
Roy Williams
2004
54
817
8
183.7
Chris Chambers
2001
48
883
7
178.3
Antonio Bryant
2002
48
883
7
178.3
Torry Holt
1999
52
788
6
166.8
DeSean Jackson
2008
62
912
2
165.2
Troy Edwards
1999
61
714
5
162.4
Darrell Jackson
2000
53
713
6
160.3
Andre Johnson
2003
44
733
6
153.3
Keary Colbert
2004
47
754
5
152.4
Calvin Johnson
2007
48
756
4
147.6
Rod Gardner
2001
46
741
4
144.1
Chris Henry
2005
31
422
6
109.2
Braylon Edwards
2005
32
512
3
101.2
---



¹2005 was an exception where Chris Henry and Braylon Edwards were the two highest performing rookie WRs and were spot starters at best, although Henry did manage 6 trips to the end zone.



As you can see, some of these rookies produced elite level fantasy seasons and owners who drafted them in later rounds received better production than most of the other WRs taken at the same point in their fantasy drafts. They gained a real advantage by not shying away from the youngster in order to grab the more "established" player.

In order for this list to mean something – and for your draft choice to not just be a stab in the dark – we must try and determine if there is any common factors that can help you grab the right rookie on draft day. After all, for every Dwayne Bowe or Calvin Johnson there's a Dwayne Jarrett or Robert Meachem. Unfortunately it is not an exact science, but the common factors found when looking at this data showed the following factors were common among the top rookie performers:

Opportunity:

Obviously a young wide receiver that is going to sit behind a veteran will not help your squad. There's no need to really explore this factor much further, as it's quite apparent that everyone on the list above received the opportunity to see playing time due to either their superior talent or an injury to a teammate. When looking at this year's rookie class one must consider if "opportunity" will arise based on the depth chart of your target's new team and if your target can crack the top of said depth chart on his own merits – since it would be a foolish exercise to try and predict injuries.

Size:

Prior to last season all but four of the rookie WRs on the list were at least six feet tall (and most were 6'2" or taller) and all but five were at least 200 pounds. In fact all of those who had achieved "stud" fantasy seasons were 6'4" tall (Randy Moss, Marques Colston and Michael Clayton) – with the exception of Anquan Boldin who was only 6'1" but weighed in at a sturdy 217 pounds. As implied, 2008 saw two rookie WRs emerge that did not have the ideal size that most of the other rookie WRs on the list possessed. They will be discussed further below.

Draft Position:

All but three wide receivers on the above list were drafted in the first two rounds with two of those remaining three, Darrell Jackson and Chris Henry, only falling to round three. Only Marques Colston was a second day pick (amazingly he lasted until round seven). Looking further, twelve of the twenty-two successful rookie wide receivers listed above were first round picks. One can assume draft position is an important determining factor for two reasons – really the two reasons that any player is a success – a combination of talent and opportunity. A player picked in the first or second round of the draft should (theoretically at least) be more talented than a later round pick. It logically follows that a player chosen with a premium draft pick will more likely be given an opportunity to play early since that player is talented, being paid relatively well and in most cases was chosen with such a high pick because they played a "need position" for the team that drafted them. So when preparing for a re-draft league, you may as well cross off any rookie taken after round 2 of the NFL draft, as its highly unlikely that they will help your fantasy team.

QB:

One should also realize that a Hall of Fame quarterback is not a prerequisite in order for a rookie WR to break out, as the following uninspiring QBs were behind some of the best rookie campaigns: Jeff Blake, Josh McCown, Brian Griese, Tim Couch, Damon Huard/Brodie Croyle, Joey Harrington, Jay Fiedler, Kordell Stewart/Mike Tomczak, David Carr, Tony Banks, Trent Dilfer/Charlie Frye and Jon Kitna. This doesn't mean your targeted rookie needs to play with an inferior QB in order to be worth a roster spot, just that it doesn't necessarily hurt him if he does.
As noted above, the two rookie WRs that made this list based on the 2008 season turned the "size" criteria of the theory on its head. Both WRs were only 5'10" with Eddie Royal weighing 182 pounds and DeSean Jackson a mere 175 pounds. Either 2008 signals a shift in offensive philosophy (teams are more dependant on smaller quicker WRs) or it's an anomaly year as far as predicting rookie breakout seasons. Time will tell. Of course it now becomes harder to pick the right breakout candidate, as who is going to dismiss a "small" WR after Royal joined the list of "stud" rookie WRs? It should be pointed out that both Royal and Jackson were second round picks so at least some of the data gathered last off-season should still be useful going forward.
Below are the top five rookie wide receivers that are most likely to breakout in my opinion during the 2009 season. If you want to take on a little risk for a potentially high reward, grab one of these guys as your WR4 instead of Mushin Muhammad, Joey Galloway or Isaac Bruce in later rounds of your draft.
Michael Crabtree (6'3", 214): Crabtree was the 10th overall player drafted in 2009, having been selected by the San Francisco 49ers. While on the surface the QB situation may seem uninspiring and the WR corps may look a little crowded, a closer look reveals a pretty decent situation for early success. Shaun Hill played remarkably well in the last 8 games of the 2008 season and with some experience under his belt and Frank Gore still being the focus of opposing defenses', Hill could be in for a fine season. None of the "talented" San Francisco wide receivers have ever played up to their potential with the exception of Isaac Bruce who has to be expected to slow down at his advanced age. Crabtree is an amazing athlete who exhibits elite body control and the ability to make tough catches look easy. The Fitzgerald comparisons may be premature but the future does look bright. That future starts now as Crabtree should end up being the top WR in the bay area in 2009 when all is said and done.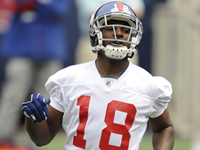 Nicks: Opportunity knocks.
Hakeem Nicks (6'1", 212): Another first round pick, Nicks may be the only WR on the Giants roster capable of replacing the gaping hole left after the Plaxico Burress fiasco. Steve Smith is a solid possession guy who can draw some coverage away from Nicks, but cannot be relied upon for many big plays. Nicks has tremendous athletic ability and top-notch hands. His run-after-the-catch ability is reminiscent of players such as Anquan Boldin and Dwayne Bowe. With only solid but unspectacular players in line ahead of him, Nicks should emerge by mid-season as Manning's go to guy when the Giants need production through the air.
Percy Harvin (5'11", 195) Harvin lacks height but his chiseled body and running back toughness makes him capable of stepping right in and contributing at the NFL level. He is probably the best pure athlete in this receiving class and is very dangerous in the open field, as he has the moves to get by most defenders. With Adrian Peterson tiring out defenses with speed and power, expect many big plays by Harvin either in the passing game, as a runner out of the backfield or even as a wildcat QB.
Mike Thomas (5'8", 187) Another "small" WR who should not be discounted due to his size – especially in light of the 2008 breakout rookies. Afterall, his toughness and run-after-the-catch ability reminds some of another "small" wide receiver... Carolina's Steve Smith. Thomas has tremendous long speed and short area quickness, making him a great slot receiver candidate for Jax, but he is capable of contributing even more since Torry Holt and Mike Walker have some recent injury history. If one of the current starters go down, it could open the door for Thomas to have an Eddie Royal type rookie campaign. One caveat is necessary, Thomas was not drafted until round four of the NFL draft so he has two strikes against him based on the above criteria. Call this one a gut feeling.

Brian Robiskie (6'3", 207) Robiskie is already considered the front-runner to line up opposite Braylon Edwards for Cleveland on opening day. His sure hands and precise route running compliments Edward's downfield game really well. While his upside may be limited, in a Mangini offense Robiskie is capable of catching 70-80 balls making him a solid WR3 in point per reception leagues. His size and long arms will allow him to beat press coverage off the line and he does a good job of positioning his body to make himself a "big" target. Brady Quinn may just get tired of Edwards dropping passes and look to Robiskie early and often.