There are countless reasons why players often begin the inevitable journey toward diminished production on the football field. Perhaps injuries are the cause of declining performance, or a change in coaching philosophy, or added competition at their position.

Another plausible reason why players' numbers take nosedives is the battle against the undefeated Father Time. Some are able to avert the decline for a season or two, but inevitably the years of physical abuse take their toll. It's a prudent task each year to take inventory of aging players to take risks on and which ones to avoid. Here is my list of those I'd rather see on someone else's roster.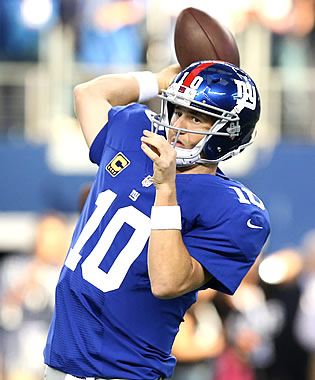 Manning (33) has a new offensive system to learn.
Eli Manning, QB NYG Ė Eli Manning is entering his 11th year in the league, and Iím happy to say heís never been on any of my fantasy teams. Iíve never been a fan of his, which originated from his petulant attitude on draft day in 2004 when he turned his nose up at San Diego for drafting him. My personal feelings aside, Manning simply stunk up the joint last season. Whether that is a direct correlation to his age (heís 33) is debatable. The fact remains that his play in 2013 was dreadful. His 27 interceptions were five more than anyone else.
Itís said that the Giants will incorporate a West Coast offense in 2014 with new offensive coordinator Ben McAdoo. Who cares? Manning lost a solid, but rather brittle, receiving threat in Hakeem Nicks and will rely on second-year pro Rueben Randle and rookie Odell Beckham to go along with Victor Cruz. All that youth and inexperience, coupled with Manningís unsteady play, makes for a nasty concoction relative to fantasy reliability. Perhaps the one saving grace for Manning is the defenses in his division. Six games against teams that all ranked 17th or lower in overall defense in 2013 may provide Manning with a good game or two. But like Iíve done for over a decade, Iíll leave Manning to be drafted by someone else. You should, too.
Arian Foster, RB HOU Ė Itís no secret that when running backs begin their decline in productivity, it is most often a swift and not-so-pretty fall. Iím afraid weíre seeing the beginning of that process with Arian Foster. Sure, injuries and an imploding team expedited his demise last season. But one only needed to see a few of Fosterís games in 2013 to see the powerful and explosive runner we witnessed from 2010 through 2012 was a thing of the past. And the one area in which Foster excelled during his three-year reign as a top fantasy RBógoal-line situationsóhe struggled in 2013. Only one rushing TD on 121 carries last season is yet another reason to remain pessimistic about his chances of rebounding to the level of two years ago.
The Texans are devoid of a serious threat at QB as well, meaning Houston will probably rely heavily on its running game. That usually bodes well for the prospects of a productive season from a fantasy running backójust not one coming off back surgery like Foster. The offseason acquisition of RB Andre Brown, coming off an injury himself, also could make for an interesting dilemma. Will Foster and Brown have a timeshare at RB? Will disgruntled receiver Andre Johnson be fully engaged during the rebuilding of the Texans, thus adding a viable deterrent for defenses otherwise looking at stopping the run? Will the offensive line improve its play from 2013? There are way too many questions surrounding Foster to justify his top-10 ranking on most preseason cheat sheets. Thereís no way Iím paying that high a price for what I consider a depreciating asset. A RB1 for 2014? Very doubtful.
Maurice Jones-Drew, RB OAK Ė There were whispers early in the offseason that Maurice Jones-Drew contemplated retiring. Thatís not a good sign. Having that thought in the back of your mind, coupled with the recent history of Oaklandís ineptness as an organization and MJDís Lisfranc injury last season, gives me great pause regarding his chances for 2014.
MJD may get his opportunity to produce, since Darren McFadden canít stay healthy if his life depended on it. But Oaklandís offensive line woes and the potentially shaky psyche of QB Matt Schaub donít quite make for an offensive situation thatís conducive to fantasy production. MJD certainly had a great run as a fantasy stud, having led the league in rushing just three years ago. But three years to an NFL running back are like dog years; that was a lifetime ago. So donít get nostalgic; steer clear of MJD in 2014 as anything other than a flier RB3.

Frank Gore, RB SF Ė For my money, Frank Gore has never gotten the love I think he deserves. Heís been a solid and consistent fantasy option, having reached 1,000 yards in seven of the past eight seasons. Heís not the threat out of the backfield like he was early in his career, but heís nonetheless a viable option in the passing game if need be. So why is he on this list? Well, heís 31 years old and has had a boatload of serious injuries dating back as far as high school.
It seems the Ninersí front office is aware of this, as well. Theyíve drafted a running back in the top half of the draft in each of the last three years (LaMichael James, second round, 2012; Marcus Lattimore, fourth round, 2013; Carlos Hyde, second round, 2014). It appears Goreís replacement is being groomed; we simply donít know who that will be. Again, Gore is a productive fantasy option. His presence on this list is only in response to the logjam at the position and the teamís apparent desire to get younger. Itís probably a safe bet to assume Gore wonít get the 276 carries he saw in 2013, thus making him a prime candidate to see a swift decline in his fantasy stock.
Andre Johnson, WR HOU Ė Andre Johnson has made no secret about his disinterest in being part of a rebuilding process in Houston and, according to reports, has asked for a trade as a result. If the team doesnít give in to his apparent demands, who knows how engaged the 33-year-old receiver will be with Ryan Fitzpatrick or Case Keenum throwing him the ball?
Houston could be a dumpster fire offensively this season, and Johnsonís fantasy viability could go up in flames, too. With all thatís surrounding the toxic situation between Johnson and the Texans, I canít see a scenario where he matches the 109/1,407/5 numbers he put up last year. Johnson could even be a training camp holdout, which would further jeopardize his potential to recapture his long-standing stature as a fantasy stud. This situation indeed requires constant monitoring this summer. If Johnson goes elsewhere, of course this outlook is subject to change; if he stays put, expect a significant decrease in Johnsonís performance in 2014.