Bye Weeks: N/A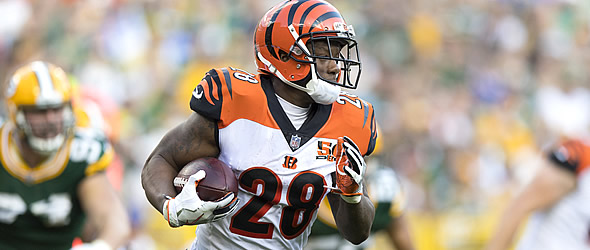 We can now add Joe Mixon to the list of rookie running backs that are viable starts in fantasy football.
Grab a Helmet

Joe Mixon @ CLE: Marvin Lewis, never one to heap praise on a lowly rookie, recently described Mixon as "way better than expected," … talk he backed up by featuring the former Sooner to the tune of 21 touches last Sunday at Lambeau Field. That's three times as many as either Gio Bernard or Jeremy Hill received and in Mixon's third career game, no less. Though it didn't net the Bengals a victory they sorely needed, it did offer a glimpse into the future of the squad's offense, a future that could be very bright indeed. The future is now for fantasy owners if the kid gets 20+ touches per game. The only way the head Bengal doesn't burn his ninth life this year is if he gets the ball in the hands of his most talented players. A.J. Green is one, for sure, but Mixon is too. Start him now.

Dalvin Cook v. DET or Christian McCaffrey @ NE: These two greenhorns have certainly lived up to their billing as dual-threat game-changers thus far. Though Cook has done most of his damage on the ground (288 rushing yards, second overall), he's on pace for over 50 receptions, something his more famous predecessor, Adrian Peterson, never did in Minneapolis. McCaffrey, meanwhile, is on pace for almost double that (nine receptions for 101 yards just last week) and though he's not doing much on the ground yet, it's probably only a matter of time before he starts making some more noise there, as well. All things being equal, you need the guys in your lineup to be a focal point of their offenses. Check and check for Cook and McCaffrey and if they can start finding the end zone just a little more often, look out. Start them both in Week 4.

Leonard Fournette @ NYJ: In case you didn't get the memo, these rookie backs are GOOD! It's too early to tell, but the 2017 class could go down as one of the best RB classes of all time…and we haven't even mentioned the most productive one yet. No, it's not Fournette despite his lofty draft position (No.4 overall), but he's been surprisingly solid. I say "surprisingly" because he was actually my least favorite of the bunch coming out of college. Traditional, straight-ahead runners tend to be very TD-dependent in the bigs as just plowing over NFL defenders isn't as easy as it was in college. Moreover, Fournette wasn't used much as a receiver at LSU, making him less versatile than his classmates. Or so I thought. He's on pace to tally 43 receptions this year and has already rushed for almost 200 yards and three scores. I stand corrected!
Grab a Gatorade

Alvin Kamara @ MIA: OK, so not every rookie running back is worth starting this week. Kamara, a third-round pick from Tennessee, has been a pleasant surprise down in the Big Easy and could very well end up being the New Orleans back to own in the longer run. However, he's firmly behind Mark Ingram, the solid but unspectacular starter, and even has significantly fewer carries than Adrian Peterson, who's looked neither solid nor spectacular so far. The former Vol contributes in the passing game, yes, and that role could expand in time (think Chris Thompson or Tarik Cohen), but Willie Snead is coming off suspension this week and I suspect that might put a lid on the rookie's looks effective immediately. Six touches per game as a running back aren't enough to warrant start consideration, not even in PPR leagues. Pass on New Orleans' exciting third-down back for now.

Ameer Abdullah @ MIN: Abdullah's one of those fantasy commodities I've never owned and, honestly, never even considered owning. I guess you could say I've never understood what all the fuss was about. Wanna know how many touchdowns he's scored in two-plus professional seasons? Four. Wanna know how many times he's fumbled as a pro? Four. Wanna know how many times he's rushed for over 100 yards? He hasn't. In fact, if you take away his two best games, Week 1 in 2015 (his very first game) and then Week 1 again in 2016, Abdullah's averaging 39.8 yards/contest and has scored just twice. For the sake of comparison, T.J. Yeldon, also drafted in 2015 and now a ghost in Jacksonville, has averaged 44.6 yards/game and has scored five professional TDs. Stop waiting for the former Husker to "break out." He'd have done it by now if was ever going to.

Marshawn Lynch @ DEN: Like the rest of the Oakland offense, Beast Mode struggled mightily in our nation's capital last Sunday night, notching a mere 18 yards on six carries as the Raiders were buried by Washington. Shake it off and move on to the next one, right? The problem with the next one is that it's in Denver, where the Broncos recently limited Zeke Elliott to a microscopic eight yards on nine carries. In fact, Vance Joseph's squad is limiting opposing rushers to only 2.6 yards/carry and has still not allowed a rushing touchdown this season, one of only two teams that can boast of that (Minnesota's the other). I'd worry about sample size except the Broncos have faced two of the game's best backs already, the aforementioned Elliott and Shady McCoy up in Buffalo. Lynch used to be in those guys' class, but no longer. Steer clear Sunday.


Quarterbacks | Running Backs | Wide Receivers