"A container in a shop where customers can purchase goods at greatly reduced prices."

Similar to the NFL, Fantasy football is as much perception as it is reality. That is one of the great things about the modern statistics revolution, it has enabled us to shine a light on players who preform at a level similar to their peers, but for whatever reason, fall below a certain attention threshold and thus receive less accolades and adoration. Not here however, in the bargain bin we find value where others cannot see it. Our goal is to draft a quarterback in 2016 who will have a higher ADP the following season, better reflecting their true value and confirming your smart bargain pick.

2015 Bargain Bin Choice: Pick 113 - Round 10: Cam Newton was a bargain bin option in 2015. He was drafted in the 10th round at pick 113, and is now valued in 2016 on average as an early 3rd round pick.

A net ADP change of +84.

2016 Bargain Bin Choices

Kirk Cousins, WAS
2016 ADP: No.112
2017 Expected ADP: No.75
Net ADP change: +37
Whereís the defect? All the data suggests Kirk Cousins is being undervalued by fantasy owners in 2016.


Letís start by reviewing his 2015 year. 16 games started, 4116 passing yards, 34 total touchdowns to 11 interceptions, and 48 yards rushing. Good enough for 359.1 total fantasy points, and 9th best quarterback overall. However, he is currently being drafted as the 14th quarterback with an ADP of 112.

Now naturally, like everyone else who picks up an item in the bargain bin, you are wondering ďokay this looks good but whatís the catch, whereís the defect?Ē So letís take a deeper look.

Who was the most accurate passer by completion percentage in 2015? Russell Wilson? No, he was third. Was it Drew Brees? No, he was second. It was Kirk Cousins with a 69.8% completion percentage, good enough for No.1 among all starting quarterbacks who played at least 14 games. For throwing the ball 543 times - that is fairly incredible.

How about passer rating? Passer rating is calculated using a player's passing attempts, completions, yards, touchdowns and interceptions. So it is a fairly useful statistic for overall assessment of a quarterback. Surely a product in the bargain bin canít be top 5? Wrong. The 5th
best quarterback passing rating (101.6) is owned by Cousins. For comparison purposes the No.1 was Russell Wilson with 110.1, and number 32 was actually Andrew Luck with 74.9.

Finally, we arrive at yards per attempt, the basic statistic around which the passing game should be measured. This is because you canít really cheat the system with yards per attempt, if you want to dink and dunk all day to increase your completion percentage, you will have a low yards per attempt. It is thought of as a system neutral statistic, and thus if you want to finish with a high yards per attempt, you generally need to be an excellent quarterback. Mr. Cousins in 2015 delivered, with 7.67 yards per attempt, good enough for 8th among starting quarterbacks, again placing highly, surrounded by the usual suspects.

Who are these usual suspects? These are the shiny new toys on the shelf, the ones with a high price tag that you canít afford. These are the Russell Wilsonís with an ADP of 36, the Carson Palmerís with an ADP of 59, and the Drew Breesí with an ADP of 50. But for a product with similar functionality (top 5 passer rating, top 8 Yards per attempt, top 10 fantasy points and top 3 completion percentage), outlook (strong WR core, improving OL, and inventive OC) and a sticker price of more than 50% off with an ADP of 112, isnít Captain Kirk worth the bargain?

You Like That!

Matthew Stafford, DET
2016 ADP: No.133
2017 Expected ADP: No.64
Net ADP change: +69

Outside of Eli Manning, no one gets less respect for a fantasy job well done. The fact his arm is still attached to his shoulder is a spectacle in and of itself. Ever since he was drafted the Lions have essentially asked him to act like a human trebuchet and sling the ball 600-plus times a season. In fact, since he was drafted in 2011, all five of his seasons from 2011 through 2015 rank in the top 30 for most pass attempts over that span (#1, #3, #12, #26 and #30). This last season he only threw the ball 592 times, and that was still good enough for 7th in the league.

The name of his game is volume, and whether you think he is a good quarterback or not, Stafford throws the ball, a lot, and thatís good for you.



Letís take a look at his 2015:

8th highest scoring QB, 33 total touchdowns to 13 interceptions, 159 yards rushing, 363 total fantasy points, a top 10 QB rating, and a top 5 completion percentage. A top 8 year, yet he has an ADP of 113, going after 18 other quarterbacks, what gives?

Well the sticker on the box says BATTERIES NOT INCLUDED. You see, prior to 2016 Stafford came packaged with one hell of a battery, one that could be counted on to power him to top finishes, and one that unfortunately, isnít even made anymore: Megatron. When you buy Stafford in 2016 you just arenít sure if he will work the same with these new batteries, so he can now be found in the bargain bin. Is this warranted? Letís take a deeper look.

Enter Jim Bob Cooter, brutal name, good OC, and the man who will be responsible for powering 2016 Matthew Stafford. Is he up to the task? After taking over the Lions offense halfway through 2015, JBC looked to have already begun transitioning Stafford for life without Megatron. If we look to Staffordís depth per target it completed dropped when JBC entered the picture. Now normally this statistic would be alarming, but for Stafford to stop mortaring downfield, it is actually a positive sign, for if he continued with that strategy without Megatron, it wouldnít turn out well. Instead Stafford started hitting the short passing game (hooks, screens, slants), and became a much more efficient passer. This was reflected in his 2nd half statistics, take a look at the chart of his final 7 games below.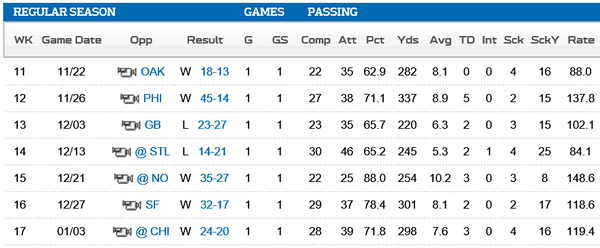 Stafford posted an average completion percentage of 72.3% with a whopping QB rating of 114.08. Hate it or love it, but in the second half of last year, Stafford was actually one of the leagues best quarterbacks by nearly every metric.

The offensive success traveled upstairs and the Lions decided to build on this, nabbing old faithful Anquan Boldin, and underneath route technician Marvin Jones. Combine this with Golden Tate and we have a solid WR corps built specifically to thrive in this new JBC offense. And that O line? Still mediocre at best, normally alarming, but for Stafford itís par for the course and it helps ensure his passing volume will still be high.

With an ADP of 133, and a legitimate chance at another top 8 finish using a more efficient short and intermediate passing game, isnít he worth the risk? Iíve made way worse decisions in my life and you probably have to.


---