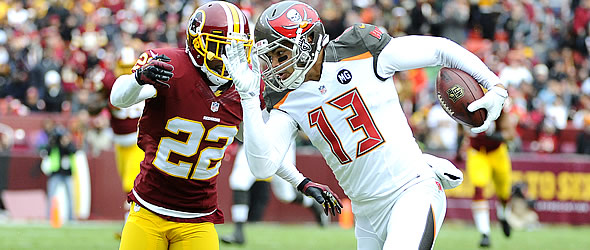 Duplicating his rookie season won't be easy. Can Mike Evans make the move and be a top shelf WR1?
QB Jameis Winston
(2014 QB Rank – N/A)
The Bucs took Florida State's Jameis Winston as the first overall pick in May, and he'll be expected to start from day one as the team's franchise quarterback. With some questions surrounding his leadership abilities, Winston comes into his rookie year with plenty of media and fantasy attention. Tampa brought in Offensive Coordinator Dirk Koetter from Atlanta to mentor Winston. He will also be tasked with improving an offense that scored the fourth fewest points and allowed the third most sacks during the 2014 regular season. Fortunately for fantasy owners, the 2013 Heisman Trophy winner possesses the arm and arsenal to overcome last season's deficiencies. Winston isn't going to pad his fantasy production with a ton of running yardage but has the agility and strength to develop the same type of "escapability" that Ben Roethlisberger possesses. A few scores on the ground and quality red zone targets won't be enough to make Winston anything more than a low-end QB2 unless he can consistently move the chains to put points on the board.
Mike Glennon had six games to prove himself as a sophomore last season and the results were far too modest to convince the team he can be anything more than a backup quarterback. Most notably are his 15 interceptions in 19 career games played and a career completion percentage under 60 percent. He turns 26 in December and will back up a rookie quarterback who has had off-field issues in the past, so he could sneak into a spot start option at some point during the year.
RB Doug Martin
(2014 RB Rank – No. 48, 6.2 FPts/G)
Tampa Bay's backfield situation is among the more intriguing camp battles for fantasy owners to monitor this preseason. The biggest unknown may be the best overall runner on the team. Can owners trust Doug Martin even if he is healthy throughout training camp? Will prospective buyers be scared off by the presence of Charles Sims? Expect the team to lean on all of its running backs to help take the pressure off their rookie quarterback. If Martin is able to start the season healthy, he should see at least half of the touches in this backfield. However, with other skilled pass-catching running backs in the mix and quality red zone targets on the outside, Martin's reception and touchdown totals will remain suppressed, making him more of a RB3 or RB4 at the outset of 2015.
RB Charles Sims
(2014 RB Rank – No. 74, 5.4 FPts/G)
After beginning the year on the PUP list, Charles Sims was never able to find his groove in 2014. The anticipation of a possible dual threat and playmaking receiver out of the backfield never materialized. Instead, Sims plodded to the tune of 2.8 YPC allowing Martin to recapture top billing in the backfield despite his own injury woes. With plenty to prove and the coaching staff still optimistic on his talents, Sims is likely to see his workload increase throughout the year. He also stands to benefit the most should Martin fail to deliver over the first month or two of the season and is in a favorable situation to become Winston's safety net. Consequently, he has upside as a flex option in 12-team and deeper PPR formats regardless of Martin's role in the offense.
RB Bobby Rainey
(2014 RB Rank – No. 40, 7.0 FPts/G)
Bobby Rainey was in the perfect position to be a fantasy bargain a year ago but he literally fumbled away the opportunity. He proved to be more valuable to the team coming off the bench and can be used in most situations, making him the most likely third option in the backfield. He is not a clear handcuff option, so unless an injury during the preseason shakes up the depth chart, he should be left on the waiver wire.
WR Mike Evans
2014 WR Rank – No. 11, 11.8 FPts/G
Mike Evans delivered a quality rookie season to fantasy owners despite the offense's struggle to put points on the board. Better quarterback play will almost assuredly see Evans' poor catch rate of 55 percent improve in 2015, and he did spend a portion of the offseason working with Randy Moss. However, he is not likely to garner 23 percent of his team's passing attempts as he did a year ago. Before anointing Evans a top-five player at his position and surefire WR1 for the upcoming season, take a closer look at the numbers. Tampa Bay passed the ball 531 times throughout the 2014 regular season against only 353 rushing attempts on its way to the worst record in the NFL. The coaching staff knows it will need to improve the running game, and while Evans will be the focal point of the passing game, it may be a little too bullish to predict a huge step forward in Evans' second season as a pro. He appears to be over a slight hamstring issue from earlier this spring during OTAs and heads into training camp looking to develop chemistry with his new quarterback. The media hype surrounding Winston will undoubtedly keep Evans' name in the fantasy spotlight throughout the entire preseason, which could inflate his fantasy stock by the time draft day comes around.
WR Vincent Jackson
(2014 WR Rank – No. 36, 7.0 FPts/G)
Not many guys can post their fourth consecutive 1,000-receiving-yard season and be labeled a disappointment in fantasy circles, yet that is exactly what happened to Vincent Jackson after he scored only twice a year ago. At 32 years of age, Jackson has entered his decline as evidenced by his lowest yardage, reception and touchdown totals since 2011. With Evans taking on more of the downfield work, Jackson will be used more in the short and intermediate passing game where he can use his wide frame to provide Winston a big target. It wouldn't be surprising to see Jackson used out of the slot in certain scenarios to create confusion and matchup problems for opposing defenses.
WR Louis Murphy
(2014 WR Rank – No. 91, 4.5 FPts/G)
Louis Murphy has proven to be a capable and productive veteran receiver when used in a complementary role. He won't be a reliable source of weekly fantasy production but could see a bump in his fantasy value akin to Harry Douglas last season if forced into a more prominent role. Kenny Bell is a six-foot one-inch rookie out of Nebraska who possesses great speed and leaping ability. On a team that does not boast much depth at the receiver position, Bell has the most talent to not only win a job out of training camp, but ascend up the depth chart throughout the course of the season.
TE Austin Seferian-Jenkins
(2014 TE Rank – No. 42, 3.8 FPts/G)
It has been widely recognized that rookie quarterbacks lean on the tight end as they become more adept at becoming a downfield passer in the NFL. If this adage stays true for the Bucs this season, then the most talented offensive tight end on the roster is Austin Seferian-Jenkins. Tampa Bay thought highly enough of his large athletic frame to make him a second-round draft choice in last year's draft. The former college basketball player wasn't used much in the offense last year, but his role figures to expand greatly in 2015. With veterans Brandon Myers and Tim Wright among the other options on the roster for run blocking, Seferian-Jenkins should see the bulk of the position's targets, including those in the red zone. His lack of a track record will depress his value, but his upside should make him one of the better TE2 gambles on draft day.