Shuffling Off To Buffalo

7/17/09





Shuffling Off To Buffalo

| Rocky Mountain Are You High? | 30-Something RBs

Read the rags, surf the boards and you will always find in the preseason, a commonality of overly hyped fantasy football issues, whether it be in the form of sleepers, super sleepers, busts, changes of sceneries or even coaching changes. All too often we rely on these pearls of wisdom as if the author has more knowledge than we do.

While the busts are easier to pick out, generally we find that we only hit on a few of the many sleepers that are being touted. Football is a true team sport and an individual player's ranking can be affected not only by his own abilities and heart, but by factors well outside his control, like injuries to other offensive players, poor defensive play, coaches failing to relate to their players, or even locker room discourse.

Personally, how can most of us really know the physical and emotional factors that go into a football player's head, which will turn him into a fantasy superstar or a dud?

For instance, in 2003, Drew Brees had a 67.5 passer rating, connecting on only 205 of 356 pass attempts, for 2,108 yards, 11 touchdowns and 15 interceptions. In the 2004 NFL draft, the San Diego Chargers used their first pick of the draft to declare that they were taking Eli Manning (who expressed he would not even play for the Chargers). Soon thereafter, a trade was announced and Philip Rivers became the heir apparent to the starting gig in San Diego. At that point, most fantasy pundits, like the Chargers' management, were giving up on Brees. However, in 2004, Brees connected on 65% of his 400 passes for 3,159 yards, 27 touchdowns and only seven interceptions for a 104.8 passer rating. Few would have expected that the young pup nipping at his heels was going to turn Brees into one of the NFL's elite quarterbacks.

Last year, many were predicting the end of DeAngelo Williams and the rise of Jonathan Stewart. Instead, Williams rushed off into fantasy stardom as the top fantasy running back in many formats. But, on draft day, the prognosticators were telling us that Carolina was going to a power game, that Jonathan Stewart was the running back that Carolina's coaching staff preferred in that style offense, and that Carolina was not wasting the 13th pick of the draft to back-up Williams. In fact, in each of my leagues last year, Stewart was drafted ahead of Williams (I bought in and jumped on Stewart in one). Let's face it. It's impossible to predict that a player is going to have an epiphany and wake up because some aging quarterback like Vinny Testaverde provides him with the enlightenment of football satori. But maybe, just maybe, there are statistical factors, which can make us question whether the pundits are on track. Maybe, a walk down memory lane when Williams was slated to be the number one back in the same coached Carolina offense, when he was picked 27th in the 2006 draft, but instead carried the ball only 121 times to Foster's 227 carries.

Sometimes, you can get that gut level instinct by the way a player says something, that tells you his heart is just not where it used to be. In my first Training Camp Hype article last year, I noted that "LT2 is over-thinking the loss of the Burner and is concerned he may have to play more to pick up the slack." Right or wrong, as a San Diego Charger fan who had a bromance for Tomlinson, I found myself questioning his desire. Prior to the start of the season, my gut said to trade him and I got maximum value for him in Frank Gore and Larry Fitzgerald. Sometimes, the crystal ball is overrated and you just have to play the game on whims, many of which backfire and some of which pay-off.

Seriously, we will never know the intricacies of what is going to turn a season, how a catastrophe like Katrina will shape the Saints, or how the sudden death of a Sean Taylor or even a retired Steve McNair are going to infuse vigor into a team or deplete it of its will to forge ahead.

Statistics need to be dissected and are not always as black and white as they appear. Predictions need to be tempered with physical and psychological factors that transcend the stat sheets.

Thus, the perfect blend of speculation leads us to the ever important question when shoveling through the prognosticator's self inflated ego-driven predictions: Do I believe the board when the consensus tells me that Jonathan Stewart is still the guy to keep my eye on, or do I disregard the message.

Despite the fact that I will offer my opinion, the purpose of this article is not to suggest which hype you should buy or sell, but instead to serve as an offering of factors which you may not have already considered.

Shuffling Off To Buffalo: Will Terrell Owens, Trent Edwards And Lee Evans See Better Fantasy Production?

It is inconceivable that one can pick up a fantasy magazine or listen to a fantasy prognosticator this year without hearing that Terrell Owens revitalizes teams during his first year in the new uniform. This statistic is partially a fallacy. First, to analyze the effect on Owens himself, the following breaks down his performance since his last year in San Francisco:

Terrell Owens
Year/Team
Games
Rec
Yds
TDs
Yds/G
TDs/G
2003/S.F.
15
80
1,102
9
73.47
0.6
2004/Phil.
14
77
1,200
14
85.71
1
2005/Phil.
7
47
763
6
109
0.86
2006/Dal.
16
85
1,180
13
73.75
0.81
2007/Dal.
15
81
1,355
15
90.33
1
2008/Dal.
16
69
1,052
10
65.75
0.63

One observation seems to jump out and that is on a per game average, T.O. performs far better in his second year with a team than his first. However, many of us will not forget T.O.'s second season with the Philadelphia Eagles, wherein his voiced displeasure with the team landed him a four game suspension and he missed a total of nine games.

How did T.O.'s presence affect the statistic of other players on these teams?

The Philadephia Story: Undoubtedly, Donovan McNabb's best year "passing in the NFL was the year that T.O. first appeared on the Philadelphia scene. McNabb threw for 31 touchdowns (twelve above his average), 3,875 yards (which was only lower than 2009 by 41 yards, but he threw over 100 times less in 2004) and his passer rating was 104.7, almost 20 points over his career average. However, 2004 is also marked as the end of McNabb's career as a running quarterback as he only rushed 41 times for 220 yards and three touchdowns (basically a decrease in rushing production by 50% as compared to the four prior years). The number two Eagle in receptions in 2004 was of course, not a wide receiver, but instead Brian Westbrook. How did number two wide receiver Todd Pinkston fare? He had 36 catches for 676 yards and one touchdown. These were pretty much the same numbers Pinkston had in 2003 and not much different than Greg Lewis had in 2005. As for the running back situation, Brian Westbrook produced far better numbers in 2006 and 2007, after T.O. had already left the team.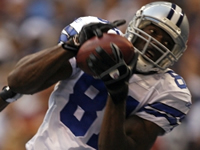 Terrell Owens: Bringing his show to Buffalo. Are you buying?
T.O. Does Dallas: Tony Romo burst onto the scene at the exact same time as T.O. came to Dallas. But, one thing is clear, Romo's numbers rose and fell with T.O.'s production. Like T.O., Romo's second year at the helm was by far his best in Dallas, leading him to be perceived as one of the top three to five quarterbacks entering into the 2008 season. While Terry Glenn posted good numbers in 2006 (15 games - 70 receptions, 1,047 yards and 6 touchdowns), these numbers were hardly different than he posted in 2005 without Owens (16 games - 62 rec., 1,136 yards and 7 touchdowns). Jason Witten had a career year in 2007, followed up by another very good year in 2008, but his first year with Owens in the picture was by far his worst (excluding his rookie season) with only one touchdown and 754 yards.
T.O., Buffalo and How Many Degrees Below Zero? Let's face it, Buffalo is not a passing friendly city in the harsh December frost. Over the last three years, the Bills have played most of their games in or near Buffalo. In each of those years, Lee Evans' late season numbers have dropped from his early season production. Neither is T.O. known for his December prowess. For the last three years we were able to overlook this issue as T.O. was playing in the comfy confines of Texas. Historically, in 2008, in four December games, Owens caught 17 balls for 236 yards and two touchdowns. In 2007, in four December games, he totaled 10 receptions, 106 yards and one touchdown. In 2006, he only went to one cold weather city, where in early December he caught eight passes for 84 yards against the Giants. In 2005, he "rested" the last half of the season and in 2004, his good year in Philadelphia, he posted only 317 of his 1,200 yards and only two of his 14 touchdowns in the last seven games of the season, all of which were in cold weather cities. So, why would a late November through December schedule of four games in Buffalo and one in Kansas City favor T.O. and a passing game? At 35 years-old, how brittle will the Owens' bones be?
Protection? Last year, the Bills' offensive line ranked in the bottom half of pass protection. The big difference is that the 2008 offensive line had a pro bowl left tackle in Jason Peters. After shuffling Peters off to Philadelphia this year, where does the Bills line rank? Of the few offensive line rankings I have seen, Buffalo ranks in the bottom four.
Is it time to Buy or Sell the Hype?

Terrell Owens - Buy. Owens is an incredibly consistent performer. He should get his 75-80 receptions, 1,100 to 1,200 yards and 10-13 touchdowns. But, I would expect him to front load his production during the first half of the season and T.O. owners should have a back-up plan for playoffs, or even consider trading him early in the season.
Trent Edwards - Buy. Edwards is coming into his third season and is gaining a better grip of the game. He's an accurate passer, who will be allowed to open it up a little more with T.O. in the offense. As a QB2, he can probably post around 3,200 yards and 18 - 20 touchdowns. Again, I would be concerned with his second half numbers, but hey, what the heck...he is a QB2.
Lee Evans - Sell. By no means do I think Evans will be a bust. Rather, I think he will end up like Terry Glenn and be the same Lee Evans he is year in and year out. While some of the tried and true Bills fans may want to reminisce back to 2002, I do not see this as Drew Bledsoe, Eric Moulds and Peerless Price and hoping for two 1,200 yard performers seems like trying to catch lightning in a bottle...a second time. I do not see T.O. at 35 drawing as much attention as others predict he will and Evans will still have to earn his keep. Evans will still post some big games and good numbers (i.e. 850-900 yards), but his scoring opportunities should be reduced, a category which he really cannot afford to lose any more ground.