8/7/08





Part One

| Part Two | Part Three | Part Four

It is the dog days of summer and for some of us this conjures up a painfully distant memory of two a days, where the only joy experienced was the trip to the A&W for a-gallon jug of root beer to rehydrate. But for many of us, it fills our wells with hope springs eternal. For the magazines are all out and the conjecturing we do from February through July is now corroborated by an influx of sift-able information.

I personally subscribe to the philosophy that anything coming out of training camp, along with $4.25 may get me that one gallon of gasoline I need just to get to my day job. And often, that is just what it is, Training Camp Hype or "TCH". Now, to the Deadheads who just got excited, please lay off the spinach for just a second as your myopic dyslexia has made you misread my acronym.

But sometimes I can hardly tell the distinction between THC and TCH. I would be a lot happier if I could say it was THC that caused me to draft, with immense pride: Wali Lundy, Jacoby Jones, James Jones or even Kevan Barlow. But alas, it was TCH and not THC that numbed my brain.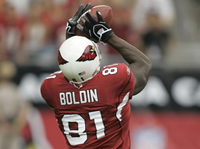 Training Camp Gem: Anquan Boldin
But every once in a while, training camp does uncover a gem or confirms our suspicions of who will prevail in that position battle or that an RBBC is evident. In 2003, few people in fantasy football were looking at the Arizona wide receiver corps for filling out the late rounds of their draft. But quietly discussed in the Arizona press was a training camp phenom and 54th pick of the NFL draft Anquan Boldin (he was not even the first receiver picked by Arizona that year). Coach McGinnis kept stating that this kid was a playmaker and that the Cardinals were going to have to find a way to get the ball to him. So, if you can sift through the TCH you just may draft that pearl who gets 101 receptions for 1377 yards and 8 tds, rather than being eighth on the waiver list and desperately hoping that the seven guys overlook a Boldin-like Week One performance of 10 receptions 217 yards and 2 tds and think they are getting the next Frisman Jackson.
It is my intention to provide you with a limited digest of brief tidbits coming out of the training camps about key fantasy positions. Hopefully, at sometime during this August run, the dirt which fills my oyster brain will irritate just enough to spit out one pearl. Otherwise, the information below should serve only as a host of useful information, consolidating as much into one location as my limited resources can provide.
Since I am incapable of visiting camps and my hometown's only professional football team is the Avengers (unless you wish to lump my Trojans in this class as well), this digest is from various sources and is often uncorroborated and unauthenticated.
Denver Broncos: If I write this article today, next week, next month or next decade, this shall remain constant: Every running back looks impressive. One of them will definitely be the starter....for at least one week. Ryan Torain has been impressive but will miss 6-8 weeks with a broken elbow. Selvin Young is the lead guy.....for now. Oh yeah...and who is Denver's "I've Never Heard of You Before Who Bursts Onto the Scene This Year Back?" Write down the name Anthony Aldridge....how do Denver fans keep their heads from imploding? For any of you who actually fret over picking a kicker in your draft, you just might find a gem in Matt Prater, who likely won't be drafted in any league format (this is the first and last time I will bring up a kicker). In simulated game conditions he went 11 for 11, 3 over 50 and one for 68. Brandon Marshall may not be in the best shape and he is facing a Steve Smithesque suspension of 3 weeks, but he's wowing spectators, players and coaches in practice. Expect to be wowed in preseason so Broncos can work him into game shape for his return from suspension.
Kansas City Chiefs: Rookie down! With Brandon Albert out for the training camp, what happens to the already questionable o-line? While Larry Johnson is back leaner [8% body fat], cutting out the fast food and looked like a beast against Vikings [not their first teamers] in scrimmage, the real question seems not whether L.J. can run with the rock, but whether his line will permit it.
Oakland Raiders: Before you read this, remember this one word that is extremely important to sifting through what is true and what is stank- Raidermyopia. Javon Walker's choice not to retire should not excite anyone yet, as one of the reasons he wanted to was his training camp woes. Apparently however, he misunderstood Kiffin's advice about losing weight and went to Vegas to unload the weight of jewelry and cash on him. Darren McFadden continues to make a play or two every day, "a wow play." He picks it up really well and really fast," Kiffin said. "He just wants to be in everything." And he is. He lines up WR, RB and QB. The Raiders are expressing man-love for their rook, who will be sharing with Fargas to start the season. This might be the year to keep your eye on Ronald Curry who bulked up in the off-season and with Javon's mindset, Curry could take over. Michael Bush is enjoying training camp where the players are hitting harder than when he showed up in week 13 of 2007. Oh yeah...and there is this guy Jamarcus Russell, who Kiffin describes as otherworldly, with arm strength and a release that are Marino-esque. After Russell injured his elbow earlier this week Kiffin said "He's throwing the ball like other quarterbacks now." Reading defenses still may be a problem.
San Diego Chargers: Vincent Jackson is catching every pass and running and cutting extremely well - it should be noted this is against the likes of Jammer and Cromartie (apparently he is now nursing a hammy). Chambers believes they have to practice against better corners then they will play against. LT2 is over-thinking the loss of the Burner and is concerned he may have to play more to pick up the slack. Darren Sproles and Jacob Hester are considered by Norv as 2 and 2A and will probably be splitting the non-LT2 carries. Antonio Gates is running and cutting up to twice a day on a side field but has yet to practice and is expecting to play in season opener. Rivers on his knee: "feels better than I could have imagined it."
Buffalo Bills: Marshawn Lynch is explosive and dominating in both the running and passing game. James Hardy is looking like everything he has been Billed to be - difficult to cover (nursing tight hammy). Lee Evans is a training camp hero, but where is he on game day? J.P. Losman appears horrific in short and middle range and Edwards may have locked it up right now. Trent Edwards and Evans are benefiting from off-season workouts together. O-line is opening holes and there is a lot of optimism for Lynch and Fred Jackson, who is looking elusive in the passing game as well, which makes me think Lynch may not be getting all the 3rd downs they're saying he will get.
Miami Dolphins: John Beck's confidence is not strong; he keeps tossing to checkdown receivers. Earnest Wilford is having difficulty getting open against less then stellar defenders and Derek Hagan lining up opposite Ted Ginn Jr may be as good as it gets here. Chad Henne is giving strong competition to Josh McCown and Beck. Don't count out Quincy Carter who is working out in K.C. after his arena league year. RB news seems conspicuously silent after Ronnie Brown has gotten looks with the first team, but Ricky Williams has repeatedly looked like the best player on the field. Looks like a time share in South Beach for the ground game.
New England Patriots: O-line is cause for a little concern - a musical chairs, with all its injured players. Vrabel and Wes Welker off PUP, but not going full bore just yet. Chad Jackson is not impressing.
New York Jets: QB competition is over as some guy named Brett Favre is in the fold. Chad Pennington looks to be on his way out of New York. There are few reasons to get excited about a 3rd WR in NY, but there is noise about David Clowney at WR giving Brad Smith and Chansi Stuckey a run. Rookie TE Dustin Keller is greatly impressing.
Baltimore Ravens: WR are running thin with Mark Clayton and Demetrius Williams relaxing...uhh…injured. Kyle Boller is throwing some crisp passes, while rookie WR Marcus Smith may be giving Figurs run for the no.3. Ray Rice is impressing as a tough, north south runner while McGahee is also resting. Heap - SOP (nursing another injury).
Cincinnati Bengals: The only news coming out of this camp seems to be that Ocho Cinco reported. Sounds like business as usual. Team disarray is already in seasonal form. Rudi Johnson has supposedly put on weight. Chris Perry's formerly dislocated ankle is working fine and T.J. Houshmandzadeh is a big fan of what Perry can do…if he can stay on the field.
Cleveland Browns: Kellen Winslow is looking unstoppable. There does not appear to be an early concern with a QB controversy as Derek Anderson is looking good in the short game and Quinn still looks unsure of himself. Jamal Lewis has some interesting motivation playing on the team that his idol Jim Brown played on and being down the road from Canton. Apparently, he is motivated to impress Brown, has slimmed down and envisions that he will surpass 1500 yards this year. "Non-household names impressing in camp are rookie RB Travis Thomas (but don't get excited he is looking at practice squad) and WR Travis Wilson. Addition of Shaun Rogers may make defense something to consider. From what's coming out of this camp, if you like the players, don't fret the schedule. This team appears legit.
Pittsburgh Steelers: On D big buzz at camp is that Lawrence Timmons and LaMarr Woodley are beasts. IMO, this and the news about Shaun Rogers in Cleveland just makes this division a scary place for fantasy players who will line up in 4-6 games against their division opponents. Big Ben has small groin pull. Santonio Holmes showed up in great shape and is taking a leadership role while still recognizing Ward as the vet. Buzz is: look for a Pro Bowl year out of Holmes this year. Loss of Faneca is affecting O-line which only looks average, which may explain the hush on the RB sitch.
Houston Texans: Andre Johnson gave a minor scare, pulling up with a hamstring (changed from earlier diagnosis of groin) tweak on Saturday, but no tears and apparently no lingering effects. Clearly committee, by their own expression and running game is looking good for Darius Walker, Chris Taylor and Steve Slayton, despite Chris Brown out with sore back and Mike Bell not in camp shape yet (looking fast, but not well conditioned). When it comes to Houston running backs just read my comments on Denver running backs as they generally mirror each other. Kevin Walter has been Schaub's favorite target in camp. Healthwise, Schaub is looking good.
Indianapolis Colts: This is obviously a relatively seasoned team with few training camp questions at the skill positions. Marvin Harrison has been making play of the day moves and catches. So don't write him off just yet. Dominic Rhodes has been gaining a lot of attention and people are talking about him cutting into Joseph Addai's carries.
Jacksonville Jaguars: David Garrard is looking sharp, but he is going with the low risk passes almost exclusively. With all the receiver injuries (Porter, Reggie Williams and others), Maurice Jones-Drew may have a huge year in a PPR format. There is a reason that Garrard only threw 3 picks last year. The ageless and No Longer Fragile Fred still has cutback ability and after burners. Jerry Porter is wrapped up from below the knee to the buttocks and shows a limp when wrapped, but no gait when unwrapped. Matt Jones is really blowing....err…I mean smoking....I mean really doing well. The vibe sounds like J-Ville is looking at an aggressive blitzing D and a ball control offense with a lot of running and short dump-offs. I always reserve judgment when a starting center is gone. The o-line is like a nervous system and the center is the brain sending out all of the messages. With Meester probably out for half a season, I'll keep this offense monitored.
Tennessee Titans: We have all heard rumors about Chris Johnson's big-play potential and tremendous speed and that the Titans are deploying him as a split out. However, he is also making big strides for his physicality knocking back linebackers in one-on-one blocking drills. The Titans are saying that he is showing what they need from the guy in that position. LenDale White has been used sparingly (wrist) to allow other RBs to get into the mix. While LenWhale showed up to camp in better shape than in the past, he is still not as well conditioned as hoped for. The team is expressing confidence in Vince Young. They have worked on his footwork to improve his accuracy and believe he is more accurate than what they saw on film from last year. The o-line is saying that he appears more confident in the huddle and calling audibles.
Arizona Cardinals: According to Wisenhunt, the QB position is still a competition. Doubt that it is true. It looks like Matt Leinart's. It does not look like the specialist role of 2007 will be re-implemented. Pope must show he's 100% and faces stiff competition from Ben Patrick for Tight End. Edge says "30" is so cliché – hate to say it, but there are certain places where clichés are meaningful. Anquan Boldin's strained hammy shouldn't present a problem.
San Francisco 49ers: Frank Gore looks terrific running. Martz on Gore - "We use him everywhere we can in the running game...and in the passing game...deep threat...short threat, as a crossing threat." Bruce, Battle and Bryant Johnson appear to be starters in a Martz 3 WR. Bruce has been getting extensive action and looking good. Cautious on Battle and Lelie who seem to be nursing their labia. Martz has raved about WR Jason Hill in the spring, but when Nolan is asked he simply says Hill has to stay healthy. Reporters have indicated they have never seen more dropped footballs in passing drills. So much so that at certain practices O'Sullivan surpassed Smith and was taking 1st team reps, but Nolan is still saying it's a two man race b/w Smith and Hill. O'Sullivan's top WR is Hill, Smith's is Bryant Johnson and Shaun Hill's is rookie Josh Morgan.
Seattle Seahawks: Additions of line coach Mike Solari and Guard Mike Wahle seem to paying dividends in the o-line and rb's are finding lanes now. The connection between Hasselbeck and his receivers is like a blank slate. He has expressed that he feels very comfortable with Bobby Engram and is hooking up with him well in practices. Clearly looks like Engram and Nate Burleson with injured Courtney Taylor or Obomanu looking to fill out the 3rd. Red Bryant out 4-5 weeks after arthroscopic surgery.
St. Louis Rams: Pace is feeling good and on track which would be good news for Steven Jackson owners, if he returns to camp. Drew Bennett is back in practice from his knee injury. Bulger was looking very accurate with his passes. Carriker looking like a beast "rag-dolling" people. Chris Long is starting to "get it."
Dallas Cowboys: Felix Jones is living up to the bill as "electric" showing speed and vision. The Cowboys like Tashard Choice's speed and physical play. He may take 3rd spot. Even though Marion Barber has been labeled the bell cow by Wade Phillips, there are pundits who believe that Jones has done enough to ensure that Barber doesn't see 20 touches a game. They have designed a number of packages to put both on the field including placing Barber at fullback. Is it my imagination or is T.O. not taking training camp off? Passes are going to get spread around between T.O., Jason Witten and the running backs and no one is talking up the number two through five wide outs at this point.

New York Giants: Eli Manning is stringing together one great practice after another. His back-ups however, are striking fear into Giant fans. Due to all the injured WRs, Kevin Boss and Domenik Hixon are garnering a lot of attention. Hixon may get past being a special teamer and worked into passing game. Steve Smith is also showing up (when not injured). Sinorice Moss is not impressing anyone yet. Difficult getting a read on the RB situation and most the blurb is on Bradshaw's jail time.
Philadelphia Eagles: Donovan McNabb looks sharp, is spreading the ball around and the first-team offense looks good. McNabb is allegedly all the way back. There's talk about using Hank Baskett's size and strength more in the red zone and he and Jason Avant have been pulling down a number of balls in practice.
Washington Redskins: Jason Campbell is throwing well. Back-up Colt Brennan, who threw for two TDs against Indy's Third team D is looking pretty good too. Rookie receiver phenom Devin Thomas, Malcolm Kelly and Anthony Mix are out with hamstring pulls. Kelly just had arthroscopic surgery and will be out at least 2-3 weeks.
Chicago Bears: Nothing could be clearer than Matt Forte is number one and Adrian Petersen Kevin Jones, and Garrett Wolfe are fighting it out for number two. Forte is being used consistently in the passing game and flourishing. He is unafraid of contact. He ain't your grandma's Cedric Benson. Devin Hester is getting a lot of looks in the number one offense (but its still Rex at the helm). Apparently Marty Booker is being outpaced by John Daly and Craig Stadler.
Detroit Lions: Jon Kitna looking very accurate and throwing well on the run. "Roy and Calvin "are going to have more than 80 balls providing they play all 16 games,'' In scrimmage the passing game looked anemic. Roy Williams did show up at Aug. 2 practice once he got angry and if he can carry that intensity forward, the sky is the limit. Marinelli said he did not put much stock into running game since tackling wasn't part of it. Everyone is optimistic about Colletto's new zone blocking scheme, but they recognize they simply aren't there yet. For all of those who note that Kevin Smith is the most notable rookie, temper it with the fact that while he knows the zone scheme, his team doesn't and they may be forced to air it out until they get more comfortable with the run game.
Green Bay Packers: Aaron Rodgers has looked horribly inconsistent through practices and scrimmage (7 for 22 with 10 straight incomplete passes). Ryan Grant has at least 4 million reasons to rush for 1500 yards, but how often does incentive laced contracts turn into performance enhancers? It is far too early to make any dispositive comments about what is happening in Packer camp.
Minnesota Vikings: Beware PPR gurus. Tarvaris Jackson looked sharp in early practice against chiefs and through a swing pass td to All Day. Said Jackson: "I just try to get Peterson the football whenever I get a chance so he can make plays with it." IMHO - Move over LT, there's a new sheriff in town. Long passes are still an issue - just ask Sidney Rice.
Atlanta Falcons: This is one of the more interesting camps to me since it really is a blank slate with new coaching, new QB, RB and TE. Matt Ryan is making great strides since mini-camp, but he does not appear to have the strongest arm. Chris Redman looks to be the starter come September. Don't look for a replacement to Alge Crumpler. The Tight End corps looks to be made up mostly of blockers who aren't catching many balls in camp. Rookie WR Harry Douglas is running great routes, getting open and filled with NFL attitude. He may already have a shot at the slot. But one of the hardest guys to good a good read on where he should be drafted is Michael "The Burner" Turner. In drills, Turner has shown he can get to the hole in a hurry and he attacks the line of scrimmage so aggressively that he moves the pile where there is no crease. Once he gets through the front, his momentum is so fierce that he is blasting into the secondary. He has exhibited speed, power and evasiveness. As stated with some other RBs, temper with this the understanding that he is running against the Falcons defense.
Carolina Panthers: Uhm…would it be real inappropriate to state that "there is some real hitting going on"? Obviously the Steve Smith blow to Ken Lucas has garnered as much of the blog talk as Brett Favre and Green Bay. But Smith appears focused on being the top receiver. The only problem is that he is already down two games. Jonathan Stewart is making a lot of believers out of everybody (teammates, coaches and spectators) with powerful running – just what the Panthers want. Stewart has received a lot of red-zone opportunities, was catching passes and running over players at the goal line. He is impressing Coach Fox. But, DeAngelo Williams has likewise been shining, running with confidence and….motivation. Quarterback Jake Delhomme's elbow does not appear to be causing any concern and though he is being limited in practice time, he looks at ease under center and sharp on his throws. Julius Peppers is looking bigger, stronger and faster and is poised for a dominating year.
New Orleans Saints: Marques Colston recovered from a sore left knee that was drained in the early days of training camp only to resurface in the same knee. Payton is not worried and says its minor. Pierre Thomas is also standing out in a crowded backfield. With "good vision and good balance…he's competing for a lot of touches and doing well" Payton has a lot of confidence in him as a runner. Payton as stated "he's going to get a serious look." Deuce McAllister will be sitting out the first pre-season game, but got in two full practices on Monday. He even caught a pass and powered in for a TD. Shockey's practice time is limited. Robert Meacham and Adrian Arrington are having a great camp. Drew Brees is "as good as ever."

Tampa Bay Buccaneers: Jeff Garcia was looking good before he went out with a calf strain. Chris Simms took reps with the first team and looked good. Not good enough apparently to fend off Favre from talking to the Bucs, and for now McCown still may be in front. The pre-season depth chart seems to shift with the QBs on a daily basis between Simms, McCown and Griese. Antonio Bryant is nursing a knee injury and in and out of practice. Gruden is happy with Warrick Dunn's performance in camp. The depth chart still looks cemented with cagey old vets Joey Galloway and Ike Hilliard top the WR chart, with Michael Clayton, who has been impressing (don't we hear that every year – but it is a contract year) and Maurice Stovall following up. Alex Smith is still number one TE with John Gilmore, Ben Troupe and Jerramy Stevens, behind.