7/21/10



Unlike last season, when I used this piece to look at players who switched teams in the offseason and gauged their potential production, this year I used a different criteria. Instead of narrowing the scope to just the players who moved via trades or free agency, I opened it up to include all players. With the player movement the way it is in the NFL, simply staying with the same team from one year to the next could create an entirely new set of circumstances from a fantasy perspective. What follows is my look at five players who I think will struggle in 2010 and five who I think will shine. I tried to touch on players that have triggered polarizing opinions in fantasy circles, not just those whose productivity (or lack thereof) have become predictable.



Struggle

– As if Jay Cutler needed any more help throwing passes to the opposing team, now enters new offensive coordinator Mike Martz and his high-risk/high-reward scheme. Every quarterback NOT named Kurt Warner threw a career high in interceptions during his first year with Martz as their OC. Marc Bulger. Jon Kitna. Shaun Hill. J.T. O'Sullivan. That doesn't bode well for a quarterback (Cutler) who in 2009 led the league in interceptions with 21 (a career high).

Martz once famously said he cares less about his quarterback throwing interceptions because he believes his system will more than make up for those mishaps. Cutler was a risk-taking passer well before Martz; now, with Martz in the mix, his interception total is sure to remain close to where it was last season. Keep in mind, Chicago is not exactly a hotbed for receiving talent. That will most assuredly continue to prevent Cutler from catapulting himself into fantasy football stardom. If you find yourself with Cutler as your starting quarterback this season, you'd be best served having a season's supply of Tums handy.

– Don't look now, Marion Barber fans, but the back's fantasy relevance has seen better days. Barber has only one 100-plus-yard game in his last 20 contests, and, although he finished 2009 with seven TDs, he had only three over the last nine games. And whatever explosiveness he once had looks like it's gone the way of the dinosaurs. But perhaps Barber's biggest issue is the continued emergence of Felix Jones. Sure, Jones is an oft-injured player, but it's plainly obvious how much more explosive and elusive he is compared to Barber. Sometime soon, Jones will put it all together and remain healthy and will consequently be the bell cow in Big D—to the detriment of Barber.

While Barber enjoyed fantasy success in 2006 and 2007—scoring a total of 28 TDs—I always thought he was nothing more than a glorified goal-line back. That's nothing to frown at, as I'm sure he helped many owners win many games. But specialists like that tend to have a short shelf life. The expiration date on Barber's effectiveness is approaching, and, as a result, you should be crafty about when to spend a draft choice on him. Barber certainly retains some value, but it's nothing like it was a couple seasons ago. Buyer beware.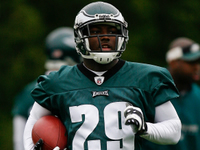 McCoy's lack of touches in the redzone is cause for concern.
– Conventional wisdom suggests LeSean McCoy will, by default, become a productive fantasy running back in Philly because of Brian Westbrook's departure . While that may appear on the surface to be a no-brainer, we must take into account McCoy's role in the offense last season. Even with Westbrook missing eight games, McCoy wasn't utilized as much as many of us anticipated. It was painfully frustrating last year for McCoy owners as they watched the rookie get taken out of games when scoring was imminent. Between QB Michael Vick and fullback Leonard Weaver toting the rock deep in opponents' territory, I'm not sure which rushing-attempt vulture was worse for McCoy owners. In fact, Weaver had more carries in the last four games of the season than McCoy. What does that tell you about McCoy's prospects for success in 2010?
Too many times in '09, McCoy seemed to get lost in the pass-first/pass-all-the-time offense orchestrated by head coach Andy Reid and offensive coordinator Marty Mohrningweg. McCoy did finish the season with 40 receptions, but his production was way too unpredictable for my liking. Ultimately, though, it's not that I distrust him from a talent standpoint—I actually think he showed some skills. My issue is my distrust in Reid and Mohrningweg, as they seem to get too cute at times when it comes to offensive game plans. In my eyes, McCoy's production unfortunately won't match his draft position in 2010, despite the perceived numbers-generating situation in Philly's backfield. Keep expectations at a manageable level with McCoy.
– Wow. The man-love that's being hurled at Jamaal Charles this summer is mind-boggling. The guy ripped it up late last year, sure enough. But some of the analysis on this site, as well as a handful of fantasy magazines, would have many believe that Charles is a sure thing. Step into the way-back machine and look at what was said about Houston running back Steve Slaton during last summer. He, too, ended the prior season with four of his last seven games with over 100 yards rushing—just like Charles. Many believed Slaton was in one of the top offenses in the league and that a repeat of his 2008 season was a given. Slaton struggled mightily in 2009 and is a RB3—at best—in 2010. There's an eerie similarity between these two, and as a Slaton owner in 2009, I want no parts of anything resembling that scenario in 2010.
Many pundits are touting Charles as a solid #2 fantasy back. I'm not so confident. The Chiefs tried to solidify their offensive line by picking up former Indianapolis Colt Ryan Lilja, but when's the last time a player left the Colts and made a splash elsewhere? Indy GM Bill Polian knows when to rid the team of once-productive players, so I'm not sold on the addition of Lilja. Also, some are poo-pooing the acquisition of running back Thomas Jones and the effect it will have on Charles. Jones is a solid NFL running back and will most certainly dampen the enthusiasm of those singing the praises of Charles. Jones will get his touches and should get his share of those precious goal line carries. The hype surrounding Charles is setting his owners up for a huge letdown. Just hope that that doesn't end up being you.
– Since his breakout season in 2003 (his missed 2004 season notwithstanding), Steve Smith has been the primary cog in Carolina's passing game. He enters 2010 with similar expectations but with three glaring challenges: first, a broken forearm sustained during the offseason; second, a supporting cast at receiver that ranks among the league's worst (Dwayne Jarrett is the #2 WR?); third, a dreadful quarterback situation. Any one of these challenges alone could make things difficult for a player, but when dumped at the feet of a player all at once, the situation makes fantasy owners quiver in their collective boots.
Outside of Carolina's two stud running backs, the Panthers will prove to be a fantasy wasteland in 2010. There are simply too many holes to fill with too many unproven parts. I do believe Smith can get it done, but it will have to be in the proper situation. Perhaps Smith was right and saw the writing on the wall when, during this past offseason, he hinted about how he'd be better suited being a team's #2 wide receiver. He's probably correct. Assuming Smith returns healthy from his injured forearm, opposing defenses will look to stop him. It's been said that the receiving position is the easiest position on the field for defenses to take out of a game plan. There's no one else for the opposition to concern themselves with outside of Smith. He will have the occasional above-average game in 2010, but certainly nothing that would warrant a weekly, no-brainer starting spot on your roster.
Shine
– On the surface, Chad Henne's career numbers so far don't trigger immediate excitement from fantasy geeks. Besides, he did throw 10 INTs in the last six games of 2009, so what's all the buzz about? It might have something to do with getting one of the top fantasy wide receivers in Brandon Marshall. Henne is one of those classic low-risk/high-reward fantasy prospects. He has a great running game to complement the aerial attack—a running game, by the way, that had runners stopped at the line of scrimmage less often than any other team in '09. Henne can make all the necessary throws, and with Marshall on board to garner the lion's share of attention from opposing defenses, things will open up for Davone Bess and Greg Camarillo, which will only make Henne an even better quarterback option.
Granted, Miami plays a fairly tough schedule regarding pass defenses—New York Jets twice, plus Green Bay, Pittsburgh, and Baltimore—but my take is that Henne will develop at a pace that will make him a solid #2 fantasy option. Remember Joe Flacco's first six games last season, in which he threw for 11 TDs? Henne should put up similar numbers this year and keep it up for the entire season. Keep in mind, Flacco put up those numbers with no wide receiver on the Ravens' roster near the quality of Marshall. So keep that poker face during your draft and nab Henne at the appropriate time.
– After being unable to work out after the '09 draft due to an injured foot, and subsequently holding out because of a contract dispute, Crabtree didn't play his first game until the last Sunday in October. He didn't exactly rip it up during his rookie season, but his abilities—especially his run-after-the-catch skills—were obvious and made those watching begin to expect big things from Crabtree. And if anybody will benefit from the 2009 breakout campaign of tight end Vernon Davis, it's going to be Crabtree. Davis's 13 touchdown receptions led all tight ends and will predictably be the reason behind the double-teams he will see, leaving Crabtree one-on-one on most occasions.
The quarterback situation in 'Frisco gives me pause, but Alex Smith should be serviceable enough whereby Crabtree puts up respectable numbers. Head coach Mike Singletary's DNA points to this team being a smashmouth squad, as the team's first two draft choices in 2010 being offensive linemen would prove. But Crabtree should be a solid selection as a low #2, high #3 option.
– One criterion that I use when determining sleepers at receiver is the receiving options of some of the top quarterbacks. Aaron Rodgers is becoming—if he hasn't already become—one of the top three or four fantasy quarterbacks. If he throws 30 TDs in 2010, somebody has to catch 'em, right? Wide receiver Greg Jennings will get his share, as will the aging but still productive Donald Driver. At some point, though, I think Jermichael Finley will take over the second receiving option behind Jennings. Driver is thirty-five years old; Finley is twenty-three and an emerging star at tight end. Finley should be able to exploit the middle of the defense while Jennings and Driver take aim at the edges.
Donald Lee was the starter until midway through last season when Finley came off the bench. Those roles will be reversed this season, giving Finley the playing time necessary to reach the lofty expectations I and many others have placed on him. He's a top seven tight end in-waiting and a solid #1 tight end. Consider this tidbit: Even though Finley missed three games and started only ten in 2009, he still finished fourth among tight ends in red zone targets. Remain mindful of that stat when you're considering taking someone else at the position over him.
– Rookie Ryan Mathews is walking into an outstanding situation in San Diego. Gone is future Hall of Famer LaDainian Tomlinson, but the need for a dynamic running attack to complement the superb passing game in Chargerland remains. Enter Mathews, who, along with holdover Darren Sproles, gives San Diego a great contrast of styles in their running game. With the rookie's between-the-tackles game and Sproles' receiving skills, Mathews' arrival should round out an offense that was already one of the best in the league in 2009.
The one caveat I will share is that the price for Mathews may be too steep for some. There are magazines and Web sites (including this one) that have Mathews as an undisputed #1 fantasy running back, essentially saying it's okay to use a first round draft choice on the rookie. It'd take a large set of clock weights to make that call, but stranger things have happened. The hype surrounding Mathews, though, will certainly have him off the board by the middle of the second round. The best scenario would have him as a solid #2 running back if you're picking at the end of the first round. There are worse players you can take at that point of the draft, that's for sure. Suffice it to say, however, that Mathews will have a very productive season and should battle all year long for offensive ROY award.
Circumstances make Forsett the back to have in Seattle.
– Simply put, I think Justin Forsett will emerge as the top running back in Seattle. Former Tennessee Titan running back LenDale White was traded to Seattle during the offseason but found himself off the roster after only a few weeks. Running back Leon Washington is coming off an ugly broken leg while playing for the Jets last year; how well he recovers remains a question. And former starter Julius Jones will be lucky to have a roster spot come Week 1. Things set up nicely for Forsett, who could be the Week 1 starter by default. I'm not saying that's why Forsett will get the nod; in fact, I think he showed enough last year to win the job outright. But the circumstances surrounding the other backs on the roster almost make Forsett the no-brainer pick as starter. Plus, with rookie O-lineman Russell Okung fortifying the unit up front and new O-line coach Alex Gibbs hammering home the concepts of the zone-blocking scheme, Forsett can be a clever mid-round pick.
The one concern that simply won't go away is the question of how new head coach Pete Carroll will utilize his running backs. Going back to look at Carroll's philosophy from his previous stops in the NFL is useless; that was a lifetime ago by NFL standards. The most recent example of how he chooses to use his stable of running backs shows him platooning LenDale White and Reggie Bush at USC. In that scenario, White was the battering ram while Bush played the role of the homerun hitter. Neither Forsett nor Washington would ever be mistaken for a between-the-tackle bruiser, but it is my contention that Washington is less an every-down running back and more a return guy who needs space to make things happen. In this case, I see Forsett as the first- and second-down back, with Washington playing the role of third-down specialist. By virtue of his getting at least twice as many cracks at carrying the rock than Washington, Forsett is poised to surprise some people in 2010.