Knowing Your League: Pt 3 - Creating A Draft Strategy
8/10/04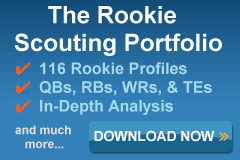 The "Gut Feeling" is often synonymous with a sense of desperation resulting from a lack of preparation. The Gut Check is a huge proponent of studying the numbers, but there's a point where one can place too much emphasis on the wrong information. This can result in the undervaluing or overlooking a player's potential. Therefore, The Weekly Gut Check is devoted to examining the frame of reference behind certain number-driven guidelines that fantasy football owners use to make decisions.

Although The Weekly Gut Check doesn't claim to be psychic, he does believe that he can dispel certain numbers biases and help you make the best choices for your team. We'll keep a running tally of The Weekly Gut Check's insights. This way you can gauge his views as something to seriously consider, or at least seriously consider running the opposite way as fast as you can!


---

With less than a week until the draft, The Gut Check continues his profile of his re-draft league with the creation a draft day strategy. This process involves projections, ADP numbers, tier analysis, and finally, a blueprint. As a side benefit, The Gut Check will be sharing a brief list of players he'll be avoiding on draft day.

The Gut Check's re-draft will be this Friday at Bentley's basement. This is the first time in recent memory that the ABFFL has held their draft this early. We like to wait until the week before season begins but this time slot apparently violates the conditions for release for many of our owners (see The Ball and Chain Effect from Part I), therefore we won't have the benefit of knowing who wins some of the more pivotal training camp battles. This will have to be factored into consideration.

We'll cover the strategy in six steps:

1. Revising projections
2. ADP analysis
3. Eliminating players from your draft card
4. Players to target
5. Tier analysis using ADP
6. Creating a round by round blueprint.

The Gut Check is a risk-taker, but there's still a method to the madness.

First, let's talk about draft order. The ABFFL has been pre-selecting their draft order for the last three years. The league has a serpentine draft and while it's become allowable to trade draft spots in the league, the concept is so new and our members are so old that it hasn't happened yet. One thing is for certain, The Gut Check won't be trading his pick:


The Draft Order
Pick
Team
Comments
1
Venus
With his penchant to make slight reaches, this could hamper my draft day strategy if he reaches for my picks.
2
DB
New to our league. T.O.'s former teammate hopefully won't pick off my choices like he picked off McNair in college.
3
The Gut Check
Should land a terrific RB. Likes having Cuji's conservative style on the way back to him.
4
Cuji
A well-prepared owner in a prime draft position.
5
Dude
Should profit from being near the middle of the round when owners on the end make a reach.
6
2 Irish Names
Drafted in a late position last year and built a nice team. How will positional runs affect his strategy?
7
Bentley
Another great spot, but his tendency to reach might hurt him.
8
Raptor
Skillful at drafting from a late position and generally does well. Will likely pick an RB and top-tier WR.
9
D.W.W.A.
Might attempt a reach in round two with Raptor and Ligtenmiller as his bookends.
10
Ligtenmiller
Last year's champ gets to draft late again.
11
Skelly
This spot guarantees owners will be chanting "Fresh Fish." Will likely heed Dude's advice and pick a top WR early.
12
Sweet River
Should benefit from Skelly drafting before him in the late rounds.

The Gut Check definitely likes what he sees. Just from eye balling this list he can already tell you that the owners with picks 4, 5, 6, and 8 are fairly conservative with good knowledge of ADP. This means the Gut Check will likely take more of his risks when he's at the tail end of rounds and after these owners have made a choice. This is especially true when he considers that Venus will be following him with two consecutive picks. The Gut Check already knows that he and Venus will be targeting many of the same players. This means it would benefit the Gut Check to pick his targeted players on the higher end of the ADP range before Venus. Either way, there's sure to be some instances were Venus is going to take at least a couple of players The Gut Check wants, but the strategy is to minimize the tendency.

Each day, The Gut Check has been revising his projections as training camp begins. This doesn't mean his rankings are fluctuating wildly as every camp report highlights the great play a third string RB made in a 7-on-7 drill. This part of the process is to keep up with injuries and possible replacements. For instance, here's how the Gut Check adjusted the projections of the Dolphins' skill positions in the wake of David Boston's season-ending knee injury.

Projections Before Injury
Player
Rec
Yds
Avg
TDs
Boston
54
783
14.5
6
Chambers
64
951
14.86
8
Thompson
26
359
13.81
0
Minnis
0
0
0
0
Minor
45
425
9.44
3
Morris
35
280
8
1
McMichael
45
540
12
4
Total
269
3338
12.41
22
QB
Comp
Yds
TDs
Fiedler
35
420
4
Feeley
235
3300
17
The first table is The Gut Check's projected stats before Boston went down. Notice Feeley is projected as the starter. This will be changed to Fiedler at the end of this adjustment. Once again, The Gut check likes to point out that he attempts to make his skill position projections in the passing game roughly equal to the projections of the quarterbacks. The yardage is a bit off, but the completions to receptions and touchdown totals are very close.
Percentage Breakdown Before Injury
Player
Rec
Yds
TDs
Boston
20.1%
23.5%
27.3%
Chambers
23.8%
28.5%
36.4%
Thompson
9.7%
10.8%
0.0%
Minnis
0.0%
0.0%
0.0%
Minor
16.7%
12.7%
13.6%
Morris
13.0%
8.4%
4.5%
McMichael
16.7%
16.2%
18.2%
Total
100%
100%
100%
QB
Comp
Yds
TDs
Fiedler
35
420
4
Feeley
235
3300
17

The next step is to divvy out Boston's performance among the rest of the team. Rather than just project stats, The Gut Check likes to keep the skill position stats to quarterback stats rule. Therefore, he figures out the percentages each skill position represents to the total quarterback stats. This is a very solid way to begin one's projections. The Gut Check recommends compiling a spreadsheet with tabs for each team and creating initial projections in this manner. Creating these tabs with the previous years stats will also help you see how the percentage breakout worked in this offense. This will increase your perspective on cause and effect when compiling new performance stats.


Percentage Breakdown After Injury
Player
Rec
Yds
TDs
Boston
0.0%
0.0%
0.0%
Chambers
30.0%
33.0%
40.0%
Thompson
13.0%
15.0%
13.0%
Minnis
5.0%
7.0%
2.0%
Minor
16.0%
16.0%
15.0%
Morris
13.0%
8.0%
5.0%
McMichael
23.0%
21.0%
25.0%
Total
100.0%
100.0%
100.0%
QB
Comp
Yds
TDs
Feeley
35
280
2
Fiedler
235
3000
17

The Gut Check then projects the percentage of receptions, yards, and tds each skill position will represent in Boston's absence. For the sake of argument, The Gut Check is adding Marvin Minnis to the breakdown. Of course this third receiver could be Antonio Freeman, Terrence Wilkins, J.R. Tolver, Kendall Newson, or Sam Simmons, but for the sake of example "Snoop," is the man. In addition, The Gut Check realized he still had Feeley as the projected starter, so he made the change to Fiedler.


Projections After Injury
Player
Rec
Yds
Avg
TDs
Boston
0
0
0
0
Chambers
81
1082
13.36
8
Thompson
35
492
14.02
2
Minnis
14
230
17.01
0
Minor
43
525
12.15
3
Morris
35
262
7.47
1
McMichael
62
689
11.09
5
Total
270
3280
12
19
QB
Comp
Yds
TDs
Feeley
35
280
2
Fiedler
235
3000
17

Finally, the projected skill position percentages for each category are multiplied to the total completions (receptions), passing yards (receiving yards), and tds to come up with the receiving projections. There are definitely some things worth adjusting here. The Gut Check has a hard time believing any Dolphins' receiver will average over 17 yards per catch, so Minnis' numbers need adjustment. Of course, Rob Konrad will get some receptions as well, so he would also be added to this list. A similar process can also be done to fine tune the projections for the running game.

The next step is to acquire Average Draft Position figures for at least 50 mock drafts performed within the last week. He matches up the ADP figures with his projected player rankings and looks for major differences in value within a positional tier. Let's use a tier of wide receivers as an example:


WR Tier
#
Player
Team
Bye Week
FF Pts
4
Jimmy Smith
JAC
9
190.5
5
Torry Holt
STL
8
185.0
6
Santana Moss
NYJ
3
184.4

In comparison to AntSports' ADP data in recent weeks, The Gut Check's ranking of Jimmy Smith and Torry Holt differ from the consensus. From the Gut Check's perspective, Jimmy Smith is seriously undervalued (ADP 5.02), Torry Holt is slightly overvalued (ADP 2.03), and Santa Moss has the same value (ADP 3.09). Either way you view the relative values of Smith and Holt, this is the type of information is highly beneficial for devising a blueprint.

Using this example, if all three receivers are available at pick 2.10 The Gut Check would select Torry Holt at this position because there's a greater chance that at least Smith or Moss—if not both—will be available over the course of his next three picks (3.03, 4.10, 5.03). Many owners make this decision without the use of tiers and ADP data, because they intuitively understand that most people view Holt as a player that won't return to them for their next pick. Yet it's easy to get information overload and forget to consider these possibilities when trying to keep track of a few hundred players. This system of free-flowing organization is definitely one benefit of employing a tier structure. Most importantly, tiers also allow an owner to use the most advantageous order to maximize his value.

Another way to maximize the value of tiers is to identify and eliminate players from each tier that you won't draft. This doesn't mean erasing that player from the list. Having a visual reference of all the possible players within a projected tier will help you figure out which players might drop to you. Additionally, it helps you gain a better understanding of the rounds you want to use to select specific positions. For instance, eliminating three RBs that are projected to go in the middle rounds might mean you have to increase your focus on acquiring this position ahead of your league-mates. It's not a good idea to eliminate a huge list of players, but if you have five to ten players that you just don't want to pick then single them out on your rankings.

Here's a list of players the Gut Check won't be drafting under any circumstance in 2004:
Tiki Barber—Barber was an excellent fantasy back prior to the 2003 season, but there are two many factors that will likely prevent the Giants halfback's return to form:

a. Tom Couglin's no tolerance policy with fumbling.
b. The offensive line is young, coming off injury, and lacking cohesiveness.
c. Ron Dayne is projected to split time with Barber, if not get more carries.
d. The Giants have two quarterbacks that defenses will want to test and will commit to stopping the run in order to get their chance:



Warner—Can he beat the blitz any more or will his eye level continue to drop towards the line when he's dropping back?


Manning—How long will it take him to adjust to the speed of the game, especially when reading a defense?


The best case scenario for Barber is that Manning wins the job outright and throws a lot of dump offs to Barber in the same way his older brother used Marshall Faulk in Petyon's rookie year. Many owners are counting on Ron Dayne to fail. Yet even if Ron Dayne proves them correct, Tom Coughlin has brought in Stacey Mack—a proven replacement that understands Coughlin's demands—which means Barber's feature back days are behind him.


T.J. Duckett—see The Gut Check Volume 5--Quincy Wilson. By the way, Wilson is starting to impress. We'll see if he gets a chance against first team defenses in the preseason—a great late round flier, and a surefire member of The Pre-Season's All-Gut Check Squad.


Joey Galloway—A great athlete that has retained his blazing speed. Jon Gruden has been talking Galloway up to the media types all summer long, but The Gut Check isn't buying it. Galloway runs two patterns: crossing patterns and streaks. What do they have in common? They only require Galloway to run in a straight line. The Gut Check isn't crazy about the fantasy prospects of an aging receiver that has underachieved for several years. There are several more options within Galloway's tier that can run more sophisticated patterns, beat his man deep, and catch the ball. It's true that Gannon has a history of maximizing effort from underachievers, but The Gut Check isn't taking any chances. If you want a Buc receiver at great value, take Charles Lee in the late rounds. In the last eight games of 2003, Lee had 33 receptions, 432 yards and 2 tds. Then you'll likely have a great bye week fill in for whatever receiver you chose as a starter instead of Joey Galloway.


Travis Taylor—What do Taylor, Jacquez Green, Reche Caldwell, Ike Hilliard, Taylor Jacobs, and Jabbar Gaffney have in common? Steve Spurrier. The only pass catcher that must have avoiding drinking The Old Ball Coach's Kryptonite-laced Cool-Aid is Darrell Jackson. The rest of these players are high profile picks that under-performed, and the ones still in the league have yet to show significant upside. Taylor could finally bust out, but The Gut Check isn't counting on it. Yours Truly would rather pick Kevin Johnson (two 1000 yard, 9 td seasons) or take a late round flier on a rookie with upside such as Devard Darling, a player that will likely be taking Taylor's job by the end of 2005.


Peerless Price—Many owners expect a healthy Michael Vick to help Price return to his 1252 yard, 9 td performance of 2002. The Gut Check isn't one of them. Price was a terrific second option in a downfield attack with a pure pocket passer in Bledsoe and a primary receiver that demands constant double teams in Moulds. Vick will continue to improve as a passer, but Atlanta needs a viable playmaker at receiver to complement Price. The Gut Check isn't sure the Falcons have the personnel this year and Price is valued too high to consider.


Michael Vick—This is not some egotistical attempt for the Gut Check to back up a high-risk trade (see The Gut Check Volume 6...). In fact, The Gut Check picked the most exciting player in football last year in this very league after trading Vick away in the aforementioned dynasty league mentioned in the link. The problem with Vick is that The Gut Check will likely have to pick him at the end of round two or beginning of round three. It may be true the Vick's worth could far exceed this spot, but The Gut Check sees this as a pivotal year for the Falcon's signal caller to demonstrate improvement in the passing game. This could mean even more fluctuation in weekly performance than Vick had at the end of last year. Unless Vick falls to a ridiculous point, The Gut Check will let someone else manage this potential lineup headache.
Once The Gut Check eliminates these players from consideration, he targets the players he hopes to pick. This is where the Gut Check has really hurt his teams recently—fixating on sleepers and reaching too far to acquire too many of them. Fortunately, the ADP data should keep him more conservative this year. The Gut Check will be revealing his target players in the weeks after this draft. C'mon, did you really think he was going to tip off all his mid-round sleepers and late round steals to the rest of his league before his draft?
Yours truly does have some general guidelines for the players he targets:
1. Back up RBs on teams with good offensive line play.
2. WRs on a team with a sieve for a defense (more passing opportunities).
3. Players on a depth chart of a young team (think of Domanick Davis last year) or a team in transition at that position as older players are on their last legs.
These aren't hard and fast rules. They do provide a good starting point to research players that are likely undervalued and overlooked in the later rounds. Once The Gut Check identifies these players on his list, he circles them and tallies how the amount by position. This count helps the Gut Check decide which rounds he can make a calculated reach for a player and still obtain quality depth.
For example, let's suppose The Gut Check thinks Quentin Griffin is going to be the starter in Denver and will perform like a top ten RB in 2004. At the time this article was written, Griffin's ADP was 7.05 with a high pick in 4.10 and a low pick in round 10. When a player's ADP range is this wide, waiting until the ADP is risky if you really believe your projections on that player are justified.
Theoretically, Yours Truly would likely take Griffin at the higher end of this ADP range if the RBs in Griffin's tier are already gone or will likely go in the succeeding picks. Another thing worth considering is the timing of this ADP range. If Griffin was recently touted as the likely starter and his competition has suffered set backs, it's a good sign the ADP is moving up and the higher range is more reliable. This is a good time to narrow the ADP range to see if the data corresponds to this idea. The Gut Check can't overstate that making too many reaches—even those of the well-calculated type—can be damaging to your fantasy health. But there are always two to three difference-makers in a draft with ADP values moving upward and picking that player where he's moving is often a smart gamble.
Another thing to factor into your blueprint—and when to gamble—is to analyze your tiers versus the ADP rankings. Just before draft day, find the tiers that match ADP figures the most and the least. This will help you see if your potential gamble in rounds 3, 4, or 5 doesn't bite you in rounds 6, 7, or 8. The Gut Check will be adding ADP figures onto the same page as his Compiler rankings and highlighting where the ADP figures greatly differ from his ranking. This is especially helpful for the first 100 picks worth of tiers (5-8 rounds depending on league size), where you'll be drafting the bulk of your starting lineup.
As The Gut Check approaches the end of his draft strategy, he creates a blueprint in the form of a mini-draft card. He factors in the ADP or mock drafts with any league members as research. This step helps him maintain a sound strategy as owners make unexpected picks or sudden runs occur at a position. Here's an example that he writes on an index card:
Mini-Draft Card
Round
Priority
1
RB
2
RB/WR
3
WR/RB/QB
4
WR/RB
5
RB/WR/QB/TE
Nothing fancy here. The priority is set according to positions where The Gut Check thinks where the best value might occur. If Daunte Culpepper fell to The Gut Check at the top of round three he'd consider picking a quarterback over another position depending on what players are still in the draft pool.
And that's The Gut Check's approach for this year. Next week, The Gut Check will cover the results of draft day and the festivities surrounding it. After that, Yours Truly will compile his preseason, All-Gut Check Team of offensive and defensive sleepers that can have a positive impact on your fantasy squad.