Knowing Your League: Pt 1
7/27/04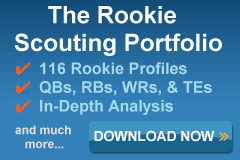 The "Gut Feeling" is often synonymous with a sense of desperation resulting from a lack of preparation. The Gut Check is a huge proponent of studying the numbers, but there's a point where one can place too much emphasis on the wrong information. This can result in the undervaluing or overlooking a player's potential. Therefore, The Weekly Gut Check is devoted to examining the frame of reference behind certain number-driven guidelines that fantasy football owners use to make decisions.

Although The Weekly Gut Check doesn't claim to be psychic, he does believe that he can dispel certain numbers biases and help you make the best choices for your team. We'll keep a running tally of The Weekly Gut Check's insights. This way you can gauge his views as something to seriously consider, or at least seriously consider running the opposite way as fast as you can!


---

What do you get when you combine the Gut Check with two Star Search semi-finalists, a stay at home dad, a character from The Big Lebowski, a Tyrone Wheatley impersonator, and the former college teammate of Terrell Owens?

a. Guests at one of Ricky Williams' 'Hookah' Parties?
b. Subscribers to The Paris Hilton Video Clip of The Month Club?
c. The Giants new offensive line?
d. A local fantasy football league?
e. Next year's artists for the Super Bowl halftime show?
f. All of the Above.



The fun of speculation aside, one of the basic mantras for success in fantasy football is "to know your league." It's as fundamental a concept as there is to our game. But it's also one of the most challenging demands for purveyors of fantasy information to satisfy. So until The Gut Check (with the help of some friends) can finish developing a way to accomplish this task, Yours Truly has decided to profile his league. He will be spending the next three weeks showing you how he scouts the opposition, evaluates talent, and then covers his draft. Maybe you'll get some ideas—and hopefully The Gut Check will get some pointers, too.

This was the Gut Check's first fantasy football league: a 12-team, 25-round, re-draft. This league has a lot in common with many local leagues written about on message boards:

1. It's existed for several years.

2. The technology went from the era of stone tablets to web-based technology in a brief time span.

3. Antacids are becoming as prevalent as beer.

But to say this is a typical league would be only partially correct. The league rules and structure are pretty normal, but the owners are another story. So before The Gut Check goes into further detail about the league specifics, this week's column is a brief history of the league and a profile of the owners that play in it.

The AABFL started eleven years ago in a rabid, SEC football town with a group of co-workers from a customer contact center. If you've ever worked in a customer contact center as a telemarketer or customer service specialist, then you understand the term weigh station for transient souls. In other words, normal is not common word to describe these people. As a traveler on this lost highway, The Gut Check can attest that one or more of the following likely happened to them:

a. Their father didn't love them
b. They got lost on the way to a job interview
c. They lived with snakes

Upbringing aside, the owners started their league just prior to the Internet's growth spurt. They tracked everything on Excel sheets and notebook paper. On Monday nights they'd grab a box score from USA Today, meet up at a local bar, tally the weekend's games, and determine the winners over MNF, beers, and wings.

With the development of web-based league management tools and owners learning that VBD, AVT, and ADP are not vaccinations for something they caught pursuing other fantasies, the Internet has really changed our league. But some things remain the same: we decide on a day in August, confirm the place, and hold a draft.

If you participate in a local league and have a pulse, then the phrase "like a kid on Christmas Day," is a still meaningful to you. This is a day that has members of our league driving from Atlanta, Charlotte, and if not postponing moves to other states—then in The Gut Check's case—an entirely different country.

In local re-draft leagues, it's easy to glean valuable knowledge about owner tendencies. These are the guys you may talk the most football with during the year. You are likely over each other's houses on Sunday's, and spending coffee or smoke breaks at work analyzing everything from Marshall Faulk's knee to Reggie Swinton's testicular torsion. In other words, these are the owners you should know best.

The Gut Check makes a mental scouting report of his competition. How long have they been playing? How competitive? Methods of preparation, draft style, and notable tendencies are all noted here. Here are a few examples of owners with tendencies you've seen with guys in your league:

Cuji: If you believe in karma, Cuji must have been through something extraordinary in his previous life. How else do you explain the fact that he's a stay-at-home dad with office supplies that include TIVO, NFL Ticket, and The NFL Network? It's a no-brainer that Cuji is one of better performing owners in our league with at least six championship appearances and three titles—including a Triple Crown season of a league title, scoring title, and, best record.

Cuji subscribes to the Stud RB Theory and takes a conservative approach—it's not unusual for him to have 3 backs in the first five rounds. Cuji tends to base his strategy on various lists in print, online, and his own ideas. Because he averages the rankings equally, he limits his tendency to reach for players. Once he compiles an initial list, he runs a few mock drafts and makes adjustments to his rankings. Cuji will generally wait as long as he can to draft a starting QB—the seventh round is the earliest point he's drafted a qb in recent years. Several of us have caught onto this and forced him into making a decision on a signal caller that he didn't want to face. Last year, he realized what we were doing and drafted a quarterback a bit earlier. Due to his conservative approach, he's a good owner to be positioned next to in a draft-especially with him picking after you.

Bentley: The former Star Search Semi-finalist and three-time champion actually found a competition where a little girl with a showbiz mom hasn't beaten him. In fact, Bentley is 3-for-3 in title games. Bentley's style is the polar opposite of Cuji's. The night before, Bentley packs a cooler full of beer, prints out a cheat sheet, an injury report, and invites as many owners as he can over to his house to glean as much information as he can from them. If he's not careful, this makes him a great target for floating key pieces of misinformation.

Other than the fact he's a huge, Falcon's homer. Bentley is an unpredictable drafter. He's a risk-taker that makes dangerous picks. This has led to boom-or-bust teams in recent years, which means his unpredictable nature is often helpful to the competition. He is prone to reaching for players and reacting adversely to positional runs because he abandons his list order without the benefit of making projections. For instance he'll grab a QB during a positional run that he could have gotten three to four rounds later. This makes Bentley an owner you want picking before you.

What often makes Bentley a competitive owner isn't his draft. It's his persistent combing of the waiver wire, and talent for making a deal. He can size up an owner the way inmates at Shawshank can spot Fresh Fish. The players he consistently trades are on hot streaks—until they wind up on your team. And it doesn't matter if while on your roster the players you traded away would have made great "coolers" at the Taj Mahal. Inevitably, they incinerate the stat page once they join his squad. The problem is most of the veteran owners have gotten wise and Bentley has struggled to make the playoffs in recent years. With the league expanding from ten to twelve owners last year, Bentley has a chance to return to form.

The Dude: The Dude looks like his namesake from The Big Lebowski, only a decade before the spliffs and White Russians had their cumulative effect. On the surface he appears to be your typical beer and a magazine cheat sheet drafter. However, The Dude always has a good understanding of where the best players should be drafted and is keenly aware of other owner's tendencies, which means he does some sort of mock drafting or ADP study of at least 5-7 rounds. He does a good job reacting to positional runs. This is an owner The Gut Check hopes not to be drawing next to on draft day. The Dude's drafts consistently appear to reap some of the best players year in and year out.

Unfortunately, he's the Tim Biakabatuka of our league. When his top tier starters are healthy, his lineups dominate. It's just this never happens for more than two consecutive games. What compounds the problem is The Dude's hesitancy to make trades. Rodin's statue has spent less time mulling over what's passed before its eyes than what it takes for The Dude to pull the trigger on a deal. You see the problem. A Lion's fan, he hasn't been a fantasy homer for several years—but this year might be different with Kevin Jones, Charles Rogers, and Roy Williams all in Detroit.

Venus: Our league has a conspiracy theory about Venus. We believe he's kidnapped Tyrone Wheatley the day after he was drafted out of Michigan, and has been impersonating him on the field ever since. We now explain the 2000 season as the one where Wheatley escaped from Venus' cellar and posted 1,000 yards. It's plausible, Venus was involved with a wedding—he was the groom. How else can one justify Wheatley's career? The guy was a monster as a Wolverine. Of course that might also explain Anthony Thomas for the last two years. Someone better warn Chris Perry!

Entering his third year, Venus is relatively new to our league. This is an owner on the rise. He did a much better job drafting in his second season and narrowly missed the playoffs. If Venus ever gets a hold of average draft position data he'll be a serious contender. Right now, he hasn't figured out the difference between drafting just ahead of the curve and making a reach. For instance, Venus drafted Steve McNair last year in the third round. True, McNair had an excellent year, but he could have gotten the Co-MVP at least two rounds later—if not more.

Skelly: Skelly is drummer that's helped make customer contact centers what they are today. If you've seen the movies Out of Sight or Daddy Day Care, then you've got a good mental picture of Skelly. New to our league fairly inexperienced—if you're quiet for long enough, you can hear Bentley chanting "Fresh Fish, Fresh Fish, Fresh Fish." Hopefully, he'll not only have a long enough list, but he'll bring his life preserver and shark repellent. We're all hoping to draft near Skelly this year.

DB: DB was just that for Tennessee-Chattanooga, where he roomed and played with T.O. Apparently, he was pretty good before a career-ending knee injury. The Gut Check has a feeling he'll get some good Owens stories on draft day. Now a coach, the guy obviously knows football, but it remains to be seen how well he can put statistical football into practice. Nonetheless until he gets a read on his tendencies, the Gut Check would rather be drafting outside the range of two or three spots of him.

Another highly underrated piece of information to consider when sizing up the local competition is the owner's relationship with his girlfriend/spouse, or lack thereof. We'll call it The Gut Check's Ball and Chain Effect. There are four stages of the Ball and Chain Effect:
Unshackled:

Some of these owners haven't been shackled to anything warmer than a beer bottle, while others do nothing but shack up. Two extremes tend to come from this category: fantasy studs and your quintessential beer and a cheat sheet drafter.



No lo contend ere:

Among the owners in a serious relationship, these are the wisest. This is a form of a plea bargain. The owner performs vast amounts of spousal services at later date in exchange his vast amounts of freedom to prepare and watch games. This is kind of like a suspended sentence and probation. For the Gut Check this typically involves lots of HGTV, multiple viewing of chick flicks, and shopping.



Furlough:

These are typically married owners that have worked out a deal with their spouses to leave the house-yes, alone-and draft. And if they are good, they can also watch most of the games each week. Furlough owners are competent drafters, and become more dangerous if they go on an early-season winning streak because they can sell the spouse on the prospect of winning money. This buys them even more time to manage their team. The key is to hope they start losing early. Then the only way they can sustain their effort is time off for good behavior-which for most of us has about the same chance of happening as Janet Jackson being invited back to the Super Bowl as a halftime performer.



Full Lock Down:

Full Lock Down can have a significant impact on draft preparation. The most common symptom is cramming the night before. This dramatically increases the risk of making egregious drafting errors including picking injured players, or not keeping up with bye week problems. Forget about watching games every week! If in Full Lock Down mode, your spouse or loved one either thinks football is a mindless game and:

a. An excuse to get drunk, fat, and avoid yard work. You know, she might have a point…

b. Your significant other feels insignificant and for good reasons you could remedy, but don't.

c. On the co-dependency scale, your woman is as clingy as Glad Wrap.

Full Lock Down can be devastating. A former owner in Full Lock Down mode once drafted Barry Sanders a month and a half after announcing his retirement. He was lucky to live through the rest of draft day. Now he's as infamous to our league as Ryan Leaf is to the NFL—and they're both out of the league, selling insurance.
Which stages of The Ball And Chain Effect apply to some of our owners?
Cuji—No lo contend ere. C'mon, the guy is a stay at home dad! If anything, you have to wonder if his wife actually came clean about something and he arranged the terms of this plea! If it weren't for the dad part, he'd practically be unshackled.


The Dude-Unshackled. What do you expect from a guy with this moniker?


Venus—Full Lock Down. We call his wife Warden Wilson.


Bentley—No lo, but not for long. His wife knows football and if they hadn't gotten married, would be watching it without him. After a failed attempt to get his wife in the league-a suggestion that created a silence more deafening than someone shouting, "Let's go rent Secrets of The Ya-Ya Sisterhood!"—it became apparent that Bentley's original plea terms were not met, and Mrs. Bentley has implemented harsher measures such as Bentley drafting Quincy Carter two years ago. If he drafts Eddie George this year, a player he would never draft in any league when George was a top ten back, then Mrs. Bentley might as well have slapped a LoJack on his ankle and induct him into the Furlough program. In fact, castration might be a more humane option.


Skelly—Unshackled, hear Bentley (and Mrs. Bentley) chanting: "Fresh Fish…Fresh Fish…Fresh Fish!!!"


The Gut Check—No lo (see textbook example).
But possibly the saddest example of The Ball And Chain Effect has to be the case of Sweet River. River, a grocer by day and a working musician at night (the other member of the Star Search Semi-Finalists), was once the ultimate host of our annual draft.
The name "Sweet River," originated from McNutt's Creek, a natural county line marker that runs behind Frank Field. "The Frank," thinly disguised as River's home, is the ultimate wiffle ball stadium complex and fantasy draft convention center complete with field crew that lines off the field and keeps the mound in immaculate condition, stadium lighting, and even corporate sponsorships from Coca-Cola and Miller Lite (nothing like the connections—and this grocer has plenty) adorning straightaway center. There was even a keg dug into the front of the pitchers mound but River claimed he didn't remember this ever happening when The Gut Check asked for the origins of this great idea. Based on the tone of River's response, it sounds like he was treading on marital suicide, so Yours Truly dropped the subject.
The Frank was named in honor of three people-two of them real, one fictitious:
Sinatra

Zappa

The pseudonym that River used to get tables in busy restaurants, because "Frank" is an easy name to hear over the PA.
Sadly, we learned the hard way that The Frank was truly the embodiment of Sweet River. There was nothing like a draft day at The Frank to kick off the football season. The beer was cold, the barbeque was hot, and there was enough testosterone in the war room to farm out to BALCO. We drafted for twelve rounds, took a pizza break, and resumed for twelve more as the Boston Butt roasted over the coals in preparation for game time. We rounded out the day with at least one nine-inning affair. It was a perfect way to review the day's transactions and plan a few more.
But Mrs. River had a different vision for The Frank—which is clearly in her right—and over the last couple of years, the war room took on a different atmosphere. One that was less guy-friendly—the furniture practically seemed to be eye-balling you in the way Mrs. River took to eye-balling her husband on the way out the door on draft day. Not that The Gut Check would want eleven other haggard-looking guys dressed in oversized jerseys armed with laptops, magazines, and coolers yucking it up in my refurbished dining room while an infant is around, either.
So as Sweet River and the Frank experience Full Lock Down, we all must come to terms with the fact that Death is a natural. In his own way, The Gut Check would like to offer this up as an epitaph for one of the truly great settings for man to be at his best: The Five Rules of Frank Field as they were in their heyday.
The Five Rules of Frank Field
1. The Frank is a Democrat—The Frank supplies Miller Lite, Coke, Boston Butt, a war room for our fantasy draft, and a double-header after the proceedings. Who are we to argue? Regardless of how you felt they governed the country, Clinton and Kennedy knew how to have a good time. It can't hurt anyone to be a Democrat for a day.
2. No racial slurs—Although we're in the South, it's not like Mississippi Burning is the setting or lifestyle for our hometown. But River does invite a lot of people to play at The Frank—some he doesn't know very well-and we guess River just wants to give notice to potential idiots that might have just crawled out of a cave thinking that the segregated South is still tolerated in more places than just a history book, that they better be prepared for a rude awakening at The Frank if they decide to show their stupidity.

3. No bottles—River says, "They really suck when you run them over with the mower."
4. Beer in Hand Inning—this is exactly what it sounds like. Nine inning contests have the Beer in Hand Inning during the seventh. Seven inning affairs have it during the fifth. Of course, Coke products are a viable substitute which leads us to quoting River one last time:

5. "No Pepsi. The use of Coca-Cola products is strongly encouraged. [The Dude] violated that rule and saw his Pepsi thrown into the next county. Literally."
Amen.
Next week, The Gut Check returns to a more serious approach and examines his draft preparation strategy for this league.