RB Quincy Wilson, ATL
6/29/04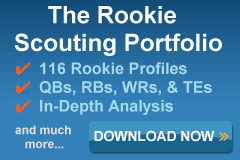 The "Gut Feeling" is often synonymous with a sense of desperation resulting from a lack of preparation. The Gut Check is a huge proponent of studying the numbers, but there's a point where one can place too much emphasis on the wrong information. This can result in the undervaluing or overlooking a player's potential. Therefore, The Weekly Gut Check is devoted to examining the frame of reference behind certain number-driven guidelines that fantasy football owners use to make decisions.

Although The Weekly Gut Check doesn't claim to be psychic, he does believe that he can dispel certain numbers biases and help you make the best choices for your team. We'll keep a running tally of The Weekly Gut Check's insights. This way you can gauge his views as something to seriously consider, or at least seriously consider running the opposite way as fast as you can!


---
T.J. Duckett is poised for a breakout season in 2004. The former, 1st round pick has shown flashes of his potential with some nice games in his first two NFL seasons. According to observers of the Falcons' mini-camp, Duckett has finally figured out the work ethic required to succeed as a starter. Couple this with the hire of offensive line coach Alex Gibbs, and the prospects appear bright for the Falcons' ground game. While The Gut Check is buying into the eventual improvement of the Atlanta rushing attack, he's not sold on T.J. Duckett as the long-term feature back.
T.J. Duckett has yet to be become a reliable starter and the Gut Check doesn't think he will. This has more to do with his running style and durability than any lack of talent. When he has played, the 3rd year running back hasn't displayed what it takes to be a consistent, 20-plus carry per game starter. Nor does the Gut Check believe Warrick Dunn is the long-term answer. If healthy, Dunn has the ability to be an effective, short-term feature back. But Dunn's injury history and age does not make him a likely choice to assume that role. Ultimately, the Gut Check believes the Falcon's will either acquire a feature back in 2005 or realize that they acquired a candidate in 2004 to fit that bill: Quincy Wilson.
In a sense, Quincy Wilson would represent the strange way in which history could wind up repeating itself for the Atlanta Falcons. Ten years ago, the Falcon's selected a running back in the 7th round out of Utah. In that player's second season, he rushed for 1,000-yards and displayed some impressive vision, power, and hands. Of course, heading into his third year, the Falcon's were so convinced in this RB's ability what did they do? They drafted a highly touted running back in the 2nd round! Moreover, they announced their 1,000-yard rusher from the previous year would become a fullback! It turned out Byron Hanspard-the 2nd round pick-had a lot of promise, but he couldn't stay healthy. And what became of the 7th round pick they were about to make into a lead blocker? Jamal Anderson became the offensive centerpiece of a super bowl team in 1998.
So ten years later, the Gut Check believes there's a better chance than most would currently estimate for Quincy Wilson to make the Falcons a believer in him. When 2004 is over, Wilson will emerge has a viable sleeper for 2005. It is true the Gut Check is hedging his bets with the prediction that if Wilson doesn't become the future of the Falcons' running game, then none of the current backs on the roster will be the main cogs for Atlanta in 2005. And on the surface, Wilson appears at best to be a long shot to earn anything more than a special teams role and a spot at the end of the running back depth chart. But the Gut Check hopes to explain how the circumstances in Atlanta could actually help Wilson get an opportunity.
The Gut Check feels T.J. Duckett, as talented as he is, is incapable of staying healthy when taking on the feature back role. If you've read any of the Gut Check's previous columns, you know he's made some pointed arguments concerning the physical prototypes the NFL has for skill positions. Well in the Gut Check's opinion, T.J. Duckett actually supports his long-running argument: Duckett is a product of personnel men being too enamored with size and straight-line speed. On the surface, Duckett entered the NFL as a back that appeared to have all the requisite tools to be the man in Atlanta. But upon closer examination, Duckett fits on a historical spectrum of backs that doesn't make his prospects too favorable.
On one end of the spectrum there are the big, bruising, productive runners with consecutive seasons of high productivity. On the other end are large, nimble-footed, men that seem to take more punishment than they dish out. Here's a sample of that spectrum from the last 20 years, and their best season totals to date. At this point, Duckett belongs in the middle:
"Big Men"
Player
Height
Weight
Att
Yds
Avg
TDs
GP
Keith Byars
6'1"
255
177
577
3.3
1
16
Ron Dayne
5'10"
253
228
770
3.4
5
16
T.J. Duckett
6'1"
253
197
779
4
11
16
Bam Morris
6'0"
240
198
836
4.2
7
15
Curtis Enis
6'0"
240
287
916
3.2
3
15
Mike Alstott
6'1"
248
242
949
3.9
9
16
Christian Okoye
6'1"
260
370
1480
4
12
15
Jerome Bettis
5'11"
243
375
1665
4.4
7
15
Jamal Anderson
5'10"
240
410
1846
4.5
14
16
All the backs on this list are at least 5'10" and 240 lbs and were noted as big men with uncommon agility for their size. Taking a closer look, there are two distinct running styles among this group. Byars, Dayne, and Enis were not punishing runners (Quite a coincidence-if you believe in coincidences-that all three came from the Big Ten). One can argue their styles were more finesse than power. This is exactly why backs like Enis and Dayne have been disappointments in the NFL. Watching film of these college stars bullying smaller, amateurs gave some the wrong impression. In Dayne and Enis' case, both players were known more for their vision and niftiness through the hole that belied their size. But is often the case with a runner-whether he weighs 250 or 195-if he doesn't run with a low center of gravity and finishes runs aggressively, he won't succeed in the NFL.
Neither Dayne nor Enis have displayed these two very important traits in the NFL. In fact, a trusted, friend of The Gut Check's once overheard a future defensive star characterize Dayne's running style as anything but physical. This came from experience-the player had come back from a bowl game where the local team just faced the Heisman winner in a bowl game. While this may not be a trustworthy, journalistic source, all one has to do is look at Dayne's career and the Giants staff's consternation with having a player of his size but not the physicality to go along with it as validation for the characterization.
On the other hand, Morris, Alstott, Okoye, Bettis, and Anderson knew how to punish defenders when finishing a run and wore down their opponents. The difference in production for these backs of similar size but different styles is dramatic.
"Same But Different"
Player Type
Att
Yds
Avg
TDs
GP
Power
319
1355
4.2
10
15
Finesse
231
754
3.3
3
16
While the power backs in this category typically became more injury-plagued as their careers wore on, they enjoyed higher production for a greater number of seasons. Bettis, Anderson, and Okoye all had multiple 1,000-yard seasons with respectable yard per carry averages. But Enis, Byars, and Ron Dayne (thus far) never hit the 1,000-yard mark. All three suffered nagging injuries due to their upright, running styles. This derailed their chances to be successful feature backs early in their careers. Enis' first year was his best, but after missing much of the next two seasons with injuries, he never enjoyed a season even as modestly successful as his rookie year. Byars' coaches in Philly prudently switched the oft-injured runner to fullback after the Eagles realized they would get more from former Ohio State All-American RB as a receiver out of the backfield. Byars' tiptoe, upright running style was the cause of him sustaining more punishment than he could handle as a 20-plus, carry per game feature back. But as a receiving fullback and sometime tight end, Byars had a terrific career.
Based on the statistics, Duckett's best season places him just behind Bam Morris and Mike Alstott-players in the middle of the spectrum. Morris and Alstott were punishing runners, but as Duckett and shown in his first two seasons, they experienced chronic injuries as a season wore on and it limited their productivity. At Michigan States, Duckett missed time or endured periods of lower productivity due to ankle, knee, thigh, hip, and shoulder injuries. These problems continued through Duckett's first two seasons in the NFL when the RB got off to slow starts or just wore down as the season progressed. Case and point, Duckett only started 3 games his rookie year. Although he significantly raised that amount in 2003 with 10 starts, the Spartan alum still missed a lot of playing time until week 4, because of a late-preseason, shoulder injury.
While the Gut Check doesn't think Duckett is as soft a runner as Dayne or Enis, he does believe the Falcons' runner takes more punishment than he gives. Although his style may be more reminiscent of Jerome Bettis, it is a moot point if he can't stay on the field. So far, Duckett's career is more akin to those of Bam Morris and Mike Alstott. Both were players that regularly disappointed fantasy owners with their inconsistency. Duckett has averaged 12 carries per game in his first two seasons, and has only carried the ball 20 times in three games during his brief career.
Although it is true the 2003 Falcons lost 11 games by an average of nearly 17 points per game and Vick's injury derailed the offense, Duckett's yards per carry in 2003 reveals he hasn't proven to be feature back material. Despite the lack of a passing game, Duckett struggled to produce against any other scheme than 4-man defensive fronts. Other than the 5 yard per carry average against these traditional fronts, Duckett's averaged dipped to 3.2 yards per carry versus 5-man fronts. Facing that one extra down lineman amounted for almost half of Duckett's carries in 2003. Additionally, Duckett performed better in lone back formations (49 attempts, 262 yards, 5.3 ypc) where a running back can be closer to the line of scrimmage during the pre-snap set than he did in the I-formation (80 attempts, 287 yards, 3.6 ypc.), or split-back sets (42 attempts, 121 yards, 2.9 ypc.).
Although Duckett averaged 4 yards per carry for the season, his most productive carries came in the first half of games:
'03 Duckett Breakdown
Att
Yds
Avg
Lng
TDs
1st Qtr.
68
323
4.8
41
2
2nd Qtr.
54
224
4.1
55
6
3rd Qtr.
36
128
3.6
17
2
4th Qtr.
38
104
2.7
12
1
Overtime
1
0
0
0
0

Furthermore, Duckett has not shown the type of production that stud RBs demonstrate as they get more carries. Duckett averaged 4.3 yards per carry when he had less than 15 attempts in a game. But once in the territory of 15-20 carries, where feature backs begin to establish themselves, Duckett managed a meager 2.6 yards per carry. And the three times in his career Duckett reached the 20-carry plateau? A whopping 3.59 yards per carry!

These stats raise some pertinent questions:

Did Duckett wear down as the game progressed?
Going from a healthy 4-plus ypc to 2.9 ypc during attempts 11-19 supports the quarter stat splits that indicate Duckett does not tend to impose his will on defenders as the game wears on.

Were the Falcons too far behind for Duckett to be productive?
The stats don't support this idea. 109 of Duckett's carries (55% of his total for the year) occurred in games where the final margin of points between the Falcons' and their opponent was between 0-7 points. These carries amounted to a 3.6 average.

Is Duckett better suited as a short yardage, situational back?
The Gut Check thinks so. Eight of Duckett's eleven TDs in 2003 occurred inside the opponents' 10-yard line. Combining these numbers with the type of formations where he's been most productive, and his apparent difficulty staying productive with more than 10 carries, it appears that Duckett would help a team most as an option that is kept fresh until the right time.

Obviously there is some hope for Duckett. The third year veteran has reported to camp in the best shape of his career, which could be a sign that the proverbial light has come one for him after 2 years in Dan Reeves' offense. Speaking of which, a "Dan Reeves offense," could be considered an oxymoron in many fan circles. It's very understandable that the Falcons are giving Duckett a fresh start in a scheme that is more dynamic.

Of course, the Gut Check has more stock in the underside of this hopeful optimism: the current changes are Duckett's last chance in Atlanta. The Falcons brought in Alex Gibbs to improve the running game from the ground up. When a coach with Gibbs' credentials arrives on the scene, everyone is initially given the benefit of the doubt, but a new coaching staff isn't going to have a lot of patience with a first round draft pick that underachieves for a third consecutive year. Especially Gibbs, affectionately known as "Little Napoleon." If Gibbs earned his reputation for not hesitating to chew out a Hall of Famer like John Elway for being lazy on his ball fakes, imagine what he'll do with a 1st round pick that has yet to assume the full-time starter position at RB entering his third year?

Another thing to consider about the environment in Atlanta is the turnover within the Falcon's scouting staff shortly after the draft. In The Gut Check's opinion, this move is possibly an indictment of the personnel decisions made in previous drafts. The Gut Check speculates the timing of this change was more likely a smart, public relations move. Imagine the reaction in the media if the Falcon's fire a major part of their scouting staff just before the draft. Talk about looking like a rudderless ship! Although this wasn't the case, it was clear the organization already had made the change prior to the draft and then officially made the move to keep second-guessing to a minimum. Definitely the type of thing a media-savvy owner as Arthur Blank would have learned in his days as one of founding fathers of The Home Depot.

This change tells The Gut Check that there's some doubt about the quality of players the Falcons have acquired over the years, and they can't be please that the jury is still out on their first round RB from the class of 2002. Running back is the most instinctive position in football and while young backs in the NFL may have to learn blocking assignments and become receivers out of the backfield, very few change how they carry the ball. With that said it is unlikely Duckett will be changing his tiptoe, upright, running style.

This leads us to Quincy Wilson, the 7th round pick out of West Virginia. The late round draft status shouldn't fool you-Wilson has the talent to be a successful starter in the NFL. Mel Kiper, Jr. had Wilson rated as at least a high, second day pick prior to the draft. Other draft publications scouted him as high as a 3rd or 4th round pick. But there are two major concerns with Wilson: height and speed. At 5-9, 220, Wilson isn't the prototype, but Wilson's dimensions are very similar to Priest Holmes and Emmitt Smith-two of the greatest fantasy RBs, ever.

Wilson shares a couple more talents in common with these two runners, excellent skills running the ball inside, and an impressive initial burst. Sure, sure, his lack of breakaway speed was certainly a reason why he dropped-but the AJC Online has already reported from mini-camp that Wilson has shown an excellent burst in 9 on 7 running drills both inside and around the corner. It's the Gut Check's argument that the initial burst, vision, and cutback ability of a running back in Alex Gibbs' blocking scheme is more important that pure, breakaway speed.

Gibbs' scheme is designed for more athletic lineman to get to a spot, keep their hands on a defender and present cutback lanes for runners to locate, make one horizontal move, and end up in the defensive backfield. Although Duckett may be bigger, he's not a cut back runner. He's a huge target with straight-line speed but less than impressive lateral movement. Wilson's strength is his slashing style and desire to punish defenders at the end of runs.

Look at the running backs that had successful seasons with Gibbs: Terrell Davis, Olandis Gary, and Mike Anderson were never backs with great breakaway speed. These were one -cut, runners with good vision, balance, and power through the hole. Portis was the lone exception of this group. This is why Quincy Wilson's running style is actually a better fit in the Gibb's scheme. Another thing to remember is that the Denver running backs epitomize Gibbs and Shanahan's comfort with late-round picks carrying the load if they prove themselves in camp. Gibbs' linemen in Denver also belie the usual first round players found on offensive lines around the NFL: these were mid-round guys that were anything but the physical prototype. Gibbs repeatedly shows comfort in these players to the point of being willing to choose them over more highly touted players. He's even been known to convert defensive linemen-such as the Broncos Kevin Swayne.

So the environment is ripe for a guy like Wilson to get a shot. And the Gut Check watched enough of the Mountaineer alum to know he's a player not be underestimated: this is a running back that wants the ball in clutch situations. Again let's look at a player's performance against Miami as a barometer. Wilson's 20 attempts for 99 yards with a 5.0 average and 1 TD the ground plus his 3 receptions for 43 yards and a TD were impressive. What they don't tell you without watching the game is that Wilson is a punishing runner with excellent balance, power, and determination. His touchdown reception in the fourth quarter was one of the best efforts of the college football season. Nevertheless, this wasn't the first time Wilson had a nice showing against Miami. In 2002, Wilson had 14 carries for 68 yards (a healthy 4.8 avg.).

This tells the Gut Check that Wilson plays big in big games, although his team was not physically within the same realm as its competition. This speaks volumes about Wilson's individual ability. His 33-carry, 178 yard outing against Virginia Tech was certainly more evidence of this point. This is a runner that will punish defenders in the fourth quarter. His 5-9, 224 stature and style is reminiscent of Travis Henry-another player that understands how to run behind his pads. Wilson is also an underrated receiver. He may not pose match up problems in the way Marshall (or even Kevin for that matter) Faulk does out of the backfield, but he's demonstrated the ability to be effective on swing passes, screens, and dump offs in the flat.

So what does the Gut Check recommend for the 2004 season? Value Duckett similar to that of Mike Alstott: some weeks with heavy goal line carries and the occasional 100 yard game, but don't count on him as anything more than a weak #3-solid #4 RB in 10-12 player fantasy leagues. Otherwise, disappointment is (as the last two years have illustrated) is likely for fantasy owners of Duckett.

As for Quincy Wilson, we should begin hearing more him once the pads go on, and he starts dishing out punishment on Falcon linebackers. Until this happens, Wilson will be a forgotten rookie heading into the preseason. This makes the rookie a terrific, waiver wire option in redraft leagues with an early summer redraft. He's the best bargain as a cheap, late-round option in keeper league drafts. With an opportunity, he's got the best surroundings to surprise-and both Duckett and Dunn have been prone to giving others a chance. It may be a long shot, but with what you just learned it's not a shot in the dark…