The Year In Review
12/30/04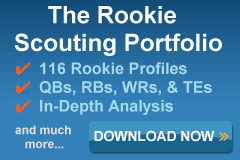 The "Gut Feeling" is often synonymous with a sense of desperation resulting from a lack of preparation. The Gut Check is a huge proponent of studying the numbers, but there's a point where one can place too much emphasis on the wrong information. This can result in the undervaluing or overlooking a player's potential. Therefore, The Weekly Gut Check is devoted to examining the frame of reference behind certain number-driven guidelines that fantasy football owners use to make decisions.

Although The Weekly Gut Check doesn't claim to be psychic, he does believe that he can dispel certain numbers biases and help you make the best choices for your team. We'll keep a running tally of The Weekly Gut Check's insights. This way you can gauge his views as something to seriously consider, or at least seriously consider running the opposite way as fast as you can!


---
We all know 2004 was a strange fantasy season. The Gut Check's was no different. Yours Truly made a lot of good calls on players this year, but was unable to take advantage of them in his leagues. Fortunately, many of his readers were able to capitalize on The Gut Check's assessments.
From Chris Fronczek:
… just wanted to let you know that I was fortunate enough to win my Fantasy League despite the fact that Westbrook was inactive for Monday night. I am one of those people who regards their Fantasy roster components like stocks--some I hold onto in hopes that their value will grow, and some I get rid of like hot potatoes…The Fantasy Gods truly shined upon me this past year--but I couldn't have done it without all of the pre-draft advice from "Gut Check". Thanks again, and best wishes for a Happy New Year. I look forward to reading your columns and benefiting from your solid advice.
Mike Rico, Aptos, California:
I subscribe to 2 pay sites plus check various other ff resources including ESPN, but your articles are the ones that are the most insightful and the ones I look the most forward to reading. Keep up the great work!
From Rob (last name unknown):
Thanks for always responding to my questions.... I usually don't respect anyone's opinions since I think I'm the guru of the fantasy world (lol) but I love your stuff on FFtoday so I value yours and respect it because you bleed FFL like I do....
From Dave Waddell:
Just wanted to thank you for your 'Weekly Gut Check - vol. 15' where you identified Mewelde Moore as this year's Domanick Davis. Guys in my league laughed at me when I picked him up through our waiver wire and look at what he's done. Hopefully he'll get the starting job even when the others return but regardless, nice call!
And my favorite one of the year
This is the best insight I've seen in a long time. Keep drinking...
(The Gut Check only has your email address, but you know who you are—Yours Truly likes Killian's, Dixie Blackened Voodoo, or Terrapin Ale if you want to be my supplier and if you really want to help The Gut Check, get some Heineken, Red Stripe, or a nice bottle of Merlot for my lady so she won't ask me to spend 45 minutes listening to her read her lists of stuff we need for the house during the next 30 years…plus it will keep her warm when she starts complaining about yours truly):
So without further ado, here's the highs and lows for The Gut Check in 2004:
Touchdowns:
Brian Westbrook as a top 15 RB.

Corey Dillon as a top 10 RB

Jimmy Smith as a top 10 WR

Terrell Owens as a top 5 WR

Mewelde Moore as a sleeper RB

Reggie Wayne having a breakout year (top 15 WR)

Javon Walker having a breakout year

Andre Johnson having a breakout year

Drew Brees as a viable free agent pick up early in the year (Hindsight article)

Derrick Blaylock as an under the radar pick

Thomas Jones as a preseason All-Gut Check RB.

Stay patient with Brett Favre's slow start.

Drafting Mewelde Moore

Drafting Chris Brown

Adding Rueben Droughns as a free agent
Fumbles:
Larry Fitzgerald as a top 20 WR.

Byron Leftwich as a top 10 QB.

Quincy Wilson as a sleeper starter by the end of 2004.

Not staying patient with Drew Bledsoe

Don't acquire Brian Griese down the stretch.

Santana Moss would have a good season.

Travis Henry would have a good season.

Shaun King would be a good free agent pick up.

Lee Suggs would be the clear cut starter (Thanks Butch…)

Dropping Marcus Robinson early in the season

Dropping Jason Witten early in the season

Keeping Daniel Graham

Sticking with Steve McNair
The Gut Check had a tough year with his leagues:
9-5 in the Fantasy Auctioneer Invitational and missed the playoffs on a tiebreaker…too bad, too because he had Michael Bennett, Jake Plummer, Rueben Droughns, Larry Fitzgerald, Rod Smith, and Tony Gonzalez all set for the championship game.


9-7 in his MADFAD 12-team, keeper, contract league where he's third in power rating which determines a championship. He's never finished lower than third in the league's four-year existence.


265th and 14 points away from making the final cut in the FFTOC after moving up from 488th place to 196th in four weeks. The killer? Scratching Brandon Stokley from his Turkey Day lineup at the last minute.


4-9 finish in the Ironman 3 league with Mike MacGregor. It's Yours Truly's second season and he was playing without free agent dollars. Still Yours Truly is looking good with his last two draft classes and trades that helped him discard players like Eddie George, Tom Brady, and Johnnie Morton in return for more promising players:



Byron Leftwich

Brian Westbrook

Onterrio Smith

Larry Fitzgerald

Brandon Lloyd

Doug Gabriel

Darnell Dockett

Antwaan Odom

Karlos Dansby

Dontarrious Thomas

Sean Jones



4-9 finish in his local re-draft league—his worst finish ever—just check out Yours Truly's draft from his Knowing Your League series and you'll understand that injuries and missing out on waiver selections (we don't bid—we go by reverse order by performance…yuck) did Yours Truly in for the year.
Nonetheless, Yours Truly developed some analysis tools that will help him next year, like it helped others in 2004:
(Consistency Analysis Feedback):
Matt,

That is the exact analysis I've been wanting for at least a couple of years. When you set your lineup, there is no more secure feeling than knowing your guys are going to perform week in and week out. Catching that 5TD performance every now and then from your RB is great, but I'd be even happier if you told me he was guaranteed at least 100 yards and a score.

Thank you so much for putting the effort into that one. What's even more impressive is that you looked at you statistical analysis from a pure performance standpoint and kept everything in fantasy football terms. Who needs standard deviation when you can have sub par and elite performances?

The analysis is genius! If you put this out at the end of 2004, put me on your mailing list. This info is gold.

Steven
Nice article, Matt. Now you know why drafting TO in one league for the last three years has been paying off in the form of Super Bowl Titles for me. I've got him again this year and shooting for four in a row. The same analysis can work for kickers as well. I have been doing almost the same kind of pre-draft analysis for the past 3 years and out of the 7 leagues I've entered I've won 6 SB Titles. Most of the time my pre-draft player rankings end up looking, way different than the so-called "Experts Cheatsheets," but as they say "the proof is in the pudding."

The only thing I don't like about your article is the fact that you published it. The cat is out of the page now. You should have kept it "our little secret." Oh well looks like I need to look for another advantage.

Jeremy Preston
Just wanted you to know that I referred to your Offensive Line article in an article that I wrote for DraftZone. I ALWAYS like to make my readers aware of any other GREAT articles and that OL article was GREAT.

Jim Ross
Finally!!!

Information I can actually use.........Awesome!!! Excellent work my friend. This will be my 13th FF season and finally, someone has written material I may actually use to prepare my draft board. This is the info any true Fantasy Owner/Manager should want to know. Just don't tell anyone else, will ya.

Thanks! For website, articles, mock drafts, & stats.
You just won my vote.

Tracy
O line knowledge has to be the second most important thing to have (just behind depth charts) in order to create successful player rankings. Your formula looks to be very solid and the article is the most insightful that I have read.

Now take it off your site so my opponents can't read it!!!!

Thanks,

Wade Varley

And last but not least…
This is the best insight I've seen in a long time. Keep drinking...