The "Abby Normal" Offensive Line Ratings
7/20/04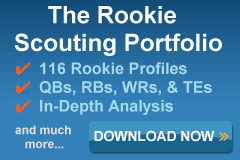 The "Gut Feeling" is often synonymous with a sense of desperation resulting from a lack of preparation. The Gut Check is a huge proponent of studying the numbers, but there's a point where one can place too much emphasis on the wrong information. This can result in the undervaluing or overlooking a player's potential. Therefore, The Weekly Gut Check is devoted to examining the frame of reference behind certain number-driven guidelines that fantasy football owners use to make decisions.

Although The Weekly Gut Check doesn't claim to be psychic, he does believe that he can dispel certain numbers biases and help you make the best choices for your team. We'll keep a running tally of The Weekly Gut Check's insights. This way you can gauge his views as something to seriously consider, or at least seriously consider running the opposite way as fast as you can!


---
It's time to look at the part of the football team the majority of fantasy leagues don't use in their starting lineups, but are indispensable to the players on their roster: the offensive line. How can one objectively rate an offensive line? It's not like rating other players. Most tracked offensive line stats are the result of the overall play of five or six players working in tandem, if not the production of the skill players these units protect. This means ranking offensive lines off of just a few statistical categories is an incomplete assessment.
While The Gut Check isn't sure he has a great answer for this dilemma, he's going to take a stab at it. The worst-case scenario for this approach is one of you reading this column with greater statistical expertise decides to take what Yours Truly has come up with, and refine it. Again, this is not the pinnacle of objective analysis, but it hopefully contains a little more logic than merely looking at yards gained in the running and passing games.
The Gut Check figures if the NFL came up with a formulaic rating for quarterbacks why not attempt to do the same thing with an offensive line? The rating is on a one hundred- point scale created from an average of eight offensive statistical categories and one subjective, bonus category. Here's a brief explanation as to why these categories are relevant:

3rd Down Percentage
When is the true test of an offensive line working at it's best? In situations where the defense knows what's coming and the pressure is on the offense to convert. 4th down percentage was not used, because the sheer amount of fourth downs each team attempted to convert was extremely low.
Time of Possession
This is one of the more commonly used statistics. Generally, the longer the offense is on the field, the more successful the offensive line. On the other hand, Kansas City was ranked 21st in time of possession. This has a lot to do with the fact they were an explosive offense and didn't need as much time to move the length of the field. In fact, they were 2nd in the NFL in big plays in the passing game. Again, this is why just a few statistics cannot objectively depict the quality of an offensive line. Otherwise, The Gut Check would be penalizing Kansas City's offensive line for giving Trent Green and company enough time to have more big plays than 30 other teams in 2003.
Percentage of First Downs from Total Plays
This statistic balances out the performance between methodical and explosive teams because it gauges the overall effectiveness of the plays executed rather than the sheer total of plays run. For example, Kansas City, while ranked 21st in Time of Possession was also had the highest percentage of plays that resulted in first downs in 2003.
Percentage of Stuffs/Total Carries
"Stuffs," are plays were defenders tackle a non-passing, ball carrier for a loss. "Stuffs," is a stat where the offensive line is highly accountable for the failure of the running game. In the running game, it's generally the linemen and the back. Although the Gut Check ultimately decided not to give equal weight every category, it's conceivable to argue that the offensive line has less accountability in the passing game than the running game. This is due to the fact that the QB and anywhere from 3-5 receivers also have significant accountability, and this creates more variables influencing the success or failure of the play.
Big Runs
These are runs of ten yards or greater. A good offensive line more times than not, creates the kind of rushing lanes to foster large gains on the ground. Yet again, the downside of this statistic is that it can tend to favor teams with a great running back-LaDainian Tomlinson had more big play runs than any back in the NFL last year. This stat, combined with several other running stats where Tomlinson has a great impact, makes the San Diego Charger offensive line look like a great unit when in fact, they struggle in other key stats such as time of possession, 3rd down percentage, and big plays in the passing game.
Sacks Per Passing Attempt
The offensive line is integral to the success of the passing game and keeping the quarterback upright is a primary responsibility. At the same time, there are other variables (quarterback not finding the open man, receivers not getting open, etc.) that influence this statistic and illustrates why the Gut Check decided to incorporate other categories with equal weight.
Big Passing Plays
Although there are more variables to the success of a big play in the passing game (quarter backs making good reads, receivers getting open, making tough catches, and gaining yardage after the catch) the offensive line should get credit for giving enough time for their teammates to execute plays to perfection.
Yards per Play
This appears to be a somewhat misleading statistic. San Diego is ranked 11th in this category, but much of this has to do with the influence on LT, plus their propensity to be behind in games and defenses softening up-allowing higher yardage gains per play-to prevent quick-strike scoring plays from long distances. Additionally, this statistic precludes successful plays in short yardage and goal line situations where excellent line play is paramount.
A lot of categories were eliminated from consideration. There was either too much reliance upon skill players with the statistic in question to accurately measure the effectiveness an offensive line (touchdowns, completion percentage, interceptions, etc.), or the statistic exaggerated strength or weakness of a unit based on total opportunities (3rd downs attempted, 4th downs made, etc.). Kansas City and its explosive offense is once again a good example: they had 40 fewer third down attempts last season than Dallas, but that's because the Chiefs had 63 more first downs than the Cowboys.
The Gut Check also looked into Jason Podgorny's SOS data, and attempted to incorporate the total average fantasy points scored against the opposing teams' defenses in 2003. But the difference in points between the best and worst ranked teams was so minimal that the Gut Check concluded this wasn't a significant category to separate line play. This really drove home the point that the NFL has achieved parity.
The bonus category is extremely subjective, considering fans have a huge influence on the selection process, but The Gut Check chose to incorporate a small bonus for every player that was selected to the pro bowl-voted in or injury replacement. Yours Truly isn't sure how to explain why he chose this as a category-maybe he's just a Populist at heart. Speaking of not sure to how to explain things, here is the formula that was concocted-somewhat in the same way Gene Wilder as Dr. Frankenstein created his monster with a brain Igor thought was named "Abby Normal."
The Gut Check sorted each statistical category and then assigned a points system range of 1-32: one point for the best of each category and up to thirty-two points for the worst. Therefore, the higher the point totals, the worse the unit performed statistically in 2003. He averaged the points allotted to the eight categories and then subtracted four points per pro bowl player from each eligible team. Finally he subtracted the total from 100 for the rating. Or mathematically speaking:
100-([Avg. of Categories]+[Pro Bowl Players*(-4)])
Hopefully this process doesn't give those of you with statistical expertise a conniption. If it does, feel free to email me and let me know what would have been a better way. As mentioned before, it's an imperfect analysis. Nonetheless The Gut Check believes it's still worthwhile as a starting point for further discussion on not only rating the lines, but the quality of skill players surrounding them.
So without further adieu, here's The Gut Check's "Abby Normal" Offensive Line Ratings for 2003:

Ranking from 1 (best) to 32 (worst)
"Abby Normal" Offensive Line Ratings for 2003
Rk
Team
R Big
Stf/C
P Big
FD/Ply
Sk/Att
Y/P
3rd%
TOP
PBowls
Rating
1
Green Bay
4
16
20.5
8
5
3
8
10
2
98.7
2
Kansas City
13
31
2
1
4
2
7
21
2
97.9
3
Minnesota
3
8
4
6
23
1
2
2
1
97.9
4
Seattle
5
6.5
9
3
27.5
6
1
24
2
97.8
5
Indianapolis
23
9
1
2
2
4
6
8
1
97.2
6
Denver
8
4.5
26
5
7
8
12
1
1
95.1
7
New Orleans
18
2
18.5
14
14
10
3
14
1
92.4
8
Tennessee
26
30
5.5
9
6
7
9
3
1
92.1
9
Cincinnati
15
17
16
10.5
16
16
4
9
1
91.1
10
St. Louis
23
32
3
7
18
14
5
5
1
90.7
11
Dallas
13
28
16
26
19
18
17
4
2
90.4
12
San Francisco
6
24
5.5
10.5
9
5
10
7
90.4
13
Jacksonville
8
3
16
12
8
15
15
16
88.4
14
Carolina
8
11
10
19.5
11
17
20
13
86.3
15
New York (A)
14
27
26
16
13
13
11
29
1
85.4
16
Tampa Bay
25
12
26
15
3
9
21
6
85.4
17
San Diego
1
4.5
22.5
13
10
11
29
28
85.1
18
Baltimore
2
13
14
31
31
19
27
15
1
85
19
Philadelphia
10
22
8
4
30
12
18
26
83.8
20
New England
28
22
7
19.5
12
20
14
11
83.4
21
Pittsburgh
31
27
20.5
25
22
24
19
12
1
81.6
22
Chicago
18
10
28
28
29
30
24
20
1
80.7
23
Miami
23
15
18.5
22
15
21
26
17
80.4
24
Washington
31
6.5
12
21
24
25
23
23
79.4
25
New York (N)
31
14
12
17
17
23
25
27
79.3
26
Arizona
20
20
12
29.5
26
29
13
18
79.2
27
Buffalo
20
20
31
23
32
31
28
19
1
78.6
28
Cleveland
23
23
32
18
21
26
16
22
77.4
29
Houston
11
25
22.5
27
25
22
30
31
75.8
30
Atlanta
16
18
26
24
20
27
32
32
75.6
31
Detroit
31
29
30
32
1
32
22
25
74.8
32
Oakland
27
1
29
29.5
27.5
28
31
30
74.6
Observations?

The top ten lines according to this rating looks accurate:

Green Bay is has a great deal of continuity with its offensive line and is generally recognized as one of the best in football today. Brett Favre and Ahman Green's performances in 2003 certainly lend credence here.


Kansas City, Seattle, and Minnesota are not fair behind. Both teams-as does Green Bay have balance on offense and this speaks volumes about the offensive line play in these cities. Not surprisingly, fantasy owners with qbs, rbs, and the leading wr from these teams did very well for themselves last year.


Indianapolis wasn't the best rushing unit in 2003, but they were solid. What stands out is the pass protection afforded Peyton Manning. At the same time, The Gut Check feels this rating may be a bit inflated because Manning is a master at pre-snap play calling, reading defenses, and getting rid of the ball early. At the same time, the Colts offensive line has to have the preparation and teamwork to execute these changes and remain disciplined because they remain in a three-point stance longer than any line in the league-thanks to Manning.


Although Jake Plummer spent some time at the infirmary when not getting adjusted to his new team in 2003, the Broncos line was as good as ever. Of course Clinton Portis was an enhancement. The Broncos lead the league in Time of Possession and where second in both percentage of sacks allowed and percentage of first downs made. With minimal changes to the offensive line, the Broncos starting running back will be a good fantasy choice. On the other hand, the loss of Ed McCaffrey-a very good run blocker-and Shannon Sharpe could have a significant impact on the offense, though more likely the passing game. Don't expect Portis-like breakaways from Griffin, Hearst, Anderson, or Bell, but if one of these backs can carry the load-good things will happen for fantasy owners in 2004.


Eight playoff teams had offensive lines ranked in the top half of this rating system. The remaining two teams, New England and Philadelphia, were in the top twenty.


The performers in the lowest twenty-five percent were some of the worst teams in football in 2003 (Cardinals, Browns, Lions, Giants, Texans, and Falcons) or were great disappointments after superb 2002 seasons (Oakland and Buffalo).
There were also some results that are either, surprising and true, or glaringly false due to the Gut Check's approach to the statistics compiled for this rating system:
San Diego was rated 17th overall. On first glance this seems very high for a team that is suppose to be a shambles at the offensive line. Notice how the rushing stats are among the best in the league, but the passing and 3rd down percentages are on the opposite end of the spectrum? The "LT Factor," influences this result heavily. Tomlinson carries this team and fantasy owners shouldn't be too worried about picking arguably the best runner in the NFL in 2004 at or near the top of their drafts. Then again, the media may overstate the Chargers' weaknesses on the offensive line as a way to romanticize the greatness of Tomlinson. Despite the poor play from Brees and what has been described as a lackluster receiving corps (Boston included last year), the Chargers sported the 10th lowest percentage of sacks per passing attempt and were 11th in yards per play. At the same time, it could be argued the Chargers spent more time than many teams playing from behind in two-minute mode against defenses in soft coverage.


Baltimore, usually known for a great offensive line captained by Jonathan Ogden, arguably the best offensive lineman in the league, was rated 18th overall. Statistically as good as Jamal Lewis was and that the Gut Check believes the Ravens have the personnel on the offensive line to be a top 10 unit, it won't happen until the passing game catches up with the running game and the defense. This is a perfect example of how the play of skill position players throws a wrench into the objective rating of line play.


The Super Bowl Champions are another example of a team with a mediocre line rating that may seem a bit surprising. Keep in mind, the Patriots lacked an every down talent in the running game and employed a short-strike passing game to move the ball. At the same time the Pats were in the top third in big passing plays and time of possession. The corollary to this was that New England was ranked in the lower third of teams in yards per play and big running plays. As The Gut Check mentioned on a FFToday.com forum thread a couple of weeks ago, it wouldn't be surprising to see the Patriots incorporate the play action game with more regularity now that Corey Dillon is in the fold. Even with the loss of Damien Woody, it will be interesting to see if the Patriots line moves up the charts in 2004.


A team that surprises the Gut Check is the San Francisco 49ers. Rated 12th overall, the Niners were ranked in the top ten of every category except for percentage of stuffs per attempts. This is a highly underrated unit-even with the losses of G Ron Stone and Derrick Deese. Justin Smiley, the 49ers rookie, is a player to watch. If the new skill players replacing T.O. and Garcia keep their mistakes to a minimum, this team that has been written off before mini-camp, could be a sleeper. Again, these stats show how much the offensive line and quarterback play (as well as other skill positions) are interdependent.
This and That


It's easy to see why Oakland selected Robert Gallery! They had a horrible year in all but one category-percentage of stuffs-where they had the lowest percentage in the league. Now that Charlie Garner is gone-a back with great burst-Justin Fargas better stay healthy, or it's going to be tough running...

Another no-brainer was the Falcons' hire of Alex Gibbs. With his penchant for aggressive offensive line play, this team could get better quick. As an unabashed Titans fan, The Gut Check is a little nervous about the Falcons scrimmaging with Tennessee in training camp because Alex Gibbs and the Dirty Birds will get their chance to practice their new blocking style on the knees of the Titan's already unproven, defensive line. Someone's going down in Nashville: either by a cut block or a left hook. My hope it's the left hook-maybe it will wake up the normally sensible Jeff Fisher that this might not be the team to face and remain healthy.

Speaking of the Titans, take a look at the stats and it makes sense why they did not select an offensive lineman although many pundits felt it was a necessity. Don't be surprised if Chris Brown has a better statistical season in 2004 than Eddie George did in 2003. The line is still good enough to get the job done if Tennessee starts a runner with enough burst to capitalize on the holes before they close.

Cincinnati, Jacksonville, and Dallas are all up and coming teams that had solid offensive line ratings. Expect Jacksonville and Dallas to move up as their skill talent improves, and Cincinnati to dip as Carson Palmer and Chris Perry (in whatever capacity he plays) get adjusted to the pro level.

Houston's rating was near the bottom, but they where ranked 11th in big runs. While 11th isn't a terrific ranking, it's clearly the strength of this unit. So it's interesting that the Texans changed their blocking scheme with the hopes of creating more big plays in the running game. This fits an industry award-winning theory of developing personnel in the business world: It's more effective to build on a person's strengths rather than attempt to eliminate their weaknesses. Of course, this means your weaknesses better not be liabilities or you won't be a part of the team. The Gut Check is guessing Houston hopes to build on its ability to run the ball and become a dominant rushing offense. Accordingly, the desire is to create more opportunities in the passing game.

There should be some improvement in the Bears' and Dolphins' offensive lines this year. Both lines were in the bottom half of the ratings. Both teams were injury-plagued up front and quarterback play was inconsistent due to injuries (Fiedler) or first year adjustments to the offensive scheme (Stewart). The Gut Check isn't a huge fan of Stewart's, but considering the ineffectiveness of Jauron and Shoop's offensive scheme, one has to cut some slack to Slash: Mike Mularky figured out a game plan to make Stewart fairly productive, but Chicago and Stewart (any quarterback for that matter) were a horrible fit. What does this mean? Expect better performances from both backs and receivers in their respective offenses. They may not be the best fantasy performers at each position (Williams excluded), but they won't be automatic "avoid at all costs."

Just from viewing Philly's totals look for a big leap in 2004 now that they have Terrell Owens and a healthy Westbrook getting a bigger share of the load. This unit had several categories in the top 10 but others in the bottom third. The lower categories-stuffs, sacks, and time of possession-all could improve when McNabb has a receiver than knows how to get open AND catch the ball. The stuffs should also go down due to Owens' presence, because teams won't be able to line up seven, eight, or nine men in the box on predictable running downs.

While there's a lot of excitement in Arizona with Denny Green, the offensive line better have underachieved and truly have the talent to be better. Why? Because the only decent ratings were big plays in the passing game and third down percentage-both indicative of a team playing from behind. The Gut Check is also skeptical of Leonard Davis moving to left tackle. This mountain of a man might have issues with speed rushers and that's not good news for Josh McCown. Although The Gut Check loves the potential in the desert, it might take another year for them to find an oasis.

The Redskins, as with the Bears, should look to their former coach and their unsuccessful scheme as the reason for their sorrowful performance. This is a pretty good line with Jansen and Samuels. Now that Joe Gibbs and Joe Bugel are restoring some convention to Washington's offense, look for a huge improvement in 2004-regardless of Portis' influence.

The Gut Check will run these stats again at mid-season and do a review for those of you pondering trades and waiver acquisitions for the stretch run.

The Gut Check would like to thank Tony San Nicolas for coming up with the original idea for this article, graciously allowing me to run with it, and providing feedback to the information presented here.