Bold Predictions
9/7/04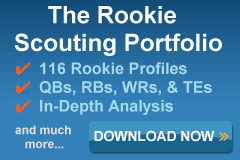 The "Gut Feeling" is often synonymous with a sense of desperation resulting from a lack of preparation. The Gut Check is a huge proponent of studying the numbers, but there's a point where one can place too much emphasis on the wrong information. This can result in the undervaluing or overlooking a player's potential. Therefore, The Weekly Gut Check is devoted to examining the frame of reference behind certain number-driven guidelines that fantasy football owners use to make decisions.

Although The Weekly Gut Check doesn't claim to be psychic, he does believe that he can dispel certain numbers biases and help you make the best choices for your team. We'll keep a running tally of The Weekly Gut Check's insights. This way you can gauge his views as something to seriously consider, or at least seriously consider running the opposite way as fast as you can!


---
One of the more popular threads on the FFToday message boards is Bold Predictions. If you haven't read them, the premise is to forecast an event that seems very unlikely and comes more from intuition than a set of statistical facts. These are made in fun and not seriously considered as something to stand behind. The Gut Check has four bold predictions for the 2004 season. He's just hoping Mike also sees this in the spirit of fun and considers this extra credit on Yours Truly's quarterly report card…
Mewelde Moore is this year's Domanick Davis
Moore is an example of The Gut Check's Theory of Scouting Paralysis by Analysis. The true definition of the theory is still percolating in The Gut Check's mind, and someday soon he plans to devote an entire column to it, but for now it goes something like this:
a. Scouts laud a college player's talent based on his year(s) prior to turning pro.

b. Player lacks some of the premium physical prototypes for the position or doesn't come from the best school or offensive system.

c. Player has a good, but not great last year in college.

d. Scouts lower said player's value even more after the combine.

e. Player drops to mid-rounds.
The perfect example of a player that fell victim to this theory is Brandon Lloyd. Two other players The Gut Check believes will prove his theory are quarterbacks Matt Schaub (3rd round) and Luke McCown (4th round).
Mewelde Moore is going to get his shot right now because "Medical Michael" might challenge "Fragile Fred" for the title of who the fans perceive as the most brittle back in the NFL, and Onterrio Smith-last year's 4th round surprise-proved the scouts right in terms of him being a guy with 1st round ability and free agent maturity. The Gut Check still thinks Smith is a fine prospect and could grow into a start. But Mewelde Moore, much like the Brown's Lee Suggs getting drafted the year after William Green showed some promise, could be a sign that the Vikings felt their 4th rounder was too good to pass up.
Moore's collegiate career is fairly telling of his talent:

Undergraduate Work
Season
&nbspAtts
Yds
Avg
TD
Rec
Yds
Avg
TD
2003
185
915
4.9
5
39
408
10.5
4
2002
288
1138
4
6
52
545
10.5
3
2001
262
1462
5.6
8
65
756
11.6
7
Totals
735
3515
4.8
19
156
1709
11
14
The stats are impressive, especially as a receiver out of the backfield. Regarded as one of the best receiving backs to come out of college football in many years, Moore has been inaccurately pegged as a third-down back. At 5-11, 210 pounds Moore has enough size to play every down and will likely add more weight to his frame as he learns to train like a football player. In Moore's first year he became the first NCAA-division one player to rush for more than 1200 yards and catch 60 passes in a season! This is enough to tell you that Moore-with all due respect to J.P. Losman and Patrick Ramsey-was literally the Tulane offense. Just ask Tulane coach Chris Scelfo, who in 2002 was quoted by Ken McMillian of the Times Herald-Record:
"Everything he [Moore] has gotten this year has been on his own; he hasn't gotten much help. Our offensive line is inconsistent. A lot of people are stacking the box on him and presenting a numbers problem for us."
Considering Tulane went 5-7 in 2003 and Moore still averaged nearly five yards per carry, it's hard to discount Moore's is toughness and versatility. Much like Drew Henson-another player that spent time as a professional baseball player-Moore is just scratching the surface of his potential. Moore's somewhat average size, average speed, and below average program did not meet the scouting prototypes and his stock dropped. Terrell Davis had this problem, too.

So far Moore has proven to be a favorite of the Viking's coaching staff. In fact, beat reporter Bob Sansevere wrote in the Pioneer Press on August 31st:

The Vikings like Moore's talent and work ethic, and Tice took delight in talking about how Moore used to miss lunch during mini-camp to watch films.

"We'll try to get him a lot of work,'' Tice said. "We'll see what his workload can be.''

That's a pretty good indication that Moore might get the kind of break Domanick Davis received last year. It's worth remembering that scouts labeled Davis as primarily a third down option with upside. Sound familiar? The Gut Check thinks so. Yours Truly scouted Moore last year and can attest that the Green Wave was not a good team, but Moore is a talent. Once The Gut Check hears coaches rave about a player's desire, preparation, and ability to learn quickly, he's a great breakout candidate. Here's a list of other players reported to have this combination during their rookie years:
Edgerrin James

Brian Westbrook

Brandon Lloyd

Chad Johnson

Terrell Davis

Peyton Manning
Moore serves as Williams' back up for at least two, and possibly as many as the first four games of the season. Although Moe Williams had an impressive season as a part-time starter, he turned thirty years old about a month ago and has never had more than 174 carries in a season. Enough said.
Doug Gabriel takes Jerry Rice's job before the end of the season
Gabriel is a Gut Check favorite since he picked him in a keeper league in 2003. What really has The Gut Check thinking that Gabriel will arrive sooner than later is his desire to improve. Yours Truly read this week that Gabriel sought out Fred Biletnikoff's advice when he had a case of the drops early in camp and the praise he had earned in mini-camps as player that could compete with Rice for a starting job had faded into the background. Since that time, Gabriel has been highly productive in the preseason. Even last year when Gabriel was a rookie just trying to make the roster, The Gut Check noticed how he wanted the ball in pressure situations. A lot of fantasy owners are talking up Tyrone Calico (if healthy)-The Gut Check is one of them-but Gabriel could wind up becoming just as valuable.
If Gabriel continues his progress into the regular season, The Gut Check thinks it's possible Norv Turner could relegate Jerry Rice to a situational role. The all-time great no longer has the deep speed to consistently stretch the field and if Gabriel demonstrates he can consistently hold onto the ball Norv Turn might decide Rice would make an excellent slot receiver in this offense. It may not seem likely, but it's an insane thought, either.
Brian Westbrook wins the NFC offensive player of the year award
Andy Talley, Westbrook's coach at Villanova, told the Philadelphia Inquirer in October of 2003 that he thought The Eagle's third year running back becomes a dominant player in the NFL:

"He's an explosion waiting to happen." Talley also said Westbrook was "an Adonis," a "rare bird" and, if you can believe it, "the next Marshall Faulk."

"I really believe that you are seeing the metamorphosis of a great one coming up," Talley said. "No one's seen him more than me. I had him for five years. He's full speed on the fourth step, fifth step. He can run away from pro guys. Just because we're I-AA guys, people laugh. The football on this level has improved, and he dominated it. And he would've dominated I-A."

With Buckhalter out for the year, there is no doubt that Westbrook gets his shot to be the man. The Gut Check has long believed that Westbrook is big enough to be an effective, inside runner. The most important factors contributing to Westbrook's every down success will be the Eagle's off-season improvements. Terrell Owens presence will open up Westbrook's game. Rookie lineman Shawn Andrews has the media raving about his ability and some even suggesting he could play on a pro bowl level. Plus, Westbrook should get an increased chance to get into a rhythm as the undisputed starter. The Gut Check already had Westbrook rated as a top-15 back, but one could reasonably project the back's performance in a manner that could vault him into the top five. Most don't want to go there, but the fact it's even becoming a thought is interesting enough.

Duce Staley is a top ten fantasy back in 2004
Staley has always been a power runner with nifty feet and good hands. He's a great fit in Pittsburgh where Bill Cowher wants to return to his roots and emphasize the ground game. Jerome Bettis still has some gas in the tank, but he no longer has the wiggle after 8-10 carries that Staley will display well into the fourth quarter. Bettis and Eddie George are about on the same level at this point. The difference is that the Steelers front office is very loyal, they aren't cap-strapped, and Cowher needs The Bus' veteran presence.

Staley's receiving skills will pose a lot of problems for opposing defenses. Rather than making predictable lineup changes according to down and distance, Pittsburgh will be able to keep Staley on the field regardless of the situation. Most of the passing game production came from wide receivers-Ward, Burress, and Randle El had a combined 192 receptions. Starting TE Jay Riemersma only caught 10 balls last year! Amos Zereoue was supposed to provide that receiving dimension out of the backfield caught 40 balls, but his 3.3 yards per carry average was too sub par to make him an every down threat. As a result the Steelers couldn't maintain balance on offense.
Staley only caught 36 passes last year, but he was also sharing time with two other backs for the last two seasons. During his career, Duce has been a prolific receiver out of the backfield:
Staley Can Catch
Year
Team
G
GS
No
Yds
Avg
Lg
TD
20+
40+
FD
1997
Philadelphia Eagles
16
0
2
22
11
22
0
1
0
1
1998
Philadelphia Eagles
16
13
57
432
7.6
33
1
5
0
18
1999
Philadelphia Eagles
16
16
41
294
7.2
19
2
0
0
19
2000
Philadelphia Eagles
5
5
25
201
8
26
0
3
0
12
2001
Philadelphia Eagles
13
10
63
626
9.9
46
2
7
2
19
2002
Philadelphia Eagles
16
16
51
541
10.6
45
3
6
1
20
2003
Philadelphia Eagles
16
4
36
382
10.6
52
2
4
1
19
Total
98
64
275
2498
9.1
52
10
26
4
108

It's conceivable Staley gets 50+ catches in 2004 and what's more promising is his ability to gain yards after the catch. For three consecutive seasons, at least 10% of Staley's receptions resulted in gains of 20-39 yards, and he's had at least 1 gain of 40+ yards. Todd Pinkston, James Thrash, and Freddie Mitchell were not great blocking receivers, but Hines Ward may be the most physical blocking receiver in the game. This should only benefit Staley.

A healthy Duce Staley getting 20 carries a game could have a 1300-yard season. Keep in mind Staley gained over 1200 yards on the ground in 1999-Donovan McNabb's rookie year. The Eagles were one of the weaker offensive units in the league that year. Pittsburgh's 2004 unit compares more favorably than the Eagles of 1999, so much of this production will depend on how much Staley has left in the tank. The Gut Check thinks if Lamar Smith with the 2000 Dolphins can have a big year after spending much of his career splitting time with backs in Seattle and New Orleans, then Staley should have enough for an excellent year.