WR Target Percentage
10/21/04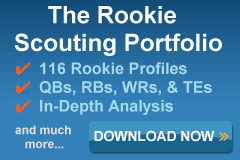 The "Gut Feeling" is often synonymous with a sense of desperation resulting from a lack of preparation. The Gut Check is a huge proponent of studying the numbers, but there's a point where one can place too much emphasis on the wrong information. This can result in the undervaluing or overlooking a player's potential. Therefore, The Weekly Gut Check is devoted to examining the frame of reference behind certain number-driven guidelines that fantasy football owners use to make decisions.

Although The Weekly Gut Check doesn't claim to be psychic, he does believe that he can dispel certain numbers biases and help you make the best choices for your team. We'll keep a running tally of The Weekly Gut Check's insights. This way you can gauge his views as something to seriously consider, or at least seriously consider running the opposite way as fast as you can!


---
If you haven't noticed, The Gut Check has been devoting a lot of time to analysis of wide receiver performance in 2004. That's because in most leagues hitting on the best receiving combination is more difficult than choosing the best starters at other positions. Running backs are easier, because in most cases—Lee Suggs, William Green, and in the next couple of weeks, possibly the entire Minnesota backfield aside—we look for a back that generally gets the bulk of his team's carries or is slated to get the carries in place of his injured teammate. There's a lot less that goes into a handoff than what goes into a receiver catching a pass.
On the majority of a starting running back's opportunities he takes 3-5 steps and the ball is either handed to him or pitched from a short distance. It's a different story with a receiver. He has to get off the line, run the right route, and hope for the quarterback to deliver the ball accurately. This doesn't even include if he catches the ball! Plus, from a fantasy football perspective, not only is the receiver competing against at least one defender for a ball, but he's competing with at least one other receiver, tight end, running back, and fullback for the opportunity.
This is why it is more common to find excellent receivers off the waiver wire in most leagues. Marcus Robinson, Mark Clayton, Ronald Curry, Brandon Stokley, and Reche Caldwell are all examples of receivers that were free agents at the start of 2004. In contrast, how many running backs off the waiver wire (that aren't named Mewelde Moore and Reuben Droughns) can you name that are consistent fantasy starter material this year? There are more or less depending on the league size, but The Gut Check is willing to bet you'd still find more receivers that fit this profile than any other offensive position—especially when you consider owners that dropped good receivers early in the season. Yours Truly is reluctant to admit he dropped Marcus Robinson from one league after the third week, but it's a perfect example of human nature among fantasy football owners.
Because more receivers are available and there is so much variation from week to week among pass catchers that aren't the stand alone, primary guy, there is a greater chance for other players to step into the lineup and catch fire down the stretch. Chris Chambers' rookie year is a great example of a player that was up and down early, but was a dominant player for fantasy owners from Thanksgiving to the season's end. On the other end of the spectrum, Isaac Bruce has been as consistent as an owner could hope for—that is until Monday night's game, when he gained 11 yards and Torry Holt, the receiver most consider the primary guy, had a big performance. The Gut Check anticipates Bruce will bounce back, but the point is who is making the most of their opportunities and how can we translate this into production down the stretch?
Mike MacGregor did a nice job last week in his HTH column pointing out the relevancy of target data for wide receivers. In fact, his answer helped The Gut Check make the right decision with his own lineup quandary. So this week, The Gut Check is going to profile target percentage for receivers through week six in the same way he took Mike's answer and applied it to suit his needs. Target percentage is simply [Target]/[Receptions]. Yours Truly got the data from Mike MacGregor's stat tables and threw them into a simple query where he determined the average number of receptions per game, targets per game, and average target percentage for the entire sample size. The Gut Check used these numbers as the baseline for his informal analysis:

Target Data
Baseline
&nbspNumber
Avg Target %
58%
Avg. Rec/Game
2.79
Avg. Target/Game
4.82
Here are the top 20 receivers for target percentage with a minimum of 2.79 receptions per game and 4.82 targets per game:

Top 20 WRs - Target Percentage
Name
Tm
GP
GS
Tar
Tar/G
Rec
Rec/G
Yds
TDs
FF Pts
FF Pts/G
Tar %
Hines Ward
PIT
6
6
49
8.17
43
7.17
531
2
65.1
10.9
87.76%
Deion Branch
NE
2
2
10
5
8
4
93
1
15.3
7.7
80.00%
Johnnie Morton
KC
5
4
32
6.4
24
4.8
336
0
33.6
6.7
75.00%
Ronald Curry
OAK
6
1
33
5.5
24
4
286
2
40.6
6.8
72.73%
Terrell Owens
PHI
5
5
42
8.4
30
6
487
6
84.7
16.9
71.43%
Torry Holt
STL
6
6
51
8.5
36
6
487
4
72.7
12.1
70.59%
Joe Horn
NO
6
6
54
9
38
6.33
447
4
68.7
11.5
70.37%
Brandon Stokley
IND
5
1
36
7.2
25
5
352
3
53.2
10.6
69.44%
Eric Moulds
BUF
5
5
46
9.2
31
6.2
395
3
57.5
11.5
67.39%
Randy Moss
MIN
5
5
39
7.8
26
5.2
394
8
87.4
17.5
66.67%
Marvin Harrison
IND
5
5
44
8.8
29
5.8
296
3
47.6
9.5
65.91%
Terry Glenn
DAL
5
5
35
7
23
4.6
394
2
51.4
10.3
65.71%
Isaac Bruce
STL
6
6
61
10.17
39
6.5
537
1
59.7
10
63.93%
Javon Walker
GB
6
4
52
8.67
33
5.5
597
5
89.7
15
63.46%
Reggie Wayne
IND
5
5
41
8.2
26
5.2
434
3
61.4
12.3
63.41%
Derrick Mason
TEN
6
6
57
9.5
36
6
429
2
54.9
9.2
63.16%
Donald Driver
GB
6
4
59
9.83
37
6.17
443
3
62.3
10.4
62.71%
Cedrick Wilson
SF
5
5
37
7.4
23
4.6
281
1
34.1
6.8
62.16%
Reche Caldwell
SD
6
6
29
4.83
18
3
310
3
49
8.2
62.07%
Michael Clayton
TB
6
3
50
8.33
31
5.17
443
1
50.3
8.4
62.00%

From strictly a target percentage, Hines Ward is the man. If the ball is near him, he's going to catch it. Combine this with the fact he's among the more prolific receivers in fantasy football in 2004, and Ward is that much more valuable. If you are in the FFTOC tournament and you haven't used Ward in your starting lineup, this information may help you make the best decision for your approach. The Gut Check is certainly factoring this into his…

Deion Branch was off to a great start and looked like a terrific sleeper for fantasy owners until he hurt his knee. The Patriot starter might not be a bad option down the stretch if he comes back in good shape. Johnnie Morton and Ronald Curry aren't he most prolific options, but they look like solid, bye week material. As much as The Gut Check likes Curry's potential—and actually picked Curry off the waiver wire in three of his leagues—Morton looks like he has the best quarterback situation and with Kennison healthy, might provide more consistent production.

Brandon Stokely may be one of the surprises of the year. The Gut Check has to admit that he was incredulous when T.O.'s college roommate drafted Stokely, but the former Tennessee-Chatanooga cornerback has gotten more than his share of value from the selection. Can Stokely keep it up? As long as the former Raven stays healthy, The Gut Check can't imagine why not—he's actually the second-best option at receiver on the Colts.

Marvin Harrison, the "worst" option of all three Indianapolis receivers, is still a good start. Anyone worrying about Harrison "slipping," needs to look at the fact he's still among the leaders in taking advantage of his opportunities—there's just more receiving talent around him. In NFL-terms, this is awesome for the Colts. For fantasy owners, it's more competition for the ball and somewhat disappointing.

Terry Glenn has been a nice fantasy receiver thus far. As long the Cowboys' running game maintains it's mediocre to poor level of production, Testaverde will be looking to Glenn. The Gut Check would think Glenn could be an easy guy to acquire via trade. And speaking of players associated with the rookie of the year award, Michael Clayton could join that group with his ability to make the most of his opportunities.

Although Cedrick Wilson and Reche Caldwells' numbers fit the part, The Gut Check is a little worried about these two. Wilson may lose more looks to Brandon Lloyd, who appears like he's getting back on track after a poor start. Caldwell's getting a second MRI on his knee—the trade for Keenan McCardell doesn't look like good news for the former Gator.

One team The Gut Check thinks is on the verge of changing their offensive philosophy and will result in a huge benefit for fantasy owners from here on out is the Green Bay Packers. The Gut Check and his friend Jutpacker were talking about the Green Bay offense this week and here's Jut's insight:
Did you know that GB's OC didn't make the trip because of heart surgery and Sherman did the play calling? Usually Rossely stays up in the booth. Favre flat out said that he liked working with Sherman on the sidelines and that needs to keep happening. He said the communication between him and Rossely is very limited during the game and that he doesn't like that. WTF!!! How can you have a guy like Favre, a vet/pro-bowler sitting there on the sideline and not be picking his brain and asking him what he is seeing??? I had no idea. Sherman better make a change there...keep Rossely on the sideline.
Take a look at the target percentage and fantasy points per game from this table, and you'll find Javon Walker and Donald Driver in the top twenty. Looks like a sign of things to come—especially with that Green Bay defense struggling.
What about receivers that might be easier to acquire via trade or would make good trade bait right now?

WRs on the Market?
Name
Tm
GP
GS
Tar
Tar/G
Rec
Rec/G
Yd
TDs
FF Pts
FF Pts/G
Tar %
Randy Hymes
BAL
5
4
26
5.2
16
3.2
226
2
34.6
6.9
61.54%
Nate Burleson
MIN
5
5
31
6.2
19
3.8
322
1
38.2
7.6
61.29%
Larry Fitzgerald
ARI
5
5
36
7.2
22
4.4
298
1
35.8
7.2
61.11%
David Terrell
CHI
5
4
28
5.6
17
3.4
277
0
27.7
5.5
60.71%
Ike Hilliard
NYG
5
4
28
5.6
17
3.4
189
0
18.9
3.8
60.71%
Amani Toomer
NYG
5
5
40
8
24
4.8
321
0
32.1
6.4
60.00%
Antonio Bryant
DAL
5
1
27
5.4
16
3.2
266
0
26.6
5.3
59.26%
Roy Williams
DET
4
3
34
8.5
20
5
295
4
53.5
13.4
58.82%
Rod Smith
DEN
6
6
46
7.67
27
4.5
350
1
41
6.8
58.70%
Marcus Robinson
MIN
5
3
31
6.2
18
3.6
250
5
55
11
58.06%
The Gut Check would say Burleson and Robinson are probably easier to trade than to acquire. Robinson has been one of the hottest waiver wire acquisitions since the Houston game and the injury to Moss didn't do anything to cool this trend. A savvy owner should be able to acquire a good player in return for Robinson. Nate Burleson's value also jumps due to Moss' injury and should be seeing more popularity among fantasy owners this week.
Rod Smith is a player that will likely go the way Ashley Lelie goes—in other words, if Lelie continues to gain rapport with Plummer, Smith should benefit. He's an established guy that owners can rely on for at least a solid effort from here on out. That makes him a good player to involve on either side of the transaction. Randy Hymes has been another solid option for any team with a potentially roster-starved receiving corps, but Travis Taylor's imminent return doesn't look good for Hymes' prospects—unless of course, Billick decides to pull Kevin Johnson instead.
Don't look now, but Larry Fitzgerald is probably the one guy The Gut Check feels is poised to improve his production. Yours Truly is reluctant to mention this, because it sounds like he's trying to defend his profile on the rookie, but consider Anquan Bolden is slated to return to action with half the season remaining. Fitzgerald has been subject to tighter coverage as the only decent threat and is still averaging over seven fantasy points per contest. He's also managed to capitalize on 61% of his opportunities. Remember, Fitzgerald has been playing with an ankle sprain that is just beginning to get better. When Bolden takes some of the heat off, Fitzgerald's production should blossom. This is the type of situation that many owners might misread and feel Fitzgerald's numbers will drop if Bolden returns to his rookie form and that makes the former Pitt star a good risk-reward acquisition.
Roy Williams seemed like the frontrunner for rookie of the year when September ended. Williams' ankle sprain could hinder his production for the next several weeks—just in time for him to hit the proverbial 'rookie wall.' The Gut Check is a little wary of Williams' prospects for the rest of 2004. Watch his recovery and act accordingly.
What about the receivers that are significantly below the target percentage that meet the receptions and target baselines?
WRs Below The Target Percentage
Name
Tm
GP
GS
Tar
Tar/G
Rec
Rec/G
Yds
TDs
FF Pts
FF Pts/G
Tar %
Plaxico Burress
PIT
6
6
36
6
18
3
356
2
47.6
7.9
50.00%
Keary Colbert
CAR
4
4
26
6.5
13
3.25
240
2
36
9
50.00%
Chris Chambers
MIA
5
5
44
8.8
22
4.4
179
2
29.9
6
50.00%
Jerry Porter
OAK
6
6
43
7.17
21
3.5
269
0
26.9
4.5
48.84%
Chad Johnson
CIN
5
5
48
9.6
23
4.6
334
1
39.4
7.9
47.92%
Laveranues Coles
WAS
6
6
65
10.83
31
5.17
368
0
36.8
6.1
47.69%
Rod Gardner
WAS
6
6
49
8.17
23
3.83
342
3
52.2
8.7
46.94%
Brandon Lloyd
SF
4
4
35
8.75
16
4
185
2
30.5
7.6
45.71%
Marty Booker
MIA
6
6
42
7
18
3
228
0
22.8
3.8
42.86%
Other than Booker and maybe Gardner, the rest of these receivers are clearly the deep threat in the passing game. Since throwing the deep ball is regarded as a lower percentage play, these receivers might pose an argument for their lower target percentage. Then again, Moss, Holt, Bruce, Owens, and Horn are deep threats and they are among the best. The best explanation may be quarterback play.
Burress has improved his play since Roethlisberger took over the starting job. Chambers and Booker have been the victims of inconsistent quarterbacking from multiple starters. The same can be said for Brandon Lloyd. The 49er has had a couple of decent games as of late and could be on the way up. Coles and Gardner have been subject to spotty play from Brunell. Chad Johnson and Jerry Porter? Carson Palmer and Kerry Collins…enough said.
Fortunately for fantasy owners, many of these players get enough opportunities each game to score points—in fact most nearly double the target baseline per game. Sometimes quantity compensates for quality.
Time for the third installment of The Gut Check's Intuition or Indigestion:
Speaking of Mark Brunell, Yours Truly wonders if the answer to the Redskins quarterback woes—at least temporarily—is Tim Hasselbeck. Gibbs has remarked that Hasselbeck was the one quarterback that consistently made plays in the passing game during the preseason and he couldn't ignore. Unfortunately, a move to Hasselbeck, the third string quarterback, would send a message that Brunell's stint in Washington is considered a failure
The Browns got the better end of the deal in the Quincy Morgan-Antonio Bryant trade. Look for Bryant to make a big impact in 2005.
Grab Keenan McCardell now. This is a perfect fit for McCardell, a smart receiver that should mesh well with Drew Brees. The former Jaguar and Buc knows how to keep in shape and should need little adjustment time to make an impact down the stretch.