The Pre-Season All-Gut Check Offense
8/24/04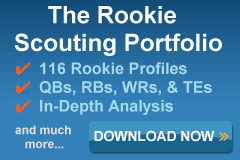 The "Gut Feeling" is often synonymous with a sense of desperation resulting from a lack of preparation. The Gut Check is a huge proponent of studying the numbers, but there's a point where one can place too much emphasis on the wrong information. This can result in the undervaluing or overlooking a player's potential. Therefore, The Weekly Gut Check is devoted to examining the frame of reference behind certain number-driven guidelines that fantasy football owners use to make decisions.

Although The Weekly Gut Check doesn't claim to be psychic, he does believe that he can dispel certain numbers biases and help you make the best choices for your team. We'll keep a running tally of The Weekly Gut Check's insights. This way you can gauge his views as something to seriously consider, or at least seriously consider running the opposite way as fast as you can!


---

Draft day for many of you is approaching fast. Since The Gut Check doesn't have the time to write one article for each player he likes as a sleeper, he's compiling a roster for your consideration. Keep in mind the All-Preseason Gut Check Offensive Roster is filled with sleepers—underrated or under-appreciated players—to target in the mid-to-late rounds of your draft. In fact some of these players may be waiver wire specials to watch as the season progresses. This 14-man roster is based on a lineup of 1 QB, 2 RB, 3 WR, 1 TE with backups for each starting spot. The Gut Check didn't include kickers. You can generally find a good one on the waiver wire within the first month of the season if the one you drafted isn't one of the top three.


All-Gut Check Offense
Pos
Starter
Backup
QB
Byron Leftwich
Rich Gannon
RB
Thomas Jones
Lee Suggs
RB
Brian Westbrook
Quincy Wilson
WR
Brandon Lloyd
Freddie Mitchell
WR
Larry Fitzgerald
Kelley Washington
WR
Tyrone Calico
Kevin Johnson
TE
Doug Jolley
Kris Wilson

The designation of starter and back up is not a recommendation of who to start. This is more of an ADP likelihood of where these players will get drafted. For instance, as amazing as it is to The Gut Check, Rich Gannon is going after Leftwich. As much as Yours Truly likes Leftwich's prospects, it's ridiculous that Gannon—an MVP just two years ago—is getting drafted so late. Nonetheless, that's why Gannon is listed as the backup.



Quarterbacks





Byron Leftwich

(see TGC Volume 6)—Leftwich has become a favorite media sleeper this summer. Unless the injury bug bites, don't be concerned about the Jaguars' slow offensive start in camp. The preseason is for working out the kinks and Leftwich has shown in practice that he's ready to take the next step.



Rich Gannon

—Talk about under-appreciated! The former NFL MVP and fantasy stud dropped off the face of the fantasy football world after his shoulder injury and the Raiders 2003 implosion. Looking at his stats from 1999-2002 it's hard to fathom why Gannon is discounted:


Gannon's Glory Years
Year
Team
G
Att
Comp
%
Yds
YPA
TDs
INTs
Rating
1999
Oakland Raiders
16
515
304
59
3840
7.46
24
14
86.5
2000
Oakland Raiders
16
473
284
60
3430
7.25
28
11
92.4
2001
Oakland Raiders
16
549
361
66
3828
6.97
27
9
95.5
2002
Oakland Raiders
16
618
418
68
4689
7.59
26
10
97.3
Average
16
539
342
63%
3947
7
26
11
93

Throw in another 250 yards and 3 touchdowns on the ground, and someone needs to explain to Yours Truly how on earth The Gut Check was able to draft Gannon in round 10 in his re-draft league last week! Gannon's ADP is so low that McCown, Brunnell, Harrington, and Carr are going before him. This is ridiculous—which is exactly what Gannon said when he recently picked up a fantasy football magazine and it didn't have him in the top-25!

The presence of Kerry Collins has kept Gannon's value down, but here's where common sense has slipped through the cracks this summer. Kerry Collins is a decent starter in this league, but he's no Rich Gannon. Collins may have a stronger arm, but he lacks Gannon's accuracy, maneuverability in the pocket, and knowledge of the playbook. Collins has demonstrated excellent leadership and has grown a lot as a player and person. Nonetheless, Collins still has fundamental flaws in his game that prevent him from elevating to the next level. Look at the Raider's acquisition of Collins as a Neil O'Donnell/Steve Beuerlein/Vinny Testaverde addition. This is an insurance policy they discovered that they didn't have last year. Plus Collins can bridge the gap between Gannon (once he retires) and a possible developmental QB in the near future.

With a healthy Jerry Porter replacing Tim Brown, the Raiders have a true deep threat that will allow Jerry Rice to remain effective underneath. Throw in Doug Jolley—another player not getting much fantasy football love—and a young but promising corps of receivers, and the Raiders' offense still has enough firepower. Owners are clearly writing off Gannon and the Raiders. The only thing they should have written off was Bill Callahan. His decisions created a media soap opera in Oakland last year. Pick Gannon and you'll get a healthy, experienced quarterback with a huge chip on his shoulder this year.

Running backs

Thomas Jones—A lot of people have a cynical view of Thomas Jones. This has to do with the former Virginia star doing virtually nothing in his first three years with Cardinals before a nice but brief stretch run with the Buccaneers, which he parlayed into a lucrative deal with Chicago. Is Chicago an overzealous team that was desperate for a change from an under-appreciated Anthony Thomas? Or is Jones the real deal? The Gut Check has been following Thomas Jones since his senior year at Virginia and Jones' career thus far reminds him of a current RB that is wrapping up his: Garrison Hearst.

Hearst's Career Stats
Year
Team
G
GS
Att
Yds
Avg
TDs
Rec
Yds
Avg
TD
1993
Phoenix Cardinals
6
5
76
264
3.5
1
6
18
3
0
1994
Arizona Cardinals
8
0
37
169
4.6
1
6
49
8.2
0
1995
Arizona Cardinals
16
15
284
1070
3.8
1
29
243
8.4
1
1996
Cincinnati Bengals
16
12
225
847
3.8
0
12
131
10.9
1
1997
San Francisco 49ers
13
13
234
1019
4.4
4
21
194
9.2
2
1998
San Francisco 49ers
16
16
310
1570
5.1
7
39
535
13.7
2
1999
San Francisco 49ers
0
0
0
0
---
0
0
0
---
0
2000
San Francisco 49ers
0
0
0
0
---
0
0
0
---
0
2001
San Francisco 49ers
16
16
252
1206
4.8
4
41
347
8.5
1
2002
San Francisco 49ers
16
16
215
972
4.5
8
48
317
6.6
1
2003
San Francisco 49ers
12
12
178
768
4.3
3
25
211
8.4
1
Totals
119
105
1811
7885
4.4
29
42
371
227
9
Hearst was a star at Georgia and the Cardinals originally drafted him as their franchise back. Hearst got hurt and never really got out of Buddy Ryan's doghouse. Even after a 1000-yard season, he was labeled a bust and shipped off to Cincinnati. Nothing looked promising for Hearst. Up to this point, Hearst had only managed four yards per carry once in his career and that was a 37-carry season. His lone, 1000-yard season was one where the one-time first rounder only managed 3.8 yards per carry. Not a good sign.
But things turned around when the 49ers acquired Hearst as a free agent. Not only did he average over four yard per carry in his first year, but he also exceeded his career touchdown total in that season alone. The next year, Hearst gained over 2,200 yards from scrimmage and scored 9 touchdowns before a devastating injury in the playoffs robbed him of two years of his prime.
The Gut Check sees Thomas Jones as a player that started his career in a similar situation. When you consider Jones' prospects, decide whether Jamal Lewis or Shaun Alexander would have done much better on a team that lacked a Jonathan Ogden or Walter Jones up front. The Gut Check doesn't think so. Jones' was rated higher than both these backs coming out of the 2000 draft. An argument can be made the Lewis' value was lower because he was recovering from injury, but that doesn't take much away from Jones. One might argue that Hearst wasn't that impressive in Cincinnati and Corey Dillon thrived for years for horrible Bengal teams. The Gut Check counters with the fact that at the time Hearst was the better performing Bengal in a committee with Kijana Carter, but Carter was the player Cincinnati wanted to win the job. If it weren't for Carter having yet another season-ending injury the year, Corey Dillon would not have had his record-breaking, rookie season.
What isn't mentioned very often is the rib injury Jones played through during his first two seasons—a problem that made it difficult for Jones to breath without feeling pain. This is similar to the problem John Abraham of the Jets experienced earlier in his career. Jones proclaimed himself healthy at the start of the 2002 season and his early performances lend credence to the theory that his chronic injury was holding him back.
After a pedestrian week one, Jones exploded for 173 yards on 24 carries against the Seahawks in week two. He followed this up with a respectable 17 carries for 73 yards (4.3 avg.) against the Chargers in week three before getting injured in week four. Jones returned to the field in weeks six through ten, but the Cardinals were manhandled in all but one game and Jones never received more than 15 carries after a mediocre week six performance coming back from injury.
Jones was never really healthy that year, but the pressure to succeed as the Cardinals' number one pick after two non-descript years had to play a significant part in his desire to continue playing. It was Jones' last season in Arizona before getting traded to the Buccaneers for WR Marquise Walker—a player that has yet to stick to an NFL roster.
The Gut Check believes this was the best thing to happen to Jones, because Garrison Hearst was in a similar situation. Once Hearst was shipped out of Arizona, he was able to grow as a player and a person. The Gut Check can say this, because he knows a little bit more about Hearst's behavior than most players. This writer used to cover the University of Georgia football practices back in the days when Hearst was a Bulldog. You didn't have to be a reporter to realize that the star running back didn't know how to handle his early fame. Hearst often conducted himself with a level of immaturity and arrogance that was noticeable to classmates, the general public, teammates, and the media while in school. There were several times that Hearst's teammates would express disdain for this attitude when he didn't show up on time for interviews scheduled after practice. It's true that life as a student-athlete is a grind, but Hearst's teammates expected him to perform to the same standard and readily expressed their disappointment in him when he didn't. The Gut Check is sure that Hearst didn't act this way all the time, but between these incidents and anecdotes from classmates describing similar behavior, Hearst had a bad reputation among people that weren't closest to him.
To Hearst's credit, he matured after reaching the NFL. The Gut Check wouldn't be surprised if some of this had to do with Hearst's experiences in Buddy Ryan's doghouse, and the superhuman effort he had to make in order to rehabilitate both his ankle and career in San Francisco. Whether Hearst just matured for other reasons or it was a newfound appreciation for his life as a professional football player, the running back is generally regarded as an inspirational leader that is affable with the public and highly respected in the locker room.
Thomas Jones has to see his opportunity in Chicago as his chance to prove that he belongs in the class of Jamal Lewis and Shaun Alexander. Just as Hearst saw his career come together in a San Francisco offense that utilized his skills, The Gut Check believes Jones' first year in Chicago will vault him into the top fifteen of fantasy RBs.
Brian Westbrook (See TGC Volume 1)—Westbrook's value peaked before training camp when it was speculated that Reid would be handing the job over to him. The hype is starting to wane as the Eagles coach has emphasized a split between Westbrook and Buckhalter. Again, the Gut Check isn't buying it. He still believes Westbrook is going to be the primary option with Buckhalter spelling him. This is a player many fantasy owners are scared to draft, but as Quentin Griffin's value rises, Westbrook's is falling—this is good. Westbrook is the same type of back, arguably better. He's also in a better offense and rookie lineman Shawn Andrews looks as good as advertised &.
Lee Suggs (See TGC Volume 4)—Target this guy as your third back, but don't be afraid to get him as your #2 RB. He's better than Green. Just watch Suggs on the field—don't listen to Butch Davis' media-b.s.—the 2nd year Virginia Tech star is going to be a leader on this team, and should help the Browns organization turn around their misfortunes.
Quincy Wilson (See TGC Volume 5) —didn't get many opportunities in a 31-0 game, but it's already been reported that T.J. Duckett hasn't meshed well with the new blocking scheme and Warrick Dunn is slated to get a lot opportunities as the starter. With Dunn's injury history, Wilson may just have the opening—at least as a situational ball carrier and receiver—that Yours Truly speculated earlier in the season.
Wide Receiver
Brandon Lloyd (TGC Volume 2)—As amazing to The Gut Check that last year's flashes of downfield playmaking weren't enough, Lloyd is going to prove that he's more than a secondary complement in 2004.
Larry Fitzgerald (TGC Volume 3)—The ankle injury isn't serious. Fitzgerald is now the primary receiver at least for the first half of the season. Bolden was a highly underrated receiver that took the league by surprise. Fitzgerald is better than Bolden coming out of school, but teams will be more prepared. Therefore don't expect the same numbers as Bolden, but he'll still be a viable fantasy option for 3 or 4 WR lineups.
Kelley Washington—The Gut Check wanted to devote an entire article to this guy alone, but this will have to do. On a Saturday three years ago, Yours Truly was taking in some SEC football to scout Donté Stallworth. But it was Washington that stole the show versus LSU. The Future, flashed the size and power of Terrell Owens, the speed of David Boston, and both the route running and the I want the ball more than you do,' skills of Michael Irvin. Over-hyped? This is kid was profiled in ESPN as a player that would tell the Tennessee corners in practice which route he was about to run before the snap and still beat them. The only reason we're hearing more about Dontè Stallworth is that Washington suffered a neck injury that scared teams away from making him a first round pick in 2002. Marvin Lewis stole him in round four, although many fans don't realize how much of a crime that really is.
Washington and Chad Johnson are going to make an obnoxious duo on the field, but Washington—like his running mate—is a man who's actions are easy to misinterpret. A fiery competitor on the field, Washington was known as a hard worker that kept to him self off the field at Tennessee. This rubbed his teammates the wrong way, but unless he lets his celebrity of being in the NFL go to his head, Washington, Johnson and Warrick will be among the best trio of receivers in the NFL. Washington showed flashes of this ability during his rookie year the Bengals have made it know that he's competing with Peter Warrick for his starting spot. It is likely Warrick will keep his job. Nonetheless Washington will see plenty of time on the outside, with Warrick moving to the slot in three receiver sets. In fact, don't be surprised if Washington out-produces Warrick—especially in the red zone.
Freddie Mitchell—Speaking of Peter Warrick, Mitchell is a player that the Gut Check thinks will have the type of stats in 2004 that Warrick attained in 2003 (819 yards and 7 tds). Both Mitchell and Warrick were highly touted receivers coming out of school, but didn't produce numbers commensurate with their draft status early in their careers. Both are smaller players that needed more work on the basics than originally thought. This disappointed fans, and both Warrick and Mitchell were overlooked in recent drafts.
In contrast to Brandon Lloyd, Mitchell and Warrick were players used to being wide open in college. They were quicker than everyone on the field so coaches used this athletic ability in ways they wouldn't be as successful doing in the NFL. Freddie Mitchell has made progress each year, but the improvement has occurred in smaller increments that have only been apparent with Mitchell's limited opportunities.
But Yours Truly has been keeping track. Mitchell has gotten better with route adjustments over the last two seasons. He's learned how to break the jam, and he's gotten more consistent across the middle. The 4th and 26 reception against Green Bay in the playoffs may have been a turning point in Mitchell's confidence level.
In fact, Peter King has said that Mitchell has had the best camp of any Eagle and Chris Mortensen mentioned in an ESPN chat (8/18) that Mitchell looks poised to have a breakout year. Mitchell is a player that will sneak up on everyone. Owners grew weary of waiting for him to deliver and gave up on him last year. While these same owners place their hopes on the next receiver that is still a year or two away from delivering, drafting Mitchell late should be rewarding.
Tyrone Calico—Calico's skills have drawn comparisons to a raw, Terrell Owens. Calico had 18 catches, 297 yards (an impressive 16.5 yards per catch average) and 4 touchdowns as a rookie. Not bad for a receiving corps that included pro bowler Derrick Mason, Justin McCareins—a receiver the Jets gave up a 2nd round pick to acquire—and an up-and-coming Drew Bennett.
The 16.5 yards per catch is a key stat here. Steve McNair loves to go deep—if you watched the 2003 Pro Bowl, thing back to the AFC's first offensive play where McNair completed a 90-yard bomb to Chad Johnson. This play exemplifies the Air McNair style of play from his days at Alcorn State. In fact, DB—a fellow owner in a re-draft league and former roommate of Terrell Owens—told The Gut Check last week that the very first play of the first game he ever faced the former Alcorn State quarterback, McNair threw a bomb in his direction and he fell down (just as All-Pro corner Dexter McCleon did versus Chad Johnson) as the receiver he was covering caught the pass for an opening game score.
If you've followed Steve McNair's career, it's no surprise that he likes to be aggressive early. What has gotten in the way of McNair doing this more often has been the myriad of receivers that have tried and failed to be the deep threat:
Kevin Dyson—Injuries kept him of the field and weakened their rapport.

McCareins—Did fairly well, but dropped a lot of easy scores on long passes.

Thigpen—Always hurt.

Chris Sanders—Great speed, but hands and routes were suspect.
Derrick Mason is a great all-around performer, but in order for him to get deep there must be other downfield threats to free him up from a safety playing over the top. Drew Bennett is not the permanent solution, but keeping McCareins would have been too much of a financial headache in the long term. It also might have cut into Calico's opportunities.

Speaking of Calico, the second year receiver out of Middle Tennessee State University has been very impressive in training camp. Although he's still had the occasional dropped pass, Calico has been making one eye-catching play after another. The Gut Check believes the Titans will make every effort to get Calico involved in the passing attack early and often—especially in the red zone. If they are successful, Calico could have a breakout season. But if Calico shows inconsistency early in the season don't panic. Mason and Bennett are capable enough to keep the pressure off Calico until he puts it all together. With Chris Brown likely to provide the Titans an improved running game, Calico will get a lot of opportunities deep.

Kevin Johnson—Here's a player that has two seasons with at least eight touchdowns in a five-year career. Taking in to account that Johnson was catching passes from a quarterback now struggling to hold onto the second string job in Green Bay, you can start to see why The Gut Check thinks Kevin Johnson is truly an under-appreciated player. Former Browns GM Dwight Clark once said Johnson has the best hands of any wide receiver he's ever seen. True, Clark no longer has the job but in his previous NFL-incarnation Clark was a pretty good tight end. He also happened to practice with the best wide receiver ever to play the game. So the Gut Check believes Clark has the appropriate frame of reference to make this sort of statement.

At 5-11, 195 lbs., Johnson has constantly battled the perception that he's not a go-to receiver in the NFL. The fact is, he's perfectly capable of being more than a possession guy. The Gut Check sees it this way from both the stats and from following Johnson's career:
Kevin Johnson
Year
Team
G
GS
Rec
Yds
Avg
Long
TD
20+
40+
FD
1999
Cleveland Browns
16
16
66
986
14.9
64
8
17
3
39
2000
Cleveland Browns
16
16
57
669
11.7
79
0
8
2
26
2001
Cleveland Browns
16
16
84
1097
13.1
55
9
15
2
54
2002
Cleveland Browns
16
15
67
703
10.5
30
4
10
0
38
2003
Jacksonville Jaguars
15
9
58
634
10.9
41
3
10
1
32

As a rookie on an expansion team the Browns used Johnson as the primary receiver. Johnson responded with an uncharacteristically good rookie season. The 14.9 yard per catch average should tell you that Johnson has enough speed to get deep. Johnson's performance dipped in every category in 2000, but he was used differently—especially when Tim Couch missed nine games that year. In 2001, Johnson and Couch resumed their connection and Johnson had a very respectable fantasy season as his quarterback's playmaker.

But for the last two years, Johnson's yard per catch average and touchdowns dropped. The Gut Check believes the fault for this lies with both Johnson and the Browns' organization. The Cleveland coaching staff wanted to make Johnson a possession guy to complement Quincy Morgan and Andrè Davis. Johnson's average per catch and touchdowns decreased although he still maintained at least 58 receptions per year. These stats reflect this change of role—a role what Johnson didn't want to assume.

Prior to the 2002 season, Johnson wanted out of Cleveland. It was rumored he wanted to be reunited with his former college quarterback, Donovan McNabb, where he would once again be the primary receiver on a team. The trade never happened, and it was also rumored that Johnson sulked over not being the man in Cleveland. The coaching staff complained that Johnson's effort declined as a result of this change and they released him. Jacksonville picked up Johnson and used him as a stopgap for a receiving corps in transition before getting traded to the Ravens in the off-season.

The Gut Check thinks Johnson feels he has something to prove. Yours Truly concedes the point that the Ravens wouldn't have even considered Johnson before the entire Terrell Owens drama, but Ravens' GM Ozzie Newsome is regarded as one of the most savvy personnel men in football today. The trade for Johnson should be seen as a well-conceived, consolation prize.

Although the Ravens offensive approach will remain similar to last year, Marcus Robinson is gone and Travis Taylor has yet to emerge as a consistent performer. Due to his experience working with two young quarterbacks (Couch and Leftwich), the Gut Check sees Johnson as a quarterback-friendly receiver that should become a favorite target for second-year passer Kyle Boller. This combination doesn't bode for a 1200-yard, 10-td season for Johnson, but something in the 800-1000-yard range with 6-8 tds is entirely feasible. Throw in the fact that Brian Billick has gone on record to say that Johnson is everything they thought he'd be and Travis Taylor still hasn't shown anything special, the Gut Check feels he stands on solid ground to predict a good fantasy performance out of Johnson in 2004.

Tight End

Doug Jolley—the Raiders' 2002 draft pick out of BYU really gelled with Rich Gannon in his rookie year gaining 363 yards out of a total of 409 over the course of the season's last eight games—including a 104-yard effort versus San Diego. These were top ten numbers for fantasy tight ends over this stretch. Jolley and Gannon appeared to maintain a similar comfort level entering the 2003 season until Gannon went down. Once Gannon was out for the season, Jolley disappeared from the Raiders passing game. The Gut Check anticipates Jolley will improve upon his stats from 2002, even with second year TE/WR-hybrid, Teyo Johnson in the mix. Jolley has a better rapport with Gannon is the more polished tight end. The Gut Check also thinks Jolley's numbers will still be good if Kerry Collins winds up starting (in case Gannon goes down) because the Raider's off-season acquisition has always thrown to his tight ends (think Wesley Walls and Jeremy Shockey). Jolley has gone virtually un-drafted in many leagues that require a tight end. Considering how Norv Turner likes to use the tight end (Jay Novacek and Randy McMichael) in the passing game, this could be a steal of a pick.

Kris Wilson—This may be one of The Gut Check's favorite players coming out of the draft. The Gut Check spent a lot of time watching Larry Fitzgerald last year. That also meant a steady dose of their TE. Every game The Gut Check watched, Wilson made impressive catches all over the field. ESPN analyst Bill Curry was highly complementary of Wilson's skills. So when a former teammate of John Mackey, one of the best tight ends to ever play the game, has something good to say about a prospect like Wilson, The Gut Check takes note of it.

Although Wilson had a couple of games where it looked like he was making more impressive grabs than Fitzgerald, draftniks and web scouts didn't even have Wilson rated in their top ten tight ends. The Gut Check was beginning to doubt whether he saw a player with excellent hands, concentration, speed, and toughness until Chiefs drafted Wilson in the 2nd round. Turns out that Wilson was rated as the second best TE in the draft by most NFL scouts, but they were worried about his height (he's under 6-2).

So far, Wilson has been the star of camp and is actually making a case to be involved in the passing game rotation during the season. This will allow the Chiefs to split Gonzalez out as the third WR in what at first would look like a two TE set. Although this should help Gonzalez, it will also mean Wilson also gets some looks. This is probably a long shot, but keep an eye on Wilson, because the Chiefs aren't exactly stocked at WR. It's conceivable Wilson, the 2nd best TE on the team, could wind up being a solid fantasy option at some point this year. If Gonzalez goes down, grab Wilson off the waiver wire as your top priority. In this scenario, Wilson could wind up with rookie of the year numbers.

And there's The Gut Check's All-Preseason Offense. The Gut Check was tempted to add Jimmy Smith and Travis Henry to his team, but owners are starting to come to their senses about their talents and drafting accordingly. Next week, The Gut Check unveils his All-Preseason Defense.