The Weekly Gut Check - Vol. 102
Draft Analysis Part I, 2-Year Crank Score Averages, and Crank Projection Updates
8/20/07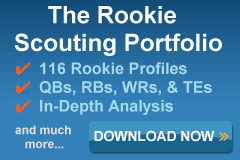 The "Gut Feeling" is often synonymous with a sense of desperation resulting from a lack of preparation. The Gut Check is a huge proponent of studying the numbers, but there's a point where one can place too much emphasis on the wrong information. This can result in the undervaluing or overlooking a player's potential. Therefore, The Weekly Gut Check is devoted to examining the frame of reference behind certain number-driven guidelines that fantasy football owners use to make decisions.

Although The Weekly Gut Check doesn't claim to be psychic, he does believe that he can dispel certain numbers biases and help you make the best choices for your team. We'll keep a running tally of The Weekly Gut Check's insights. This way you can gauge his views as something to seriously consider, or at least seriously consider running the opposite way as fast as you can!

---
By this time next week I'll have finished 5 drafts in two weeks. This week I'm going to analyze three of them: a traditional draft, an IDP league, and a distance-scoring league. Later, I'll provide a cheat sheet based on 2-year Crank Score Averages and update my own projections.

Traditional Draft

This is a 12-team, red-draft league with 20 roster spots and a starting lineup of 1 QB/2 RBs/4 WRs/1 TE/1 DEF/1 K. Scoring is FF Today default scoring, the draft is serpentine (1-12 and 12-1 in alternating rounds), and the playoff spots/championships are determined by head-to-head competition. This is my long-running local league, which I have often mentioned in my columns. There's a pretty wide range of preparation methods here. Some use cheat sheets from magazines, others use rankings from other sites, and a few do their own projections. The results are color coded by position: Yellow=QB; White=RB; Blue=WR; Green=TE; Purple=Def; and Tan=K;

| | | | | | | | |
| --- | --- | --- | --- | --- | --- | --- | --- |
| Rnd | Skelly (1) | Wilson (2) | Bentley (3) | Miller (4) | Wildman (5) | Todd (6) | Rnd |
| 1 | LT | S. Jackson | J.Addai | L. Johnson | F. Gore | S. Alexander | 1 |
| 2 | T. Owens | M. Lynch | C. Benson | Cadillac | E. James | M. Barber | 2 |
| 3 | C. Johnson | M. Harrison | T. Holt | C. Palmer | R. Williams | L. Evans | 3 |
| 4 | D. Williams | A. Boldin | C. Johnson | A. Peterson | J. Norwood | L. Coles | 4 |
| 5 | F. Taylor | T. Brady | Re. Brown | M. Clayton | C. Chambers | B. Jacobs | 5 |
| 6 | M. Leinart | J. Cotchery | J. Galloway | D. Jackson | J. Kitna | T. Heap | 6 |
| 7 | J. Shockey | T. Gonzalez | J. Lewis | D. Mcallister | V. Davis | J. Cutler | 7 |
| 8 | M. Furrey | T. Bell | A. Crumpler | J. Witten | S. Holmes | K. Curtis | 8 |
| 9 | M. Muhammad | C. Henry | D. McNabb | G. Jennings | C. Taylor | M. Jenkins | 9 |
| 10 | M. Hasselback | D. Bennett | E. Moulds | A. Randel El | D. Henderson | Bears | 10 |
| 11 | R. Caldwell | C. Pennington | B. Roethlisberger | P. Rivers | M. Turner | D. Northcutt | 11 |
| 12 | W. Welker | J. Wilkins | Raiders | D. Mason | R. Curry | D. Bowe | 12 |
| 13 | D. Foster | Chargers | B. Leftwich | C. Brown | B. Favre | A.Smith | 13 |
| 14 | S. Graham | M. Pollard | O. Daniels | Broncos | Steelers | R. Gould | 14 |
| 15 | Dallas | R. White | K. McCardell | K. Buckhalter | N. Davenport | M. Maurice | 15 |
| 16 | M. Smith | A. Peterson | O. Mughelli | H. Miller | B. Leonard | M. Lewis | 16 |
| 17 | G. Jones | LJ Smith | L. Pope | J. Garcia | S. Smith-NYG | A. Toomer | 17 |
| 18 | O. Mare | M. Bennett | B. Lloyd | S. Gostkowski | J. Elam | D. Rhodes | 18 |
| 19 | T. Taylor | D. Dorsey | R. Grossman | S. McNair | M. Walker | S. Rice | 19 |
| 20 | DJ Shockley | J. Harrington | R. Smith | P. Clayton | M. Robinson | Jaguars | 20 |
| fdfdfdfdfd | | | | | | | |
| Rnd | Jeff (7) | Billy (8) | Karl (9) | Sweet (10) | Clarke (11) | Jermaine (12) | Rnd |
| 1 | R. Johnson | R. Bush | B. Westbrook | T. Henry | W. McGahee | C. Portis | 1 |
| 2 | T. Jones | R. Brown | MJD | L. Maroney | W. Parker | P. Manning | 2 |
| 3 | S. Smith | R. Wayne | L. Fitzgerald | A. Johnson | P. Burress | R. Moss | 3 |
| 4 | TJ | D. Driver | J. Walker | H. Ward | M. Colston | A. Gates | 4 |
| 5 | D. Brees | M. Bulger | D. Branch | T. Glenn | L. Betts | S. Moss | 5 |
| 6 | B. Berrian | B. Edwards | V. Jackson | V. Young | A. Green | TJ Duckett | 6 |
| 7 | D. Stallworth | C. Cooley | K. Winslow | J. Porter | J. Horn | L. Jordan | 7 |
| 8 | R. McMichael | B. Jackson | T. Romo | B. Watson | I. Bruce | D. Jarrett | 8 |
| 9 | V. Morency | K. Jones | J. Jones | L. Washington | E. Manning | M. Williams | 9 |
| 10 | W. Dunn | DJ Hackett | R. Droughns | L. White | D. Clark | Ravens | 10 |
| 11 | M. Jones | B. Jones | E. Kennison | T. Williamson | E. Wilford | R. Meachem | 11 |
| 12 | Patriots | B. Marshall | J. Delhomme | N. Kaeding | J. Kasay | A. Vinatieri | 12 |
| 13 | C. Henry | JP Losman | A. Gonzalez | T. Ginn | D. Boston | J. Russell | 13 |
| 14 | J. Jurevicus | M. Bell | M. Booker | Eagles | Skins | R. Parrish | 14 |
| 15 | R. Dayne | A. Lelie | M. Nugent | S. Morris | A. Battle | B. Stokley | 15 |
| 16 | N. Rackers | A. Thomas | P. Holmes | N. Burleson | J. Campbell | K. Irons | 16 |
| 17 | D. Graham | T. Copper | D. Carter | C. Davis | M. Hicks | A. Pittman | 17 |
| 18 | T. Green | T. Hunt | M. Stovall | G. Olsen | R. Royal | J. Wiggins | 18 |
| 19 | K. Faulk | J. Brown | B. Troupe | M. Schaub | D. Wilcox | D. Hester | 19 |
| 20 | M. Shipp | 49ers | Dolphins | V. Haynes | K. Watson | M. Vick | 20 |
As with a majority of drafts, the top two frames were RB-heavy, but two teams went against the grain. Skelly took the route of adding two stud receivers after LT and then followed up with an up and coming RB in round 4 and productive veteran back in round 5. The fact he was able to get Carolina's current starter in round 13 gives him an all-important handcuff. Matt Hasselbeck slipping to round 10 is something many people will feel is good value. I'm not as high on the Seahawks QB as in previous years, but he has definitely proven to be capable of productive seasons. If Skelly gets decent productivity from his 3rd and 4th WR, his team can be very strong because he took advantage of the long run of owners drafting backs in the first two rounds. Jermaine is rather new to fantasy football. He understands the game of football—he's a former college corner—but hasn't fully grasped the concept of getting value in a draft. His first five picks are actually pretty good. When healthy, Portis, Manning, Moss, and Gates are the best in the business. Santana Moss as a #2 WR isn't too bad, either. But TJ Duckett in round six is a puzzling reach. He could have had Ahman Green, Julius Julius Jones, or Lendale White—all much more likely to produce as a competent, #2 RB in 2007. Dwayne Jarrett in round 8? Mike Williams in round 9? Robert Meachem in round 11? Maybe a rookie in the late rounds, but where he took the two rookies after six starting receivers! At the same time, Devin Hester and Brandon Stokley could be very astute, late-round picks and serviceable starters. There were other owners who went RB-heavy in the first five rounds in contrast to owners who tried to pick the strongest trio or quartet of starting receivers available after round two. Rounds 7-8 encompassed the span of the tight end run. This is a league with a waiver wire, so the majority of teams were wise to only select one kicker and one defense. But three teams did not grasp this concept and picked not two tight ends, but three. These owners missed out on starting quarterbacks and receivers or promising second-string runners just so they could grab a tight end that won't likely make the top 15 at their position. It's a waste of draft picks.
As with any draft there were notable players whose values differed from what one would expect. Rex Grossman in round 19 is ridiculously low. Although he was up and down at points throughout the season, Grossman is a promising signal caller who has a chance to become a strong fantasy starter. The only reason Grossman dropped this low had to do with the fact that every single owner in this league graduated from the University of Georgia and these Bulldog alumni despise Rex Grossman. Well, I don't—but I wasn't going to take three QBs until I realized the Gator alumnus was languishing there in round 19. Fortunately, Bentley realized the same thing and grabbed him as insurance to his trio of injury-prone QBs. Curiously, Bentley took Falcons FB Ovie Mughelli, which seems like a really odd choice when there were viable back ups with a history of production available at the RB position. Bentley believes Mughelli will get chances at the goal line. I think Bentley just has a player he can drop without any thought once he sees someone more desirable in the free agent pool.
Leftwich, Favre, Smith, and Garcia all appear to be strong values at quarterback. I actually wished I took Alex Smith over Favre and had this realization once Todd made this pick right after I drafted the Packer's figurehead. DeShaun Foster in round 13 is a steal—he's still the starter in Carolina and reports out of camp are positive about his adjustment to the new zone-blocking scheme. Remember Foster was one of the most promising backs to come out of his draft class, but injuries have held him back. Think of Robert Smith, the former Viking had 4 seasons where he didn't even crack 700 yards, but his last four were at the very least, #2 RB-worthy. Grabbing Foster in round 13 makes this a great upside pick. In fact, why I took Michael Turner over Foster is some thing I'm kicking myself about when reviewing these results. You don't leave an opening day starter in the draft pool for a back up who doesn't really split time with an all-world starter.
My strategy in this draft was to get a lot of runners. Last year I drafted 5 of the top 12 runners in this league and the move helped me win the scoring title and have a decent showing in the post season. I've long been a huge fan of Frank Gore and I'm still holding steady on my 2007 projections of Edgerrin James, which makes him a very strong #2 RB. I took the bait on Jerious Norwood's potential to win the starting job in Atlanta with Dunn missing in action early in camp. I at least see Norwood as a lesser MJD to Dunn's Fred Taylor. Speaking of Taylor's, I'm just not sold on Adrian Peterson having a stellar rookie year. He has the talent, but as I have mentioned, he needs to refine his game to be an every down back. So a 9th round bet on Chester Taylor throwing a wrench in the AD-hype machine is reasonable. After that, I took backups to high-carry runners and am counting on Michael Robinson to win the opportunity to backup Gore. I took risks at receiver. I'm counting on Chris Chambers to rebound and Santonio Holmes to at least fulfill my Second Half Wonder projection of his performance. Devery Henderson is a player I really didn't like, but it was before I began scouting players on film. The fact he's shown improvement and his Crank Score was extremely high, makes him a player I couldn't ignore as my potential #4 WR in round 10.
I also took a big risk to reach for Vernon Davis as my only tight end over quite a few proven players at the position. But if there is a position where the making an error won't kill you, tight end may be it. For me, Davis is a gamble on greatness and he has the skills to out-produce Antonio Gates. Now that Darrell Jackson is a Niner, Gates has more opportunities to rack up the fantasy points in 2007. Steve Smith of the Giants is my bet (after Calvin Johnson) to have a shot at producing at a very un-rookie-like rate. Mike Walker's knee may prevent him from having a chance to make a similar impact, but the Jaguars receiver situation is wide open and this late, I figured I'd gamble. The worst-case scenario is I find good receivers as #3-#4 starters off the waiver wire. It happens every year and I would rather load up the roster on backs—and I drafted the most of any team (8 total).
I think the best team is between Karl and Bentley. Karl, a two-time (and in consecutive seasons) winner of this league has two game-breaking backs and a solid back up in Julius Jones. I don't understand the downgrading of Maurice Jones Drew and the thinking that Greg Jones is going to steal goal line carries. Did you see the UCLA-alum in the redzone last year? That was not a fluke; it was hard-nosed running. Fitzgerald, Walker, and Branch are as solid a trio as you can draft and if Winslow can rehab enough from microfracture surgery to post similar stats as 2006, Karl will have a high-scoring squad with Tony Romo at the helm.
Bentley doesn't have a strong tight end on paper, but he has two with potential. Like I said earlier, it's the least important of the ball-handling positions. His 1-2 punch of Addai-Benson is looking very strong and Jamal Lewis is a decent #3 RB. But it's the receivers, I really like here—he essentially drafted four receivers with the ability, track record, and/or offense to be #1 fantasy WRs. Realistically, I see Brown and Galloway as solid #2 WRs and Holt as a low-end #1 WR, and Calvin Johnson having a Randy Moss-like rookie year. If he doesn't, Bentley's corps is still strong enough to compensate for what many owners would consider a reach (see Eric Moulds and Keenan McCardell as late, safe bets on offenses that will need to throw the ball). Like my pick of Davis, it was a gamble on greatness and a play to win. Bentley actually has more titles in this league than all but one owner, and one of the reasons is he doesn't mind taking risks.
Standard performance Offense/IDP Draft
This is my first year in this league run by fantasy writer, Robert Wright. The owners also include Tony Nowak, Sigmund Bloom, Jason Babler, and John Powderly of NFLDraftGuys.com. Here are the rosters, draft results, and scoring system. If you don't feel like studying the scoring system, the quick lowdown is it's like a standard non-point per reception league with scoring penalties for player mistakes and lots of points for defensive and special teams performers. This is a 1 QB/ 2 RB/ 3 WR/ 1 TE league with options to pay a 4-3, 3-4, or Nickel defense with one's IDPs. The best part of this league is we don't use kickers. If I ever start or run a league again, I'm ditching this position, too.
I had the 10th pick. You should begin to see some patterns here. Once again, this was an RB-Heavy opening to a draft—only one two teams drafted a position other than running back in the first two rounds. Again, the last pick of the first round was Peyton Manning. But in this league, owners can trade draft picks. Powderly did a nice job of trading away a pick to acquire two solid runners with potential to be #1 RBs this year and his trio of starting receivers (Randy Moss, Laveranues Coles, and Mark Clayton) looks good on paper. Babler did a nice job acquiring Marion Barber III as his #2 RB to pair with Travis Henry despite grabbing Steve Smith to interrupt the massive run of RBs in round two. Both owners correctly predicted this would be an RB-happy opening and capitalized on the trend.
Six quarterbacks were off the board by the second pick of the 4th round, much different than my local league. The scoring system places an emphasis on quarterback play with a high TD-INT ratio. My pick of Jon Kitna is a gamble here, but I think the caliber of receivers Detroit has will make it easier for Kitna to spot glaring mismatches and increase his ratio of big plays to mistakes. If not, Brett Favre probably won't help me as much in this league with his gunslinger mentality, but I'm counting on the fact that high interception rates can also have a lot to do with young receivers running the wrong routes. I can't make this argument too strongly with a reckless player like Favre, but I believe it is the difference between 15 interceptions and 29…
It's also clear with the IDP scoring makes linebackers and sack-artist defensive ends the equivalent of running backs and receivers on the defensive side of the ball. Instead of grabbing that 3rd or 4th receiver or back in rounds 5-7, teams began taking the top-notch pass rushers and linebackers. I felt I was able to draft good defensive starters (turnovers are great, but high-tackle totals on a consistent basis is the foundation for a good season from a linebacker or safety) from rounds 8-11 and still land Dontè Stallworth and Chester Taylor in rounds 12-13. Drafting for 25 rounds is deceiving, because good offensive starters fall further. When you can get Joey Galloway in round 10, you know what I mean.
On offense, you can see my team has some familiar faces from the last draft: Roy Williams, Vernon Davis, and Jon Kitna. You can also add Lee Evans, Chester Taylor, Najeh Davenport, and Brian Leonard to the list of players I've taken in multiple drafts. Defensively, I think Kirk Morrison and Donnie Edwards are terrific players in a run-oriented division who are the primary run stoppers past the line of scrimmage. Adalius Thomas and Julian Peterson are sack artists who can also generate decent tackle/pass defense totals at their position. If Thomas winds up seen in this league as a defensive end, I'll be happy to add him to my rotation of Leonard Little and Patrick Kerney. Derrick Johnson is still a rising player and could very well benefit from Edwards' presence in KC. In the secondary, Sean Jones wasn't the most celebrated defensive back from class that included Shaun Taylor, but he might be the better all around player (he was fantasy-wise in 2006). Ed Reed had a down year, but I'm happy to have him as my #2 DB despite whispers that he's not having a good training camp. Ken Hamlin is a talented player getting a new start in Dallas opposite Roy Williams. I'm weary of his fantasy potential at free safety, but if Roy Williams winds up playing very close to the line of scrimmage, Hamlin could benefit from getting more tackles on passing downs or interceptions from a disguised coverage involving Williams as a decoy at the line of scrimmage. Honestly, at round 25, I can pretty much speculate what I want…
Of course Tony Nowak has a terrific defensive unit. The corps of Will Witherspoon, Ernie Sims, Jeremiah Trotter, and Joey Porter is an excellent set of linebackers. Barrett Ruud or Dan Morgan should come through to be LB#4 and Roy Williams might wind up with linebacker-like stats. Umenyiora, Freeney, and Kearse are solid pass rushers. Freeney should rebound this year after playing injured in 2006. I'm concerned about Osi because of the potential loss of Strahan. Kearse is really a fantasy back up at this stage of his career, but he could surprise due to his athleticism. I like John Powderly's mix of offensive and defensive talent. If his rising stars peak in 2007, he could be a tough team. If Lendale White plays well for Bramel, his team could be very strong, but his chances may depend too heavily on the outcome of his #2 RB's performance because he has key talent everywhere else.
2-Year Crank Score Cheatsheet Variation
One of the ways I recommend readers to use Crank Scores is to use the Crank Score Calculator to measure the 2-year Crank Scores and make minor adjustments based on what we can reasonably project from player movement, player development, and player decline. This will yield a more conservative set of rankings than my personal projections and the results will be based more on recent performance. Here is an example cheatsheet based on a 12-team league with FFToday Default scoring and a starting lineup of 1 QB, 2 RBs, 3 WRs, and 1 TE. There are no rookies on this Cheatsheet, but I would add Adrian Peterson and Marshawn Lynch between 20th-35th (Lynch higher) and Calvin Johnson in the top 30. I highlighted players in green who I believe should outperform their two-year average and red for those who I expect to under perform. There are also a few players I inserted their one-year score due to them being injured or a rookie in 2005.

Two-Year Crank Scores By Position
QB
TM
Crank
RBs
TM
Crank
WRs
TM
Crank
TEs
TM
Crank
Donovan McNabb
PHI
59.1
LaDainian Tomlinson
SD
63.1
Terrell Owens
PHI
59.5
Antonio Gates
SD
54.3
Peyton Manning
IND
52.8
Brian Westbrook
PHI
60.4
Steve Smith
CAR
55.1
Kellen Winslow
CLE
38.8
Carson Palmer
CIN
50.6
Larry Johnson
KC
58.3
Marvin Harrison
IND
42.9
Tony Gonzalez
KC
37.1
Marc Bulger
STL
39.9
Steven Jackson
STL
56
Darrell Jackson
SEA
42.3
Todd Heap
BAL
36.1
Tom Brady
NE
31.4
Frank Gore
SF
52.3
T.J. Houshmandzadeh
CIN
38.9
Jeremy Shockey
NYG
34.8
Jon Kitna
CIN
29.1
Reggie Bush
NO
30.7
Torry Holt
STL
37
Alge Crumpler
ATL
26.6
Drew Brees
SD
27
Maurice Jones-Drew
JAC
27.5
Larry Fitzgerald
ARI
35.5
Chris Cooley
WAS
26.5
Ben Roethlisberger
PIT
26.5
LaMont Jordan
OAK
27.1
Joey Galloway
TB
33.6
Jason Witten
DAL
23
Tony Romo
DAL
24.6
Shaun Alexander
SEA
25.4
Anquan Boldin
ARI
32.6
Vernon Davis
SF
19.1
Brett Favre
GB
21.7
Edgerrin James
IND
24.6
Marques Colston
NO
32.4
Randy McMichael
MIA
18.1
Vince Young
TEN
19.3
Ronnie Brown
MIA
19.9
Chad Johnson
CIN
29.3
L.J. Smith
PHI
16.4
Matt Hasselbeck
SEA
18.2
Clinton Portis
WAS
18.5
Donald Driver
GB
28.9
Jerramy Stevens
SEA
12.6
Eli Manning
NYG
18
Chester Taylor
BAL
16.8
Reggie Wayne
IND
24.7
Tony Scheffler
DEN
12.5
Matt Leinart
ARI
16.9
Kevin Jones
DET
14.7
Roy Williams
DET
23.7
Heath Miller
PIT
8.56
Byron Leftwich
JAC
15.9
Ahman Green
GB
12.7
Laveranues Coles
NYJ
23.2
Owen Daniels
HOU
7.69
Philip Rivers
SD
15.7
Joseph Addai
IND
10.5
Lee Evans
BUF
21.3
David Martin
GB
6.75
Jake Delhomme
CAR
15.6
Deuce McAllister
NO
10.3
Hines Ward
PIT
20.9
Ben Watson
NE
5.47
Steve McNair
TEN
13.2
Willie Parker
PIT
8.95
Plaxico Burress
NYG
20
Ben Troupe
TEN
5.44
Rex Grossman
CHI
11.6
Rudi Johnson
CIN
8.87
Mike Furrey
DET
18.6
Bo Scaife
TEN
3.76
Jay Cutler
DEN
10.5
Fred Taylor
JAC
8.83
Andre Johnson
HOU
18.6
Dallas Clark
IND
3.17
Trent Green
KC
10.5
Thomas Jones
CHI
6.74
Chris Henry
CIN
12.3
Chad Pennington
NYJ
10.2
Wali Lundy
HOU
4.39
Santana Moss
WAS
12.1
Charlie Frye
CLE
9.56
Marion Barber
DAL
3.55
Mark Clayton
BAL
12
Jeff Garcia
PHI
8.92
Willis McGahee
BAL
1.9
Donte' Stallworth
NO
11.5
Joey Harrington
DET
5.42
Ladell Betts
WAS
1.89
Terry Glenn
DAL
9.44
Damon Huard
KC
13.9
Tatum Bell
DEN
0.99
Eddie Kennison
KC
8.92
Tarvaris Jackson
MIN
2.85
Mike Bell
DEN
0
Devery Henderson
NO
8.8
Jason Campbell
WAS
2.37
Laurence Maroney
NE
-0.92
Eric Moulds
BUF
7.39
J.P. Losman
BUF
1.74
Chris Brown
TEN
-1.15
Chris Chambers
MIA
6.51
Alex Smith
SF
0.94
Warrick Dunn
ATL
-1.32
Amani Toomer
NYG
6.48
Matt Schaub
ATL
-3.3
Reuben Droughns
CLE
-1.4
Reggie Brown
PHI
6.13
Leon Washington
NYJ
-1.48
Derrick Mason
BAL
3.79
Deshaun Foster
CAR
-1.91
Javon Walker
GB
3.66
Ron Dayne
DEN
-2.07
Braylon Edwards
CLE
3.36
Jamal Lewis
BAL
-2.15
Bobby Engram
SEA
2.6
Muhsin Muhammad
CHI
2.57
Marty Booker
MIA
1.72
Deion Branch
NE
1.09
Kevin Curtis
STL
0.94
Drew Bennett
TEN
0.59
Arnaz Battle
SF
0.57
Jerricho Cotchery
NYJ
0.54
Terrance Copper
DAL
0
Rod Smith
DEN
-0.48
Ronald Curry
OAK
-0.81
Greg Jennings
GB
-0.87
Randy Moss
OAK
-1.17
Bernard Berrian
CHI
-2.2
The way I recommend you to use these rankings are to apply the score to your own rankings or cheat sheets as a tiebreaker between players with relatively equal footing in your projections.

Updated Crank Projections
More changes this week as developments in the preseason unfold. Only the tight end position remains unchanged at this point, although expect a few possibly next week.

2007 Crank Score Projections
QB
Player
ADP
Crank
RB
Player
ADP
Crank
WR
Player
ADP
Crank
TE
Player
ADP
Crank
1
P. Manning
2.01
69.3
1
L. Tomlinson
1.01
96.23
1
C. Johnson
2.06
64.03
1
A. Gates
3.1
25.89
2
C. Palmer
3.04
62.59
2
F. Gore
1.03
75.78
2
R. Williams
3.05
56.99
2
V. Davis
7.08
16.84
3
J. Kitna
5.12
54.82
3
B. Westbrook
1.06
73.18
3
S. Smith (Car)
2.04
53.11
3
J. Shockey
6.09
14.42
4
T. Brady
4.02
47.04
4
J. Addai
1.05
61.96
4
M. Harrison
2.1
50.31
4
T. Heap
6.07
13
5
D. Brees
4.06
44.37
5
R. Bush
1.09
51.74
5
R. Wayne
2.12
49.22
5
T. Gonzalez
5.05
12.38
6
M. Bulger
4.1
40.24
6
L. Maroney
1.1
48.58
6
L. Fitzgerald
3.03
45.48
6
B. Watson
10.02
11.23
7
B. Roethlisberger
9.04
37.81
7
M. Jones Drew
2.07
45.27
7
T. Owens
2.11
43.92
7
C. Cooley
7.12
10.69
8
T. Romo
6.02
36.39
8
E. James
2.09
42.76
8
D. Jackson
6.11
39.22
8
H. Miller
10.12
7.85
9
M. Leinart
7.11
35.78
9
S. Jackson
1.02
39.9
9
T. Holt
2.08
38.04
9
K. Winslow
7.1
5.95
10
C. Pennington
12.01
31.76
10
T. Henry
1.11
33.91
10
C. Chambers
6.1
35.68
10
D. Graham
14.09
5.45
11
D. McNabb
5.07
27.88
11
R. Brown
2.05
37.02
11
R. Moss
4.06
35.26
11
E. Johnson
13.03
4.64
12
R. Grossman
13.02
27.71
12
W. McGahee
2.01
35.05
12
L. Evans
4.05
32.63
12
G. Olsen
--
4.17
13
V. Young
7.06
25.15
13
C. Benson
2.12
32.43
13
R. Brown
5.07
31.07
13
O. Daniels
12.11
3.96
14
A. Smith
10.09
23.25
14
L. Johnson
1.03
26.37
14
A. Boldin
3.09
26.74
14
A. Crumpler
8.07
3.67
15
P. Rivers
7.11
23.15
15
S. Alexander
1.06
28.73
15
D. Stallworth
8.03
25.7
15
J. Witten
9.03
2.78
16
B. Favre
9.11
22.45
16
R. Johnson
1.1
28.58
16
J. Galloway
7.06
24.93
16
R. McMichael
11.02
2.32
17
B. Leftwich
--
22.04
17
C. Portis
2.07
26.29
17
T. J. Housh
3.1
23.58
17
Dal. Clark
12.05
2.14
18
J. Cutler
8.04
20.69
18
C. Williams
3.12
20.7
18
S. Holmes
9.08
22.56
18
B. Scaife
--
1.84
19
S. McNair
13.04
20.16
19
T. Jones
2.11
20.61
19
J. Walker
3.11
21.73
19
L. Pope
--
1.18
20
M. Hasselbeck
7.03
19.78
20
W. Parker
1.08
19.14
20
M. Colston
4.04
21.41
20
M. Lewis
--.
0.99
21
J. Garcia
12.1
19.33
21
J. Norwood
5.07
16.91
21
A. Johnson
3.1
19.94
21
J. Stevens
--
0.79
22
J. Delhomme
10.03
19.1
22
A. Green
4.1
16.44
22
L. Coles
5.08
19.41
22
M. Pollard
--
0.66
23
E. Manning
9.01
18.43
23
B. Jacobs
3.04
13.4
23
D. Driver
4.06
19.01
23
Z. Miller
--
0.52
24
J.P. Losman
12.04
18
24
J. Lewis
5.03
14.52
24
P. Burress
4.11
18.3
24
C. Baker
--
0.36
25
T. Green
14.04
17.85
25
J. Jones
9.06
15.92
25
Mark Clayton
7.03
17.65
25
D. Martin
--
0.32
26
J. Harrington
--
17.38
26
C. Taylor
7.03
13.79
26
B. Berrian
9.01
16.36
27
J. Campbell
--
14.37
27
M. Lynch
3.11
13.09
27
H. Ward
5.06
15.69
28
D. Culpepper
--
13.47
28
M. Barber
5.08
8.24
28
Cal. Johnson
5.12
15.19
29
M. Schaub
12.01
11.39
29
D. Williams
4.08
11.39
29
G. Jennings
9.02
14.76
30
T. Jackson
--
11.03
30
L. Jordan
6.04
16.38
30
D. Henderson
10.05
14.65
31
B. Croyle
--
10.63
31
F. Taylor
7.05
10.02
31
J. Horn
11.04
13.46
32
C. Frye
--
9.19
32
D. McCallister
4.04
9.6
32
S. Moss
6.02
13.01
33
L. Betts
7.1
6.14
33
E. Kennison
13.09
12.93
34
L. White
9.04
4.13
34
J. Porter
9.12
12.36
35
D. Foster
6.32
35
C. Sharon
UD
10.15
36
A. Peterson
4.12
5.92
36
V. Jackson
7.07
9.47
Quarterback
Rex Grossman and Byron Leftwich move up the rankings this week. The Bears QB has added two offensive weapons with Devin Hesterówho is looking more like a natural at the receiver position by the weekóand rookie tight end Greg Olsen. Hester has suddenly become everyoneís favorite late pick and combined with Berrian and Muhammad, Chicago suddenly looks like an offense that can produce at the rate it did in the early half of 2006. Leftwich is on a team where the receiver situation appears completely up in the air, but Iím of the opinion that the problem in Jacksonville has long been the wideouts and not the quarterback (when healthy). These guys drop a ton of balls, but there are some sure-handed receivers waiting to take over for highly regarded, but poor performing blue chips Matt Jones and Reggie Williams. Dennis Northcutt isnít a great receiver, but heís a better than advertised player who has languished in Cleveland for seven seasons. He has the ability to match his career-best yardage total of 806 yards. But the player I just believe could be the surprise of the fantasy season is second-year, un-drafted free agent Charles Sharon. It has been reported out of Jacksonville that Ernest Wilfordís injury may result in him missing a bit of time and Sharon has proved to be the most consistent route runner and pass catcher after Northcutt. I ranked Sharon as one of my top receivers in the 2006 draft class. He reminds me a lot of Terry Glenn. Heís a good route runner with strong footwork and double moves, speed, and skills after the catch. Heís tough over the middle and makes catches in traffic. Picking Sharon at the end of a draft could be a boon for fantasy owners. I think between Wilford, Sharon, Northcutt, and rookie Mike Walker, at least two of these receivers will help Leftwich be a steady #2 QB with upside.
Jeff Garcia drops in my rankings, because the offensive line still needs to gel and it will take a month or so for the Bucs to hit their stride, if at all. David Boston is becoming a player to keep an eye on once again. Heís not worth drafting in most leagues at this point, but that could change quickly. I would think if Boston were really back to form, he and Galloway could be a highly dangerous tandem, but thatís not the case with Boston backing up Galloway and 2nd-year prospect Maurice Stovall manning the other side. This means Boston hasnít proven enough that heís back, and unless that changes Garcia lacks the type of weapons necessary to be Grudenís North Florida version of Rich Gannon, who had Tim Brown, Jerry Rice, and Jerry Porter. Alex Smith on the other hand, is looking like a player ready to make the next step. The addition of Darrell Jackson and healthy Vernon Davis should put the 3rd-year QB on the verge of becoming a consistent fantasy starter. Smith is mobile, accurate, and has enough seasoning behind a solid offensive line to be a great value pick in your 2007 fantasy draft.
Running Back
This is a pivotal year for Cedric Benson and he appears to have done the work to make the most of it. I think the Bears become more balanced on offense and Benson has a good fantasy season without facing serious competition for playing time. I think Benson will have a Rudi Johnson-like year. On the other hand, I donít think Rudi Johnson will sustain quite the same level of production with the absence of lineman Willie Anderson (consistency of line play is another reason why Johnsonís run of 1300-yard seasons is so unusual and unlikely to continue in 2007). DeShaun Foster makes the list because heís managed to still hold onto the starting job in camp. Cadillac Williams drifts down the list because of the offensive adjustments I mentioned earlier. I still think the Bucs starter rebounds, but just not as high as projected earlier. Marion Barber creeps higher with the likelihood that he and Julius Jones continue to split time.
Wide Receiver
Other than Sharon, the rankings remain pretty much the same.
Next week, Iíll look at a draft for a distance-scoring league and two auction drafts. In two weeks Iíll unveil my All-Gut Check Fantasy Squad of undervalued players and up and comers.