With many redraft leagues nearing their trade deadlines, this is an excellent time to make a strategic trade and give your team a boost for the stretch run. In addition, if you are in a dynasty league, now is a great time to either to re-set for next season if your team is struggling or get a boost for the playoff push. Here are some buy low and sell high ideas after Week 9.
Buy Low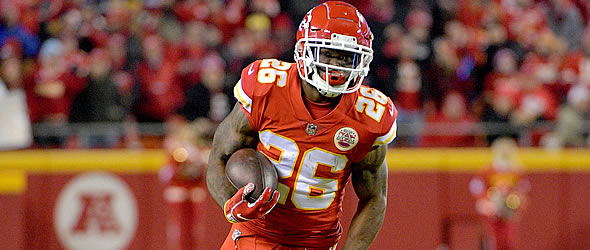 If you are hurting at QB, Wentz is an excellent buy-low candidate for your stretch run. He has a bye in Week 10, so owners may be willing to go ahead and dump him after his lackluster performance but between Week 11 and Week 16, the key weeks for fantasy, Wentz faces the Seahawks, Dolphins, Giants, and Redskins Ė all teams in the bottom third of the league against the pass.

A 91-yard touchdown run on Sunday increases his value but many owners will still deal him assuming he is still behind LeSean McCoy on the depth chart. From what Iíve seen Williams has jumped over McCoy and is back in the starting role. Williams played on 72% of the snaps on Sunday and saw 14 touches while McCoy received 4. With Mahomes returning, he is an excellent buy candidate as the Chiefs offense should be explosive down the stretch.

After the Redskinsí bye in Week 10, Guice is reportedly ready to return. The Redskins have been leaning on the run with Adrian Peterson, and the run has been more effective for them than has the pass. The Redskins will be keen to learn what they have in Guice over the final weeks, so he could be a smart, though risky, acquisition for the final push.

If you can make a play for Chark after his underwhelming Week 9 (4-32), it would be a shrewd move. He still played on 96% of the snaps and has been by far the best receiver on the team. With Foles back in the lineup or even if they return to returns to Minshew, Chark should produce with games against the Bucs, Raiders, and Falcons on the horizon.

Watkins has played excellent football the past two weeks since returning from injury. He looks fresh and fast, and has made some highlight-reel catches. He received 8 targets in Week 8 and 10 targets in Week 9, pushing Demarcus Robinson and Mecole Hardman to the periphery. With Mahomes about to return, Watkins is an excellent buy-low option for the playoff push.

You might be able to land Adams if someone is frustrated with his poor production in his first week back from a toe injury. He can go off in any game, and as he gets back in the groove he will have some huge games down the stretch. His bye is coming up in Week 11 but does have beatable matchups against CAR, NYG and WAS. If you can get him at a discount, do it.

Some believe Kelce is having a down year. However, his only struggle has been getting into the end zone, which is a difficult thing to predict and tends to be fluky. He has received 8 or more targets and double-digit PPR points in every game except one. He is as steady as they come, and is about to get Mahomes back. Buy him if you can.
Sell High
Jimmy G had a great game against the Cardinals, but that passing output is the exception and not the norm for him Ė and the Cardinals defense is gives up the second most fantasy points to quarterbacks. The 49ers are built to be a rushing offense and they will lean that way the rest of the season. If you can get premium value for Garoppolo, pull the trigger.
Chubbís talent is off the charts. His coaching staff, however, stinks. They have insisted on pulling him off the field for a good portion of snaps the past two weeks, in favor of Dontrell Hilliard. Now with Kareem Hunt returning and the entire offense struggling, it might be a good time to see what you can get for Chubb. Itís not exactly a sell-high situation, so donít sell him at a huge discount, but if someone is desperate for a high-end back, I would be willing to sell.
Mack is also not coming off a huge game, so this is not a typical sell-high. But I would still consider trading him if the offer is right, since the offense with T.Y. Hilton is simply not as explosive and there will not be as many scoring opportunities. In addition, his lack of passing down work is limiting his upside.
Sandersí value is very high right now, and he is certainly in a good situation and has a lot of talent. However, the 49ers, as I mentioned above, are primarily still a running team. And with Kittle in the mix, 100-yard receiving games are going to be hard to come by.
Do not sell him unless you can get appropriate value, but I have a feeling Edelman will struggle down the stretch. Sanu seems to be on the same page with Brady, and is likely to see a huge chunk of the targets. N'Keal Harry is back from IR and should see the field soon and Edleman has a rough matchup during the fantasy Superbowl (Wk16) against the Bills.