Now that we are through two weeks of the NFL season, panic is definitely setting in for some fantasy owners. Starting 0-2 can feel like a hole that is impossible to dig out of, so many owners will make trades they will end up regretting. I do not like telling you to steal from a friend after he's fallen down in the mud, but pursuing trades when fellow owners are tilting can help you produce a juggernaut team ready for a playoff run.
Buy Low
We can get a feel for trends that are developing after two weeks of play, so it is dangerous to simply assume that big-name players will turn it around if they have struggled. However, the five players below have a very good chance to get the ship on course around after a slow start:

If a Hill owner is nervous about the other Chiefs receivers maintaining a significant role in the offense after Hill comes back, or are simply impatient waiting for his return, trading for him at a discount would be very intelligent. Hillís usage and role will remain the same and estimated return time is roughly 4 weeks. Nothing has changed for Evans outside of learning a new offense, which he has done multiple times in his career. His quarterback is not playing well, but Winston has proven to be a volatile player capable of posting 300-yard, multi-touchdown games. And, the ascension of Chris Godwin should prevent teams from doubling Evans making him a solid buy low. The Vikings did not need to pass to beat the Falcons in Week 1 and while the 32 attempts from Cousins in Week 2 was respectable, Diggs only had one catchÖ but he did get 7 targets. With Oakland and the Giants coming up on the schedule over the next three weeks, better days should be ahead for Diggs and company. The Chargers No.2 receiver was struggling with a knee injury in Week 2 and only saw 3 targets in Week 1. However, Hunter Henry is down with another injury, and Williams will certainly have some very big games ahead as he gets healthy. Defenses should begin to gameplan around stopping Austin Ekeler, which should lead Rivers to other weapons. Williams will benefit. He is the only tight end who played 100% of snaps in both Week 1 and Week 2. He has not produced yet, but if he is dropped in your league he may be worth adding, as the Vikings ramp up their passing game.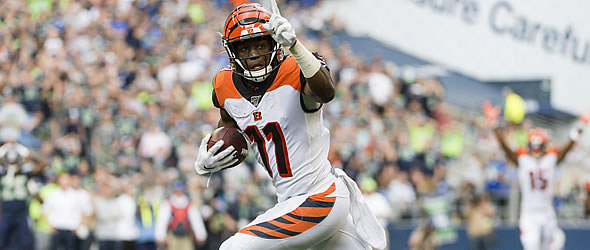 Sell High
If someone is willing to overpay, I do not see the five players below continuing to produce at their current levels.

He makes the list for the second week in a row. He is sixth-highest fantasy scorer over the first two weeks. While he may continue to see 70%+ of the snaps when A.J. Green returns, his target share will certainly go down. On top of that, he has scored on long touchdowns in the first two weeks, and that simply is not sustainable. If you can get an overpay, Iíd take it, even though he will be in Flex consideration in the Bengals new offense even with Green on the field. Two weeks in, and Sanders has scored 19 or more PPR points in both weeks. Yes, I am impressed he is doing this after tearing his Achilles less than a year ago. But no, I do not believe he will be able to keep up this pace all season. Injury almost seems inevitable, and the Broncos have looked awful. He is worth keeping if you donít get a premium offer, if only because the Broncos should be trailing often and forced to pass. For as long as he stays healthy you can start him, but Iíd try to package him for a top-tier receiver now. The Chargers starting running back is the number one fantasy scorer over the first two weeks and itís not a fluke. He is very talented and in a good offense. However, if he can fetch you a player like Barkley or Kamara in a deal, you are going to come out ahead. When Melvin Gordon does return, he will take a good portion of the workload and immediately downgrade Ekeler to a Flex option. In a week where quarterbacks were dropping like flies, this is not a move many can make. But Ryan did not look good during Sunday Night Football, against the Eagles and has now thrown 5 INTs in two games. His stats were padded by the long catch and run by Julio so if I could trade him to a QB-needy team (perhaps the Brees or Roethlisberger owner) for a premium, Iíd pull the trigger. He had a nice bounce-back game in Week 2, scoring twice. I still like him, but he will now be playing with Mason Rudolph and we have no idea how the offense will fare. Itís safe to assume the offense as whole will take a production hit so if someone is desperate at tight end and makes a generous offer after McDonaldís two-TD performance, I would take the deal.