Week 2 in the NFL was like a MASH unit. Injuries coming at you from every direction. A few days later you are just trying to piece together a suitable lineup to get you through the next weekend. Unfortunately, no one can replace injured Christian McCaffrey (4-6 weeks) or Saquon Barkley (out for the season). No, Mike Davis and Devonta Freeman aren't the answer, though they could be a short-term Band-Aid.

Courtland Sutton was a rising star. We will find out if rookies Jerry Jeudy or K.J. Hamler can replace him. Michael Thomas is still likely out another week and Monday night showed he couldn't be replaced.

The bottom line - If you have to trade one superstar for two lower tier stars be sure the deal works for the long run, not just for Week 3.

Truths

"A lie, told often enough, becomes the truth." – Lenin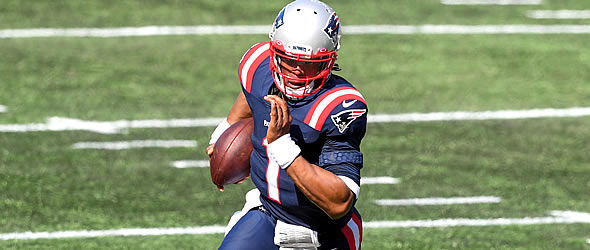 1) This is the year of the running quarterback.
In 2019 over the entire 256-game regular season schedule quarterbacks ran for 79 touchdowns (.308 TDs per game). This season in 32 games to date they have already run for 16. Even I can do that math without a calculator (.5 TDs per game). Cam Newton leads the way with four, but Kyler Murray and Dak Prescott have three each and not surprisingly they rank three-four-five in FPts/G. Lamar Jackson still hasn't run one in yet. If your quarterback doesn't score a few on the ground, you are at a distinct disadvantage because running one in is worth more fantasy points than throwing a touchdown pass.
2) Josh Allen is playing a lot better than I expected, but Russell Wilson is my early MVP leader.
True. Wilson has thrown nine touchdowns in two games. He's also thrown nine incompletions in two games. He's completed a stunning 82.5% of his passes. Seattle's got great receivers in Tyler Lockett and D.K. Metcalf. He's got a running game. This offense, which has scored 73 points in two games, may be unstoppable (barring injury).
3) Tom Brady may be gone, but Bill Belichick is still crazy smart.
Fact. Bill is paying almost nothing for a vintage Cam Newton ($1,050,000 base salary). Who knew Newton could still play near his 2015 level? Certainly not me. Meanwhile, the Bears are paying backup quarterback Nick Foles a guaranteed $21 million dollars. Sam Darnold is still starting in New York. Dwayne Haskins is starting in Washington for Newton's old head coach, Ron Rivera. Derek Carr is starting in Las Vegas (OK, he looked pretty good Monday night). Philip Rivers is getting paid $25 million in Indianapolis. Newton is playing better than all of them. Only a failed final play Sunday night from the Seahawks 1-yard line is keeping the Patriots from a 2-0 start and that falls on OC Josh Daniels play call. Was there a single person in the building or watching on television that didn't know Cam was going to run the ball?
4) Chris Carson has as many touchdown catches over two games in 2020 as he's accumulated in his first three NFL seasons.
Fact. But be warned, that may not be a good thing. Can you reasonably expect him to finish the season with 24 touchdown receptions? This isn't your father's Seahawks anymore either. This is not a run-first offense. This is Russell's team. Eventually both Lockett and Metcalf will overtake Carson. Meanwhile, Carson's averaging a career-low 4.0 ypc and has yet to run one in. In fact, the Seahawks only have one rushing touchdown and it belongs to backup Carlos Hyde. Perhaps you should consider "selling" Carson while he's ranked sixth at his position in FPts/G (22.2 in PPR leagues).
5) Despite his paltry 9.9 FPts/G average, now would be a good time to "buy low" on Todd Gurley.
Yes. Unless you believe the Falcons will continue to yield almost 40 ppg, the game scripts should be better for Gurley in the future. He's still a touchdown maker, who has averaged 14 touchdown runs per season and four touchdown receptions from 2017-19. With two of the next three games against lesser offenses (Chicago and Carolina) a trade for Gurley at a "discounted" price should yield immediate dividends.

Lies

"Everybody lies, but it doesn't matter because nobody listens." – Nick Diamos
1) Without a preseason the defenses will be ahead of offenses to start the season.
False. Not only is it false, the corollary; the running game is ahead of the passing game at the start of the season is also patently false in 2020. In fact, there are a whopping six quarterbacks averaging 30+ fantasy points through two games (Josh Allen, Wilson, Newton, Kyler Murray, Dak Prescott and Matt Ryan). That's twice as many as last season when only three quarterbacks averaged that much (Prescott, Lamar Jackson and Mahomes).
2) Tyrod Taylor's rib injury/pregame injection reaction = Wally Pipp's headache.
Fiction. Sort of. In case you don't know Wally Pipp, he was a pretty good Yankees first baseman in June of 1925 before a headache from a beanball left him watching a youngster named Lou Gehrig play a then record 2,130 consecutive games over the next 15 seasons. Taylor's replacement on Sunday, Justin Herbert, nearly defeated the defending Super Bowl Champion Kansas City Chiefs despite virtually no practice time. Herbert came up a little short due to a poor coaching decision in overtime. Though Coach Anthony Lynn says Taylor will get his job back when healthy, the writing is on the wall. Figure Herbert to be the starter in Week 6, just after the Chargers lose back-to-back games to Tampa Bay and New Orleans. If he's available, stash him, he can play.
3) Averaging just 8.0 FPts/G, A.J. Green is no longer the Green of old, circa 2012-2016.
Don't quit on Green just yet. The best part about the first two games is Green's team-leading 22 targets. Early on in the season I value opportunity as important as production. So long as it continues, fantasy points will surely follow. It doesn't hurt that his rookie quarterback, Joe Burrow, looks like the real deal or that the OC is willing to let said rookie throw 97 times in two non-blowout games. I like Green as another "buy-low" candidate.
4) Calvin Ridley is the best receiver in the NFL since he's leading the league with a 31.9 FPts/G average.
Sorry, he's still not the best receiver on his team. But because Julio Jones is so good, opposing teams roll their coverage away from Ridley giving him great opportunities against the defense's second-best defenders. That's not a bad thing as long as Jones is on the field (beware of his current hamstring issue) and Ridley should continue to produce big numbers. Just not at this level. Ridley improved from 13.1 FPts/G in his rookie season to 15.0 in 2019. Even as a third-year breakout candidate, his ceiling is probably 18.0 FPts/G (Jones and Mike Evans averaged about that last season) which means he'll average just 16.1 FPts/G the rest of the way. Don't overpay to get him, but if someone offers you too much … take it. Sixteen points per game is low-end top-10 level.
5) The Ravens' Mark Andrews was drafted as a top-five tight end and still is one.
False. Currently, he's ranked 11th among all tight ends. But what worries me even more is the lack of targets and the upgraded play at the tight end position around the league. Andrews has seen just nine targets over two games and while he has produced well considering the lack of opportunities, Baltimore and Lamar Jackson have thrown the ball just 48 times to date. With games against Washington, Cincinnati and Philadelphia after a titanic battle versus the Chiefs this Monday night, Andrews may continue to struggle for looks. Meanwhile, I'd rather have a guy like Mike Gesicki (54% owned). Or Noah Fant (88% owned) if he's still an available waiver claim in your league or for trade now that Sutton is out for the season. Just saying if someone still believes in Andrews you might be able to trade him for top value and still replace him given the excellent production at this position through the first two weekends.