Week 5 saw a season-high 14 players post at least 30 fantasy points, but the trend is to alternate weeks for monster fantasy production. In the odd-numbered weeks we have seen 13, 15 and 14 players hit for at least 30 points while Week 2 and Week 4 saw just four and eight, respectively.

Early weather reports for Gillette Stadium on Thursday are not good with an 88-percent chance of rain and high winds of between 18-20 mph. That should keep this one low-scoring and probably should be avoided if possible, except for the Patriots defense obviously.

Byes; Buffalo, Indianapolis, Chicago, Oakland

Truths

"Integrity is telling myself the truth. And honesty is telling the truth to other people." - Spencer Johnson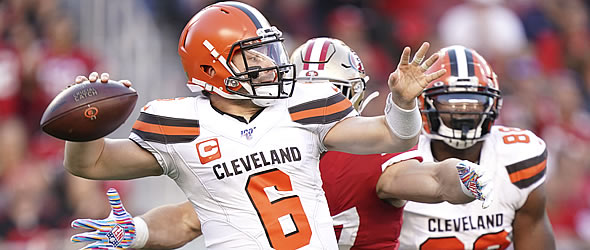 1) Opposing teams are getting hyped up to play Baker Mayfield and the Browns.
True. Richard Sherman and Delanie Walker spoke about it post-game. And Nick Bosa was particularly ready for last Monday night having waited since watching Mayfield "plant" an Oklahoma flag in the "O" at the Horseshoe in Columbus on September of 2017 to get his revenge. I'm wondering how many other defensive players Mayfield has slighted who will play their best games in the coming weeks. Quarterbacks should just play football and speak like Tom Brady in front of a microphone (words come out, but they don't actually say anything). I also think head coach Freddie Kitchens is in over his head. Avoid Mayfield. Avoid Odell Beckham Jr. Avoid Jarvis Landry. They may have a good game here and there, but it won't be consistent. Trade them after their next "good" game.
2) If you want to be a top-five fantasy quarterback you have to average 2.2 touchdown passes per game.
Fact, at least through five games. The top-five are all averaging 28-plus fantasy points per game and have at least 11 touchdowns whether they are a running quarterback or a pocket passer. The two passers with 11 touchdown passes, but not in the top-five, are; Matt Ryan (27.7 FPts/G with seven INTs) and Jameis Winston (23.3 FPts/G and five INTs).
3) Getting into the end zone is necessary to be a top-10 running back.
Fact. The top-10 have averaged 5.2 touchdowns per game through five games. Meanwhile, Leonard Fournette is third in rushing yards, but ranks 11th, because he's only scored one time. In 2018, the top-10 running backs averaged 13.6 touchdowns even while missing on average two games each. They were also on top-scoring offenses. Only Ezekiel Elliott and Joe Mixon were on offenses that finished in the bottom half of total points scored for the season. Keep that in mind as you stare at the Jets rank 31st in scoring, Bengals 29th, Bears 28th and Broncos 27th.
4) It could be a tough week to find a streaming tight end.
Injuries and byes will put Evan Engram, Darren Waller, Eric Ebron, Jack Doyle and J.T. Hockenson on the shelf. Gerald Everett is owned in just 21-percent of all Yahoo leagues and has seen 19 targets over the past two games, catching 12 of them for 180 yards and a score worth 36 fantasy points.
5) Its always "feast or famine" for Will Fuller fantasy owners.
In the 22 games he's played since 2017, Fuller has produced nine games of 14 points or more and eight games under six points. He's ranked seventh in FPts/G in 2019 (17.2) but that's one game of 53.7 points and four games of 10 or less. It's hard to win consistently with that type of inconsistency. Sell high.
Lies
"There is nothing more deceptive than an obvious fact." - Arthur Conan Doyle
1) Kirk Cousins is 5-27 all-time against teams with a winning record and Philadelphia is 3-2.
The number is true, but deceiving in this case. I like the Vikings to win this week against my beloved Eagles and here are the reasons. Cousins is 5-3 against the Eagles with a 101.2 quarterback rating, 17 touchdown passes and just five interceptions. Meanwhile, Case Keenum (31.0 FPts), Matt Ryan (28.3) and Aaron Rodgers (33.7) have lit up the Eagles weak secondary this season. Ignore last week against a third-stringer from New York. The Eagles defense will key on Dalvin Cook to stop the run (always the No. 1 priority for a Jim Schwartz defense) and dare Cousins to beat them, which he will do, to both Adam Thielen and Stefon Diggs.
2) Bill Belichick loves him some Daniel Jones.
"He's a very impressive young man and I've gotten the chance to see him play in the last few weeks here," said Belichick of Daniel Jones. "So he's a smart kid, has a good football background, very athletic, runs well. He's fast, he can get out of the pocket and he's a hard guy to catch." Ha-ha, don't let Belichick make you think Jones has any chance to produce this Thursday. Belichick's record against rookie quarterbacks is unreal and he's unbeaten, at 12-0, so he can sweet talk Jones all he wants, but don't have your Week 6 fantasy determined by the Giants passing game. The Pats are No.1 against opposing quarterbacks (allowing just 11.9 FPts/G), No.1 against wideouts (14.3) and No.2 against tight ends (3.2). They are also No.2 against running backs so just stay away from this defense altogether.
3) The Bengals have Tyler Boyd and nothing else at wide receiver until A.J. Green returns.
False. I like Auden Tate, a seventh-round pick from Florida State, who has played pretty well since being made part of the offense. With John Ross also injured, Tate has seen 22 targets over the last three games and averaged 11.8 FPts/G. Baltimore, Jacksonville and the Rams are up next and all three are in the bottom half for wideout fantasy points allowed, making Tate (21-percent owned) a nice bye-week replacement.
4) Chark attacks are extremely dangerous.
Mostly, but beware of Week 6 … they must have found a bigger boat. It was Chark week on the Discovery Channel last Sunday as D.J. Chark racked up 36.4 fantasy points and now ranks among the top-five averaging 21.1 FPts/G. So far, the only cornerback who has held him in check was Chris Harris of Denver. That said, Chark is off my radar for Week 6 with Marshon Lattimore likely to shadow him. Lattimore has stepped up his game after a slow start and held Amari Cooper to a 5-48-0 game before completely blanking Mike Evans last week (three targets, zero catches).
5) Justin Tucker was worthy of being the first kicker off the board a round earlier than the rest.
If you owned a real NFL football team, Tucker would be worthy of every penny he earns just in the security he gives your head coach, offensive coordinator and quarterback, but in the fantasy world he's ranked seventh through five weeks. There are 11 kickers averaging between 8-10 fantasy points per game, so despite the fact Tucker hasn't missed a kick all season (sorry for the jinx Justin), there is a reason should and do go in the final round.