For many years, I have made some variation of the following statement when talking about intelligence: I don't care what your GPA is/was, I need about five minutes to figure out how smart the person I am conversing with is. As far as I'm concerned, that belief rings true when discussing fantasy analysts as well. Statistics are the crux of what we work with, so it should go without saying that any person taking this hobby seriously needs to be able to back up their beliefs with meaningful numbers and/or basic football logic. The problem arises when all an analyst can do is recite numbers.

Why does this even matter? Generally speaking, I tend to reject the notion that a player is a stud one year and stinks the next. There are all kinds of variables that lead to the volatility that we see from players, including but not limited to changes in game script, coaching, scheme and personnel. Any veteran player can see that a supposed RB1 with three straight single-digit scoring weeks is struggling. It's not a fantasy analyst's job to point that out; that much should be obvious. It's part of the job to figure out why it is happening.

However, it never ceases to amaze me how many "box-score analysts" there are in the industry. You know the type: the ones that told the world how bad James Conner and how good Benny Snell looked in Week 1. Maybe you heard Leonard Fournette took over the Bucs' backfield in Week 2. Now Conner is a locked-in RB2 until further notice. Snell is a recommended drop candidate. Fournette should be benched until further notice (or at least until he scores his next touchdown, at which it will be time to restart that hype train).

This week, I've already heard Darrell Henderson is on the verge of becoming a feature back. That is two weeks after Malcolm Brown was on the verge and after a summer of hearing Cam Akers was going to do it. Look, I don't ever want to make it appear as if I am bashing my peers, but the industry as a whole needs to pick up their game. Analysts need to be the voice of reason, not the impetus behind owners blowing half of their FAAB by the end of Week 3.

Fantasy football is a probability game based on an unpredictable game. Errors in judgment and analysis will be made. One way to take some of the unpredictability out of it and stop the kneejerk reactions is by watching as many games as possible (I highly recommend watching condensed games on NFL Game Pass). As useful as analytics are (I use them, believe me), they rarely diagnose the real root of problems from players failing to live up to their fantasy draft cost. For example, the knowledge that Player X isn't breaking as many tackles or getting as many yards after contact as Player Y is helpful, but the answer is rarely as simple as Player X stinks and Player Y rocks.

Thus, this week's mission will be to take a deeper look at three struggling fantasy players and/or situations and WHY they might be underperforming. I might even get around to discussing if optimism from their fantasy owners is warranted.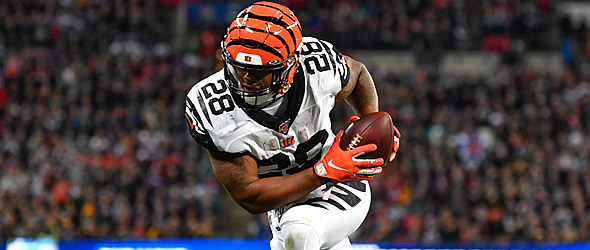 Reasons for optimism: job security, steady volume in the running game, clear goal-line back
The problem(s) in a nutshell: losing far too many snaps to Giovani Bernard on passing downs, poor blocking from his offensive line, regular negative game script
Deeper dive: For the third straight year, this was supposed to be the season the Bengals cracked the code and unlocked Mixon's potential for a full 16-game schedule, especially in light of how he finished 2019. As much as people want to believe last year's late surge was entirely volume-driven, the truth is that most of it had to do with a schematic change or two. Shockingly, those changes turned an offense that was on pace to be one the most inept rushing attacks in league history into one of the best running games in the league over the second half of the season. Optimism grew when the Bengals gave him a handsome contract extension in early September, signaling the franchise's trust in him as a featured back and a commitment to what he does well.
Well, about that … in true Bengals fashion, it seems like they have forgotten the lessons they learned. Cincinnati used a toss play with pin-and-pull action as one of its staples in November and December last year. Another staple became flexing TE C.J. Uzomah behind the right guard and right tackle to solve the problem of those two linemen being unable to get to the second level of the defense, which was preventing Mixon from running inside with more success. After watching each of 52 Mixon's carries so far this year, here is what I found:
Pin-and-pull toss plays: five (2,1,2)
Flexing TE in between G/T: four (3,1,0)
I recognize there is a bit of subjectivity to what qualifies as a pin-and-pull toss play. (There were maybe a couple of pin-and-pull runs that I would not characterize as toss plays.) Regardless, whether or not my count is 100 percent accurate, I know it isn't far off. The point is two "staple" runs that helped to make Mixon a second-half stud last year have been called for him on less than 20 percent of his rush attempts this year. That's either an incredible oversight (or an incredible amount of overthinking) by HC Zac Taylor. While there is nothing wrong with tweaking the playbook to suit the strengths of QB Joe Burrow, essentially abandoning the principles that should be making his job easier (i.e. putting a lot on Mixon's plate) should not be part of the plan.
Another smaller but still aggravating issue is Taylor's apparent inability to stop trying to make Bernard a thing in this offense. Cincinnati's willingness to hand Mixon a four-year extension worth $48 million earlier this month was a clear statement that the team sees him as a featured back not only for the future but now as well. Mixon is currently seeing 59.5 percent of his team's snaps, which doesn't sound bad until we compare it to the likes of Derrick Henry (73.9), Melvin Gordon (68.8) and even Myles Gaskin (67.7). Put another way, Malcolm Brown (54.5) and Nick Chubb (54.1) are in what appear to be full-blown committees and seeing a similar percentage of snaps.
Just like in any other aspect of this world, people do things that outsiders simply cannot rationalize. Using Bernard as anything but a breather back role on a team that will struggle to go .500 even if it mostly maximizes its talent further reduces whatever chance Cincinnati has to come back from a deficit. Bernard's not a better blocker than Mixon and his presence on the field has been a pronounced tell for the defense through three games (two runs versus 15 targets). Bernard's 42-yard reception last week was his longest since 2017 and accounts for 43 percent of his receiving yardage in 2020. There's a big difference between using Bernard to give Mixon a rest and hoping he's going to consistently be a legitimate weapon in the passing game. The latter is probably not happening for a running back set to turn 29 around Thanksgiving and only increases the chances another second-half explosion from Mixon won't matter to the team.
This Taylor-led coaching staff is heading into its 20th game this week, so it's probably too much to ask for this team to reach a level of enlightenment that allows Mixon to overtake Bernard in the passing game. What fantasy owners can ask for is a near 50:50 split of the receiving work out of the backfield, such as what happened after the bye last year when Mixon had 20 targets to Bernard's 18. That is what most fantasy owners who believed in Mixon had to expect. This season, Bernard holds a 15-9 lead. Even as fun as it might be to joke that "the Bengals are going to Bengal," an organization doesn't make a running back the seventh-highest paid player at his position and ask him to be a 2 1/2-down back. It's not an exaggeration to say none of the other 12 backs in the league with an annual average contract value of over $6 million right now is being used in that fashion. Keeping in mind we are discussing a small sample size, the one saving grace working in Mixon's favor right now is that each of the Bengals' three opponents thus far rank in the bottom quarter of fantasy points allowed to running backs, so things should start getting a bit easier in theory. I do believe Cincinnati will begin to rely on Mixon more heavily as we exit the "preseason portion" of this regular season, but I'll be the first to admit his current usage doesn't suggest that transition is going to happen quickly or that the coaching staff wants to move in that direction.
Reasons for optimism: snap percentage, steady volume, dynamic offense, proof he is capable of being a bell-cow in this offense (2019)
The problem(s) in a nutshell: lack of usage near the end zone, Kyler Murray's ability to keep it himself, surprisingly little usage in the passing game
Deeper dive: Drake is playing about as much as any fantasy owner can hope for (his offensive snap percentage of 67.9 ranks sixth in the league among running backs), so it would seem he's established himself as the man in this backfield. Arizona, which is averaging about 26 points, has attempted 113 passes and ran an average of 70-plus plays so far. With offensive snap percentages typically in the 80s after his trade from Miami in 2019, it is obvious HC Kliff Kingsbury had a ton of trust in him last year.
If there has been one constant Drake's football career, it is how much of a weapon he is as a receiver. Therefore, fantasy owners have a right to be slightly discouraged he has a mere five targets in three games. Meanwhile, Chase Edmonds has been targeted 11 times on roughly half as many snaps (33.9). It also a bit of a disturbing trend that Edmonds has more targets in every game than Drake. OK, so maybe Kingsbury is managing Drake's workload and using Edmonds' best traits? That is a possibility as well, but how sound is the logic that dictates a game plan for a position group revolves around what the backup does well and not the starter? Also, Edmonds has shown more than enough ability to hold up well in all phases in the limited time he's been asked to assume a heavier workload.
Seeing as how Drake has been muted somewhat in the passing game, fantasy owners should be relieved to know he is one of 22 players with at least eight red zone carries. On the downside, of those 22 players, he is one of four who have zero or one carries inside the 5. He is also one of three (of those 22) with three or fewer carries inside the 10. It's not all bad, as Edmonds has only red zone carry and none inside the 10. However, Kyler Murray has been pretty much been Drake's equal in close (three carries and one touchdown inside the 10, one and one inside the 5 for Drake; two and one inside the 10, one and one inside the 5 for Murray). Murray has only attempted nine passes inside the red zone, so it's not a matter of abandoning the run in scoring territory either. Unfortunately, none of those targets have been thrown in Drake's direction.
My best guess is that Kingsbury is using the "preseason portion" of the regular season to eventually ramp things up for Drake. The second-year coach talked up his featured status this summer after featuring him following his trade from Miami last year. Whether that happens this week or in November is something that may be only Kingsbury and his staff knows. Another look at the timing of his acquisition suggests he was given a bit of a ramp-up period before the Cardinals' Week 12 bye last year before taking on a more consistent workload after that. There is at least a fair chance Kingsbury is doing something similar here with Arizona looking at a Week 8 bye this season. The problem with that logic is that Murray's eight red zone carries this year are about half as many as he had all of last season. Thus, there's also a strong possibility Drake and Murray end up with about the same amount of red zone work. While the usage isn't head-scratching in the same way the Bengals' usage of Drake is, it doesn't make it any less frustrating for his fantasy owners.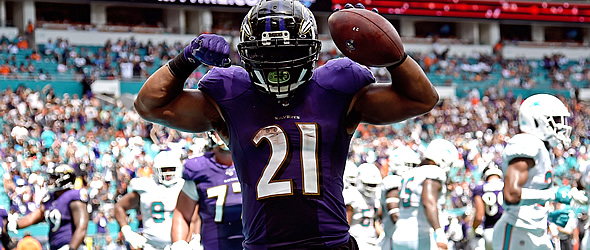 Reasons for optimism: dynamic and creative running game, the presence of Lamar Jackson takes the focus off the running backs and contributes to incredible efficiency, very good defense typically allows for massive volume for the running game as a whole
The problem(s) in a nutshell: not a ton of usage or volume in the passing game, too many chefs in the kitchen, Jackson's rushing volume has remained roughly the same but the overall volume has declined significantly
Deeper dive: Shortly after the team selected Dobbins this spring, Ravens OC Greg Roman suggested that all three backs would (and could) have a role in 2020. Fans of the rookie can take heart in the fact he has played one more snap than Ingram (67-66), suggesting there is a possibility he can eventually nudge the veteran into more of a part-time role at some point this season. The one thing that wasn't supposed to happen was Edwards' involvement not changing all that much (35.7 snap percentage last year, 26.7 this year). Here is how the backfield breaks down so far:
Ravens RBs snaps/game thru three games
Player
Wk1
Wk2
Wk3
Total
Off. Snap%
Dobbins
23
20
24
67
37.2
Ingram
21
27
18
66
36.7
Edwards
15
20
13
48
26.7
To put those sobering numbers into some context, Jamaal Williams, Adrian Peterson, Giovani Bernard, Jerick McKinnon and Chase Edmonds are among the backs averaging more offensive snaps each week than any of the Ravens' runners. We live in a time in which people actually believe in the "running backs don't matter" movement, and it would seem Roman is trying to prove it in his special way. Almost to a man, running backs say they need carries to get into a rhythm and a feel for the game. The snap distribution above doesn't even come close to allowing that to happen for any of the backs, much less all three of them.
Ingram's offensive snap percentage has dropped by about the same amount Edwards' as increased (45.4 last year, 36.7 this year), suggesting Dobbins should be in great shape. The problem for anyone who has more than a passing interest in Dobbins is how long Baltimore goes without having on the field. The bulk of his production this season is when the Ravens have 10 or more yards to go to pick up a first down. He appears to be the primary third-down back, but he only has three touches on third down. He's seen the bulk of his work on first down. Edwards appears to be the favorite option in four-minute situations, yet he only has two carries in those situations. At least when the ball seems to end up in Ingram's hands when he's in the game (he has a touch on 42.4 percent of his snaps as opposed to 22.3 for Dobbins.) Edwards' utilization percentage of 37.5 is also understandable considering his primary roles seem to be running out the clock or converting in short yardage.
A reasonable assumption entering the season was that Dobbins' big-play ability was going to be enough for the Ravens to cut back Jackson's rushing attempts in an effort to keep him from getting hurt, which will inevitably happen if a quarterback consistently runs as often as he did last season. Another reasonable assumption would have been that Baltimore would utilize the running backs a bit more in the passing game (62 targets to the position in 2019) considering Ingram and Dobbins are both very capable receivers. The Ravens' running backs are on a 48-target pace at the moment.
Another problem so far this year has been a relative lack of volume, at least compared to what the Ravens had in 2019. Baltimore met an average of 37.3 times last year. This year, the Ravens are averaging 29.3. Jackson averaged 11.7 carries in 2019, one more time per game than this year. As you may have already concluded, that means the running backs are getting about seven fewer carries per game. Baltimore ran 37 times in Week 2 against Houston but have amassed a total of 51 rushing attempts in the other two contests. Jackson is also averaging one less pass attempt in 2020, meaning the offense's overall volume is down nearly 10 plays per game through three contests. Let's not forget the offensive efficiency was expected to drop a bit following the retirement of OG Marshal Yanda and the slow road to recovery by C Matt Skura, who cannot be 100 percent yet after tearing his ACL, MCL and PCL along with dislocating his kneecap less than a year ago. But line play - at least when it comes to rushing efficiency - is better than it was in 2019.
There's one other problem to discuss: red zone opportunity. Baltimore has executed only eight runs inside the 10 through three games and only three inside the 5. Last year's totals were 56 and 27. Ingram was the overwhelming leader in the red zone last year for the Ravens (40 carries inside the 20, 26 carries inside the 10 and 15 inside the 5). This year's tallies? Four, two and zero.
Baltimore has seemingly done the impossible: make every running back in the league's fifth-ranked rushing attack nearly useless in fantasy. Another near impossible feat the Ravens have accomplished: they have added more dynamic weapons to their offense and regressed. In their effort to make sure everyone gets fed, everyone is somehow still leaving the table hungry. That certainly appears to be the case in the backfield, where the hot-shot rookie (and arguably the best running back prospect in this spring's draft) is averaging 8.5 yards per touch but appears to be third on the depth chart at times. Meanwhile, the veteran starter (Ingram), who amassed more than 1,200 total yards and 15 touchdowns despite playing less than half of the team's snaps a year ago, hasn't topped 10 carries this year after running 12 or more times in 13 of 15 regular-season contests in 2019.
The answer to this problem is probably the one the coaching staff doesn't want to consider: eliminate one of the mouths to feed. No one is calling the league's fifth-ranked rushing attack a failure, but the fact the Ravens find themselves behind four other teams with their personnel and 11th in rushing attempts (88) should be a clear sign that all is not right. Maybe Week 3's loss to Kansas City in which Baltimore averaged 7.5 yards per carry but ran the ball only 21 times will serve as a wakeup call. My guess is it will, but the concerning part to me is essentially the same as the one posed about with Mixon: how is the answer not already obvious? In theory, it's fine to talk about having roles for three running backs on a team that wants to run the ball. In reality, coaches are paid to find ways to get their most dynamic playmakers in positions to make explosive plays as often as possible. Involving other players either complements that effort or happens as the result of that effort paying off like coaches hope it will when they are drawing up the game plan. That is not happening here, at least not yet.
---
Doug Orth has written for FF Today since 2006 and been featured in USA Today's Fantasy Football Preview magazine since 2010. He hosted USA Today's hour-long, pre-kickoff fantasy football internet chat every Sunday in 2012-13 and appears as a guest analyst on a number of national sports radio shows, including Sirius XM's "Fantasy Drive". Doug is also a member of the Fantasy Sports Writers Association.