For what seems like at least 10 years, the first half of every NFL season is seemingly dominated by the passing game. Whether that continues into the second half depends on a number of factors, with injuries and weather being two of the main ones. There's no denying 2018 is off to a riveting start from a passing-game perspective, as no fewer than 15 quarterbacks who have started each of their team's contests have thrown are averaging at least two touchdown passes. Thirteen quarterbacks are averaging over 300 yards passing.

Once news got out this summer that illegal contact rules were going to be reinforced, it seemed reasonable to believe passing games were going to blow up in a big way. Through five weeks, that is exactly what has happened. The dizzying level of fantasy production coming from aerial attacks this season probably isn't going to drop off too much so long as defenses feel like their hands are tied on the back end, but is the current level sustainable?

One helpful exercise to do about this time every year is compare and contrast the current season's to-date production with that of previous years. This week, we'll do exactly that.

What readers see below should be self-explanatory. FPG refers to fantasy points per game in PPR leagues in which all touchdowns are worth six points. The numbers below each year reflect how many players hit that threshold in that season. Players in 2016 and 2017 had to play in at least eight games to qualify.

Quarterbacks
QB Fantasy Finishes through Week 5
F Pos
FPG
2018
2017
2016
QB1
24+
12
3
5
QB2
20-24
6
9
9
18
12
14
QB1: Patrick Mahomes, Ryan Fitzpatrick, Drew Brees, Matt Ryan, Jared Goff, Philip Rivers, Cam Newton, Kirk Cousins, Ben Roethlisberger, Andrew Luck, Deshaun Watson, Aaron Rodgers
QB2: Andy Dalton, Mitch Trubisky, Tom Brady, Blake Bortles, Matthew Stafford, Joe Flacco
QB2s excluded due to not starting all of their team's games: C.J. Beathard, Carson Wentz
Remember all that preseason talk about waiting on quarterbacks? Well, chances are just about every team in most 12-team leagues has a QB1 at the moment. While there certainly has been an advantage gained by those owners starting Mahomes (31.8) and Brees (29.6), it hasn't created quite the gap it would have in recent years. Amazingly, Rodgers' current 24.9 fantasy points per game (which is quite the achievement considering the injuries he and his receiving corps have suffered) is only good for 12th place so far (he would have been fourth in 2017 and fifth in 2016).
While it is unrealistic to expect 12 quarterbacks to average 24 fantasy points for the remainder of the season, who are the most likely candidates to fall off? There may be some owners who believe Brees is the most likely to drop from a fantasy QB1 to a QB2 considering what happened last year when Mark Ingram and Alvin Kamara were both playing. That seems unlikely for a couple of reasons: 1) the upcoming schedule and 2) the number of weapons he now has at his disposal in the passing game. After this week's bye, New Orleans will face (in order): Ravens, Vikings, Rams, Bengals and Eagles. Even with all the hysteria Ingram's Week 5 return caused, the running game created only 98 yards on 31 carries against what figures to be the weakest rush defense it will face over the next month or so. The Saints' defense isn't on par with last year's team, and pretty much every skill-position player that sees time on offense can now be considered a weapon in the passing game. At least over the next five games, New Orleans is going to find the going much easier in the air than on the ground.
Fitzpatrick will fall from this list as soon as this weekend, while Ryan's home/road split figure to keep him from being a true QB1. The Vikings will almost certainly dial down their passing-game volume the moment the running game is even remotely close to league-average, and the Colts have no intention of letting Luck continue throwing 50 times per game. Brady and Wentz will almost certainly find their way into QB1 status again (we've already seen evidence of this the last two weeks), while I believe Dalton is probably going to join them so long as his strong supporting cast remains intact.
One notable exclusion for both groups is Russell Wilson, in part because I decided to be inflexible when it comes to lowering my QB2 standard for this article. While the return of the Seahawks' running game is a beautiful thing for Wilson and the passing game, HC Pete Carroll and OC Brian Schottenheimer have taken it to the extreme. Wilson hasn't attempted more than 26 passes or thrown for more than 200 yards in any of the last three games. In previous years, such an occurrence may not have been as big of a deal because of his mobility. This year, however, Wilson's season-high rushing total is 21 yards. The Seahawks' infatuation with the running game has not only eliminated Wilson's ability to improvise and regularly create off-script big plays, but it has also taken out - at least to this point - the passing game's best weapon in Doug Baldwin. Running the ball 50 percent of the time is still a sustainable way to create offense in today's NFL, but relying almost exclusively on the deep passing game to complement it is not. (There's a reason they're called low-percentage throws.) Even in Marshawn Lynch's heyday in Seattle, owners could count on Wilson to run, since the threat of him doing so opened up running lanes. That's not happening at the moment. Wilson is currently on pace to rush for 134 yards this season. Perhaps Seattle self-scouts and sees the error of its ways sooner than later, but I'm not sure I'd count on it. The brain trust seems pretty happy with the way things are going at the moment.
Speculative add: In deeper leagues (and certainly in two-quarterback or superflex formats), Chad Kelly needs to be considered. Case Keenum has been mostly ineffective and is one of the few starting quarterbacks in the league who have more interceptions than touchdowns. In fact, he's been intercepted at least once every game. The Broncos may not be loaded with playmakers, but they boast three receivers who should be able to support a high-end QB2 at the very least.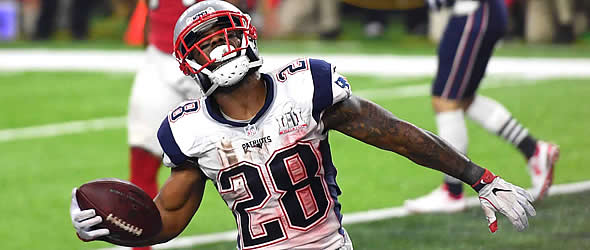 Running Backs
RB Fantasy Finishes through Week 5
F Pos
FPG
2018
2017
2016
RB1
20+
8
3
3
RB2
13-20
14
12
16
RB3
9-13
16
24
22
38
39
41
RB1: Alvin Kamara, Todd Gurley, Melvin Gordon, Saquon Barkley, James Conner, Christian McCaffrey, Ezekiel Elliott, James White
RB2: Joe Mixon, T.J. Yeldon, David Johnson, Kareem Hunt, Isaiah Crowell, Chris Thompson, Adrian Peterson, Carlos Hyde, Nyheim Hines, Austin Ekeler, Marshawn Lynch, Giovani Bernard, Matt Breida, Javorius Allen
RB3: Tarik Cohen, Philip Lindsay, Mike Davis, Wendell Smallwood, Sony Michel, Chris Carson, Kenyan Drake, Tevin Coleman, Dion Lewis, Jordan Howard, Kerryon Johnson, Alex Collins, Bilal Powell, Lamar Miller, Royce Freeman, Jalen Richard
With some obvious injury-impacted exceptions (Leonard Fournette and Dalvin Cook most notably), the upper tier of the running back class in August has held up reasonably well in terms of meeting expectations. Conner hasn't exactly surpassed expectations so much as he has been the only show in town longer than anyone expected a little over a month ago. If/when Le'Veon Bell reports, Conner is an obvious candidate to fall from the top shelf, although there is plenty of reason to believe he'll be worth holding onto the rest of the way. First and foremost, Roethlisberger is campaigning for Conner to remain involved. The biggest surprise of the top group (and the other candidate to drop from the top group) has obviously been White, who is on pace for 102 catches, 864 receiving yards and 16 total touchdowns. As a favorite of Tom Brady, White isn't going to simply go away, especially given the lack of other running back options in New England. However, he's not going to average the nine catches and 12 targets he has over the last two games going forward.
Three of the first four names in the RB2 group are interesting for a variety of reasons. All of them have RB1 upside, but none of them seem poised to come anywhere close to their ceiling. For all the potential Mixon has, he hasn't shown much durability early in his career. Bernard has enjoyed similar production whenever Mixon has been sidelined, which makes it reasonable to believe Bernard will be asked to take a few touches off of Mixon's plate at some point. Johnson has averaged four yards per carry only once in five games (Week 1) and is generating 37.9 percent of his fantasy point value in PPR leagues on touchdowns so far. Perhaps Johnson is so good that he can overcome the multiple issues that exist in the Cardinals' offense and sustain that level of production, but I'm not sure the odds are in his favor. Johnson has scored five of Arizona's nine touchdowns thus far, and I'm don't think it's realistic to believe he'll continue at that rate or score seven more times on a team to cover up for his relative lack of total yardage. Amazingly, he's topped 100 total yards only once this season. Hunt is a mystery. HC Andy Reid has actually done a commendable job giving him enough touches in the running game, but his lack of usage in the passing game is mystifying for a player Reid wanted to use more in that regard this season. Perhaps the blame goes on Mahomes for not checking down (who can blame him given his playmaking skills?), but four yards per carry and five receptions through five contests don't exactly fit the model of sustaining fantasy RB1 production.
Especially in leagues in which I am hurting for depth at running back, I spend a lot of time before each waiver-wire period looking for the one or two backs year after year who seem to go from the waiver wire to potential league-winner in the second half of the season. While I'd like to be confident in the identity of the player, I think Seattle is going to be home to one of them. (Unlike some people, I don't think we've heard the last of Rashaad Penny this season, so I wouldn't be so quick to drop him if I had him in deeper leagues.) The RB9 (tied with Conner) over the last two weeks, Mike Davis is starting to grow on me as one of those potential players. The 25-year-old South Carolina product is a player I've long been infatuated with, only to see him suffer injury after injury. As long as Seattle remains a team that passes 42.9 percent of the time (as has been the case over the last three games), it will be able to support two running backs most weeks. While his workload may not be as predictable as Carson's, the odds are strong he'll see a solid number of touches in each of its next two contests (Oakland and Detroit). Given Carroll's unpredictability when it comes to handing out playing time, who really knows if Davis isn't the lead back in Week 7 if he starts out fast against Oakland and Carson doesn't? Additionally, Carson's injury history and physical style are also working against him holding up for the remainder of the season.
Michel, Howard and Carson - along with Davis - would probably be my four picks to move from RB3 to RB2 territory. Michel's case is pretty simple: Rex Burkhead isn't coming back anytime soon and there's no one else currently on the roster capable of handling the early-down role for a team that usually enjoys positive game script and likes to run the ball. Howard isn't much different from Michel in the sense that Benny Cunningham isn't going to replace him on early downs. Cohen certainly isn't going to be that back, despite the fact he saw 20 touches in Week 4. At worst, Howard will be a matchup-based back moving forward. With the Dolphins, Jets and Bills coming up in three of the next four weeks and a defense that is about as good as it gets in the league right now, Howard should enjoy plenty of favorable situations. Carson is now the lead back on what is becoming the most run-heavy team in the league. Enough said.
Speculative add: Although he does not appear above (for obvious reasons), it's about time owners start claiming D'Onta Foreman off waivers. (Actually, last week - shortly after this article hit the site - was probably the time to start adding him in deeper leagues.) Even if he is somehow no better than a committee back with Lamar Miller, he will almost certainly see goal-line work for what should be one of the more explosive offenses in the league. The odds are strong that if he is even remotely close to what he was prior to his Achilles' injury, he will become the lead back before the end of the season. I stand by my belief that Miller is a lead back in the NFL, but he needs better blocking and a coach committed to getting him on the perimeter more often. Bill O'Brien doesn't do enough of the latter, and the Texans probably aren't going to be able to change the former in 2018. Foreman can run inside and break tackles, which is a better fit for the current dynamic in Houston.
Another player to monitor in deeper leagues is Kapri Bibbs. Adrian Peterson was very close to having his left knee blown out in Week 5 and is nursing a shoulder injury to boot. Chris Thompson has played a full season once in five years and has never exceeded 117 touches. Alex Smith nearly sent him to the IR with a throw he made late on Monday night. Bibbs is adept as a runner and a receiver, making a candidate to replace either player should Peterson and/or Thompson be unable to finish the season.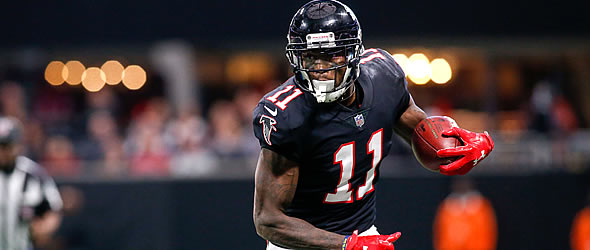 Wide Receivers
WR Fantasy Finishes through Week 5
F Pos
FPG
2018
2017
2016
WR1
18+
16
2
6
WR2
13-18
17
18
19
WR3
10-13
19
24
29
52
44
54
WR1: Adam Thielen, Michael Thomas, Mike Evans, DeAndre Hopkins, Cooper Kupp, Davante Adams, Antonio Brown, Stefon Diggs, Odell Beckham Jr., DeSean Jackson, Robert Woods, Golden Tate, A.J. Green, JuJu Smith-Schuster, Julio Jones, Tyreek Hill
WR2: Emmanuel Sanders, Kenny Golladay, Calvin Ridley, Tyler Boyd, Tyler Lockett, Brandin Cooks, T.Y. Hilton, John Brown, Jarvis Landry, Geronimo Allison, Keenan Allen, Sterling Shepard, Jordy Nelson, Sammy Watkins, Taylor Gabriel, Corey Davis, Will Fuller
WR3: Demaryius Thomas, Dede Westbrook, Chris Godwin, Devin Funchess, Mohamed Sanu, Albert Wilson, Nelson Agholor, Allen Robinson, Mike Williams, Marvin Jones, Amari Cooper, Keelan Cole, Kenny Stills, Michael Crabtree, Quincy Enunwa, Ryan Grant, Willie Snead, Donte Moncrief, Phillip Dorsett
Julio Jones continues to defy logic although he is hardly to blame for his "struggles." He is currently the WR12 in PPR formats despite failing to score a touchdown. The next receiver on the list who has yet to score is Chester Rogers at WR56. The big reason for this: Jones hasn't seen a red zone target since drawing three in Week 1. It's almost as if Atlanta is the only team that doesn't understand most offenses find a way to get their best player the ball at some point in a given game regardless of coverage, especially when he is such a freakish talent. Jones has lined up in the slot on only 38 of his 185 routes, so it's questionable if Atlanta is doing everything in its power to make sure Jones has a chance to succeed each week. There are obviously times offenses want a receiver to draw multiple defenders, but the Falcons' excuse almost every week is that coverage dictated they go elsewhere. An offensive coordinator's job is to find a way to get his best players the ball. Allow me to help: it is difficult for defenses to assign two defenders to a player lined up in the slot and the presence of a safety over the top 15-20 yards downfield doesn't matter much on screen plays. Drag routes are also difficult for defenses to defend almost regardless of what coverage they are running. The best thing about most of my suggestions: almost all of them give the 6-3, 220-pound Jones a chance to run after the catch. What a novel concept.
For the most part, the usual suspects are meeting their pre-draft expectations. What seems unreasonable is trying to remove 10 names from the WR1 list in order to get it to meet the standard of 2016 when six players topped 18 PPR fantasy points per game. We've already seen why DeSean Jackson's stay in the land of WR1s will likely be a short one. Based purely on targets thus far, Kupp and Woods would seem to be two of the other most likely players to fall from the WR1 ranks, as the Rams' duo is tied for 21st with 41 looks. Tate is another obvious candidate in that he has already has three touchdowns and has never scored more than seven in a season. Perhaps Smith-Schuster's stock drops a bit after Le'Veon Bell returns, but his heavy usage in the slot suggests the Steelers intend on making sure he remains a critical part of their offense. There may be too many mouths to feed in Kansas City to keep Hill in WR1 territory, but it would be silly to discount his big-play potential. Thielen will likely lose some value if/when Dalvin Cook returns, but will it be enough to drop him from a WR1 to WR2? Doubtful.
Ridley, Nelson and Gabriel have all been boosted into WR2 territory thanks to one huge game (or an unsustainable touchdown rate in Ridley's case). I think each player can make a solid case to be a low-end WR3 this year, but that's as far as I want to go with them. Fuller simply gets hurt too often for me to trust as a weekly starter. I'm comfortable with Sanders, Golladay, Boyd, Cooks, Hilton, Brown, Landry and Davis in WR2 territory, although each of them seemingly has at least one very important factor working for/against them that could change that opinion in a hurry. Shepard scares me a bit in that his production is seemingly tied to the presence of Evan Engram. He's a player I am looking to move, especially if he performs well this Thursday against the Eagles. Allen hasn't really been bad thus far, but he seems to be well on track of repeating last year's curious pace in which he scored in the opener but did not find the end zone again until Week 11. It would appear the important targets that were meant for him following Hunter Henry's ACL injury are going to Melvin Gordon and Austin Ekeler instead. Still, it seems unreasonable to believe he'll be kept out of the end zone much longer.
Robinson, Marvin Jones, Cooper and Enunwa highlight the WR3 crowd that I believe can take a step up. It's fair to say Robinson isn't exactly moving the needle with three games under 11 fantasy points, but it would take something very odd for Chicago to build upon its Week 4 offensive explosion and not have Robinson be an important part of it. With the emergence of Golladay, it may become almost impossible to predict when Jones is going to live up to his draft price. The good news is that his eight red zone targets are easily the most on the team. Cooper has been predictable in the sense that if the defense has a reputable shadow corner, he's probably not going to do much that week. His year-end production will probably be that of a WR2, but it will probably be a bumpy ride. Enunwa played 36 snaps outside last week (season high) versus only 12 in the slot (season low), while Jermaine Kearse stole most of the inside snaps (32). Owners won't know for a while if Enunwa's drop in slot snaps was matchup-based, nor will they know how much of an effect the brace he wore on his hand in Week 5 will keep him from being Sam Darnold's favorite receiver - a role he appeared to have locked up in September.
Tight Ends
TE Fantasy Finishes through Week 5
F Pos
FPG
2018
2017
2016
TE1
12+
5
3
9
TE2
9-12
7
8
11
12
11
20
TE1: Zach Ertz, Travis Kelce, Eric Ebron, Jared Cook, George Kittle
TE2: Kyle Rudolph, Rob Gronkowski, Jimmy Graham, Trey Burton, Austin Hooper, O.J. Howard, Jordan Reed
Regardless of position, Ertz ranks fourth in the league with 58 targets. In other words, he's seen more targets than any player not named Antonio Brown, Adam Thielen and Odell Beckham Jr. Last year, Kelce led all tight ends with 122 targets. Ertz is on pace for 186 in 2018. (Make of that what you will.) Ertz has seen at least 10 targets in every game. Gronkowski has yet to see more than eight in any single game. While no one is likely going to question whether or not Ertz is a high-end TE1, it is entirely fair to question if defenses will continue allowing him to be the reason the Eagles move the ball.
Of the TE1 group, Ebron seems the most likely to fall into the TE2 ranks quickly. He has already matched his career high in touchdowns and is scoring once every 5.2 catches (his previous best rate was 9.4 in 2015). While it is true he's in an offense that is led by a coach (Frank Reich) who is a fan of using plenty of two-tight sets, it was less than a month ago Ebron was struggling for playing time (36 snaps and 22 routes in Week 1, 16 and 12 in Week 2) prior to Jack Doyle's hip injury. While it is entirely possible Ebron's emergence with Doyle sidelined leads to a different plan of attack once Doyle returns, it is unlikely he will keep seeing double-digit targets (as he has the last three weeks). Ebron was touchdown-dependent in the early going and has benefited from the absence of the team's top two playmakers (Hilton and Doyle) in the passing game - not to mention a weak running game. If any or some of these things change for the better in the near future, it is extremely likely Ebron goes back to be the third-best option on a team that desperately wants offensive run-pass balance.
Gronkowski is an obvious candidate for positive regression in just about every area - his 13.4 yards per catch is his lowest mark since his rookie year in 2010. I like Howard and Reed to continue on their upward path and finish as mid-level TE1s as well, so long as the former isn't forced to share time with Cameron Brate again now that Jameis Winston is back and the latter can stay reasonably healthy. Rudolph is probably going to do enough to be considered a low-end every-week starter, but the only reason Hooper is on this list is due to the work he did last weekend against the Steelers (nine catches for 77 yards). While the Falcons' injury-ravaged defense theoretically opens up more opportunities for Atlanta to maintain its current level of volume in the passing game (and thus get Hooper involved more consistently), OC Steve Sarkisian must ask himself if those additional targets should go to Julio Jones, Calvin Ridley, Mohamed Sanu, Devonta Freeman and Tevin Coleman first.
---
Doug Orth has written for FF Today since 2006 and been featured in USA Today's Fantasy Football Preview magazine since 2010. He hosted USA Today's hour-long, pre-kickoff fantasy football internet chat every Sunday in 2012-13 and appears as a guest analyst on a number of national sports radio shows, including Sirius XM's "Fantasy Drive". Doug is also a member of the Fantasy Sports Writers Association.