Although I still have three drafts left to complete over the next two days, the end of the preseason is near.

Because there are no more Big Boards left to put together and no season to write about yet, the only thing left to do is suggest what could happen. Below you will find 10 predictions ranging from mildly to considerably bold as well as a little gift at the end (or so I hope). Enjoy. Kickoff is only hours away.

Note: I receive e-mails about this column every year, so allow me to issue this disclaimer for those that will inevitably ask; my Big Boards are for what I believe will happen. These predictions should be considered more what I believe could happen and, as you will soon see, I try to provide plenty of rationale to support them. Additionally, all these predictions were made with PPR scoring in mind. Last but not least, "bold" does not mean ridiculous, so I apologize in advance if the following predictions don't meet your expectations as it relates to being bold.
Big Ben is dealing with turnover at the WR position.
1. Carson Palmer and Ben Roethlisberger will finish outside the top 10 quarterbacks.
Durability is a problem for both players, which is certainly the most obvious way this prediction could turn out to be true. When Palmer struggled to the degree he did in the playoffs, I initially chalked it up to the finger injury that became an issue for him toward the end of the season. While I still believe that to be the case, I'm not sure even HC Bruce Arians can defend what Palmer has put on tape this summer. Now I understand no one should read too much into exhibition stats - especially with Larry Fitzgerald and John Brown sitting out - but a lack of game-planning preparation and personnel doesn't excuse a quarterback from turning the ball over. Although there was some element of luck in each case (one tip and two incredible examples of hand-eye coordination by the defender), three interceptions on 17 preseason attempts has to be cause for some alarm. Furthermore, there's not a lot to like about his schedule prior to the team's Week 9 bye. While having Fitzgerald, Michael Floyd and Brown certainly softens the blow that any difficult schedule can bring, I don't see the potential for a lot of high-end QB1 games over the first eight weeks. The Patriots, Jets, Seahawks and Panthers (Weeks 1, 6, 7 and 8, respectively) could all be dangerous for Palmer, as could the Bills (Week 3). The Rams (Week 4) usually seem to do a fine job against Arizona as well. Ultimately, I have my doubts about Palmer playing 16 games again, which is the main reason I'm making this prediction. I hate owning players who make me worry every time they get hit. While I realize Palmer is a big boy and can take some punishment, his track record suggests he is a poor bet to hold up.
Durability is not the main reason I'm selling Roethlisberger; a lack of the same personnel the Steelers envisioned surrounding him with this spring is. (Yes, Antonio Brown is still my No. 1 WR.) The problem is Brown can only do so much. TE Heath Miller is retired and Ladarius Green isn't expected back until midseason at the earliest, potentially taking away the Steelers' biggest deep threat. Do you want to count on Jesse James doing a serviceable Miller impression? I don't. As much as I believe Markus Wheaton has gotten a bad rap early in his career, I don't think there is any question he's not the vertical threat Martavis Bryant is. Camp standout Eli Rogers could end up being Big Ben's security blanket on non-Brown targets, but I'm not sure I'm ready to call that a lock either. Le'Veon Bell will miss the first three games due to suspension, temporarily robbing Roethlisberger of another player capable of 70-80 catches over the course of a full season. In the end, the absences of Green and Bryant worry me the most. Over-the-top throws are not easy throws to complete, but they can be easy scores when they hit. Green or Bryant can strike fear into the heart of the defense, and the two of them together could have been lethal. The Steelers aren't going to have to have that kind of quick-strike capability for at least half a season in all likelihood (unless Sammie Coates or Darrius Heyward-Bey make an unexpected rise up the depth chart after Week 1), so Pittsburgh could end up being much more methodical than many want to believe.
2. Eli Manning will end 2016 as a top-five quarterback and lead more fantasy teams to league titles than any other quarterback.
Let's think about this for a minute. Manning has thrown more than 600 passes in each of his two seasons under new HC Ben McAdoo, who has served as his play-caller in both years. This occurred despite the fact the Giants had virtually no trustworthy playmakers in the passing game outside of Odell Beckham Jr. and continued to give start after start to Rueben Randle, who was unable to last a full summer in receiver-needy Philadelphia. The Giants didn't drastically upgrade their offensive personnel from a numbers standpoint in the offseason, but they most likely found OBJ's long-term tag-team partner in second-rounder Sterling Shepard. (Follow this link to see more praise than any rookie should be able to attract from his teammates during his first training camp.) Let's assume for the sake of assuming that Shepard will perform at a higher level than Randle. New York didn't exactly bolster its offensive line or bring in a bell-cow runner, so it is safe to say the pass-happy attack should remain in place. (Yes, the defense should be improved, but if the Giants can't block any better than they have in the running game in recent years, it's hard to believe they'll commit to the rushing attack.) Last but not least, you'll be hard-pressed to show me a quarterback that begins (Dallas and New Orleans in Weeks 1 and 2) and ends (Cleveland, Pittsburgh, Dallas, Detroit and Philadelphia in Weeks 12-16) the season with more favorable matchups than Manning. In case you need yet another reason to roll with Eli, Manning hasn't missed a start since taking over for Kurt Warner midway through the 2004 season.
3. Danny Woodhead will once again finish among the top 15 PPR running backs.
This one doesn't seem like it should require an explanation considering he has been the RB12 and RB3 in his last two healthy seasons (hence the "once again"), yet he is consistently available in the fifth round of drafts or later. I think most owners recognize 2015 was a bit of a perfect storm for Woodhead in that San Diego's front five never could block for Melvin Gordon, the offensive line fell apart and the Chargers' receivers also started dropping like flies near the end. The 31-year-old Chadron State product doesn't fit the profile of the kind of back most of us want in fantasy, but aesthetics doesn't mean much to me when it is clear San Diego trusts him in the two most important areas for a running back to be successful in fantasy: near the end zone (unless you're concerned ex-Giant Andre Williams will steal that role) and in the passing game. I suppose some folks could be scared off by Gordon's preseason or the hiring of new OC Ken Whisenhunt. Well, Woody stole 182 touches from Ryan Mathews in 2013 during Whisenhunt's first tour of duty as the play-caller, so I don't expect last year's 178 touches to drop all that much. Whisenhunt mentioned the possibility of a three-headed committee earlier this year, but Branden Oliver tore his Achilles in the third week of the preseason, so Woodhead's best competition for touches in the passing game is out of the way (unless you believe UDFA Kenneth Farrow is a threat). I doubt the defense improved as a result of No. 3 overall pick Joey Bosa sitting out most of the preseason due to a contract stalemate, meaning the Chargers could be in a few shootouts once again and game script should once again work in his favor. A much-improved Gordon will keep Woodhead from making a run at another RB3 finish in 2016, but the latter should still make plenty of owners happy as a RB2/flex option. Owners in deeper leagues may want to look to protect their investment in Woodhead by saving a spot for UDFA Kenneth Farrow however.
4. Kenneth Dixon will each emerge as a fantasy force no later than Week 6.
To this point, perhaps my "bold" predictions have been relatively tame in the eyes of some. I love identifying late-round fantasy running backs who could potentially make an impact as much as anything I do with this job, so let's go a bit deeper with this one than the previous three. As many well know, Dixon is currently nursing a knee injury that is expected to cause him to miss at least the first two weeks of the season. When he returns, he'll rejoin a backfield occupied by Justin Forsett, Terrance West and Javorius Allen. OC Marc Trestman has usually operated with a lead back in his offenses, typically one who is adept in the passing game (i.e. Charlie Garner, Matt Forte, etc.) Once again, we don't want to make too much out of the preseason, but Dixon certainly appeared to be the only one of the four Ravens' runners who showed anything in terms of big-play ability. Loyal readers may recall I have been on Dixon's bandwagon for a little while and crafted a draft profile for him this spring. Forsett has already been released and brought back (which should be a clear indication he's probably not long for the lead-back role), Allen has proven himself to be little more than a nice piece in the passing game and West would probably be stretched as anything more than an early-down and/or goal-line thumper. Thus, it isn't too hard to imagine a scenario in which HC John Harbaugh and Trestman realize fairly quickly that it might be worthwhile to turn to their one young runner who has no huge flaws in his game rather than cycle through 3-4 running backs. I'm not sure Dixon offers fantasy-title winning upside given the current situation in Baltimore, but owners always need to be on the lookout for potential starters at the running back position, particularly on a team that wants to run the ball like the Ravens.
5. Derrick Henry will be a top-10 running back over the second half of the season.
Another product of the Doug Orth School of (Amateur) Scouting, Henry has what appears to be a slightly rejuvenated DeMarco Murray in front of him on the depth chart (or maybe he's just happy to be away from Chip Kelly?). I was a Murray supporter long before it was cool to be one and I'm still very aware of what he brings to the table; barring injury, I don't expect Murray to lose his job this season per se unless the Titans mail it in. Let's assume Tennessee commits to the "exotic smashmouth" offense for the entirety of the 2016 campaign and is one of the handful of teams to exceed 500 rushing attempts. Perhaps QB Marcus Mariota takes 70 of those carries, which would be more than double the amount he had as a rookie. Let's further assume Murray averages 16 carries per game and is able to play a full 16-game schedule for only the second time in his career, giving him 256 totes for the season. That leaves 174 carries to be split between Henry, Antonio Andrews and FB Jalston Fowler, most of which should go to Henry (let's say 150). Now, let's go ahead and carry over Tennessee's 72 catches by running backs a year ago and apply it to this season, giving Murray 60 percent of that share while Henry gets roughly 33 percent. Dexter McCluster is gone and Andrews is not going to be a threat in the passing game, so I think I've established a floor of roughly 170 touches already for the rookie. Of course, this all assumes Murray stays healthy and clearly remains atop the depth chart - neither of which is guaranteed. And there within lies the attraction to Henry and why I am willing to pay a seventh-round price to get him as often as possible on my teams: Murray isn't Mr. Durability. And if we learned anything from last year in terms of backfields, it might be the fact that three-fourths of them seem to be based on a what-have-you-done-for-me-lately mindset. How long is it really going to take before Tennessee decides to turn its backfield over to its young 247-pound sledgehammer with breakaway speed? In my mind, Henry is just the type of back Zero-RB enthusiasts need to be willing to reach for in their drafts because he doesn't need a lot to happen in his favor in order to provide a very good return on investment.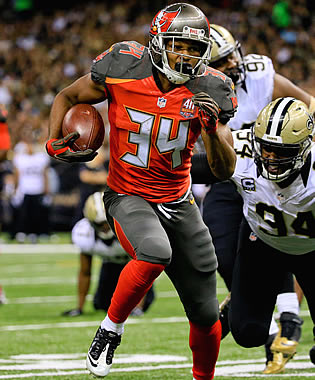 Sims has been a poplular target for Zero-RB drafters.
6. Charles Sims will outscore Doug Martin in PPR leagues.
I guess I just needed to warm up my prediction muscles first. I'll also be the first to admit I don't see this occurrence happening unless Martin is sidelined for any length of time, but that is precisely the reason I am making it. Although he is the clear starter in Tampa, the "Dougernaut" played a combined 17 games in 2013 and 2014 before last season's masterpiece, so durability has been an issue. Martin also ceded most of the passing-down work to Sims, who stole 158 touches a season ago. The Bucs intend to throw more often this season and will probably need to do so considering how many games they will be playing against the AFC and NFC West. Like Henry above, Sims is one injury to a starter with durability questions away from becoming a featured back. Suffice it to say Sims is being priced relatively low at his current 8.04 ADP considering his 17th-place finish among running backs in PPR leagues last year and it really doesn't take into consideration how little he needs to happen in front of him in order to be a fantasy RB1. A case could be made that his first-half schedule lines up perfectly for him in his current role, while the second half of the slate features a ton of games that have shootout potential. I have him ranked as a fringe fifth/sixth round value in each of my PPR Big Boards as a back-end RB2. I'll be stunned if he doesn't live up to that and then some in 2016.
7. Randall Cobb will finish as a top-10 fantasy receiver and outscore Jordy Nelson.
Neither part of the above statement is a bold prediction as far as I'm concerned (as suggested on my Big Boards), but it seems to be very much contrarian to the general public, so I'll put it here as well. It is my belief Cobb can still be a lead receiver in this league and maybe he'll get another chance to prove that down the road. I, like many others, was burned by Cobb last year as he failed to deliver on the WR1 promise so many had for him. Perhaps we should have seen it coming though: Nelson was lost for the season in August. HC Mike McCarthy relinquished his play-calling duties (before taking them back later in the season). Cobb suffered a shoulder injury in the third preseason game and never fully recovered. Green Bay asked QB coach Alex Van Pelt to take the unusual step to coach the receivers as well. These were all things we knew (minus McCarthy taking back his play-calling duties) before the start of the season and we ignored them because Aaron Rodgers was his quarterback and Cobb had "opportunity". Entering 2016, however, none of last year's problems look to be an issue this season and some might argue things are about as good in Green Bay as they have been in a while offensively. Rodgers is supposedly in great shape, the offensive line is healthy, Eddie Lacy is trimmer, Nelson is back and Jared Cook might give this offense something at tight end it really hasn't had since Jermichael Finley. If it sounds like there may be too many mouths to feed, don't worry. Cobb has 28 targets from the 10-yard and in over the past two seasons, trailing only Antonio Brown, so the odds are long he doesn't remain option 1A or 1B near the goal line. He's stronger than he was last year (check aforementioned link) and is a mismatch in the slot for virtually any nickel corner. I don't think Nelson will disappoint in the eyes of "normal" fans, but if you are one of those people expecting a 31-year-old receiver coming off an ACL tear to step right back into the offense and repeat his 2014 campaign, then I guess there will be some disappointed folks. Jordy will get his numbers to be sure, but there's a much better chance he'll open up things for a new-and-improved Cobb and Cook than carry fantasy teams on his back. Owners should be thrilled if he repeats 2013 (85 catches, 1,314 yards and eight touchdowns), because I have my doubts he'll even approach those benchmarks.
8. Stefon Diggs will flirt with fantasy WR2 status.
Rumor has it the hype train got out of the station and was chugging along at a pretty frenetic pace prior to Teddy Bridgewater's knee injury. (I say "rumor has it" because I honestly had no idea he was being viewed as a sixth-rounder by some.) For the save of brevity, I'll leave out my opinion regarding the compensation needed to pull off the Sam Bradford trade. Bradford's arrival will not change the tenor of this offense to be sure; the Vikings will go as far as Adrian Peterson can take them. However, it is becoming very clear Diggs is going to be the featured playmaker in the passing game. While volume will be a problem, it is worth noting Diggs had as many receptions (52) as Amari Cooper with 60 fewer receiving yards (720) and one less touchdown (four) after becoming a starter in Week 4. While most would have preferred seeing if Bridgewater had stepped up his game this season, it's hard to imagine Bradford won't at least play up to the standards Bridgewater established in 2015 once he gets comfortable with his new playbook. Diggs spent roughly 60 percent of his time in the slot this preseason, which may mean something or nothing based on your perspective. However, we should keep in mind Bradford has enjoyed much success with slot receivers (Danny Amendola and Jordan Matthews among them) throughout his star-crossed career, so it's not crazy to suggest he won't be force-fed the ball when the Vikings do pass.
9. Odell Beckham Jr. will lead all receivers in scoring.
Once again, I'm not certain how bold of a call it is to suggest a player with a 1.02 ADP will outscore the player with a 1.01 ADP, but I'll make it anyway considering how often Antonio Brown is the first player off the board. I've already stated my case as to why Ben Roethlisberger won't be a top-10 quarterback, so it goes without saying I believe the Pittsburgh offense will be overrated - at least until the time comes that Le'Veon Bell and maybe even Ladarius Green join the fray. It's easy to suggest that means more targets for Brown, but it probably also means he'll draw even more attention with Bell away from the team and top two deep threats joining him on the sidelines. Meanwhile, OBJ has a new partner-in-crime in rookie Sterling Shepard. For the most part, elite receivers tend to produce more when another player - be it running back, tight end or fellow receiver - establishes himself as a player the defense has to account for on every down. New York certainly expects the rookie to be that player. If he is, look out. As noted earlier, the Giants' schedule is packed with defenses that don't have an answer to stop Beckham, much less OBJ and his new sidekick. Beckham averaged 24.6 fantasy points in 12 games as a rookie despite the fact Rueben Randle finished with 71 catches. I suppose a healthy Victor Cruz could steal just enough action from OBJ and Shepard to keep them from reaching their full fantasy potential, but do we really see that happening?
10. Before September is over, you are going to wish you had added Trey Burton to your dynasty team.
Huh? Who? Ah, yes. The director of three Batman movies, Beetlejuice and Edward Scissorhands. But why do I need him for my fantasy team? Oh wait, that was Tim. This is Trey.
Trey Burton is currently a third-string tight end with the Philadelphia Eagles. Prior to making the team as an undrafted free agent in 2014, Burton was a jack-of-all-trades at the University of Florida. He played quarterback, running back and receiver at times with the Gators. It obviously takes a special athlete to pull off that kind of thing in the SEC. New OC Frank Reich remarked earlier this spring about how he watched tape of a player running a route during practice and figured it was a receiver, only to later realize it was the 6-3, 235-pound Burton.
Now that we have a bit of background on the guy, let's talk about why he needs to be on dynasty rosters and redraft watch lists. We've already discussed the athleticism. The current receiver depth chart in Philadelphia has some nice size and considerable talent in Jordan Matthews and Dorial Green-Beckham, but is either aforementioned player ready to be a lead outside receiver? It has been suggested the Eagles' best formation this season will be "13" personnel (one running back, three tight ends and one receiver) because Burton is so versatile and could actually be flexed out as a receiver or even as a running back if necessary. As much as some readers may want to believe he is just some gifted project, there's enough smoke to believe a fire is nearby. Burton is going to play in 2016, so the question becomes how much and at whose expense?
Furthermore, Philadelphia sent a clear signal it is playing for 2017 with its trade of Sam Bradford to Minnesota and subsequent promotion of No. 2 overall pick Carson Wentz over veteran Chase Daniel. (This after suggesting Wentz would be inactive for games early in the season only a few weeks earlier.) We all know when a former backup quarterback gets the starting nod, the natural tendency is to lean more heavily on players he has some familiarity with. I'll make a bold statement and suggest Wentz probably knows more of Burton's idiosyncrasies than Bradford did or Daniel does. Does that mean he'll overtake Zach Ertz? I'm not ready to go there quite yet, but I don't think the Eagles have the luxury of easing Burton into the fold if they hope to win more than a handful of games in 2016. His unique athleticism makes it hard not to compare him to a pair of other former Florida tight ends, Aaron Hernandez and Jordan Reed, and I think he can follow in those footsteps if he is given a real shot to do so.
Dynasty bonus: You have about 4-6 months to start turning in your used goods for the high-end new models.
If you've been waiting for a year to sell some of your veterans in order to get a head start on a rebuild or reload the next few months are key. From a fantasy perspective, the 2017 draft class could be for running backs what the 2014 class was for receivers. Obviously, all of the players I'm about to mention will need to declare for the draft, but most running backs nowadays - even players just a year or two into the college careers - understand their shelf life is limited, so I feel confident asking owners to do whatever they can to secure multiple first-round picks in their rookie drafts. If you thought the love got to be a bit much for Ezekiel Elliott last spring, what until you get a load of 6-1, 235-pound junior Leonard Fournette from LSU. While he's not quite the well-rounded prospect Elliott was (yet), their willingness to run through defenders and take on a massive workload is quite similar. Don't like the big workhorses? Maybe you'll be interested in Florida State's Dalvin Cook, who has drawn a number of comparisons to Jamaal Charles despite carrying roughly 15 more pounds. There's also 200-pound, total-yardage machine Christian McCaffrey from Stanford. Need more? How about 228-pound Georgia junior Nick Chubb, who tore up the SEC for 1,547 rushing yards as a freshman despite not taking over for the injured Todd Gurley until midseason. All four have a realistic shot at hearing their names called in the first round of the NFL Draft next spring. And there's more: FBS single-game rushing record holder Samaje Perine (Oklahoma) and battering ram and Hodgkin lymphoma survivor James Conner (Pittsburgh) could easily be Day 2 picks.
Don't care for (or don't need) running backs? Clemson QB Deshaun Watson profiles quite similarly to Robert Griffin III without the injury concerns, while Miami's Brad Kaaya figures to be the most pro-ready passer to enter the draft since Jameis Winston and carries none of the off-field baggage of the former Heisman Trophy winner.
I'm well aware not all of these players are likely to turn pro. The bigger point is that most of them probably will and you don't want to wait until a week or two before your league's rookie draft to start acquiring picks. Even if only half of the players I just mentioned bolt for the NFL, one thing remains constant year after year: more players will emerge from the woodwork to become top-flight prospects.

---
Doug Orth has written for FF Today since 2006 and been featured in USA Today's Fantasy Football Preview magazine since 2010. He hosted USA Today's hour-long, pre-kickoff fantasy football internet chat every Sunday in 2012-13 and appears as a guest analyst on a number of national sports radio shows, including Sirius XM's "Fantasy Drive". Doug is also a member of the Fantasy Sports Writers Association.