All Out Blitz: Volume 51




10/18/12



Aggressiveness is a characteristic that tends to reward fantasy owners more times than not. In the NFL, an offensive line will sometimes hold up long enough to give the quarterback enough time to beat man coverage down the field and make the defense look foolish against a fierce pass rush. More often than not, though, when a defense brings the heat and forces the action, crisis management becomes the name of the game for the opposing team.

In that same vein, I hope to apply that same kind of pressure to the owners in all of my leagues by beating my opponents to the punch in regards to personnel moves. Sometimes, reaching a conclusion about a player too quickly results in making a bad situation worse. However, coming to a correct conclusion two weeks or two minutes quicker than your opponents is considered foresight and can often lead to fantasy championships.

Fantasy owners can be a uneasy lot, knowing that one two-or-three-game losing streak can wreak irreparable damage to his/her team's chances to make a visit to the fantasy postseason. But just as it is in the NFL and in life, it's hard to land the big prize by playing scared. Thus, I will strive each week to help each of you become a smart blitzer, so to speak.


---
Every Sunday right before kickoff of the early games, I have the incredible honor of serving as the expert on a live hour-long chat in conjunction with USA Today. While this new task on my fantasy calendar is a privilege I truly enjoy, I was reminded this week how the agony I feel when I bench a player I should have started (or play a player I should have benched) gets magnified when some of your recommendations don't follow the "matchup script" they are supposed to. As luck would have it, the theme of the week must have been "green". Allow me to explain: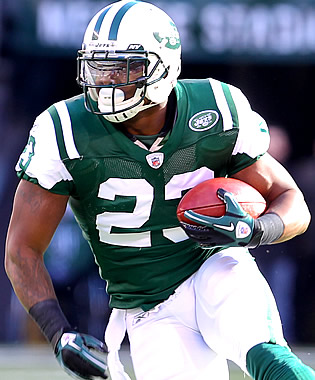 Shonn Greene landed in a perfect fantasy storm in Week 6.
Who knew Shonn Greene would find himself in a perfect storm between soft matchup and a boatload of carries once Bilal Powell and Joe McKnight were injured? Obviously, it didn't help the Colts failed to score a touchdown for the first time this year and finished with a -4 turnover margin, which is always a bad sign for a team like Indianapolis with a poor defense. While my recommendation of James Jones over Greene is one I would make under the current circumstances 16 out of 16 times, I seem to remember recommending Mikel Leshoure over Greene due to the former's consistent workload. (Not exactly my finest moment…)
The other player that contributed to my agony this week was Green Bay's Jordy Nelson. My reasoning for disliking him this week was sound – I was willing to believe that Johnathan Joseph's poor showing against the Jets on Monday Night Football was more an aberration than a result of an injury – so I felt justified in recommending Mike Williams to one owner, which I am perfectly happy with. However, I seem to recall making more "sit" than "start" calls on Nelson, who matched Greene's three-TD effort and probably drove a few of his disgruntled owners crazy if they benched him.
Fortunately, there was one "Green" that I didn't have to make a call on last week: A.J. Green. On a Calvin Johnson-like (circa 2011) roll to open this season, Green welcomed the recently-reinstated Joe Haden back into the league with the first two-score game of his career. Even Alex Green fared well in his first start, earning HC Mike McCarthy's recommendation as the back who will "carry the load" going forward.
Analyzing fantasy football games always has been and always will be an inexact science. The trick is taking as much of the mystery out of it as possible, which is what I hope to do with this column going forward. Let's see what we learned this week:
Steelers-Titans
Kenny Britt played a poor game – breaking off a number of routes he shouldn't have, dropping a few balls he should have caught and even giving up on a deep ball that landed about a yard in front of him – while Jared Cook excelled with the few number of opportunities that he received, the most notable being the 25-yard reception that set Rob Bironas up for the game-winning field goal. For the second time in three weeks, Chris Johnson had huge cutback lanes to run through, although the absence of Troy Polamalu would have likely prevented probably at least 30-40 of his 91 rushing yards. Even though the run-pass ratio was pretty even (until the final drive) after Rashard Mendenhall left the game for good early in the third quarter, I get the sense the Pittsburgh doesn't believe it has a running game unless Mendenhall is going well. Isaac Redman – despite a fluky 100-yard receiving day against a Tennessee defense that cannot tackle – is best left in a relief role, Baron Batch is an undersized runner who would get exposed with significant playing time and Chris Rainey is merely an "offensive weapon" that has to be kept on a touch count.
Fantasy implications: As is the case with Dez Bryant, this kind of game provides a glimpse as to how such talented receivers like Britt can be so inconsistent. Britt struggled so much in this game, however, that you have to wonder if his surgically-repaired knee or some other issue wasn't distracting him. Cook is an incredible mismatch and seeing as many snaps as he ever has, but Tennessee seems to use him only when it really needs him, which puts owners in a difficult situation. As I mentioned last week, a good game against Pittsburgh gives fantasy owners a possible three-week window to move him with the Bills and Colts next on the schedule. Johnson's second-half schedule appears much easier than his first half, but the Titans are not a good football team right now that still has an average offensive line at best and a defense that has allowed at least 23 points in every game, meaning it may be hard to stick with the running game if they fall behind, even in the "soft" matchups. When Pittsburgh is without Troy Polamalu or LaMarr Woodley, it suffers in a big way. When both players are missing, even a struggling team like Tennessee can score 26. Polamalu's instinctual play has given this defense its edge for years while Woodley is the best pass rusher. Lastly, Mendenhall's touches were likely scaled back due to the quick four-day turnaround after his heavy-use season debut and to take no chances with his knee (or Achilles' as it were). It also didn't help matter that Pittsburgh suffered a rash of injuries to its offensive line, which probably also factored into the decision to pull him.
Cowboys-Ravens
Obviously, the big storylines from this game were the high-profile injuries. The loss of LB Ray Lewis and CB Lardarius Webb will undoubtedly have far-reaching effects on Baltimore's defense, but Lewis' emotion and Webb's ability to cover receivers will be missed on both sides of the ball. Jimmy Smith was merely average in coverage in Week 6, but Webb's impact could be felt the most when opponents go three- or four-wide because he typically guarded the opponent's slot receiver in those situations. For Dallas, DeMarco Murray finally got a chance to show what he could do when he wasn't facing to a great run defense, only to see his potentially huge day ruined by a sprained foot. The last two minutes of this contest basically encapsulated Dez Bryant's career to this point. On third-and-27 with just over a minute remaining, he showed elite run-after-catch skills and got Dallas into position to convert on fourth down, which ultimately led to his second TD of the game. On that score, he did a wonderful job of shielding off his defender with his body. On the subsequent two-point conversion attempt, he dropped a well-thrown ball to tie the game and, after Dallas recovers the onside kick, Bryant uses the opportunity to jaw with the ref after a 1-yard catch, contributing to the chaos that caused the Cowboys to run just one play over the final 26 seconds and led to Dan Bailey's missed field-goal attempt that would have won the game.
Fantasy implications: It's impossible to tell just how much the loss Lewis and Webb will have on the team as a whole, but Baltimore will become even more of a plus-matchup for opposing run games and average-at-best stopping the pass. (It is also worth mentioning here that Webb has not surrendered a touchdown since Week 17 of the 2010 season.) For fantasy purposes, it may be time to move on from the Ravens defense. As for how their losses affect the offense, a good assumption would be the Ravens will now lean on the run more and use less no-huddle as a way to limit the number of possessions in a game. Inevitably, a poor defense can only be protected for so long, which means Baltimore may get involved in a few shootouts. Murray, assuming he only misses a week or two, is still a fine trade target and has a number of great matchups down the stretch. Bryant, like Britt above, will continue to amaze and confound as long as he continues to make "me plays". Until he actually can actually show the ability to go through a whole game or two without mental lapses, he really can't be considered anything more than a high-upside WR2.
Chiefs-Bucs
The most immediate nugget that jumped out at me was that Kansas City's first three plays with new quarterback Brady Quinn were passes and all within five yards of the line of scrimmage. It seemed as if just about every pass came off play-action and was a "safe" throw, as Quinn's dreadful 4.7 yard-per-attempt will attest. And yet another shocking part to me about the Chiefs was their inability to keep the Bucs' big receivers – Vincent Jackson and Mike Williams – in front of them. Brandon Flowers graded out extremely well last season and Stanford Routt – signed to essentially replace Brandon Carr – was considered Oakland's best CB in 2011. I saw no evidence of either player living up to their reputations in this contest and those struggles are made worse by the poor play of Eric Berry, who looks nothing like the player he did pre-injury. As for Tampa Bay, I will continue to bang the drum for Doug Martin, who performed well enough to take 13 of the Bucs' first 16 carries of the game. HC Greg Schiano assured us during the Bucs' bye week that Martin would start producing big plays once the offensive line "settled down". He produced four plays of 10+ yards, including a 42-yard catch-and-run at the start of the second half.
Fantasy implications: Considering the run-heavy nature of Kansas City's offense, it's not a shock it used a conservative offensive plan against the Bucs, but NFL defenses are too good if an offense doesn't attempt to threaten them deep at least 1-2 times a quarter. Tampa Bay, it should be noted, has one of the better run defenses this season. Speaking of the running game, one thing that is becoming a trend is that if an opponent places a high-enough priority on stopping the run – setting the edge or stacking the box –against the Chiefs, it probably will (Buffalo, second half vs. Baltimore and this game). If this game was any indication, the Chiefs' secondary should not strike any fear into the hearts of opposing passing games as Josh Freeman really didn't have to work very hard for his 328 passing yards or three TDs. And despite their fairly-even play counts (28-18) and how their final numbers looked, Martin out-carried Blount 13-2 until the middle of the fourth quarter, when the veteran came on and logged five carries with the Bucs leading by 21 points. The true barometer of how this backfield may play out for the foreseeable future will likely come next week vs. the Saints, where Tampa Bay will need to score points via the run and pass to win. At that time, we should get a good indication as to how much Schiano wants Blount on the field in critical situations.
Bengals-Browns
Jermaine Gresham's 55-yard touchdown catch was a prime example of why I feel like he is such an under-utilized talent. Lined up as a receiver at the start of the play, he abused LB Craig Robertson on a slant route, stiff-arming him and dodging another tackler to break away for the long score. Naturally, even though he would see seven more targets after that play, he managed only two catches for 13 yards over the final 3 ½ quarters. After mentioning him last week, fans need to get familiar with Cedric Peerman, who saw more snaps than BenJarvus Green-Ellis in Week 6 despite the fact that Cincinnati entered the fourth quarter with the lead. While part of this had to do with third-down back Brian Leonard leaving because of a rib injury, the fact is the Bengals already realized "Law Firm" is not a three-down back and not explosive enough to create big plays when the team is trailing. Peerman isn't a dynamic talent, but he's the only back left on the roster – following Bernard Scott's injury – that offers any hint of big-play ability. After two weeks, we know Josh Gordon can get deep. In this game, he also collected a pair of 14-yard receptions on an out and a slant pattern after he burned the Bengals for a 71-yard score. If he can simply run each of those routes like he did in this game going forward, defenses are very likely to give it to him because is just that fast. He's done enough in my mind to justify a starting spot even after Mohamed Massaquoi returns.
Fantasy implications: The Bengals, even considering their recent success, have a long track record of not maximizing the abilities of their players. Gresham and Rob Gronkowski were considered similar talents coming out of the 2010 NFL Draft, but Gresham was selected first primarily because of the Gronkowski's back surgery at the time. While Gresham's numbers to date are nothing to sneeze at, they pale in comparison to Gronkowski's in large part because their offensive philosophy revolves around a power running game which has been headed by two of the league's least explosive backs in his three years with the team. Long story short, Gresham will likely remain little more than a high-end TE2 in fantasy. Green-Ellis, like Cedric Benson before him, has proven to be very durable throughout his career, but Peerman could have some decent PPR value at the rate the defense is serving up points if Leonard is out for any length of time. Since we discussed Gordon last week, I'll keep it short this week and just say he has my seal of approval. I snagged him without much competition (blind bidding) in three of my four big-money leagues last week. He's not the Randy Moss talent some people suggested he was before the supplemental draft, but it may not be long before he is the best receiver on this team.
Raiders-Falcons
Even as Matt Ryan continues to prove he is ready to join the league's top quarterbacks, he will make poor decisions occasionally and his first two interceptions were among them. On a short crossing route to Harry Douglas, it appeared as if Ryan predetermined his throw despite perfect coverage from Joselio Hanson and linebacker help. On the second pick, Ryan forced the ball into Julio Jones' direction about 50 yards down the field despite coverage on both sides of his receiver and another defender within about five yards. (The third interception came as a result of getting drilled in the process of making a throw to Tony Gonzalez.) Mike Goodson has no shot at unseating Darren McFadden, but it is obvious his hamstring is no longer an issue. The burst he showed on a screen pass in this game and on a few other pass plays earlier this season has probably led the Raiders' coaches to the same conclusion the Panthers' coaches made in 2010: he's too explosive to keep off the field.
Fantasy implications: Ryan has built up a ton of good will with his play to this point and this game shouldn't change owners' perception of him despite the fact that Oakland entered Week 6 without a single interception. Ryan's receivers are so talented – while the running game lacks any kind of sizzle – that he is going to continue getting 35-40 attempts per game. McFadden is running with plenty of power and had a number of potential big runs called back due to holding calls, but despite that, he's not getting a lot of help from his blockers. Goodson will likely continue to steal more looks from McFadden in the passing game as McFadden hasn't surpassed the three-reception mark in a game since opening up the season with 13. Still, as long as owners can learn to live with his potential for injury, his workload and upcoming schedule will likely ensure that he remains among the most consistent RBs in fantasy.
Colts-Jets
Indianapolis knew entering the season it did not have the personnel yet to run the 3-4 defense or stop the run…and it shows. Against two one-dimensional offenses – the Jags and the Jets – that had little choice but to run the ball, the Colts allowed 424 yards rushing just to running backs in those games. What stuck out in this game the most, however, was Indy's complete unwillingness to tackle Shonn Greene after first contact. Prior to Week 6, Greene had forced just one missed tackle and collected 141 yards after contact, per Pro Football Focus. In this contest alone, he broke eight tackles and recorded 82 yards after contact. Give Greene credit for running tough, but a ton of his yardage came from the Colts' lackluster effort. Andrew Luck looked like a rookie QB for the first time since perhaps Week 1. His usual pinpoint accuracy was not there and he seemed unsure of himself as well. While Antonio Cromartie's stellar coverage kept his favorite receiver (Reggie Wayne) quiet for the majority of the first three quarters, the entire operation of the Colts' passing game was just off. Dwayne Allen was involved on the first drive but barely heard from thereafter, Donnie Avery was targeted heavily once again but didn't receive all that many catchable balls and the times where Indy could have possibly put together a big pass play, Luck was under severe pressure.
Fantasy implications: I feel confident in saying that while Greene showed more niftiness than he has in the last season or two, he is not going to repeat this kind of performance anytime soon. Over the next five games (six weeks), the Jets face four opponents who currently rank among the top seven defenses in terms of the fewest rushing yards allowed to the RB position. It is actually a bit surprising that it took the Colts this long to put together this dreadful of a performance given where they are in the rebuilding plan. While the Jets deserve plenty of credit, this game very much looked like one in which Indy played without the "win one for Chuck" motivation it did the previous week vs. Green Bay or got a little full of themselves after knocking off the Packers.
Rams-Dolphins
The Rams' coaching staff deserves a ton of credit for putting together a gameplan each week that manages to keep Sam Bradford somewhat healthy and allows the running game to be moderately productive (we'll get into a bit more detail about that in a bit). On one hand, it looked like St. Louis has committed to a splitting its backfield reps almost evenly between Steven Jackson and Daryl Richardson. On the other hand, it became obvious to me midway through the first quarter the Rams identified their best shot at success against Miami was running on the perimeter, a skill set that suits the younger and more explosive Richardson. To further back up that point, I don't recall a single Richardson run inside the tackles (outside of a couple of draws) nor do I remember seeing a single Jackson run that didn't start inside the tackles. Much of Miami's offensive gameplan appeared to target CB Bradley Fletcher and Janoris Jenkins (or avoid Cortland Finnegan, to be precise) and lean on quick-hitting pass plays that allowed QB Ryan Tannehill to avoid the impressive Rams' pass rush. Jenkins, in particular, had a poor game, allowing all nine passes in his coverage to be completed. With that nugget of information and after looking at the box score, it should come as no shock that Jenkins spent most of his day on Davone Bess or Marlon Moore.
Fantasy implications: It is stunning to me that an offense starting Wayne Hunter at LT and Barry Richardson at RT can get anything done, much less post 462 yards against a fairly formidable Dolphins defense. Casual game observers might be willing to look at the game and/or box score and say the Rams have joined the ranks of the dreaded RBBC, but I'm not so sure. The idea of Mr. Inside and Mr. Outside came to me on the Rams' second snap from scrimmage and may be their plan to compensate for the absence of Danny Amendola. One thing that is apparent over last season for Miami is that HC Joe Philbin and OC Mike Sherman understand football is more than just focusing on what your players do well, but calling a game that minimizes what your opponent does well. This, above everything else, is my rationale for why Brian Hartline was hardly targeted vs. the Rams after being one of the league leaders in the category entering the game while Bess, Moore and Reggie Bush carried the Miami passing attack. In other words, we should continue to expect inconsistent production from Hartline in games in which Miami should be able to remain competitive or against defenses with weak pass rushes. In other games – like this one – expect a heavy dose of Bush, Bess and Anthony Fasano.
Lions-Eagles
One of the biggest differences I see in Matthew Stafford this year is that instead of involving his supporting cast like he did for most of 2011, he seems to default to Johnson almost immediately if his first read isn't open (assuming Johnson isn't the first read) regardless of coverage. Brandon Pettigrew appeared to be an afterthought in this game – which is understandable considering the athletes the Eagles now have at linebacker – but Titus Young may as well not even dress on Sundays. After enjoying such a great offseason, Young is seeing on action on 75% of the team's offensive snaps but doesn't appear to be all that confident – he dropped a fairly easy deep ball in this game after beating three defenders – and, as a result, Stafford doesn't appear to have much confidence in him. As I search answers to the question of why Philadelphia is struggling so much on offense, I ask myself, "When did Jason Avant become such an afterthought in the gameplan?" Given his role as a third receiver in this offense, Avant isn't necessarily someone opponents spend much time on, but he always seemed to be in the right place at the right time when Michael Vick needed a first down late in previous years. It may have taken a bit longer than expected, but Nick Fairley lived up to his 2011 draft status in this contest, doing his part to cause Michael Vick to throw both of his interceptions and blowing up a number of run plays in the backfield.
Fantasy implications: Lions OC Scott Linehan stated in the week leading up to this game that he believed opposing defenses had used zone coverage on all but about five plays against his offense all season long. This goes a long way in explaining why Young isn't "lifting the lid" off the defense as well as why Nate Burleson – the better route-runner – is producing despite what supposed to be a passing of the torch. It also helps to explain Detroit's desire to run the ball more often. In this game, however, I saw mostly man coverage from the Eagles and the Lions were unable to exploit it for most of the game as Johnson had just one catch after three quarters. In the fourth quarter, however, Detroit got smart with Johnson and used all the tricks in the book to beat man coverage (such as fade stops and drag routes) that it wasn't using through the first 45 minutes. Given what I've seen in my review, Young is droppable in deeper leagues. He is supposedly dealing with a knee injury, but his only score this year was off a tipped Hail Mary pass and, as I suggested above, he doesn't appear to be part of the gameplan. The Eagles' offensive woes stem from more than just the lack of use of Avant, but when Jeremy Maclin is the only receiver opponents must fear over inside the numbers and the offense isn't calling many run plays, inconsistency will occur. Pure and simple, Fairley was a difference maker in this game. His possible emergence would mean the world to a secondary that has been much less burnable than it was last season.
Patriots-Seahawks
Casual observers will simply look at the box score and say Russell Wilson picked apart the Patriots' defense. However, I'd argue that his some of the skills he flashed before he even released the ball impressed me more than any throw he made. On a handful of plays in the first half alone, Wilson showed the athleticism to create something out of nothing on more than one occasion. But most impressively, I saw the movement skills inside the pocket that had GM John Schneider comparing the rookie to Drew Brees during the summer. If there was any doubt about New England being a "matchup offense" prior to Week 6, there shouldn't be anymore. The Pats ran 85 plays, 58 of which were passes. So how does a 58:27 pass-run ratio equate into a matchup-based offense? New England averaged 3.3 YPC on the ground, which is a small number for such a talented offense and not one it has to accept when it has proven it doesn't need balance to be an effective passing team. Going forward, it is fair to suggest that Brady will likely be throwing the most when the matchup in the run game looks the most daunting.
Fantasy implications: Despite an impressive fantasy game in Week 6, Wilson's time to shine probably isn't going to come this season for redraft-league owners simply because Seattle will most likely be comfortably putting the brunt of the weight on the defense and the running game. Wilson hasn't eclipsed 27 pass attempts since Week 1, which is one reason why I feel confident in making that prediction. But, as many have said before me, Wilson already possesses all the "tools" he needs to succeed in this league and his all-around skill-set figures to make him a fantasy QB1 when the Seahawks decide to open up their offense in 2013 or 2014. The Pats can generally work under the assumption each week that if the ground game is ineffective, Tom Brady has more weapons than the defense has studs to defend them. Even the Seahawks, who have three Pro Bowlers in the secondary and an above-average pass rush, had trouble keeping Brady under 400 yards passing.
Bills-Cardinals
Based on my analysis, LaRod Stephens-Howling was hit at the line of scrimmage or behind it on just about every one of his 11 carries, most of which were runs designed to be inside the tackles. The one time I recall that he actually had good blocking – which was another inside run that he bounced outside – he turned it into an 11-yard gain. The fact he was used as the inside runner in this game was somewhat mind-boggling, to say the least. William Powell, on the other hand, seemed to benefit from better blocking that one might expect from the Arizona line. But to be fair, Powell outperformed "Hyphen" on similar runs and was generally harder to bring down. Then again, outside of the way they were used in this game, none of this should come as a big surprise to anyone who has watched the two backs play. After noticing how the Rams used Steven Jackson and Daryl Richardson, I was surprised how much similarity I saw in how the Bills use Fred Jackson and C.J. Spiller when both backs are healthy. Again, this inside-outside usage isn't surprising given their builds and styles, but notable since both backs have been featured at some point.
Fantasy implications: One has to question the intelligence of giving your 5-7, 185-pound third-down back all the inside runs while the 5-9, 207-pound back gets to run all the counters and screens designed to get players to the edge of the defense. It happened consistently enough that I am willing to conclude Arizona was just "changing it up" on Buffalo because I've seen the Cardinals use LSH in the same way they utilized Powell in this contest. I was also surprised to discover "Hyphen" wasn't even targeted in the passing game until overtime, when he received both of them on first and second down before John Skelton threw his game-changing interception. With that said, Powell was my recommendation in this backfield prior to last week and he will continue to be my recommendation. He was the Cardinals RB I was most impressed with during the preseason as well, which is why I selected him as Arizona's candidate for the "next Victor Cruz" in my Bold Predictions article. As long as both Bills' RB stay healthy, my initial impression is that Jackson will be more useful in games like Tennessee this week in which the opponent either has trouble tackling or is "soft" up the middle and Spiller will be more useful in comeback-mode games or against teams that have poor tacklers in the secondary.
Vikings-Redskins
It's a small matter – especially since Percy Harvin is such a dynamic player – but it is worth noting how much Harvin has appeared in the backfield instead of Adrian Peterson in recent weeks. I'm fairly certain this trend can be chalked up primarily to an offense that doesn't feel like it can run down close to the goal line without a completely-recovered Peterson because of a below-average line. (When I say "below-average", I'm referring to poor run-blocking grades of LG Charlie Johnson and LT Matt Kalil – who incidentally is dominating as a pass blocker). One way to cover that weakness up in the red zone (we'll get into AP's poor red-zone numbers in a bit) is to spread the field with three- or four-receiver sets and run draws with the most explosive player on the team right now, which is Harvin. If and when that isn't producing the desired result, well, let's just say there's a reason Kyle Rudolph already has five touchdowns. I'm anticipating the day when opposing defenses start to put eight and maybe nine men in the box against the Redskins. As long as Pierre Garcon is limited – which appears as if it is going to be that way for a while – the Redskins simply don't have anyone at receiver right now who brings near the big-play threat Robert Griffin III does as a runner. Fred Davis has that kind of potential, but strangely does not appear to be part of the regular gameplan each week.
Fantasy implications: Owners looking for some kind of rationale as to why AP hasn't scored since Week 1 don't need to look any further than the fact that he isn't doing anything in the red zone when he gets his shot. Since his two-TD debut, Peterson has 14 carries for 11 yards inside the 20! To put that number into some perspective, Peterson and Arian Foster were tied for No. 1 overall (among backs with at least 25 red-zone carries) at 3.1 YPC inside the 20 last season. But none of this is meant to take anything away from Peterson, who is performing at a much higher than any of us could have expected. RG3 has the potential to be everything we hoped Michael Vick would become years ago. The power of Alfred Morris should ensure that defenses don't use nickel packages to try and match speed with Griffin while his accuracy is already good enough that defenses are hesitant to leave their cornerbacks on an island. With that said, it doesn't make a lot of sense for defenses to allow RG3 to beat them with the ball in his hands as a runner when they can force an aging Santana Moss or injured Garcon to do it. Until that happens, however, owners need to treat RG3 as the incredibly productive fantasy player he is. The risk is obviously high for any quarterback who runs as much as he does, but his talent is undeniable.
Giants-Niners
Domenik Hixon may not be the most durable receiver and he may be no higher than third on the depth chart, but there is no doubt in my mind now why the Giants have stayed the course with him through all of his injuries. While he lacks the physical presence of Hakeem Nicks or the elite cat-like quickness of Victor Cruz, I have been consistently impressed by the different ways he makes plays all over the field. Whereas Mario Manningham was mostly a deep receiver at the end of last season, Hixon has a great chance to be a key contributor all season long, particularly if Nicks looks as limited as he did in this contest. Perhaps the one aspect of San Francisco's game that stuck out the most to me – besides the inability to establish Frank Gore or contain the Giants' running game late – was the degree to which Colin Kaepernick was involved. While it is hard to get a gauge on HC Jim Harbaugh's long-term plan at quarterback with blowouts in three consecutive games (two wins, one loss), the second-year signal-caller was involved in the action when he was in the game (meaning he personally ran the ball himself or passed on nine of his 17 snaps in Week 6.
Fantasy implications: The Giants' depth at a number of key positions is nothing short of incredible. Obviously, Eli Manning's presence goes a long way in making the receivers look good, but it is still worth mentioning that five New York wideouts have each recorded at least 82 yards in a game less than halfway through the season. Getting back to Hixon, his rest-of-the-season role will obviously depend on how often the injury-prone Nicks is available to play. However, I'm convinced after watching Hixon over the past couple of weeks that he is a player worth keeping on fantasy rosters in even the shallowest of leagues for the remainder of the season. In all likelihood, the Niners are using Kaepernick as a change-up to Smith and nothing more, especially since Alex Smith has been reborn under Harbaugh. Still, it has to be a bit concerning to Smith and his owners that Kaepernick is getting a series here or there. Whether he wants to or not, Harbaugh is certainly inviting talk that Smith's grasp on the job may not last past this season.
Packers-Texans
Slight pushoffs by Jordy Nelson notwithstanding, this game was confirmation for me that Texans CB Johnathan Joseph is playing hurt. Since reports surfaced about a groin injury before Houston's Monday Night Football game against the Jets in Week 5, the player who essentially shut down Demaryius Thomas in Week 3 and A.J. Green in the playoffs last season has been burned repeatedly by the likes of Jeremy Kerley, Jason Hill and the previously-struggling Nelson. Another troubling sign was the Texans' complete inability to establish their ground game or even block effectively against a Packers' defense missing NT B.J. Raji. When Owen Daniels or LT Duane Brown wasn't setting the edge against Clay Matthews (not an unforgivable crime), it was the interior blocking that was failing. And on the rare occasion there was a cutback lane, neither Foster nor Ben Tate could find their footing. Although I could certainly discuss the proficiency of Green Bay's passing game, I think it is safe to say nothing is wrong with that part of the Packers' offense. Most notably, however, was that Green Bay played with a pace and urgency I had not seen from them at any point this season. As I suggested last week, I feel the loss of Cedric Benson actually helps this offense because it forces the Packers to play more aggressively and use Randall Cobb as an extension of the running game.
Fantasy implications: At this point, Houston fans should hope that Joseph sits outs this week against Baltimore and uses the Week 8 bye to recover. Joseph and Danieal Manning – along with the hiring of DC Wade Phillips – are the single biggest reasons this pass defense has improved so much from the porous unit the Texans had prior to their arrivals. Most likely, the awful performance of the Texans' running game is just a one-time thing, but it is worth mentioning that Foster is averaging 25 carries a game and on pace for 400 carries, so with Tate having done next to nothing for about four weeks, now is the time for Foster owners to secure his handcuff. I don't think it was coincidence that Green Bay enjoyed its best offensive in the same game Cobb was heavily utilized. While he didn't get into the end zone, Cobb's ability to work the slot means opponents must account for every part of the field. Perhaps Greg Jennings' eventual return changes Cobb's role, but I'm willing to bet he maintains WR3 value in fantasy going forward.
Broncos-Chargers
San Diego cannot be expected to function in the passing game if Ryan Mathews is being bottled up and/or LT Jared Gaither is out. LT Mike Harris was the talk of the preseason, but he and RT Jeromey Clary have no shot at protecting Philip Rivers against the likes of Elvis Dumervil and Von Miller without the threat of the run. Antonio Gates still has it. While he still doesn't look nearly as quick as he did during the preseason, he can still make safeties and linebackers look ridiculous. Gates has been the victim of some bad luck – rib injury, pass interference calls, etc. – that have made people question his ability, but he proved in this game he is still very much a player that Rivers will target relentlessly. And let's not forget Eric Decker, who could have easily enjoyed a game that would have made Jordy Nelson jealous if not for: 1) a temporary lack of balance that would have added 30 yards and another touchdown to his totals and 2) a bogus pass interference call that wiped out a 28-yard gain at the very least. Although he is considered a possession receiver by most, Decker can get deep and has better ball skills – especially in the air – than most believe.
Fantasy implications: There was some discussion taking place during the offseason that Rivers had lost a great deal of arm strength, which contributed to his high interception total last season. While there may be some truth to that, his decision-making was particularly poor in this game, which could be just as much compensating for a loss of arm strength as it knowing he no longer has the likes of Marcus McNeill, Kris Dielman and Nick Hardwick in their primes protecting him. After the Chargers' bye this week, they will have a chance to execute HC Norv Turner's edict of protecting the football and reducing risk at the expense of producing big plays. This new plan will begin in earnest against the Browns and Chiefs, two teams that rank among the top 10 friendliest matchups for RBs, so Mathews' workload should not be in question. Even though both Cleveland and Kansas City have kept TEs in check so far, I would expect Gates to be the primary focus of Turner's new low-risk offensive plan. Decker is doing just about what I expected in that while Demaryius Thomas draws most of the attention because of his big-play ability, he has a slight edge over Thomas in targets and isn't that far away from having about 100 more receiving yards and 2-3 more touchdowns.

Suggestions, comments, musings about the article or fantasy football in general? E-mail me or follow me on Twitter.

---
Doug Orth has written for FF Today since 2006, appeared in USA Today's Fantasy Football Preview magazine in each of the last two seasons and served as a weekly fantasy football analyst for 106.7 The Fan (WJFK – Washington, D.C). He is also a member of the Fantasy Sports Writers Association.