Preseason Matchup Analysis




9/4/12



Every once in a while, it is nice to break routine and just let yourself go (at least as much as the boss or family will allow…). At any rate, the end of the preseason and the beginning of "real football" gives each of us in the fantasy industry the opportunity to relax a bit and pretend we can see the future.

All kidding aside, I'd like to think I've established myself as a bold, outside-the-box thinker in the midst of my seventh season writing for FF Today. In that time, I have created several different column ideas that attempted – among other things – to give readers a unique yet unfiltered way to think about how the various idiosyncrasies of the NFL game and how they can lead to success playing fantasy football.

After actually nailing many of my predictions last season, I decided I wanted to be bold and helpful with this year's column. While I cannot say for certain that all my predictions or observations below are incredibly bold, I am quite sure there will be several that surprise you. In any event, take these predictions the way they were meant to be taken: opinions designed to provoke deeper thought.

So, you must be asking yourself: where is the helpful part of this column? Keep reading and it will become obvious…

Note: In an effort to avoid answering the questions I know I will get if I don't issue this disclaimer, my Big Board 3.0 supersedes any of these predictions. My predictions below are occurrences I believe could happen, but I wouldn't bet my season on them.

Arizona Cardinals

Third-string rookie QB Ryan Lindley will start at least four games, which will leave the team in position to draft USC QB Matt Barkley next spring.

Let's be brutally honest: the Cardinals' QB situation is awful and, to make matters worse, the offensive line is borderline pathetic. Regardless of whether or not John Skelton manages to start the first few games of the season, it is likely only a matter of time before ineffectiveness or injuries forces Kevin Kolb into action. And given his track record for durability and how quickly he leaves the pocket, it is only a matter of time before he breaks down as well. Enter the rookie Lindley, who is a raw player that had talent evaluators shaking their head this spring. Most front office personnel saw a quarterback who could make all the throws a NFL signal-caller needs to make but lacked proper footwork, which led to his struggles with his accuracy in college. Either way, this porous offensive line will, in all likelihood, get Skelton and Kolb hurt and be one of the main reasons why Arizona will finish last in the NFC West. Ultimately, I believe Arizona will be one of the NFL's worst teams, which should leave it with a shot to grab Barkley – a player the fan base will love since they will have seen many of his games on the West Coast.

Atlanta Falcons

Jacquizz Rodgers will be a more consistent PPR player than Michael Turner.

I'm not exactly sure why Atlanta is even pretending Turner is still a bellcow RB. When he first joined the Falcons, he very much lived up to his "Burner" nickname. However, the incredible size-speed combination he used to possess is just about gone, almost to the point where you feel bad for him when you watch him run. Turner will still be the unquestioned goal-line runner and the Falcons will do their best to make sure he is involved in the passing game (like they have in the preseason), but the big-play ability he once possessed is a thing of the past. In order for OC Dirk Koetter's new aerial attack to maximize its potential, Atlanta may have no choice to lean more and more on Rodgers as the season progresses. Besides of their diminutive nature and proximity to each other (same division), Rodgers will get compared to Darren Sproles more than he should, even though they are different types of runners. With that said, I suspect the Falcons will use him in much the same way, so 45 receptions and 700-900 total yards is a realistic goal for him. If he manages to add about five touchdowns to that stat line, it is not a stretch to believe Rodgers will be the more consistent of the two Atlanta running backs since Turner's value will be tied heavily into whether he scores touchdowns or not.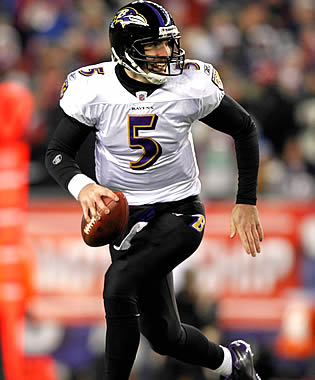 The Flacco bandwagon is picking up steam.
Baltimore Ravens
Joe Flacco will enjoy his first 4,000-yard season and finish as a top-10 fantasy QB.
Forgive me for jumping on the Flacco bandwagon a bit late, but if I'm going to start believing in quarterback based on offseason reports and preseason action when I didn't before, I need to see a player who is sharp and in total command of the offense. Flacco has generated nothing but glowing reports all offseason and was borderline amazing whenever I watched him this preseason. But it isn't just Flacco I've been impressed with recently; I'm also thrilled by what I saw from Torrey Smith. And let's face it, whatever no-huddle Baltimore ends up running will lead to more plays, which will create more opportunities for Flacco and Smith. I'm not prepared to view Flacco as a fantasy QB1 in drafts, but with two capable tight ends and receivers along with a skilled pass-catching RB like Ray Rice, he no longer has any excuses as he plays for a big contract extension in 2012.
Buffalo Bills
Ryan Fitzpatrick will struggle to be a top 20 fantasy QB.
My colleague Jonathan Bales is high on the bearded one, but I don't see it. He cites Fitzpatrick's rib injury as one of the reasons Fitzpatrick's play declined, but two straight seasons of fading in the second half tell a different story. Additionally, he didn't suffer his rib injury until Week 8 against Washington, at which time Fitzpatrick had turned five straight average-at-best fantasy performances. HC Chan Gailey's willingness to spread things out will help Fitzpatrick try to make me look bad here, but I feel that Gailey will play more to his running game and improved defense and not lean as much on Fitzpatrick's arm. Furthermore, Buffalo's schedule isn't exactly favorable when it comes to potentially soft secondaries.
Carolina Panthers
Cam Newton will see his rushing touchdowns cut in half, but will more than maintain his 2011 fantasy value by making up for it in the passing game.
History suggests that Newton won't rush for more than about four TDs, so the bold part of this prediction could very well be the fact that he'll finish with seven. I've talked a number of times about how I feel Mike Tolbert will steal a few of those scores, so I'll get right back to Newton and suggest that he'll find a way to throw for about 4,200 yards and about 25 touchdowns. In leagues that give six points for all touchdowns, those stats – along with 500+ rushing yards and seven more scores – are good enough to give him around 400 fantasy points, which is right at the number he hit last season.
Chicago Bears
Michael Bush will be a thorn in the side of Matt Forte's fantasy owners.
We already know that Bush will replace Forte when the Bears get close to the goal line. But I've got a real bad feeling that while Forte's new contract says he is the unquestioned lead back, he isn't going to get nearly as much work outside the red zone as people seem to think. Bush is getting paid a fair amount of money himself and is too versatile to be used just as a red-zone hammer. I have no doubt Forte will be the better fantasy RB of the two, but I don't see any way he will deliver the first-round value that a number of owners believe he possesses.
Cincinnati Bengals
BenJarvus Green-Ellis will finish as the team's best fantasy RB, but won't come close to justifying his current 4.9 ADP in PPR formats or 4.11 ADP in standard leagues.
First of all, explain to me how a player with 26 career receptions in 53 games has a slightly higher ADP in standard leagues than he does in PPR. Back to the subject at hand, "Law Firm" needs a lot going in his favor in order to be a productive fantasy player. He won't hurt you much (he has yet to fumble in his NFL career), but offers very little in the passing game and isn't all that explosive. Moreover, Cincinnati's interior line is already decimated (LG Travelle Wharton is on IR and C Kyle Cook is out indefinitely) or struggling (rookie RG Kevin Zeitler). Seeing as how Green-Ellis is an inside runner, the collapse of Cincinnati's offensive line and the move away from the Patriots' explosive offense will be enough to sink his fantasy value.
Cleveland Browns
By the end of the year, Jordan Cameron will be a player you want on your fantasy team (at least in deeper leagues).
For those of you who don't know him, Cameron is a former BYU basketball player who impressed at the 2011 NFL Combine and has wowed the Browns coaches this offseason. Part-timer Evan Moore was released in part due to the emergence of Cameron, who will likely assume his role as the "move" TE. Unlike Moore, don't expect Cleveland to limit his snaps. Cameron isn't quite the same athlete that other former basketball-players-turned-tight-ends Antonio Gates and Jimmy Graham are (nor does he have their quarterbacks), but HC Pat Shurmur is willing to play him in the slot. Young quarterbacks typically love their tight ends, so with Cameron showing improved blocking skills this summer, he could take over the starting job from Ben Watson before the end of the year.
Dallas Cowboys
Dez Bryant will find a way to stay on the field for 16 games this season and, as a result, will fulfill his promise as a top-five fantasy WR in PPR and standard formats.
This is a bold prediction on a couple of levels. Even the most casual fans know the headcase Bryant has been so far off the field (although that has typically been more of an offseason concern), but Bryant hasn't been able to stay healthy for an entire season yet either. Dallas recently addressed the part it could control when it had him agree to a strict set of rules regarding his conduct away from the field. Bryant – up until the point where he was facing possible domestic abuse charges – was enjoying the finest offseason of his three-year NFL career. While the fantasy world goes crazy over Julio Jones, Bryant is on par with Jones in terms of talent and he's available roughly 10-15 picks later than the Falcons' wideout. Even with the full-time security detail, owners need to recognize the risk. With that said, the reward is a top-five fantasy receiver.
Denver Broncos
Willis McGahee will turn the clock back to 2007 (minus the 40+ receptions) before giving way to Knowshon Moreno and Ronnie Hillman next season.
McGahee gets an unfair rap for not being much of a receiver who is only good at the goal line due in part to his days in Baltimore, but he has spent much of his career in run-heavy offenses. For the first time in recent memory, McGahee has the backfield mostly to himself (thanks to rookie Ronnie Hillman being hampered by a hamstring injury) in an offense where Peyton Manning and his receivers will receive most of the attention. Denver is going to run the ball more than the general fan would expect a Manning-led team to and the team has the offensive line to make it work. Of course, if you've been reading my Big Board articles lately, you already know I have him rated as a late fourth-round value, rushing for just over 1,000 yards rushing and 10 touchdowns. I do fear that he will start declining near the end of the season (he turns 31 in late October), but like Fred Jackson, he's an older back with much less mileage than a runner his age typically has at this point of his career.
Detroit Lions
Titus Young will surpass 1,000 receiving yards and score 10 touchdowns.
Young certainly doesn't lack for confidence, suggesting earlier this offseason that he felt when Barry Sanders announced his name on draft day last season the Lions' legend was passing the torch to him. He's also a bit of a wildcard as he showed this offseason when he punched teammate Louis Delmas, which resulted in a short "suspension". But the most important thing to fantasy owners is that he has been "almost impossible to stop during practices" and that HC Jim Schwartz believes Young is "an important part" of the coaching staff's plans this season. Working opposite Calvin Johnson means that Young will probably never see a safety over the top, meaning the deep ball (and single coverage) will be available about as much as the Lions want to exploit it. At the very least, Young is a fantasy WR3 who will provide "splash" games. More likely, he'll post 60+ receptions for over 1,000 yards and push the double-digit mark in touchdowns.
Green Bay Packers
James Jones will be traded to Miami and still struggle to be the third-best fantasy receiver currently on the Packers' roster.
This prediction suggests that Jones has no chance at being a better fantasy wideout than Greg Jennings or Jordy Nelson wherever he ends up, but will also struggle to be more productive than second-year breakout candidate Randall Cobb even if he is traded to Miami. Of course, this prediction is assuming former OC (and current HC) Joe Philbin will attempt to trade for his former pupil. Cobb probably won't meet the "sleeper" expectations some optimistic owners have set for him as he shares time with team favorite Donald Driver, but he'll have his share of explosive games, just as Jones probably will. Good luck predicting when they happen…
Houston Texans
Lestar Jean will be more than just a late-round flyer.
I'm not sure how bold of a prediction this really is, given Andre Johnson's extensive injury history and the likelihood that Jean will step into his spot if/when he goes down. But even if Johnson somehow manages to play 14 games, I think HC Gary Kubiak will be tempted to get another solid receiving threat out on the field to replace the unspectacular Kevin Walter. Skeptics will suggest that Houston is too run-heavy to support two receivers in fantasy, but I maintain two of the reasons the team ran so much last season (52.2%) was due to injuries (Matt Schaub, Johnson, etc.) and the lack of quality options in the passing game (Jacoby Jones and Walter started when Johnson was out). Even if the Texans split their runs and passes evenly this season, it should be enough to get someone like Jean into the 40-catch range, especially if Johnson is forced to miss significant time again with injuries.
Indianapolis Colts
Vick Ballard will end up as the team's best fantasy RB option.
This prediction isn't exactly a surprise to those of you who followed my Big Board series. Although I have Donald Brown ranked higher, I would be mildly surprised if Ballard isn't at least splitting carries right down the middle with Brown by midseason. Brown's big-play ability will make sure he remains a big part of the offense, but Ballard's physical running style will eventually win the day as the weather turns colder. He's also the Colts' back to own in dynasty formats.
Jacksonville Jaguars
Justin Blackmon will catch 60 passes and finish as a top 30 WR in PPR leagues.
I have no desire to predict when/where Maurice Jones-Drew will pull his hamstring (as often happens with players who try to do too much too soon, especially after a holdout), so I'm opting to roll the dice on a rookie receiver that has done nothing but impress me all preseason. Blaine Gabbert is already looking like a completely different quarterback with the benefit of a full training camp, an emphasis on the short passing game and an improved receiving corps, which is where Blackmon comes in. The No. 5 overall pick in April's draft is playing the Roddy White role in new HC Mike Mularkey's offense and is doing something I don't see a lot of young receivers do – catch the ball with his hands. Blackmon (6-1, 215) is built similar to Andre Johnson (6-3, 225), so while his upside isn't quite that high, he is a tough player for a cornerback to defend simply because he is so strong. And while he doesn't have Johnson's run-after-catch abilities, Blackmon will typically get more yards than the play is designed to get. Blackmon's floor should be as a low-end fantasy WR3.
Kansas City Chiefs
Peyton Hillis will be the RB to own in the Chiefs' backfield and Dexter McCluster will cause the most arguments about position eligibility in fantasy football since Marques Colston.
OK, so I threw the line in there about McCluster and Colston to amuse myself, I guess. However, I don't think it is too far-fetched to believe both of these things have a realistic shot at happening. Hillis is playing for the same OC (Brian Daboll) who helped engineer his breakout 2010 campaign and the healthier of two pretty good backs running behind one of the league's best run-blocking offensive lines. What's more is that Kansas City will probably run the ball about as much as any team in the league and plan to give each back a similar amount of touches. While Hillis – who should be the unquestioned goal-line back – will never beat Charles in a footrace, the former is the better bet to be getting the ball late in games as the Chiefs try to hold on to slim leads. I believe if Hillis begins the season well, Kansas City could decide to preserve Charles to give him even more time to completely work his way back from his ACL surgery. As for McCluster, he appears destined to be a slot receiver for the Chiefs but is a RB in most fantasy leagues. I get that we aren't talking about Wes Welker-like production here, but 40-50 catch potential from a running back on most league's waiver wire may be attractive to an owner looking for a capable bye-week fill-in.
Miami Dolphins
Reggie Bush will play 14 games and still lead the team in receptions, allowing him to be a top 15 RB in PPR leagues.
Last year, I made the argument that one of the reasons Miami traded for Bush was because it thought he would hold up better on natural grass than turf. I'm not going to claim the playing surface was the only thing that helped keep Bush healthy for 15 games last year, but if he manages to put together another 14-15 game season, we may need to look at this prediction again at the end of the year. Regardless, Bush is pretty much the only offensive "weapon" the Dolphins possess at the moment. In my mind, his new role with Miami will be a lot like Pierre Thomas before Darren Sproles and Mark Ingram arrived in New Orleans. I expect Bush's totals will be very similar to Thomas' with roughly 60 receptions instead of the 35+ Thomas usually had. While Davone Bess will give him a run for his money in the reception department and Daniel Thomas will likely knock off about 300 yards from his 2011 rushing total, a healthy Bush will still be an every-week start in PPR leagues once again.
Minnesota Vikings
Adrian Peterson will cause the most lineup-decision headaches on Sundays since Brian Westbrook.
I understand there is probably no standard by which to measure a prediction like this, but I simply cannot imagine drafting a running back coming off a serious knee injury in the second round of a fantasy draft when his coaches still have not let him be tackled in practice. Furthermore, if the team was ready to consider him a game-time decision last week, it suggests to me they don't have much of an idea when he will be cleared to play. But it doesn't stop there. When Peterson finally makes it back to the playing field, can we honestly expect that his knee will not bother him on a weekly basis? That's why I believe that AD will cause more owners to pound their head against the table or wall on Sunday mornings this season than any player since Brian Westbrook, who was a regular game-time decision call back in his heyday with the Eagles.
New England Patriots
Tom Brady will throw for over 5,000+ yards again and, in the process, put four receivers over the 1,000-yard mark.
This is the kind of prediction that would not only to be difficult to achieve in a Madden video game, but considered next to impossible to accomplish in the real game prior to 2011. However, the only obstacles that will keep it from happening this year are: 1) injury and 2) OC Josh McDaniels deciding to use the run game more often than Bill O'Brien, even though the personnel suggests the team should pass all game long. Imagining Wes Welker and Rob Gronkowski breaking the 1,000-yard barrier isn't hard to do, but in order for Aaron Hernandez to do it, he'll need to turn in his first 16-game season. Brandon Lloyd is also a bit of a projection to go over 1,000 yards with all the other weapons in this offense, but as a deep threat who has already earned the trust of Brady and McDaniels, he probably won't need more than 60 catches to do it.
New Orleans Saints
Jimmy Graham will be more valuable in fantasy leagues than Calvin Johnson.
This prediction may not be all that bold when you consider that both are being considered first-round picks. But re-read the prediction: he will be more valuable. What does that mean? In short, while Johnson is a significantly better fantasy option than the rest of the WR field, there are more players at WR closer to him than TEs to rival Graham, meaning that Graham should give his owners a significant advantage at TE in just about every game where his team isn't facing the team with Rob Gronkowski or a healthy Antonio Gates. Calvin Johnson was rarely the top WR scorer in a given week last year (twice) and finished in the top three four times while Graham was the No. 1 scorer at TE three times and finished in the top three seven times. For the record, I expect Graham's final numbers this season will rival Johnson's, with Megatron holding a slight edge in the yardage category at season's end.
New York Giants
Ahmad Bradshaw will outscore David Wilson by more than 50 fantasy points in PPR leagues, but the two will essentially match each other's production over the second half of the season.
There seems to be an awful lot of contrasting opinions on how the Giants' backfield is going to shake out in 2011 – and for good reason. With 15-18 consistent touches each week, a healthy Bradshaw could perform like a low-end fantasy RB1. Others believe Wilson is so explosive that he will force the hand of OC Kevin Gilbride and make him the lead back. I tend to believe Bradshaw will get a sizable head start on the rookie (based on fantasy points) since he is trusted more as a receiver, blocker and goal-line specialist. But come about Week 6 or Week 8 – assuming Bradshaw is still healthy at that point – Wilson will probably have produced enough big plays and earned his stripes to the point where the Giants will simply ride the "hot hand" (oh, how I despise that term in football).
New York Jets
Bilal Powell will be the Jets' RB to own in PPR leagues by the end of the season.
Owners find themselves almost obligated to take Shonn Greene in the later part of the sixth round in fantasy drafts because "he'll at least get the majority of his backfield's touches". There seems to be a lot of belief the Jets will not fare well this season – perhaps some of that was based on preseason action, although one look at their talent on offense might be a better indication – meaning New York may be doing some garbage-time passing. It's no secret Greene struggles as a receiver, but he's also just a marginal NFL runner who was forced to carry the load last year because the coaching staff simply didn't trust Powell or Joe McKnight. Powell is now locked in as the third-down back, which means he should get some opportunity to post some solid receiving totals late in games on an offense that isn't exactly loaded with quality receivers. But more than that, Powell is simply a better playmaker than Greene, something that will come into play as Greene is still averaging 3.8 YPC around Week 6 and the Jets are stuck on a handful of five offensive touchdowns.
Oakland Raiders
Mike Goodson will be worth starting in fantasy at least four times this season.
Unsurprisingly, this prediction deals with the likelihood that Darren McFadden will get hurt at some point. The prevailing thought in/around Oakland seems to be that Taiwan Jones has locked up the backup job, but I don't see how that could be the case. While Jones is supremely talented, he is built like a receiver at 6-0 and 195 pounds. I have my doubts about him holding up in pass protection regardless of his size and, furthermore, he hasn't displayed much durability. Goodson, on the other hand, is 17 pounds heavier and the same height. While he sat out most of last season with a hamstring injury and has been sidelined by a shoulder injury this preseason, Goodson has proven he can carry the load – albeit for a short time – in the NFL, back in 2010 as a Panther. He's also very capable as a receiver, all of which leads me to believe he is the more likely handcuff to McFadden.
Philadelphia Eagles
Jeremy Maclin will finish among the top 10 receivers in PPR leagues while DeSean Jackson will have his most productive fantasy season since 2009.
Once again, regular readers already know how high I am on Maclin, who Michael Vick said reminded him of Michael Irvin during the summer. Maclin, who dealt with a mysterious illness last offseason that – among other things – caused him to lose considerable weight and miss most of the preseason, was still on an 88-catch, 1,212-yard, eight-touchdown pace in 2011 despite contributing almost next to nothing in the season opener, only to suffer hamstring and shoulder injuries that robbed him of reaching those numbers. This season, he is up to 205 pounds and has impressed just about everyone that has watched him on the practice field, with several respected sources suggesting he will enjoy a Pro Bowl-caliber year. Jackson has been something of a disappointment the last two year amid concerns over his contract, but with his long-term deal signed over the summer, he has little excuse not to return to his 60-catch days from three seasons ago. Better yet, should Vick suffer another injury, the Eagles look to be in good hands with rookie QB Nick Foles, who has the arm strength to make sure Maclin and Jackson don't fall off the fantasy map.
Pittsburgh Steelers
Jonathan Dwyer will be the team's best fantasy RB in PPR and standard leagues.
This is one that appears bold on the surface, but probably isn't after you take a look at the state of the Pittsburgh backfield. Isaac Redman is dealing with ankle and hip injuries – both of which could easily hamper him for most of the season – while Rashard Mendenhall is going to be slowed all season long as he continues to recover from the ACL injury he suffered on New Year's Day. Dwyer is lighter and more explosive than I have ever seen him, giving him the best combination of athleticism and power the Steelers have at the position.
San Diego Chargers
Antonio Gates will put together his healthiest and most productive fantasy season since 2009.
The key here is the combination of the two – health and production. Gates was lights out for the first half of 2010 (50 catches, 782 yards and 10 TDs in 10 games) but foot injuries ended what could have been one of the best fantasy seasons ever by a TE. Prior to his foot troubles in 2010, Gates was an iron man of sorts in terms of his durability and, while I don't expect him to be that ever again, his foot issues are reportedly a thing of the past. In an effort to squeeze a few more quality seasons out of his body, the 32-year-old Gates has lost weight and is quicker than I have seen him in years. During the 2009 season, Gates posted a 79-1,157-8 line, which is the kind of pace a spry Gates could manage this season as the unquestioned top option for Philip Rivers in the Chargers' passing game.
Seattle Seahawks
The mere mention of Robert Turbin's name will upset Marshawn Lynch's owners by the end of the season.
Let me be clear, I am not predicting a committee backfield here. But those owners who believe Lynch will simply pick right back up where he left off last season may be fooling themselves. Seattle had Justin Forsett and Leon Washington in reserve last year – not exactly rugged powerhouse-types – so the fact the "Turbinator" is a 5-10, 222-pound muscle-bound back who has thrived so far in the Seahawks' one-cut running game means he will be taking some carries away from Lynch. Sure, it may be no more than 5-8 per game, but part of Lynch's appeal as a fantasy property this year is the expectation that he will received the same high volume of touches he did in 2011. Lynch has yet to exceed 4.2 YPC in his career, meaning a repeat of his 1,204-yard, 12-touchdown season last year is probably not attainable.
San Francisco 49ers
Kendall Hunter will be worthy of a weekly flex start in PPR leagues by the second half of the season.
Frank Gore faded in the second half of last season and a repeat should probably be expected. Furthermore, the 2011 season was just the second time in Gore's seven-year NFL career he played in all 16 games. When healthy, the Niners' backfield will probably be a mess for fantasy owners, but even in this powerful four-headed running attack, Hunter will likely force his way onto the field as he is more explosive than both Gore and Brandon Jacobs and a better bet to hold up than rookie LaMichael James. Whether Gore suffers a multi-game injury or sees his skills erode as the season progresses, I like Hunter to improve on his rookie numbers pretty much across the board – despite the crowded backfield.
St. Louis Rams
Steven Jackson will finish among the top five rushers for the first time since 2009 and third time in his career.
Take one look at Jackson's player page. When you consider how little talent Jackson has played with over the last few years, it is amazing he has not only eclipsed 1,000 yards rushing in seven straight seasons, but that he's been held below 4.0 YPC just once in that time. The Rams' offensive line is still a work in progress, but it should be improved over last season and the passing game will have more weapons than it has enjoyed in some time. Best of all, Jackson should be handed another huge workload. While a dramatic falloff is probably around the corner for the 29-year-old, I doubt it will happen this year or next as he looks the same to me physically now as he did about five years ago. Jackson won't surpass the 1,424 yards he rushed for in 2009, but he could come close after posting 1,145 last season with virtually no help.
Tampa Bay Bucs
Doug Martin will rush for over 1,000 yards, record 40+ catches and be considered a borderline first-round fantasy pick next season.
Another unsurprising pick for my regular readers. No, I'm not saying fantasy owners should consider him a first-rounder now, I'm just suggesting that regardless of whether the Bucs improve substantially on offense (they should) or not, Martin is going to be involved heavily because he is already an all-purpose back. Tampa Bay wants to run the ball and that will be Martin's biggest contribution to owners, but the rare time he sees a stout run defense on the schedule this year will be the game where he'll catch 5-6 passes and make his impact through the air. When it is all said and done, I expect Martin will be one of the most consistent backs in fantasy this year.
Tennessee Titans
Chris Johnson will finish among the top three RBs in PPR and standard formats.
CJ2K had a 2,000-yard rushing season. In all likelihood, it's probably not going to happen again for him, but let's also not hold him against that impossible standard either. His line could be better, he doesn't care as much now since he received his big contract…I've heard it all. In a bad year last season, Johnson still almost broke 1,500 total yards! I get it, he was as inconsistent as they come in 2011, but his speed, burst and decisiveness are all where they need to be based on his limited preseason action. He has yet to catch fewer than 43 passes (his rookie season) and scored nine or more times in his first three seasons. Jake Locker's mobility will open up cutback lanes for Johnson and the receiving weapons the Titans now possess won't allow teams to crowd the line of scrimmage as much. I'll suggest a 1,750-total-yard, 8-10 TD season is probably in his immediate future.
Washington Redskins
Evan Royster will be named the starter at RB but lose the job twice during the season only to emerge as a fantasy playoff hero (again).
The only sure thing in the Redskins' backfield seems to be that Roy Helu will be the passing-down back, although many owners are projecting rookie Alfred Morris to be named the "starter". However, I've been the most impressed by what I've seen from Royster as he always seems to make the right cut at the right time, is hard to tackle and a capable receiver. But with this being a team coached by Mike Shanahan, Royster will suffer at least one injury, get pulled from another game and probably be a waiver-wire afterthought come by the middle of the season. It will be about that time when Shanny will turn back to him with Morris and Helu hurt, when he'll find a way to run for 80-100 yards each in three of the team's final four fantasy games.
The Search for the Next Victor Cruz
Every year, multiple players come out of the woodwork to help owners win fantasy championships. While I doubt any of these players below will explode like Cruz did, I thought I would end this bold prediction column by giving you a list of players that owners would be wise to keep an eye on throughout the season. In short, what you will find below is a player on each team that will be drafted very late or go undrafted in just about all leagues. Each of these players needs a/the player(s) ahead of them on the depth chart to underperform or miss time, but have shown me enough to be useful in fantasy if they get their shot. In other cases, some of these players have just flown under the radar for whatever reason. In the interest of time and space, I will merely list each player next to his team and invite my readers to e-mail or tweet me if they want an explanation on a player or two from the list.
Arizona – William Powell, RB
Atlanta – Dominique Davis, QB
Baltimore – Bobby Rainey, RB
Buffalo – T.J. Graham, WR
Carolina – Gary Barnidge, TE
Chicago – Kellen Davis, TE
Cincinnati – Marvin Jones, WR
Cleveland – Jordan Cameron, TE
Dallas – Andre Holmes, WR
Denver – Joel Dreessen, TE
Detroit – Stefan Logan, RB
Green Bay – D.J. Williams, TE
Houston – James Casey, FB/TE
Indianapolis – LaVon Brazill, WR
Jacksonville – Mike Thomas, WR
Kansas City – Dexter McCluster, WR/RB
Miami – Charles Clay, RB/TE
Minnesota – Matt Asiata, RB
New England – Greg Salas, WR
New Orleans – Travaris Cadet, RB
NY Giants – Ramses Barden, WR
NY Jets – Bilal Powell, RB
Oakland – Rod Streater, WR
Philadelphia – Nick Foles, QB
Pittsburgh – Jonathan Dwyer, RB
St. Louis – Steve Smith, WR
San Diego – Eddie Royal, WR
San Francisco – Mario Manningham, WR
Seattle – Braylon Edwards, WR
Tampa Bay – Michael Smith, RB
Tennessee – Darius Reynaud, RB
Washington – Niles Paul, TE

Suggestions, comments, musings about the article or fantasy football in general? E-mail me or follow me on Twitter.

---
Doug Orth has written for FF Today since 2006, appeared in USA Today's Fantasy Football Preview magazine in each of the last two seasons and served as a weekly fantasy football analyst for 106.7 The Fan (WJFK – Washington, D.C). He is also a member of the Fantasy Sports Writers Association.